6 Tips for Choosing an All Inclusive Resort That Works for All Ages!
Are you choosing an all inclusive resort that works for the whole family? Here are some points to consider when planning your all inclusive vacation.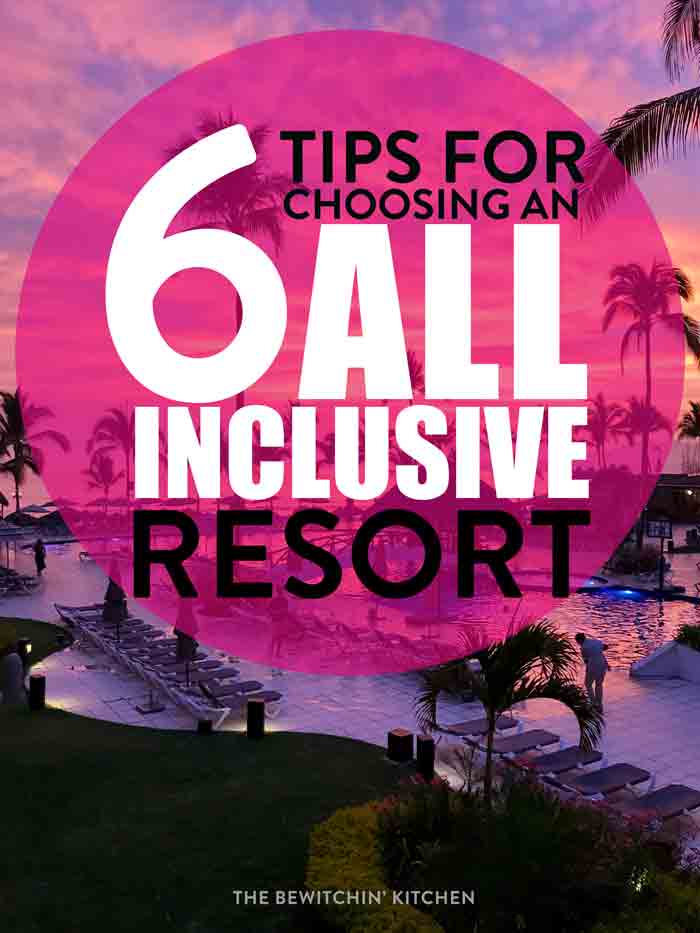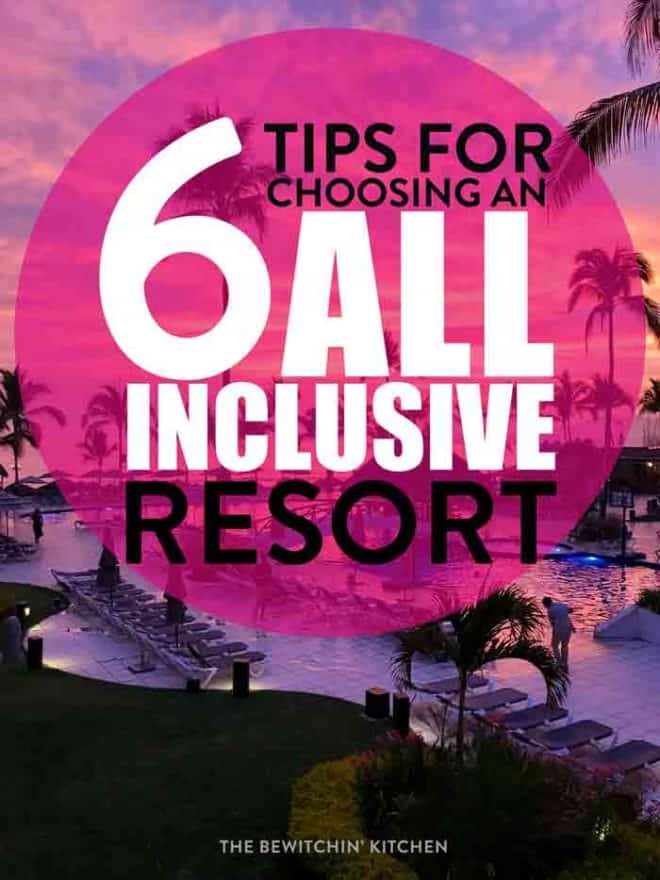 Choosing an All Inclusive Resort
This post contains affiliate links.
There's you, your spouse, your baby,  your six year old. Oh guess what? Your in-laws decided to come too.
You're planning a family vacation this year, but where to go? You want a cabana, unlimited umbrella drinks, maybe a nanny. Your spouse wants rainforests and quaint villages to explore. Your in-laws want easy on the joints activities and your six year old? She wants a pool, and a beach, and a kids club, and can you make sure that you pick the same week that her BFF Darla is going too?
It's at this point that you rethink the whole notion of a family vacation and start tunneling a hole out the back wall so you can escape the frenzy. Not to worry! There are easier ways to find the right escape than burrowing through the backyard. You just need to make a list of priorities for everyone in the family, to find the right resort for all of you.
TBK's Pro Tip: Personally, I like to keep our trip activities simple but I'm not you so here are some tips 🙂
1. Be selfish!
At some point, because of cost or availability or just general disagreement, there might be compromises to be made. Make sure that at least one of your priorities stays on the list! For all the effort organizing this vacation, there has to be something in it for you! Now, on to the research for the rest!
2. Triple check what's included and what's extra
Skip any disappointment by reading ALL the fine print. Most all-inclusive resorts can be counted on to include:
Accommodation
Food
Drinks (sometimes with limitations on alcohol, like domestic brands are free but imported carry a surcharge)
Non-motorized sports like sea kayaks, paddle boards, etc.
Kids club
If you don't get at least this list, keep looking!
Extra costs usually are for:
Motorized sports, boat trips, scuba diving
Spa treatments
Trips off the property
Nanny/kid care outside of Kid's Club
3. The right sized and equipped accommodations
Travelling with kids, even where food is provided, requires some level of being prepared. A mini-fridge for milk, formula or pumped breast milk is ideal. A mini-kitchen is even better! Check for cribs too, and if you use one of theirs, instead of a pack and play, look it over carefully to make sure it is in good shape.
Older kids are easier to accommodate but if you're traveling with teenagers in your party, you might want to aim for a family suite and put the teen on the pull out couch in the living room. This way, they can have something of their own space while still keeping them under your watchful eye!
If you're traveling with different generations, you need to consider space and privacy needs of everyone. It's probably not ideal to try and save money by putting everyone in the same 'family size' room. Let the in-laws have their own space and the trip will be much smoother for everyone.
4. Food that meets your needs
If you've got food allergies in your family, this can be a tough issue to navigate at resorts. Check in with them before you book and definitely look for accommodations with a mini-kitchen, so that at least you can prepare some things yourself.
If you don't have to factor in allergies, check what's going to be available. All meals? All meals and snacks? Sit down dinners or all buffet all the time? Most resorts have a bit of both—buffet for breakfast, sit down for dinner. If you're picky about food quality, check reviews from previous visitors to see what they have to say. Some resorts carry/make baby foods too, as well as providing bottle warmers, and so on, which can make mealtimes easier.
You might also want to check if they have dining times/areas that are adults only: the kids can go to an evening event with the club, and you can enjoy a dinner with your spouse that doesn't involve spilled food or complaints!
5. Activities to please for one and all
Get the details on the available activities and prioritize. If you want to include some adult time, a Kids Club is essential. With every resort that you're checking out, get some details:
What ages are included at Kids Club?
What do they do?
What is the ratio of staff to kids?
What system do they have set up to find you in the event of an emergency?
While the beach is always a big draw, the pool area can be even more important to the younger set. Water slides, multiple pools, lazy rivers… Check out the resorts in the area you're interested in for the best pools and everyone will thank you!

If you're traveling with a baby, you might put a premium on some available infant care, even at an additional cost. There are resorts that also have in-house medical facilities—more first aid than full medical services but they can be reassuring for a new rash or a cut.
6. Breathe
You're not going to please everyone with all of their requests met. It's just not going to happen. Better to breathe deeply, prioritize what's important to your family and pick a place that matches that list as closely as possible. Above all, have fun! It's your vacation, after all!
See also: 12 All Inclusive Resort Travel Tips
 As I said before, I keep my vacation planning simple when it comes to choosing an all inclusive resort. 
Our must haves:
Good food (which we have yet to find an all inclusive that has incredible cuisine, but we're still searching)
Beautiful beach access
Pool with water slides (when traveling with my son, an awesome kids pool is a HUGE must. We recently visited the Marival in PV and he had the best time, plus they had plenty of loungers for the parents with a bar close by).
Clean rooms
That's it. As long as the images look good and the reviews seem good, we go with it. I try not to overthink it and just go with the flow to enjoy it.
Let me know in the comments, your favorite All-Inclusive Resorts (and why).