Yorkshire Pudding with Cheese and Chives
Yorkshire Puddings have always been a favorite side dish of mine. So I was nervous to put a spin on this roast dinner classic, but let me tell you: it works! You are going to love this easy Yorkshire pudding recipe.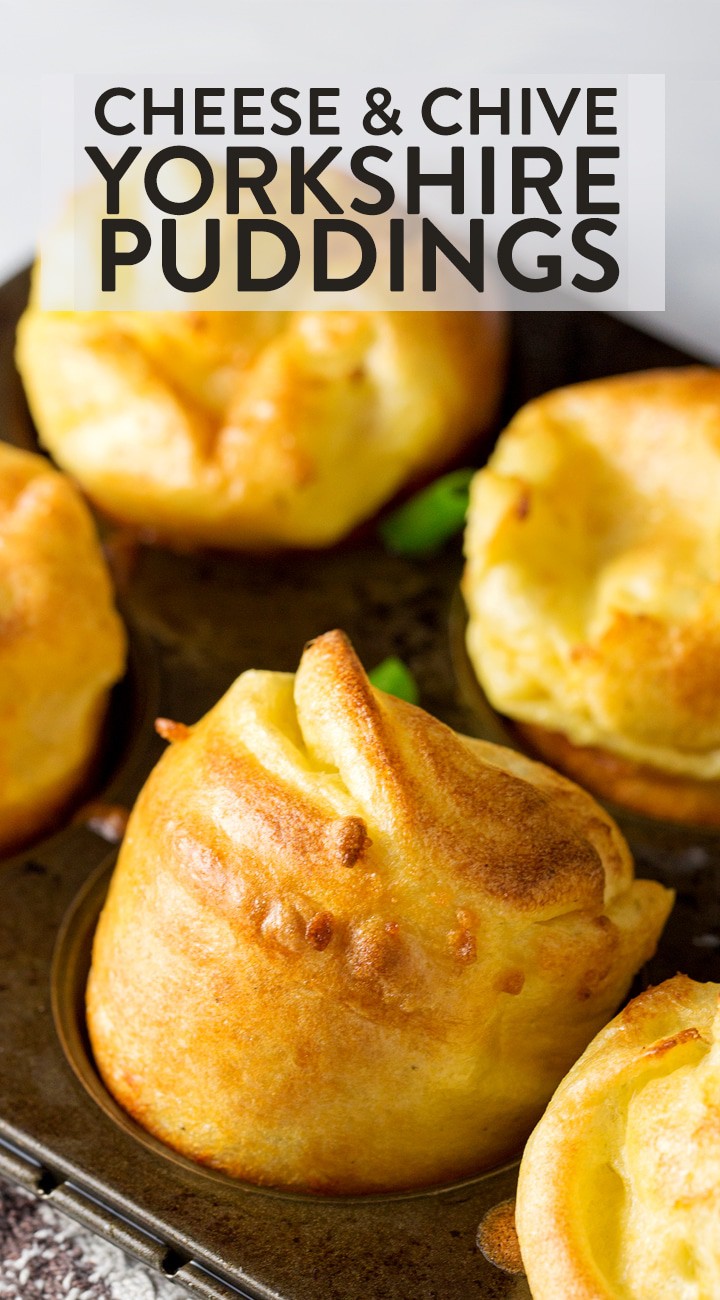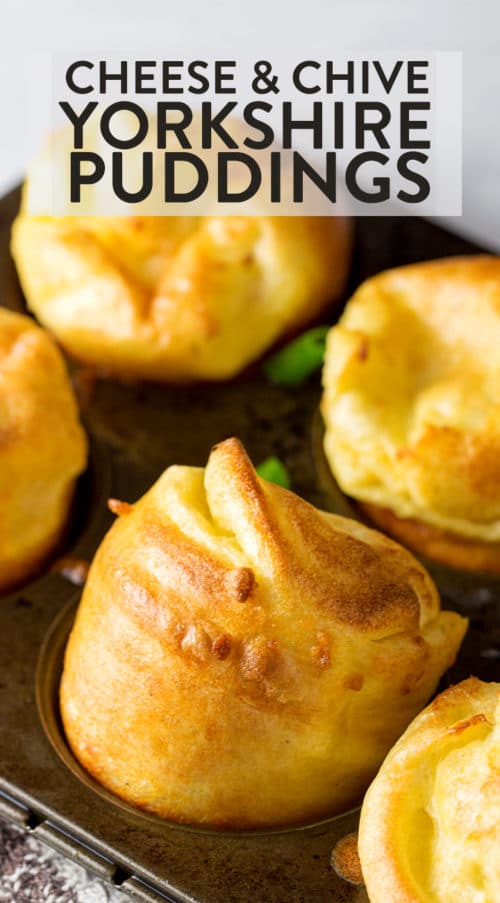 Yorkshire Puddings
This recipe for Yorkshire Puddings has been sponsored by Burnbrae Farms. All opinions are my own. This post also contains affiliate links.
Yorkshire pudding is a traditional British side dish. It's not what we "westerners" consider a pudding at all, it's made of flour, milk, and eggs. It's common with roast beef dinner and tastes delicious with beef gravy.
Growing up, we had Yorkshire puddings with every roast beef dinner and it's a tradition that I carry with me now that I have a family of my own.
It was always:
1 cup flour, 1 cup milk, 6 eggs, salt, and pepper.
It's a classic and you can't go wrong with that but I wanted to jazz it up a bit for my partnership with Burnbrae Farms and the Holiday Entertaining Guide that myself and a few other Canadian bloggers put together.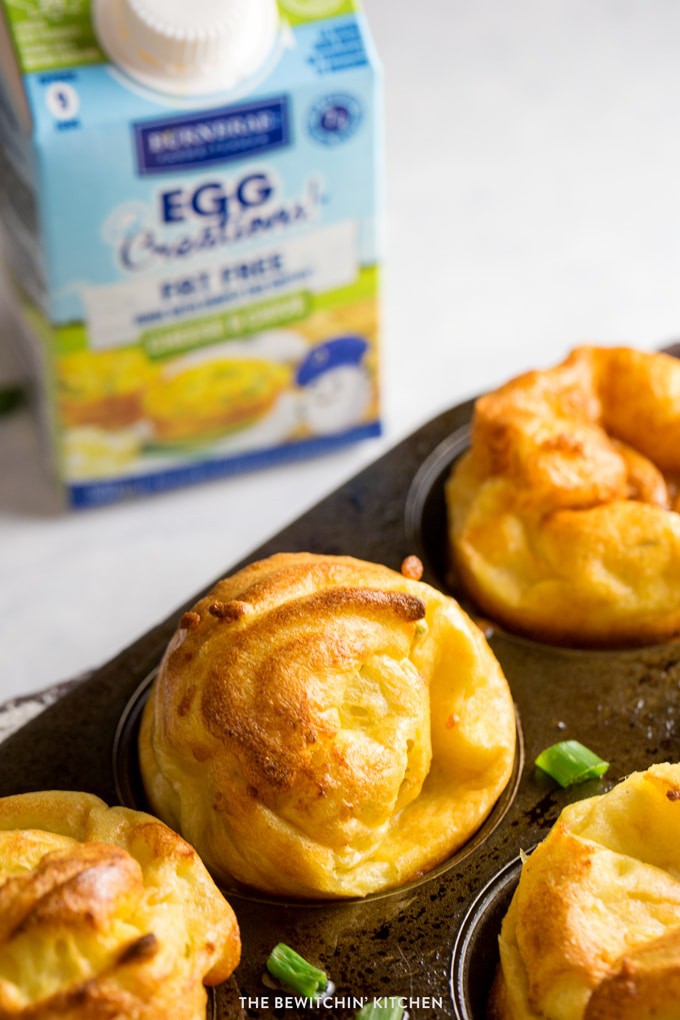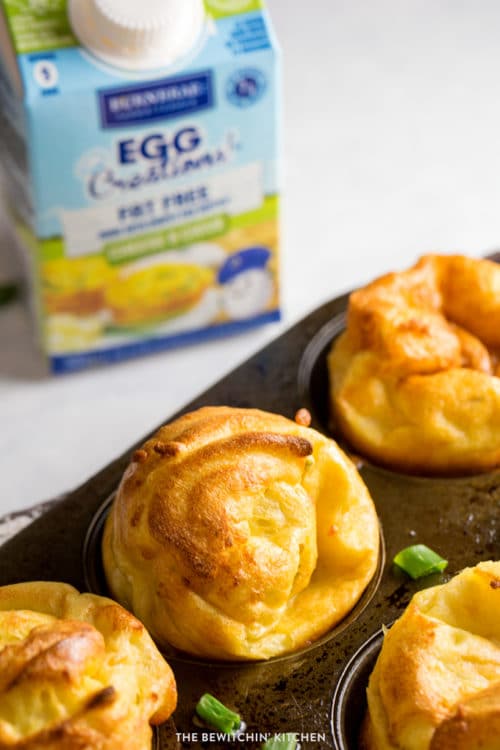 I've been buying Burnbrae Farms for years. They're my go-to for liquid egg whites when it comes to my omelets and meringue treats (like these Christmas Meringues with Eggnog Buttercream Filling).
Burnbrae Farms also has Egg Creations! a carton of liquid eggs that are packed with flavor. All you have to do is pour and savour!
The varieties are really yummy:
Veggie & Feta
Mushroom & Spinach
Garden Vegetable
Cheese & Chive
In this Yorkshire pudding recipe, I use Cheese & Chive.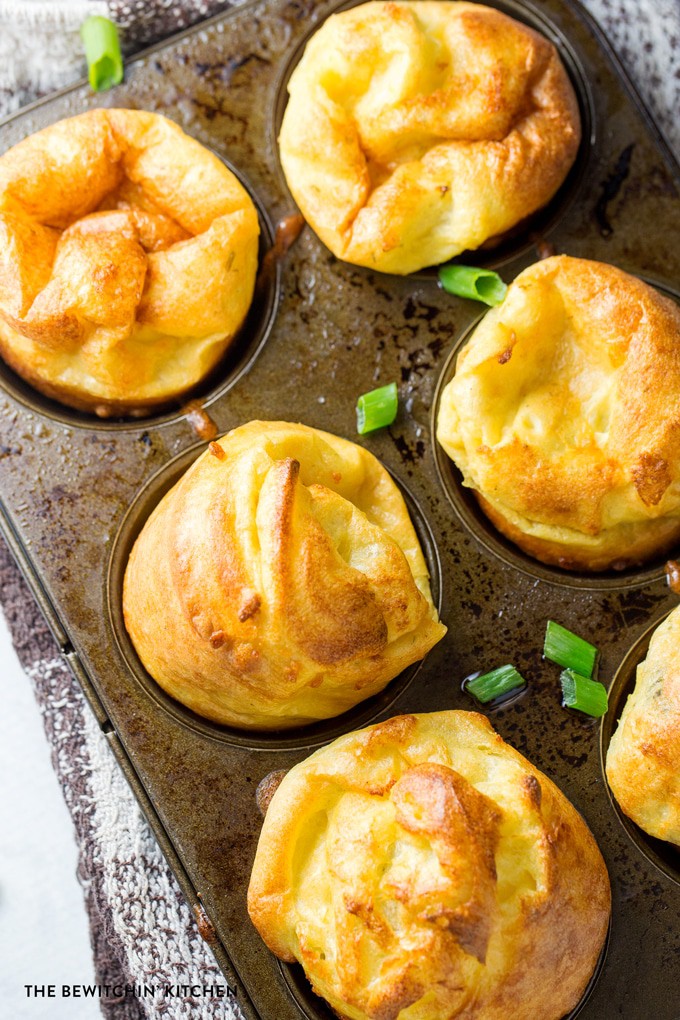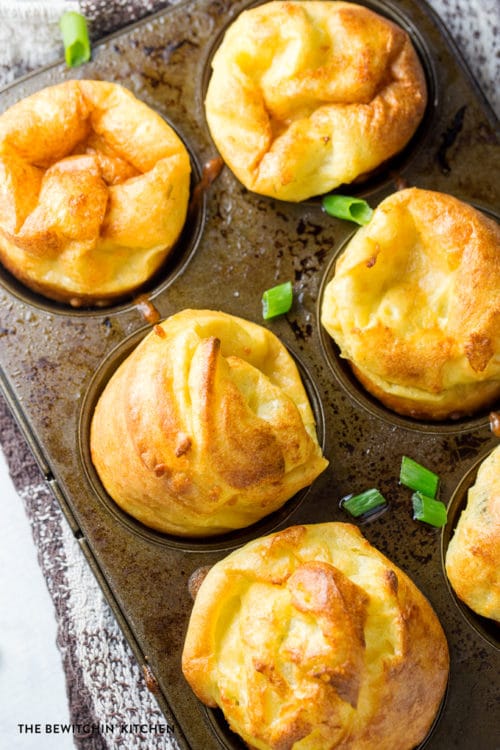 Cheesy Yorkshire Puddings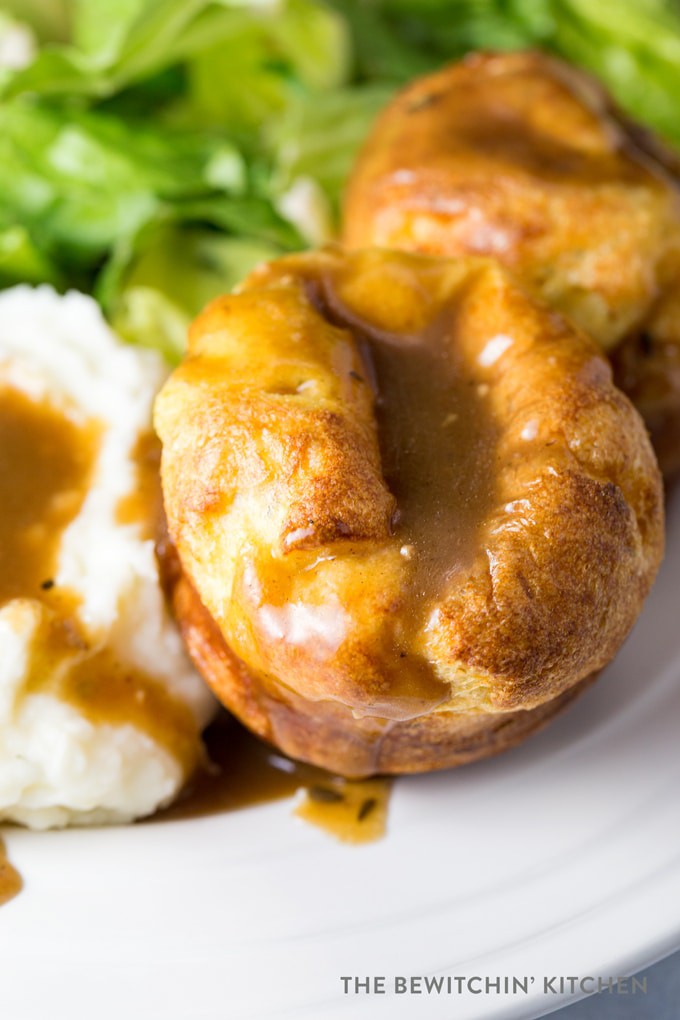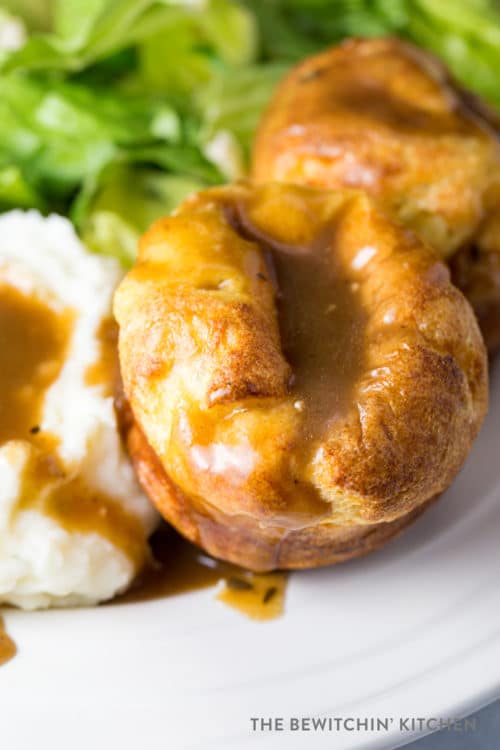 Oh yes! There is nothing better than a classic roast beef dinner with Yorkshire puddings and gravy. This photo is making me hungry, and I'm having some major cravings.
The cheese and chive flavor in the Yorkshire pudding is slight, it's not overpowering at all. My husband complimented me over and over as he piled second (and third) helpings onto his plate.
That gives it the man approved seal of approval.
Want to see what else you can do with Burnbrae Farms Egg Creations?
Can you make Yorkshire pudding batter ahead of time?
Yes. Growing up that's how my mom always made it. She would have the batter in a Tupperware juice container and use an immersion blender
throughout the day to give it a good mix.
What kind of oil do I need for Yorkshire Pudding?
You want something with a low smoke point. I use canola oil but traditionally you should use fat from the roast beef dinner you're cooking up. I have also used coconut oil with great results!
Oils with a high smoke point are:
I recommend either canola or avocado oil for Yorkshire puddings.
How to make Yorkshire pudding
Be sure to serve these delicious Yorkshire puddings with the perfect pot roast recipe. As for a side dish? I love this three pepper salad.
Note: If you don't have liquid eggs, sub it for 6 eggs.
Yorkshire Puddings with Cheese and Chive
Yorkshire puddings are the perfect side dish for roast beef dinner, whether it's for a holiday feast, Sunday dinner, or Christmas this recipe will make you famous.
Servings 12
Calories 121kcal
Ingredients
1/4 cup oil canola works great or fat from roast beef
1 cup flour
1 cup milk
1 1/2 cups Burnbrae Farms Egg Creations! Cheese & Chive
Salt and pepper
Instructions
Preheat oven to 450˚

Add the oil to the muffin tin and place in the oven until it smokes.

While the muffin tin is heating up, add the rest of the ingredients into a blender (or use an immersion blender) and mix until smooth.

Remove the tin and evenly distribute the Yorkshire pudding batter in the tins.

Bake for 20 minutes

Let cool for 3-5 minutes.

Remove and place in a bowl lined with paper towels (to absorb some of the oil).
Notes
If you don't have the liquid eggs, the equivalent is 6 eggs.
Nutrition
Serving: 1g | Calories: 121kcal | Carbohydrates: 9.3g | Protein: 4.9g | Fat: 7.1g | Saturated Fat: 1.1g | Cholesterol: 93.4mg | Sodium: 239.5mg | Fiber: 0.3g | Sugar: 1.2g
Follow On Pinterest
Follow @bewitchinkitchen On Pinterest for more delicious recipes!