Italian Cream Soda
Italian Cream Soda is fizzy and filled with the perfect amount of sweet strawberry syrup and topped with whipped cream and a fresh strawberry. It's a fun and delicious treat!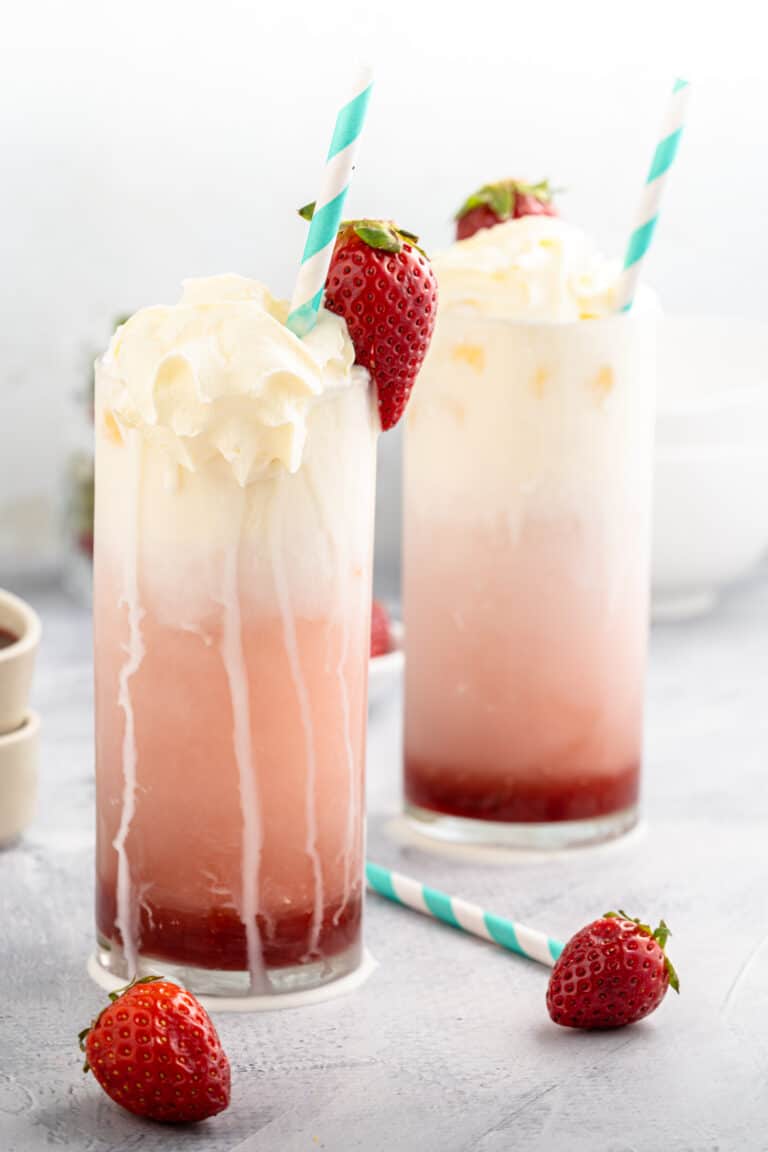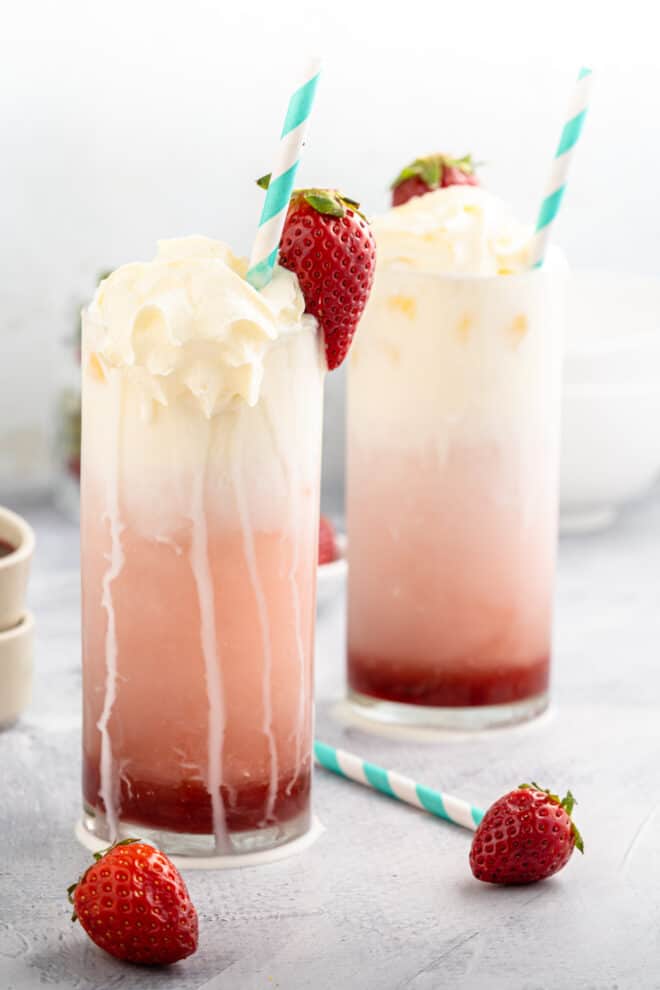 Italian Cream Soda
This non-alcoholic beverage is a favorite among people of all ages. Serve it next time you host a party, spend time with the family during the holidays, or when you want something special during hot summer months.
Similar to what you would find in your local coffee shop, you can easily make your own sparkling Italian soda in your kitchen. There are many Italian soda flavors out there, so the options are endless.
Be sure to check out some more of our popular drinks like our Strawberry Lemonade, Unicorn Floats, Sweet Berry Sangria, and Pineapple Mango Smoothie.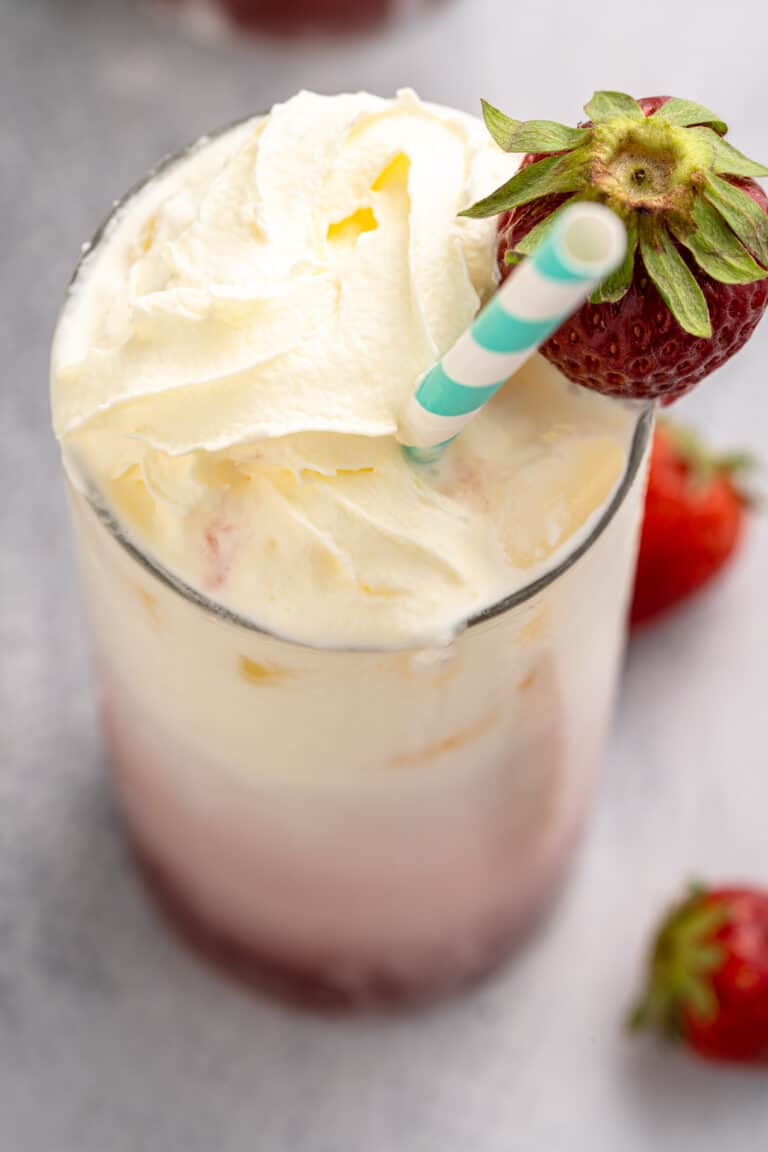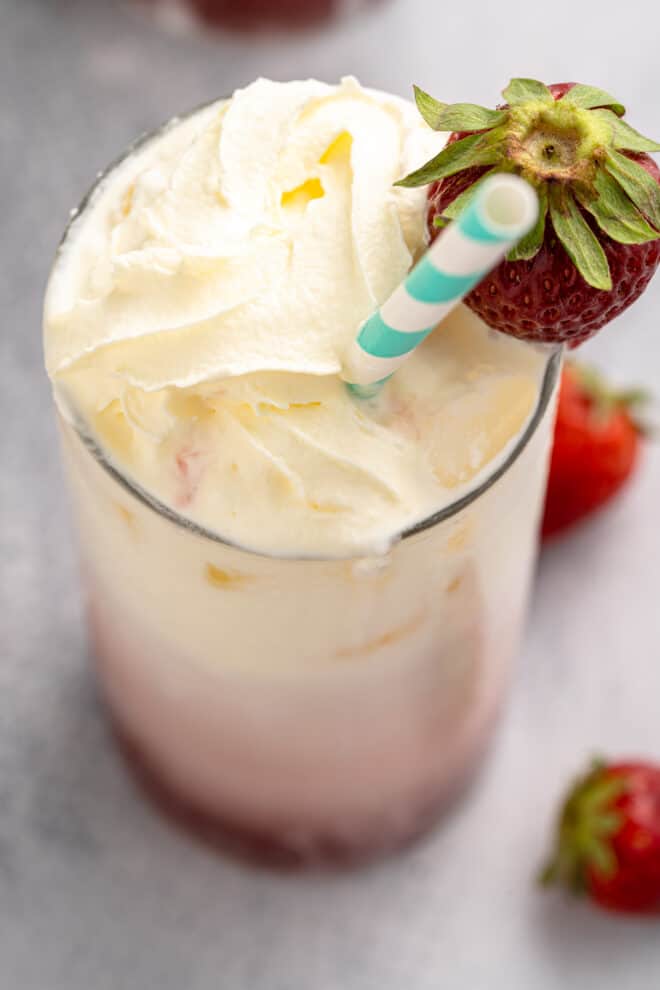 Why you will love Italian Soda
Only 5 minutes of prep time
Kids and adults will love the sweet strawberry flavor
Quick and easy recipe
Easy to customize
You only need 4 ingredients
Looks beautiful and is great for entertaining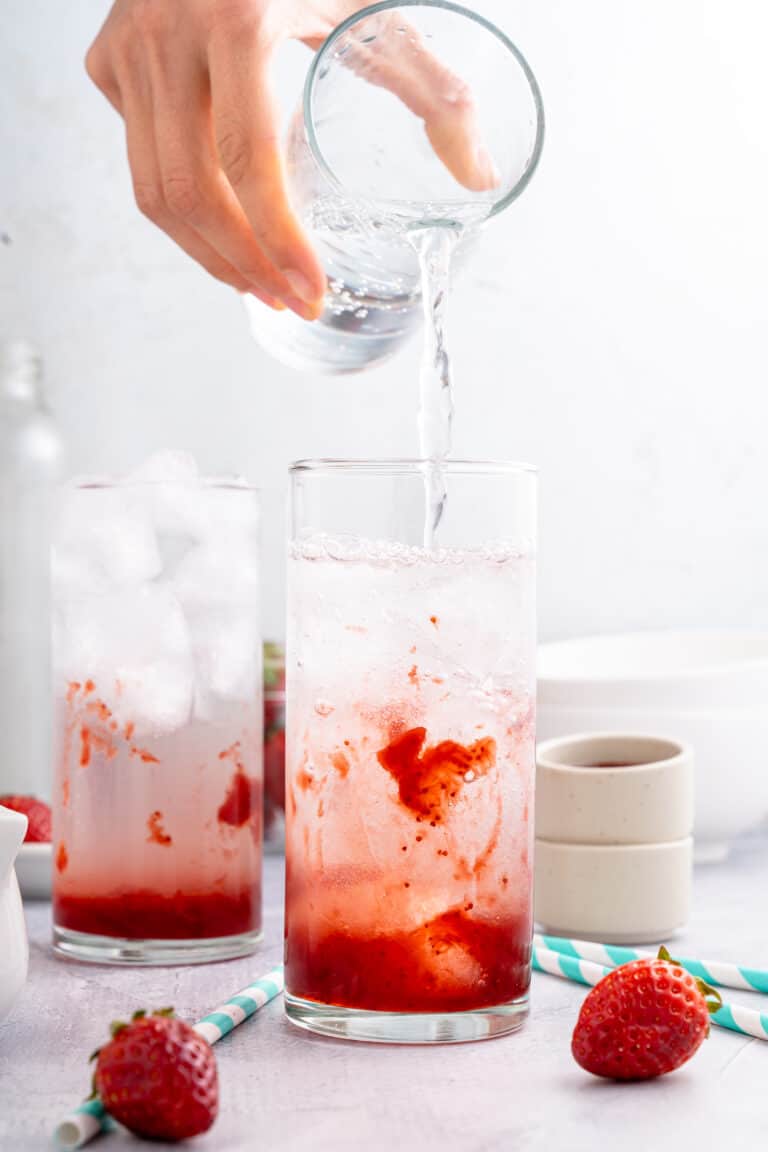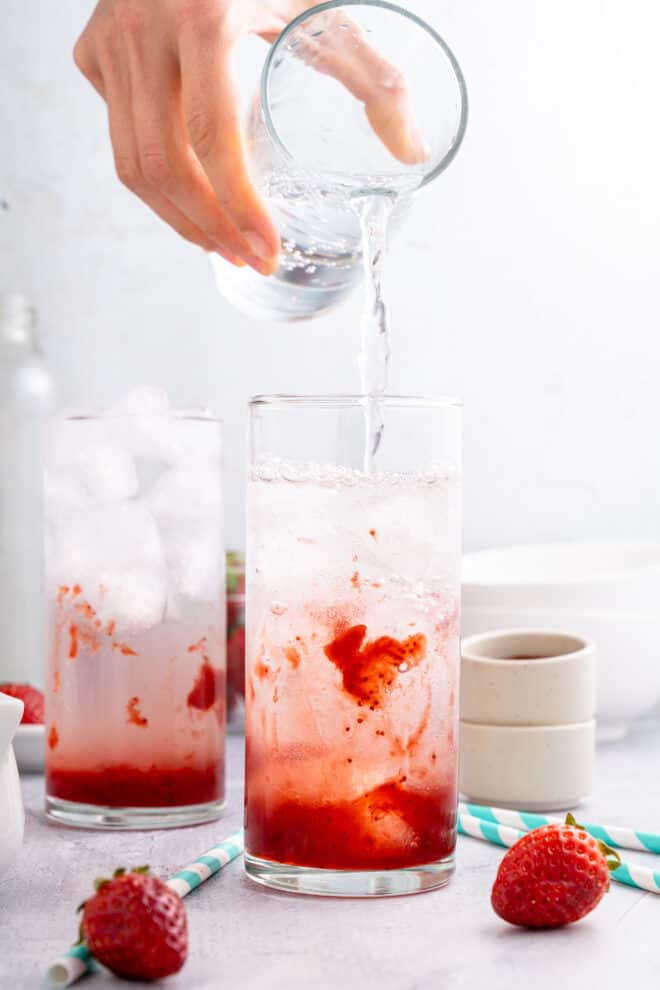 How to Make Perfect Italian Cream Soda
This is a super simple recipe that can be done in minutes.
Start with ice in a glass. Then, drizzle with strawberry syrup and top with sparkling water.
Give it a little stir then top with whipped cream and a fresh strawberry.
Serve and enjoy!
Pro Tips for the Best Drink
Pour Carefully. Leave some space at the top of the glass for whipped cream so it doesn't overflow. If you aren't adding whipped cream, you can fill it to the top.
Fizzy Replacement. Swapping the sparkling water for club soda is fine. It's fizzy and has a neutral flavor, so it pairs well with flavored syrup.
Make It Dairy Free. If you do want a creamy version, replace the light cream with coconut cream instead.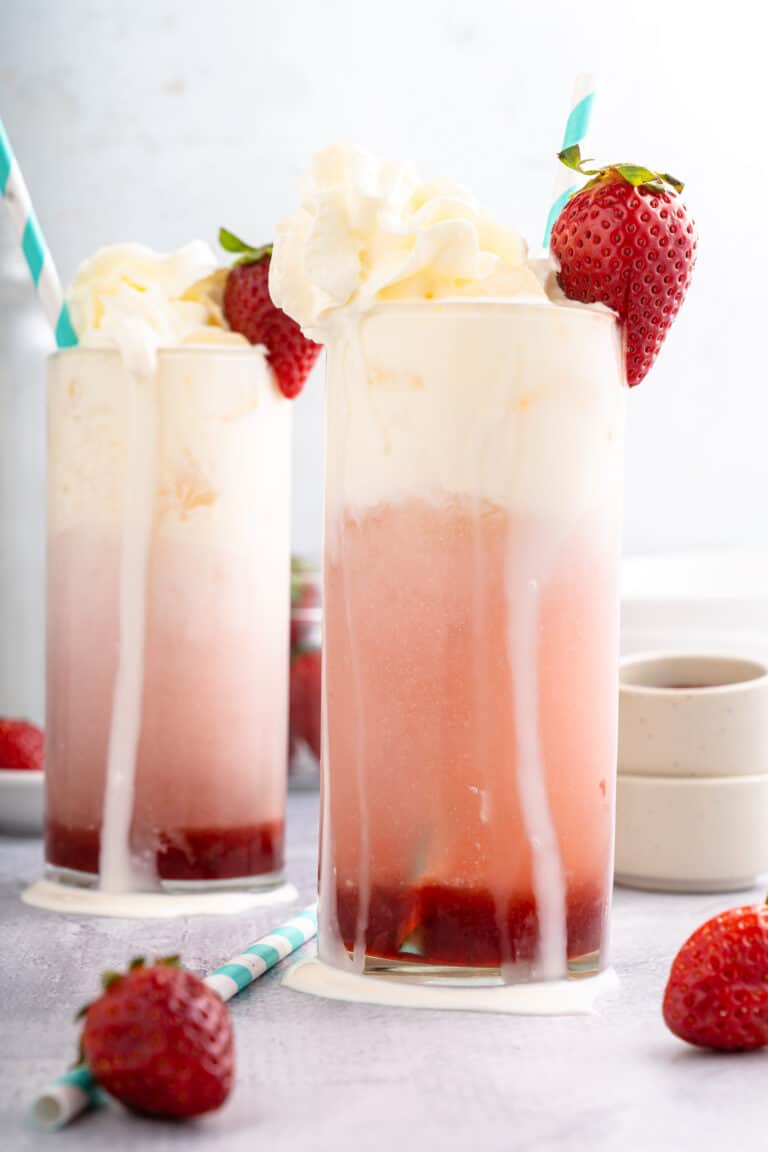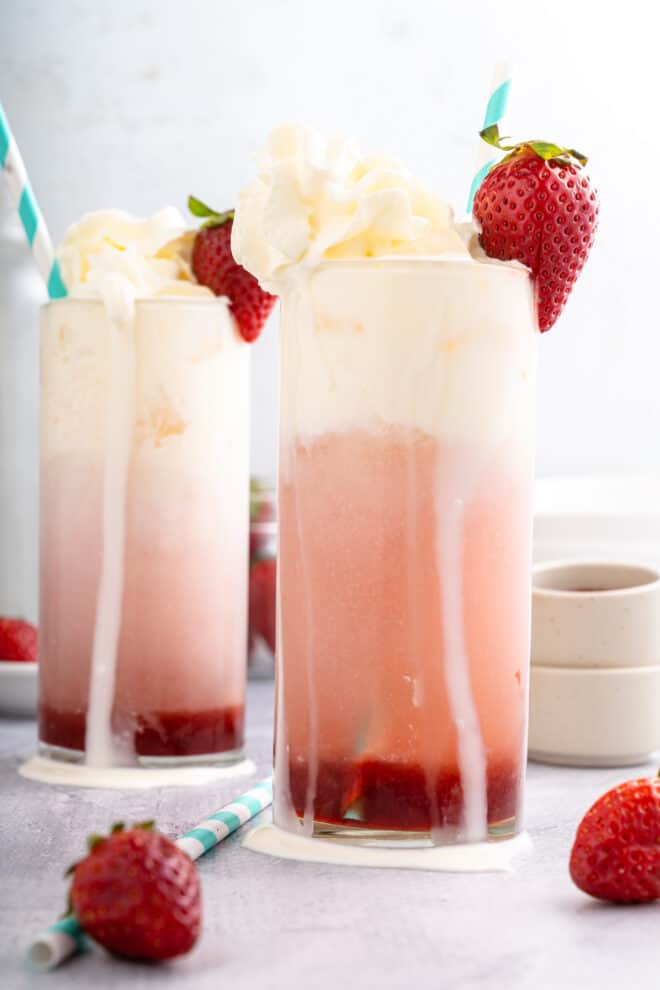 Italian Soda Flavors
We love Italian cream soda because you can easily customize the drink with your favorite flavors. We love strawberry, but there are limitless options!
Citrus
Lemon, lime, grapefruit, and orange are all fantastic flavor options. You can make stand-alone flavors or mix them for unique flavor combinations.
Berries
Raspberry, blueberry, and blackberry are all sweet and tasty choices. It's fine to mix them together too.
Tropical
Love all things tropical? Well, consider any combination of pineapple, coconut, mango, and a splash of orange to create a delicious fizzy tropical beverage.
More flavor ideas
There are lots of other options like peppermint, cherry, vanilla, peach, or cranberry. Have fun playing with the flavors and experimenting to see what concoctions you can come up with.
Pro Tip: Some syrups are sweeter than others, so adjust the amount of syrup used as needed to get the desired sweetness.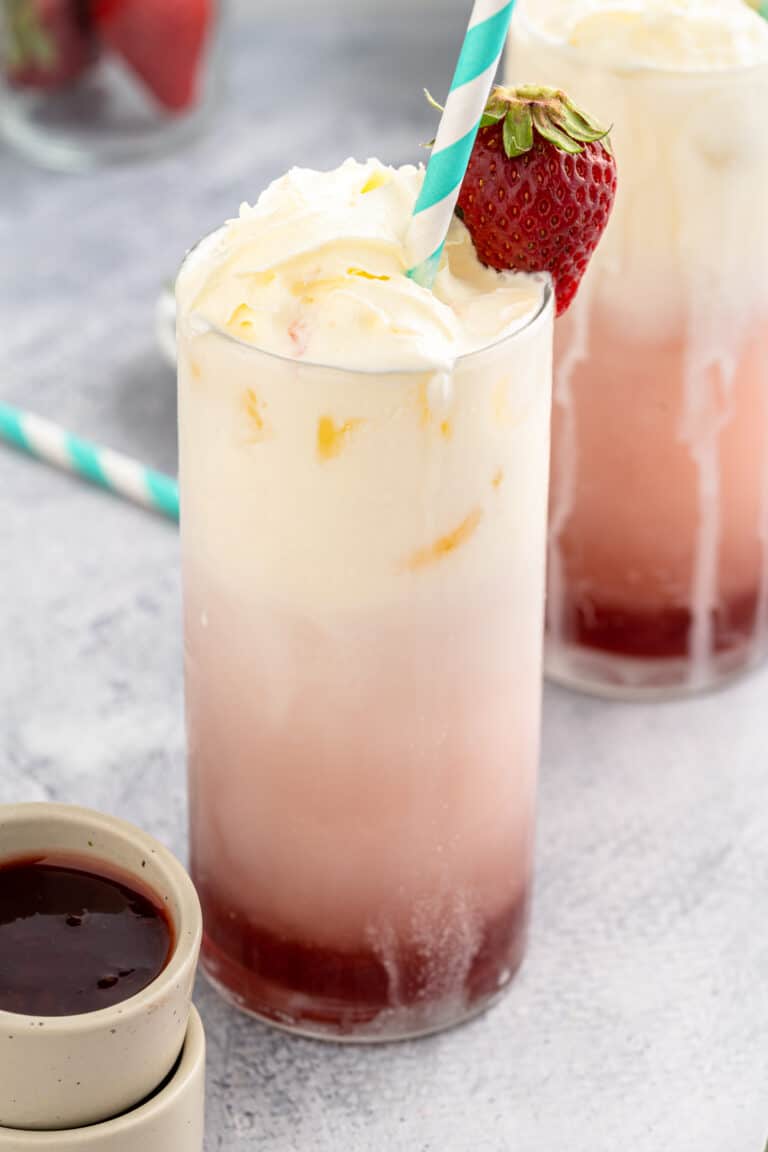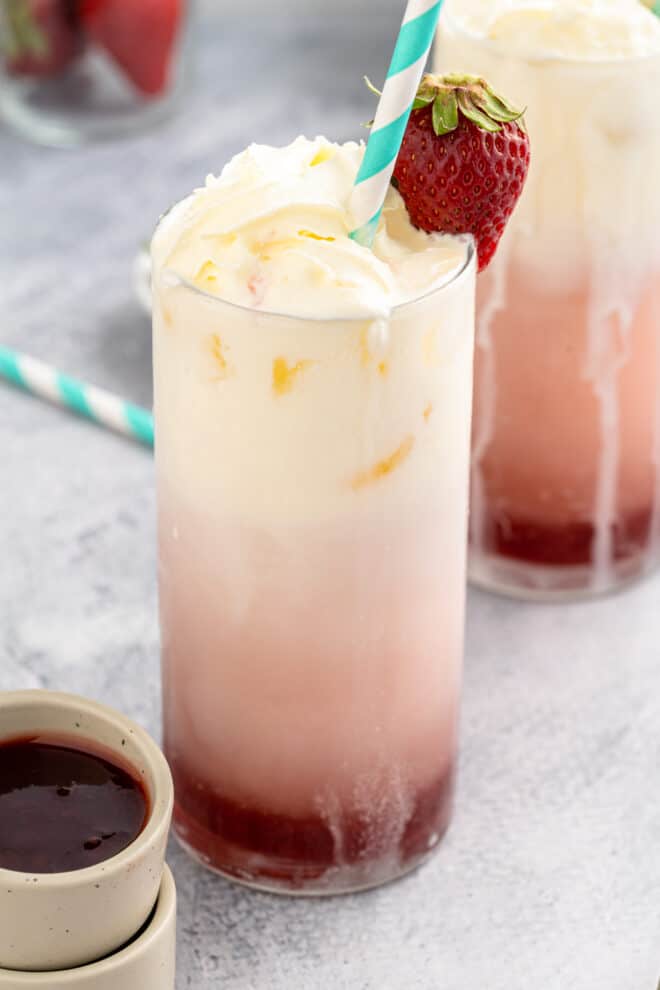 Frequently asked Questions about Italian Soda
What Does Italian Cream Soda Taste Like?
Italian soda tastes creamy, bubbly, and like strawberries! Its cool and refreshing flavors are popular during the hot months.
Is Italian Cream Soda Actually Italian?
No, Italian Soda first originated in the United States during the 40s and 50s. The sweet syrup was originally made in Italy, and that is where the drinks got their name from.
Can I Make A Sugar-Free Italian Soda?
Yes, you can use regular strawberry syrup or sugar-free strawberry syrup. They make so many flavors that you can buy online or at your local grocery store.
Italian Cream Soda
Italian Cream Soda is fizzy and filled with the perfect amount of sweet strawberry syrup and topped with whipped cream and a fresh strawberry. It's a fun and delicious treat!
Servings 1 Glass
Calories 195kcal
Ingredients
1 cup Sparkling Water
2 tbsp strawberry syrup
1 cup ice cubes
2 tbsp light cream Optional
Instructions
Fill 3/4 of the glass with ice cubes. Then add 2 tbsp of strawberry syrup add sparkling water to the top

Optional: if using cream, leave space in the glass when adding sparkling water, so it doesn't overflow when you add the cream.

Add whipped cream on top, a straw to the glass, and enjoy
Notes
Customize your Italian Soda with your preferred syrup.
For a lactose-free drink, use coconut cream.
You can adjust sweetness to taste as it varies from one syrup to another.
Nutrition
Calories: 195kcal | Carbohydrates: 30g | Protein: 1g | Fat: 9g | Saturated Fat: 6g | Polyunsaturated Fat: 0.3g | Monounsaturated Fat: 3g | Cholesterol: 33mg | Sodium: 95mg | Potassium: 59mg | Sugar: 29g | Vitamin A: 304IU | Vitamin C: 0.2mg | Calcium: 45mg | Iron: 1mg
Follow On Pinterest
Follow @bewitchinkitchen On Pinterest for more delicious recipes!