Romesco Chicken Meatballs with Zucchini Noodles
These romesco chicken meatballs are heaven on earth! I could eat the whole batch in one sitting because they're that freaking good!
This recipe is one of my new favorite dinners but it also works well for meal prep for the week, cook this once and you have lunch ready for 4-5 days!
How will you enjoy it?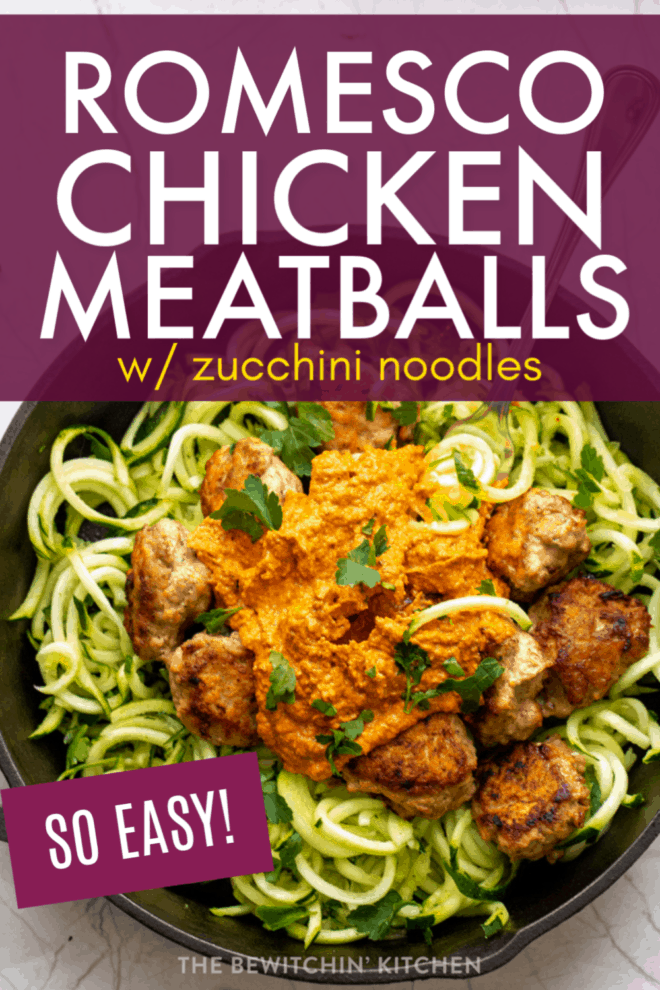 Disclosure: I am participating in the Chicken Farmers of Canada campaign managed by SJ Consulting. I received compensation in exchange for my participation in this campaign. The opinions on this blog are my own.
Romesco Chicken Meatballs with Zucchini Noodles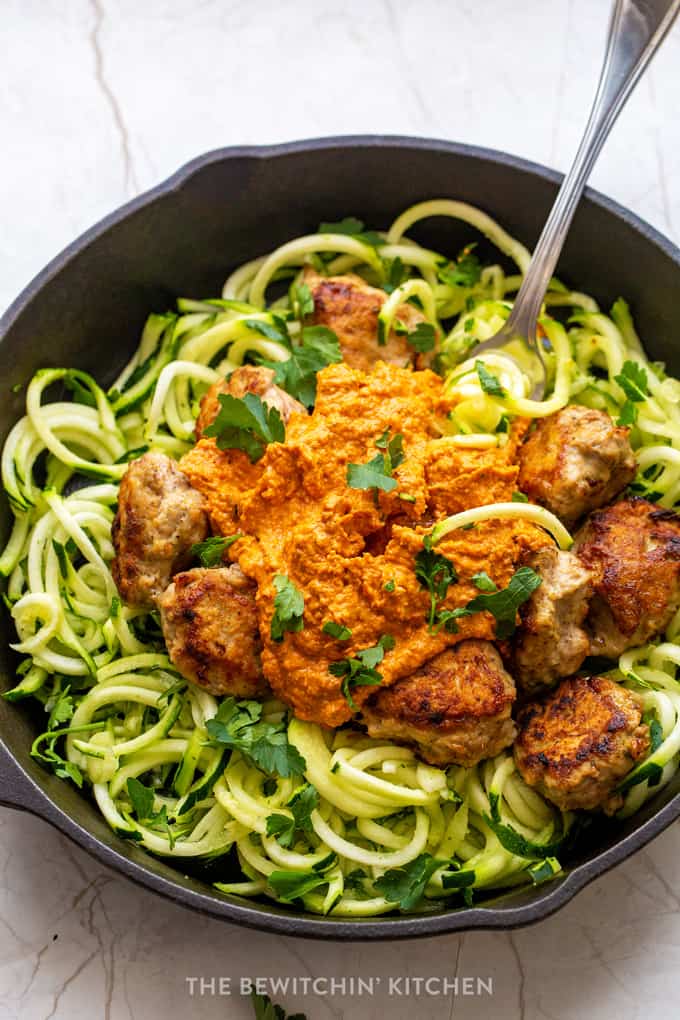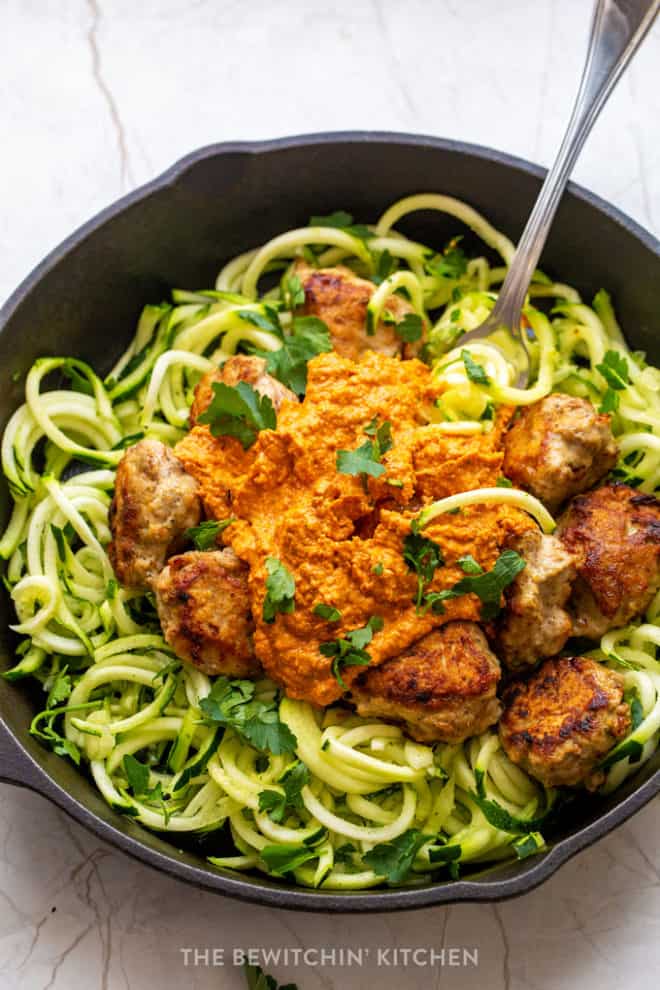 I have fallen in love with romesco sauce. I'm seriously putting it on everything: meatballs, sandwiches, using it as a dip for vegetables in place of hummus, you name it.
Over on Randa Nutrition, I recently posted the best romesco sauce ever. You're going to love it, seriously.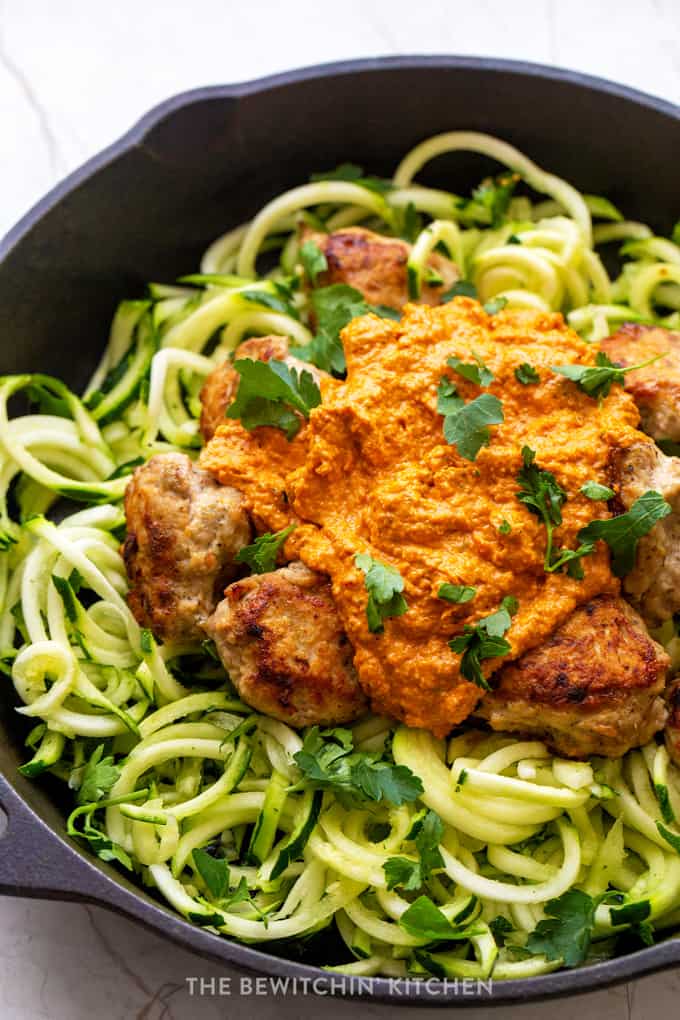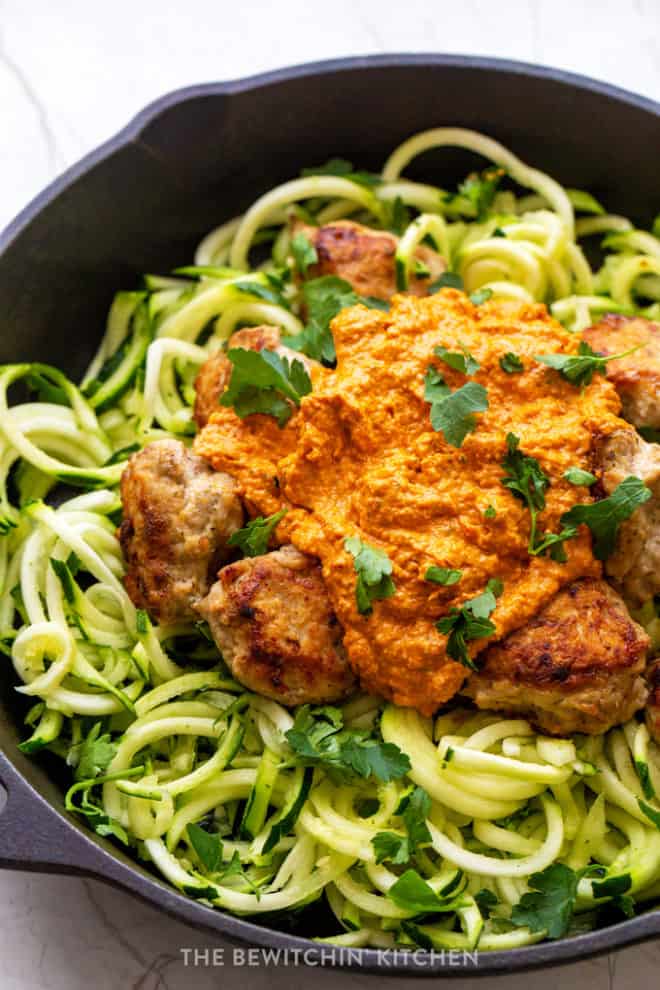 The sauce itself is super easy to make, I simply tossed all the ingredients in a blender and let it puree until smooth.
What is romesco sauce?
Traditionally this Mediterranean sauce is served with fish but you can serve it with chicken, beef, or over vegetables.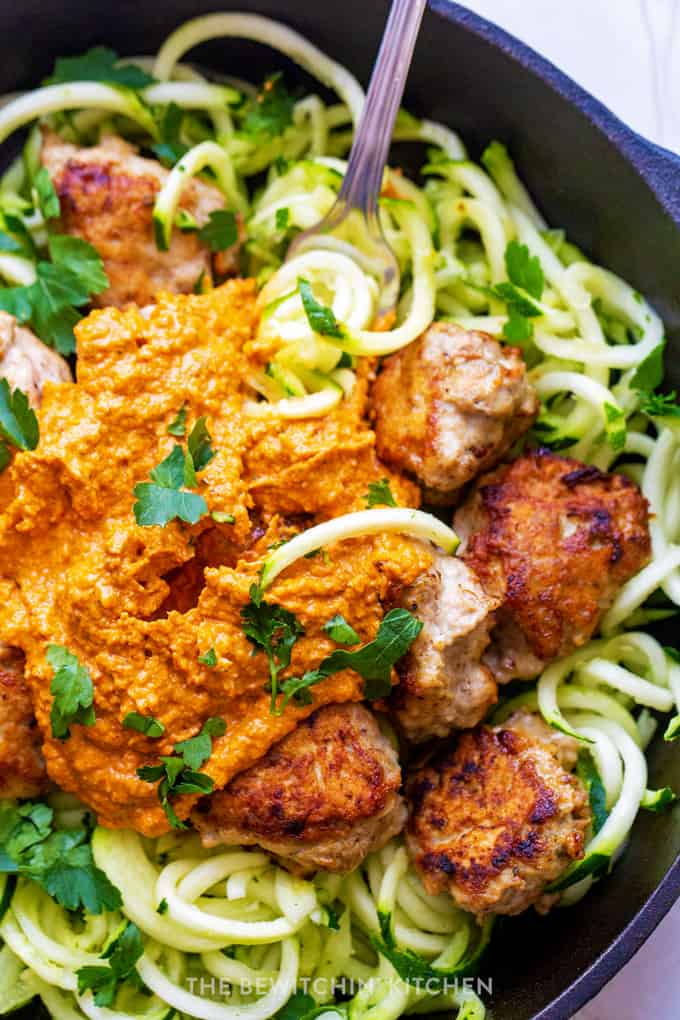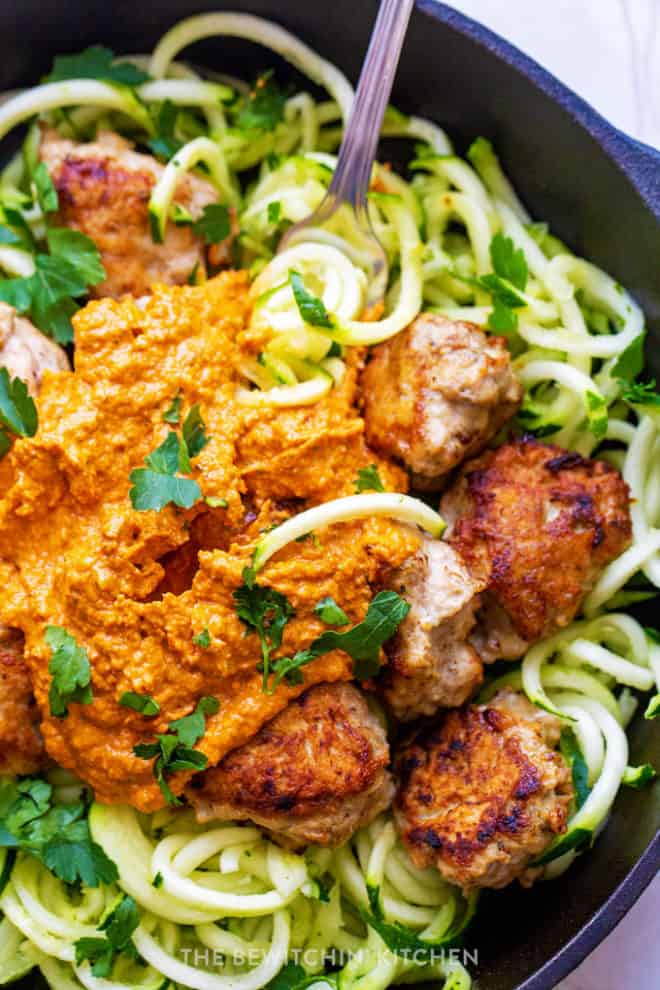 Romesco sauce is made up of roasted red peppers, tomatoes, nuts (almonds, pine nuts, or hazelnuts), garlic, and olive oil. I have seen some recipes adding lemon juice, red wine vinegar, or sherry vinegar.
Canadian Chicken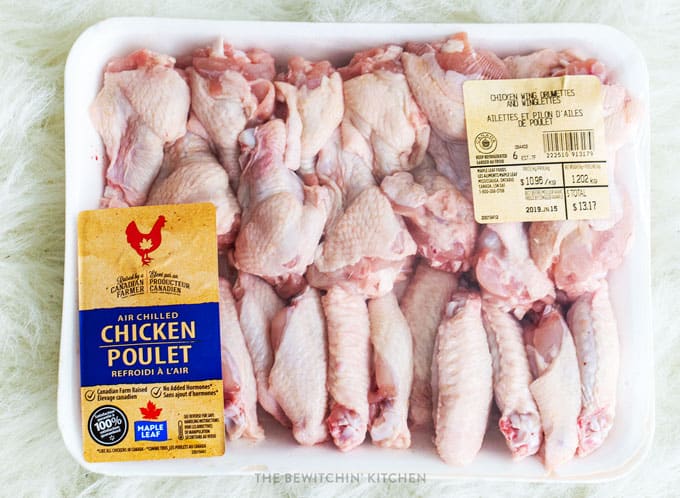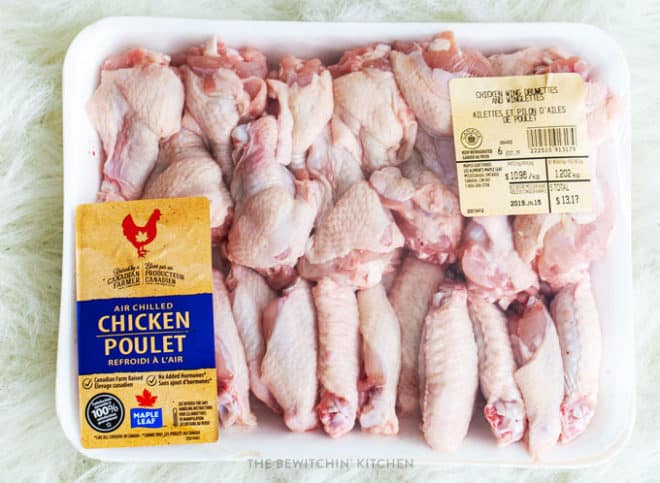 For the meatballs, I used chicken that has been Raised by a Canadian Farmer. Why is this so important to me?
Canadian chicken farmers have always been proud to provide Canadians with the highest quality chicken. Not only that but the farmers follow a strict mandatory On-Farm Food Safety Program and animal care program.
I also love knowing the 90% of Canadian chicken farms are family owned and operated and that those family farms are committed to sustainability through innovation, by preserving the health of the land, providing value to Canada's economy.
Do I have to add breadcrumbs and eggs to ground chicken?
It's not often I add breadcrumbs or an egg to my ground meats. You don't need it, but it does bulk up the recipe for an extra meatball or two.
The choice is up to you, but I like to have straight up chicken and spices.
The downside is that it's harder to shape the chicken, and I can't get the "balls" perfectly round but if that doesn't matter you to, then don't add it.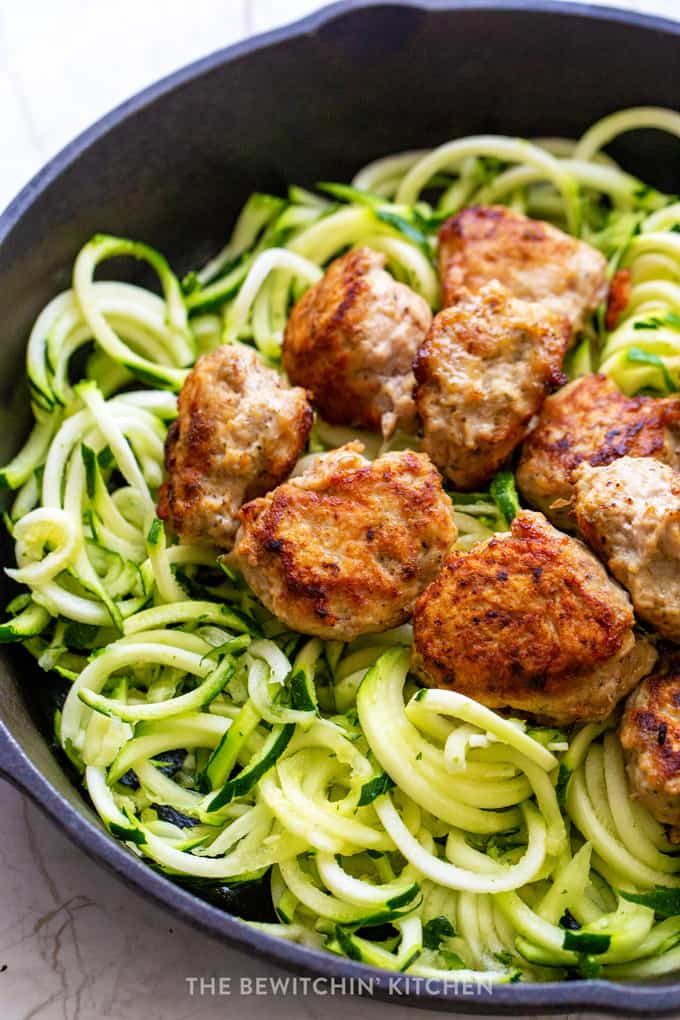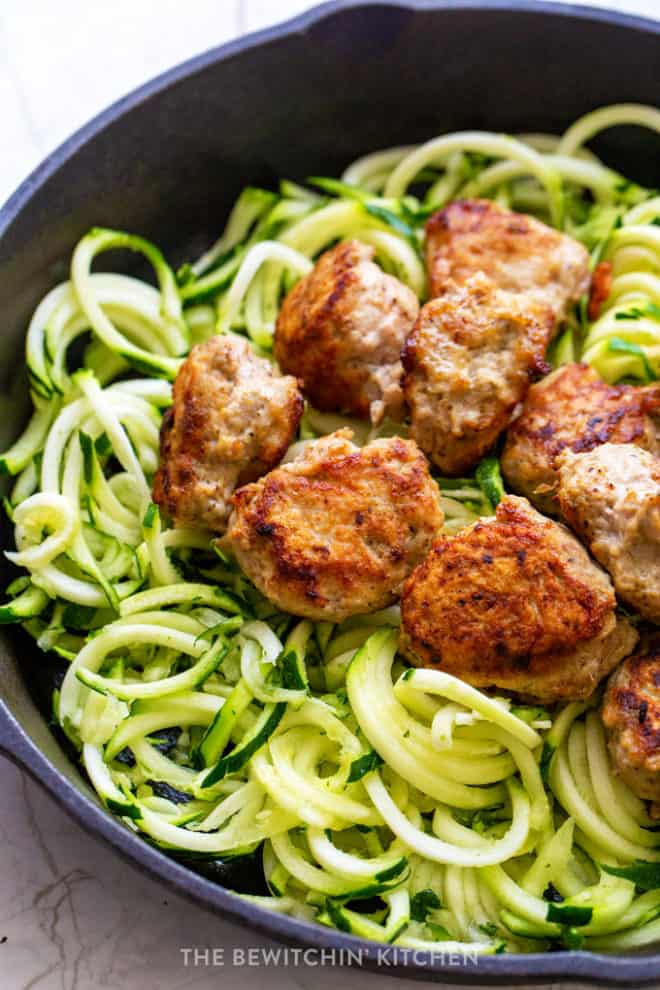 How many calories are in chicken romesco meatballs?
It's a little tricky to calculate this recipe because of the sauce and not knowing how much you will use.
That being said, for 1 meatball and 1/15th of the sauce, you're looking at roughly 123 calories, 3g of carbohydrates, 7g of protein, and 10g of healthy fats.
For 1/4th of the recipe the nutritional information is: Calories: 463kcal | Carbohydrates: 12g | Protein: 25g | Fat: 37g
This includes 1/4 of everything, the sauce, meatballs, and zucchini.
Container Counts
By popular demand, I am now offering the container counts for the Ultimate Portion Fix. I'll be slowly updating all my recipes so you can use my recipes for Beachbody programs like 21 Day Fix, 80 Day Obsession, Liift4, and more.
Full recipe: 2 greens, 4 red, 6 tsp.
Per serving: 1/2 green, 1 red, 1 1/2 tsp.
To get a full green, simply double the zucchini or add another 1/2 cup of vegetables to the mix.
How to Make Romesco Chicken Meatballs
One tip I will add is before you form the ground chicken into balls, add some cool water to your hands. This just helps the balls form. Remember that because there isn't filler in the meatballs they won't be perfectly round – and that's okay. They taste fantastic and that's all that matters.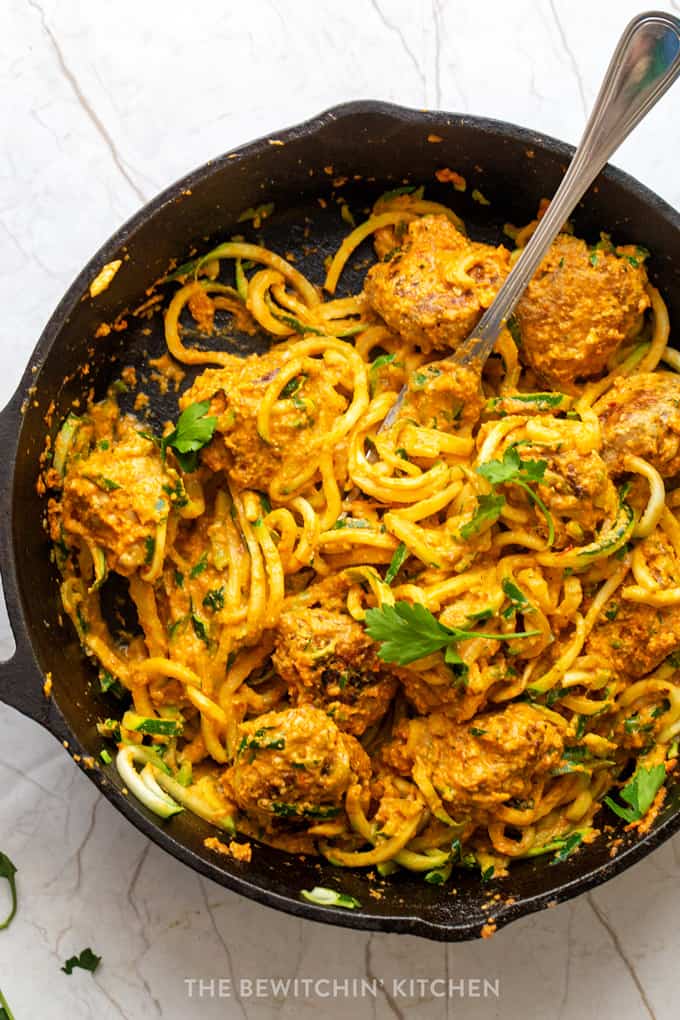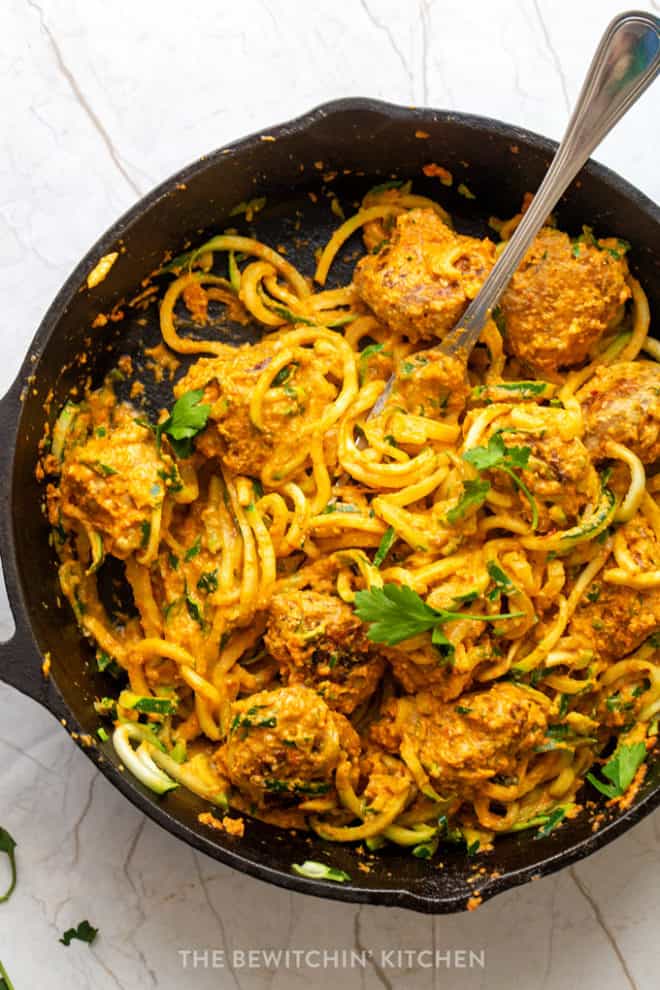 Ground Chicken Meatballs Recipes
More chicken meatballs I have made in the past that I know you're going to love:
Chicken Romesco Meatballs with Zucchini Noodles
These romesco chicken meatballs are to die for! Healthy ground chicken topped with a zesty and flavorful romesco sauce over zoodles
Prep Time 15 minutes
Cook Time 12 minutes
Total Time 27 minutes
Servings 4 servings
Calories 463kcal
Instructions
Chicken Meatballs
In a medium mixing bowl use your hands to mix together the ground chicken and spices. Rinse your hands with water and roll the meat into balls.

In a large cast iron skillet, add the avocado oil, and melt the butter over medium heat.

Once hot, add the meatballs and cook for 3-4 minutes each side until beautifully browned on the outside and white on the inside. (Roughly 10-12 minutes.)

Remove from heat and let sit for 5 minutes.
Romesco Sauce
While the meatballs cook, throw all the ingredients for the romesco sauce into a high powered blender or food processor. Blend until smooth.
Zoodles
Before serving spiralize the zucchini noodles. You can eat these raw but you don't like the crunch you can sautee them.
Putting it together.
I tossed the zucchini noodles and half a batch of the romesco sauce in the large cast-iron skillet to thoroughly mix together the dish. But you can also serve deconstructed.
Notes
Calorie information is for 1/4th of this dish.
Container Counts
Full recipe: 2 greens, 4 red, 6 tsp.
Per serving: 1/2 green, 1 red, 1 1/2 tsp.
To get a full green, simply double the zucchini or add another 1/2 cup of vegetables to the mix.
Nutrition
Serving: 1serving | Calories: 463kcal | Carbohydrates: 12g | Protein: 25g | Fat: 37g | Saturated Fat: 8g | Cholesterol: 105mg | Sodium: 1116mg | Potassium: 1156mg | Fiber: 5g | Sugar: 4g | Vitamin A: 809IU | Vitamin C: 49mg | Calcium: 104mg | Iron: 3mg
Follow On Pinterest
Follow @randaderkson On Pinterest for more delicious recipes!
Want more? Search the recipe sections over at Chicken.ca to discover more healthy recipes. Don't forget to follow them over at Facebook, Twitter, Instagram, and Pinterest.
FREE Recipe Binder
Are you constantly wondering what's for dinner?
When I don't meal plan I feel behind, and we usually end up ordering take out. This recipe binder will keep you organized and make life a little bit easier.