Amazing Classic Chocolate Cake Recipe
Classic Chocolate Cake: words that go straight to my heart. Now I love me some weird and funky cake flavours but even I cannot argue with a classic. I mean it's literally called "classic" for a reason, right?
So, let's just cut the chit-chat and jump right into the good stuff, shall we?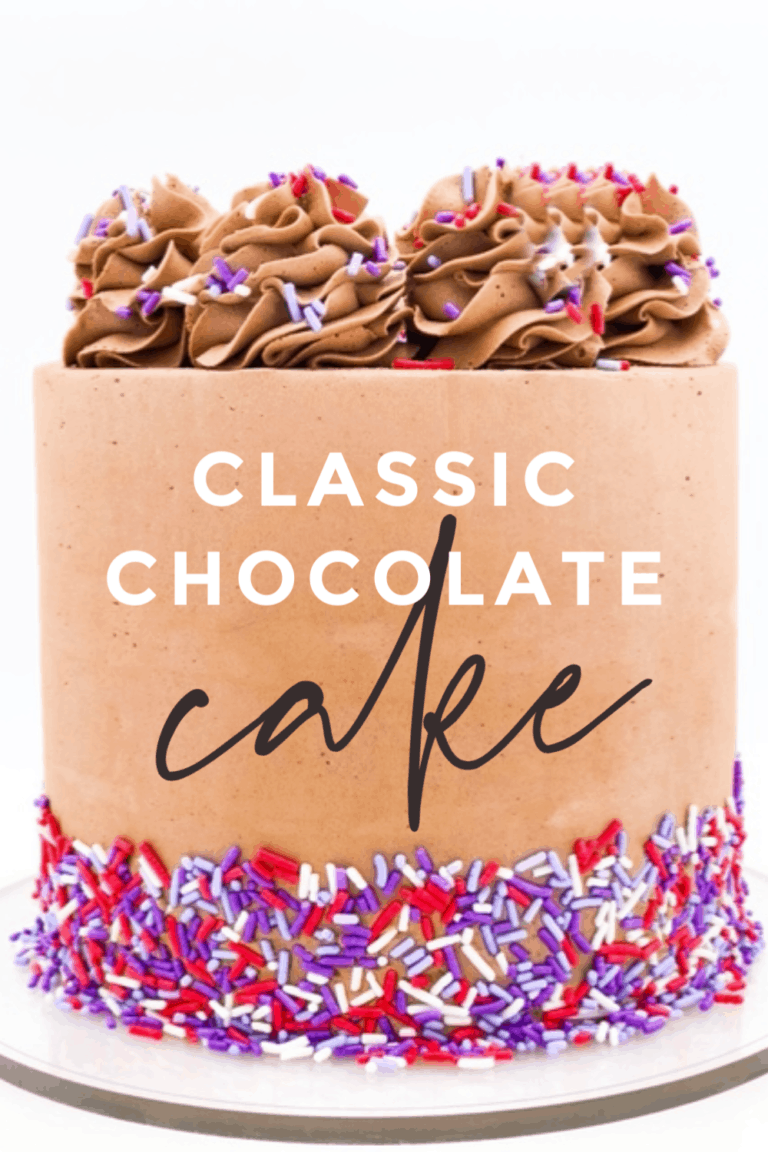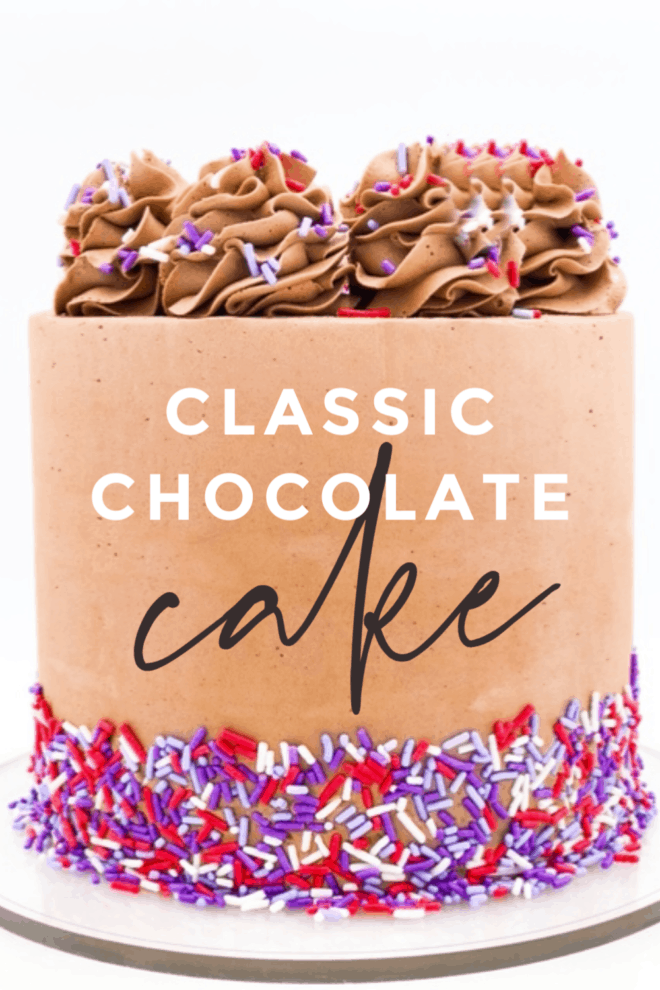 Disclosure: This post contains affiliate links for your convenience. As an Amazon Associate, I earn from qualifying purchases.
Caked By Katie
I've mentioned time and time again that I'm not the best baker. I leave that to the professionals. One of the pro's I hire locally here in Prince George is Katie from Caked by Katie. She made my daughter's glam pink smash cake and I was in awe! I also ordered macarons for my birthday. I don't always eat cake, but when I do – it's Katie's.
I'm thrilled that Katie has written this amazing recipe for a classic chocolate cake for you. I know you're going to love it!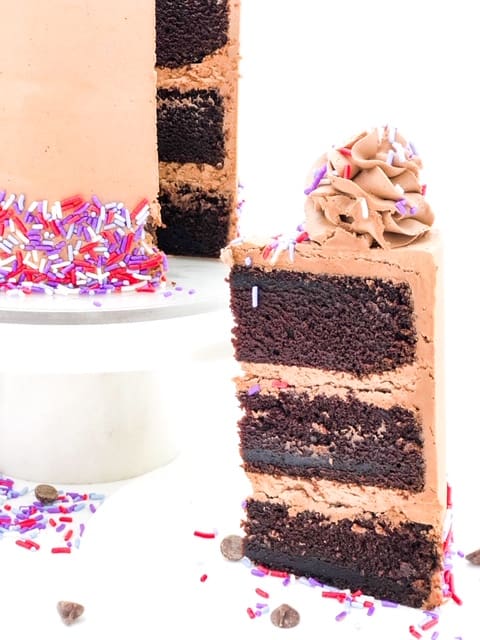 Classic Chocolate Cake
Patience has never been my strong suit so a cake recipe with 40 different steps and 15 various mixing stops and starts will not be found in my repertoire.
Give me 1 bowl, a handful of ingredients, and I will bake that cake. Can someone give me an amen?!
Life is too short to be washing hundreds of dishes, especially when there's chocolate cake to eat. Grab the mixing bowl, gather your ingredients, and get ready for some classic chocolate cake!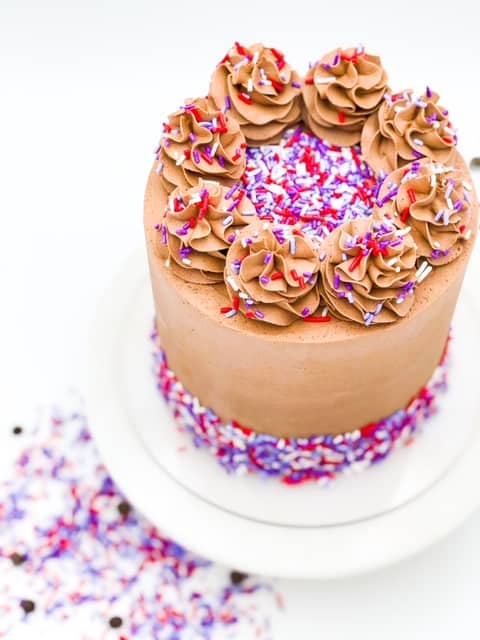 Can I Make Chocolate Cake with One Bowl?
This cake batter is a total breeze and will be ready by the time the oven heats up.
Start off with all the dry ingredients in a bowl and give it a quick whisk to work out any clumps there might be.
Clumpy chocolate cake is no bueno. Now that we're clump-free add in all the wet ingredients except for the vinegar.
Yep, you heard that right, add them all in.
How to Make Chocolate Cake in One Bowl
Mix until the batter is fully incorporated. Here's where the vinegar gets added. You should start to see it react to the baking soda in the batter right away.
It will bubble and appear a bit frothy around the sides. Mix everything until fully incorporated and divide the batter between the prepared cake pans. The beauty of this recipe is that is can be easily made into two 8-inch round pans should you not have three 6-inch round cake pans.
How long does it take to bake chocolate cake?
There you have it, chocolate cake ready to bake in a 350-degree oven for 25-30 minutes or until a toothpick inserted in the center comes out with a few crumbs.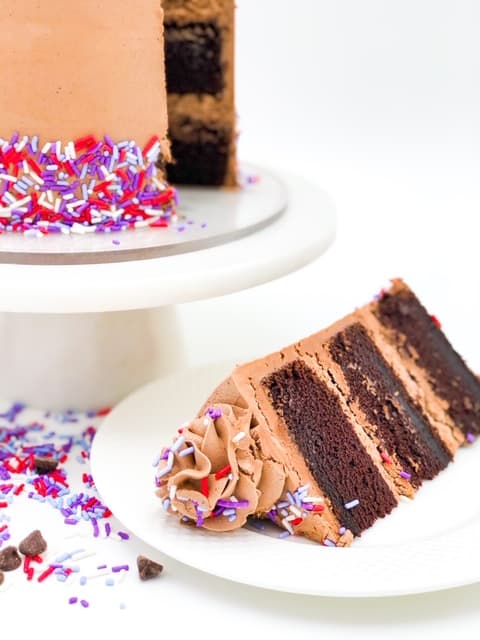 See…I told you it was easy and you only have 1 bowl to wash. You're welcome.
While those layers of chocolate cake goodness are baking, let's get started on the best part of any cake: the buttercream!
How to Make Buttercream
I'm that girl who will always opt for the corner/edge piece of cake to capitalize on more frosting.
What can I say, butter and sugar understand me.
In the bowl of a stand mixer start to cream the room temperature butter with the paddle attachment until it's light and fluffy.
Add in the powdered sugar, cocoa powder, sea salt, vanilla extract, and heavy cream and mix on low until incorporated. Once incorporated crank the mixer up to high and let it beat for 5 minutes. This will create an airy and smooth buttercream. Basically what chocolate buttercream dreams are made of.
Everything is now locked, loaded, and ready for magic.
How to Frost a Cake
Here's a little secret I'm going to let you in on.
The hard work is done. Cake…baked. Buttercream…whipped. That's literally all you need for a magically delicious cake sure to please any palate.
No one is going to complain if all you do is spatula on some of that dreamy buttercream and call it a day. If you want to get fancy and really stop the proverbial show trim up all three cake layers with a serrated kitchen knife so the tops are flat and level.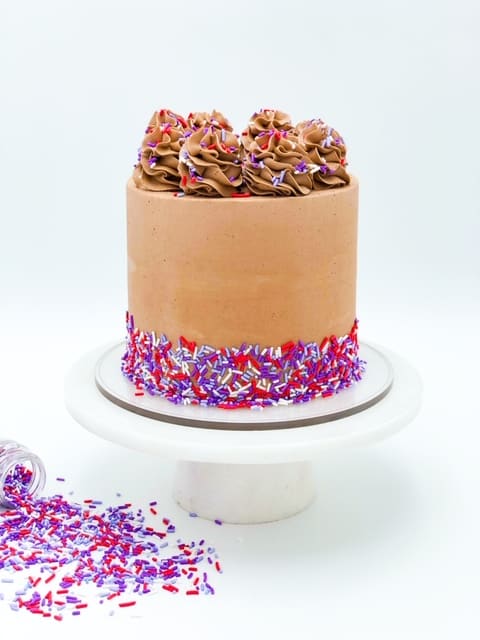 On a plate, cake board, stand, whatever is flat, start stacking the cake layers.
Buttercream.
Cake layer.
Buttercream.
Cake layer.
Buttercream.
You get the idea. The very top cake layer put the cut side down so the top is
clean and straight. Give the whole cake a quick thin coating of buttercream and pop into the fridge to set for 10-15 minutes. This helps seal in any loose crumbs. After its chilled, it's ready for a final coat of buttercream. Slather. Pipe. Smooth. Smoosh. Whatever gets the job done.
I added a splash of brightly colored sprinkles around the bottom and piped some fun buttercream swirls on top.
Tip: To get the beautiful swirls I used this pipping tip. The sprinkles are from Sprinkle Pop Shop (USE CODE RANDA20 FOR 20% OFF).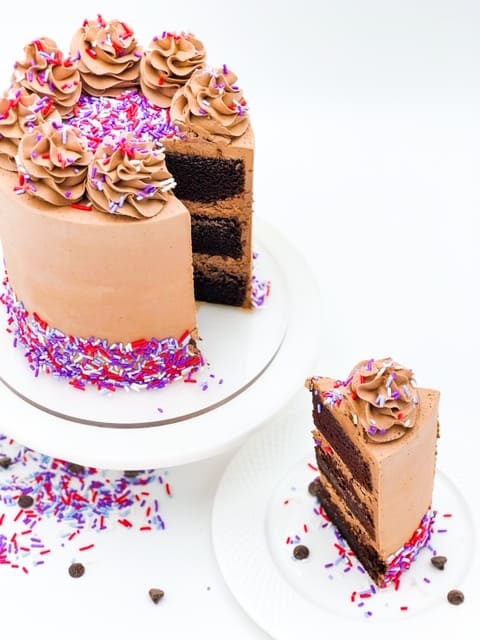 Classic Chocolate Cake Recipe
There you have it: a decadently rich and moist classic chocolate cake. Give it a generous slice (no one likes a stingy cake person).
Want more cake inspiration? Go follow the queen of cakes herself, CakedByKate on Instagram.
More chocolate recipes you'll love!
Classic Chocolate Cake
This rich and fudgy classic chocolate cake recipe is a winner. Decorated with creamy chocolate buttercream frosting – this recipe does not disappoint. Perfect for birthday parties or just because, do we really need a reason for chocolate cake?
Servings 10 slices
Calories 1067kcal
Ingredients
Chocolate Cake
3 cups all-purpose flour
2 cups sugar
2/3 cup cocoa powder
1 tsp sea salt
2 tsp baking soda
2 cups coffee
1 cup oil canola or avocado oil
1 tbsp vanilla extract
3 tbsp white vinegar
Chocolate Buttercream
2 cups salted butter room temperature
4 cups icing sugar
1/4 cup cocoa powder
1 tsp sea salt
1/2 cup heavy cream
1 tsp vanilla extract
Instructions
Chocolate Cake Instructions
Preheat oven to 350 degrees and prepare three 6-inch round cake pans

Add all dry ingredients to stand mixer and give a quick whisk.

Add all wet ingredients except vinegar and whisk until fully incorporated

Add vinegar and whisk until fully incorporated.

Divide batter between pans and bake for 30-35 minutes or until a toothpick comes out with a few crumbs

Cool in pans for 10 minutes and then invert on cooling rack to fully cool.
Chocolate Buttercream
In the bowl of a stand mixer with paddle attachment cream the butter until light and fluffy.

Add the remaining ingredients and mix on low until incorporated.

Turn mixer up to high and beat for 5 minutes.
Cake Assembly:
Place one leveled layer of chocolate cake on a plate. Top with approximately 3⁄4 cup of buttercream.

Repeat with remaining layers and apply a thin coat of buttercream all over the cake. Refrigerate for 15-20 minutes.

Cover the cake with a final layer of buttercream and decorate as you please. Enjoy!
Nutrition
Calories: 1067kcal | Carbohydrates: 122g | Protein: 6g | Fat: 65g | Saturated Fat: 28g | Polyunsaturated Fat: 8g | Monounsaturated Fat: 25g | Trans Fat: 2g | Cholesterol: 114mg | Sodium: 1018mg | Potassium: 208mg | Fiber: 4g | Sugar: 87g | Vitamin A: 1309IU | Vitamin C: 1mg | Calcium: 37mg | Iron: 3mg
Follow On Pinterest
Follow @bewitchinkitchen On Pinterest for more delicious recipes!
If you like this recipe, don't forget to share it with your friends and pin it!