Chicken and Apple Sausage Hash Tacos
Can we just talk for a second about tacos? I'm in love. Seriously. I could put just about anything in a tortilla and call it a day. I love them with a little zest and a little sweetness and that was the inspiration behind these Chicken and Apple Sausage Hash Tacos.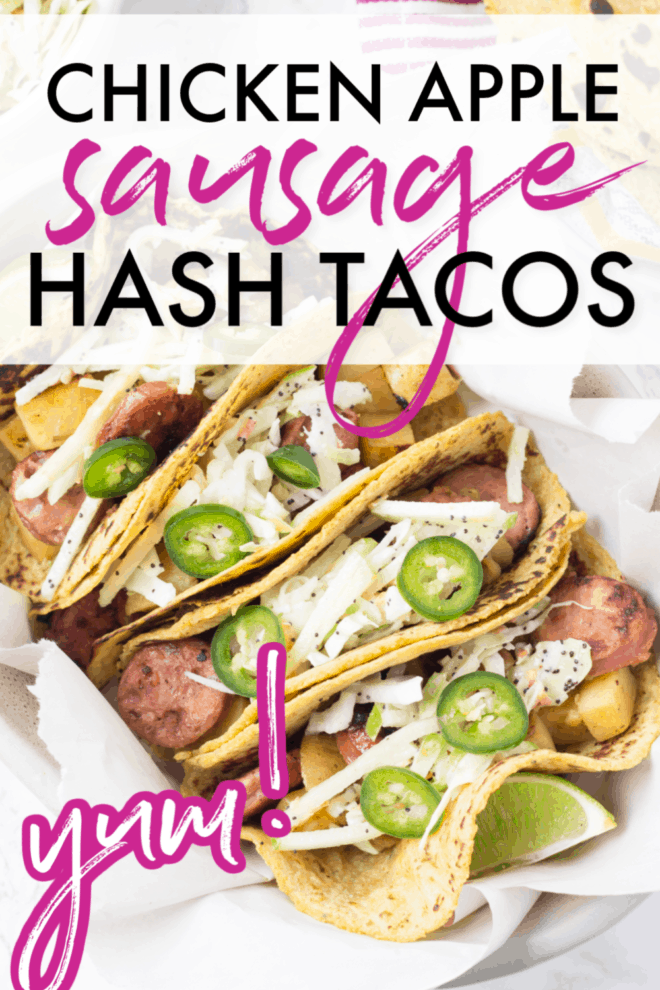 Disclosure: This post contains affiliate links for your convenience. As an Amazon Associate, I earn from qualifying purchases.
Chicken and Apple Sausage Hash Tacos
If you are looking to establish healthy habits and are overwhelmed by the idea. Make sure to register for the 30 Days to a Healthier You challenge. We take building healthy habits one day at a time for life long change.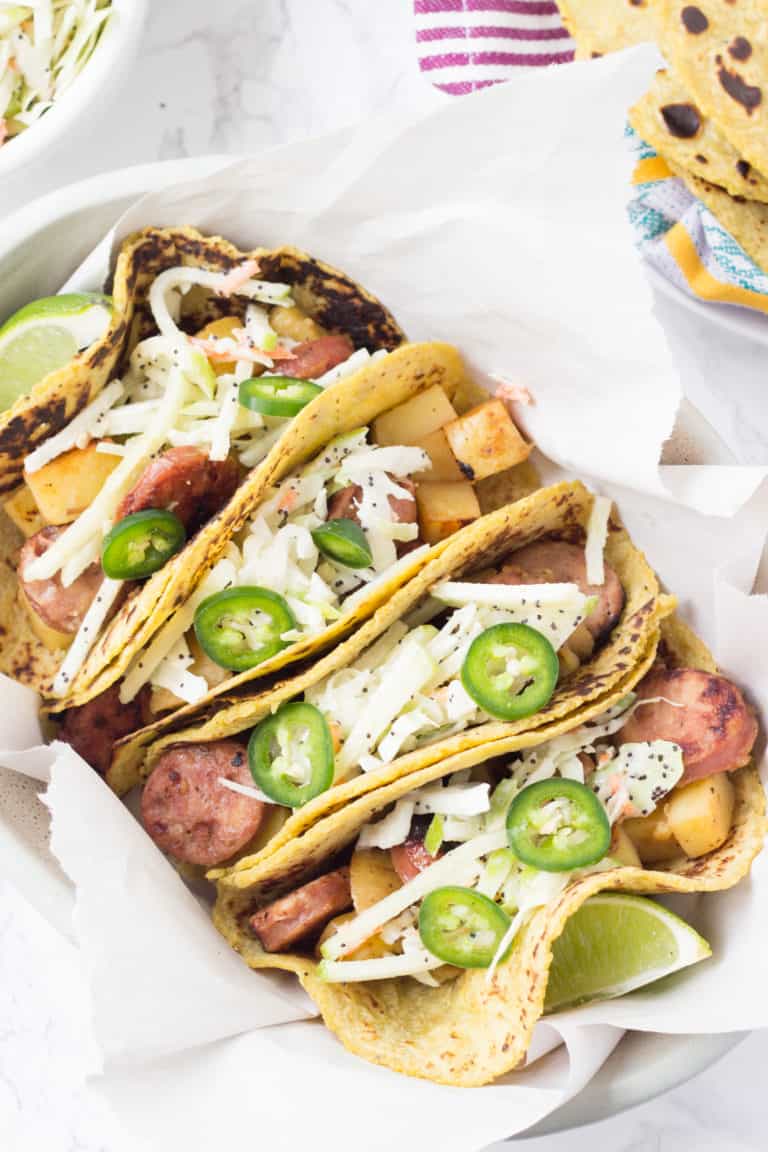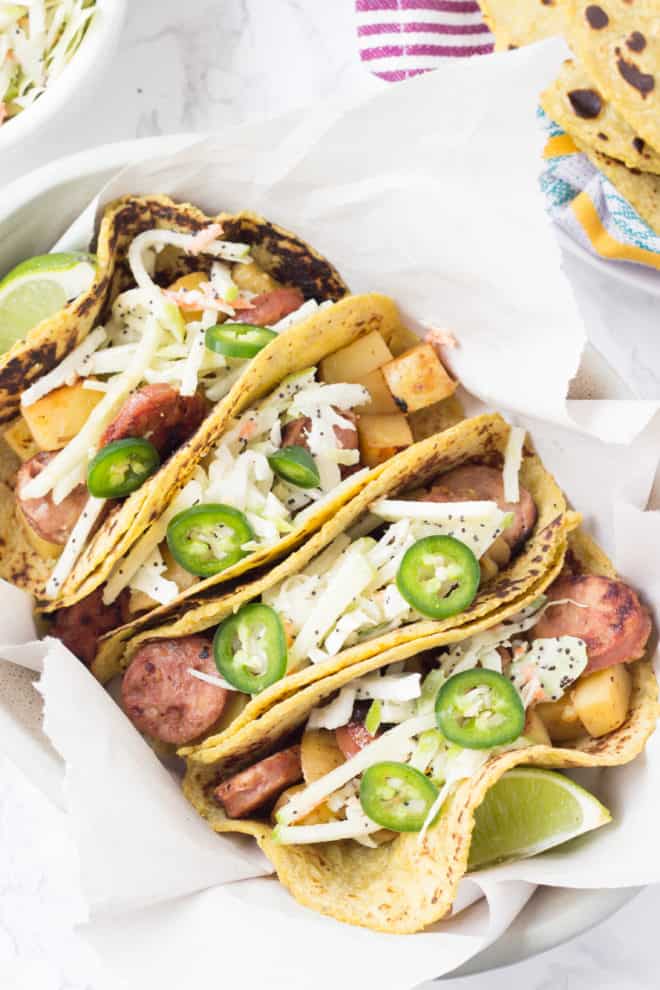 I've always enjoyed potatoes in tacos whether it's a breakfast version or mixed with mushrooms and romesco sauce, so I knew I wanted to do a hash but kick it up a notch with a chicken and apple sausage.
Naturally, that meant throwing the hash into these super easy one-ingredient plantain tortillas and slapping the taco title on them because…tacos are everything.
I usually steer away from pre-made sausages, however, there are some natural ones at the store that are good.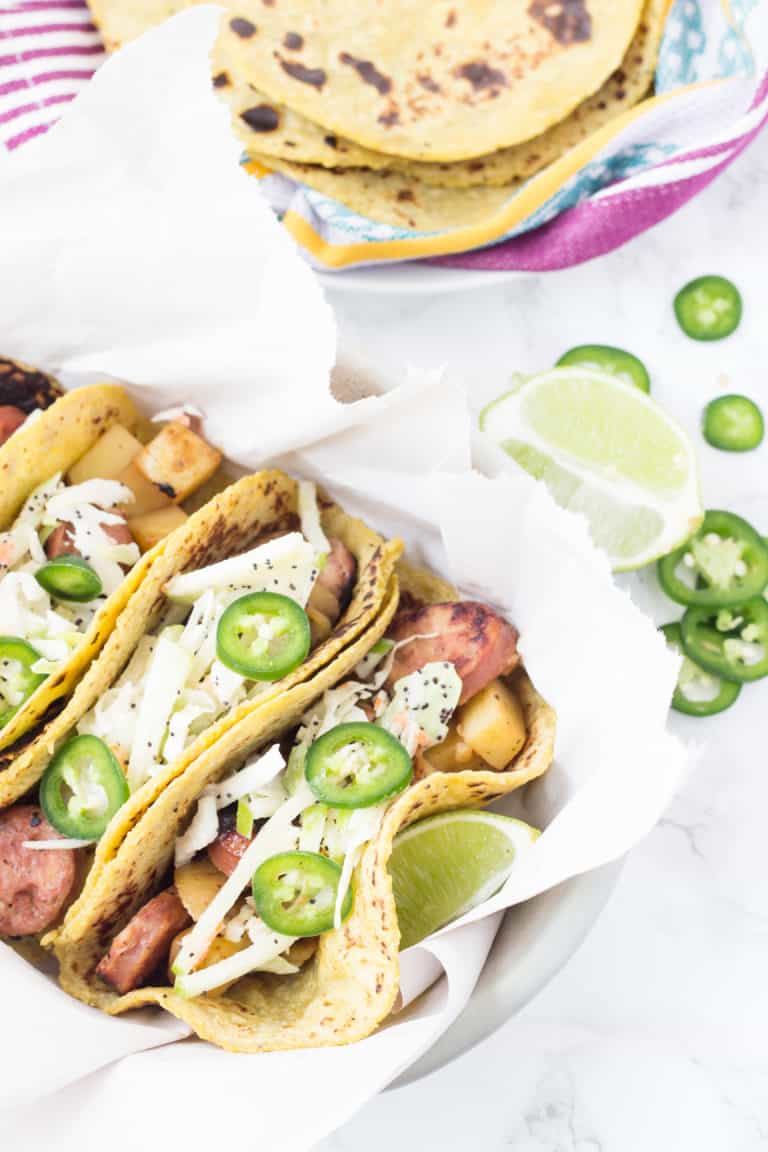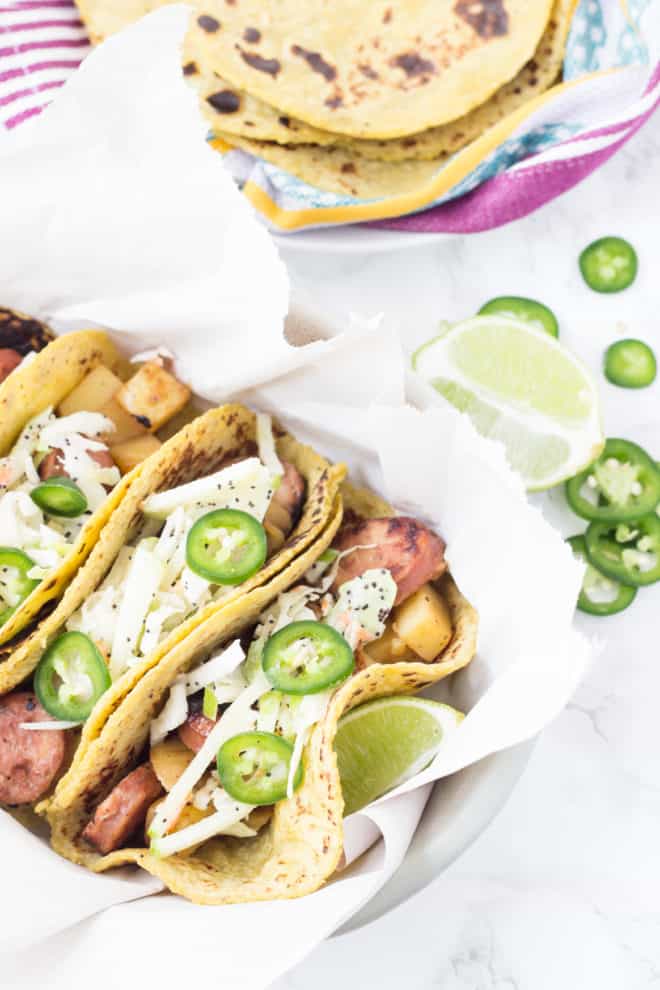 What can I sub Chicken Apple Sausage With?
In Canada (or at least in my area of Canada) it's not always easy to find chicken apple sausage, so if you cant regular turkey or chicken sausage is just fine.
Start with a Chicken Apple Sausage Hash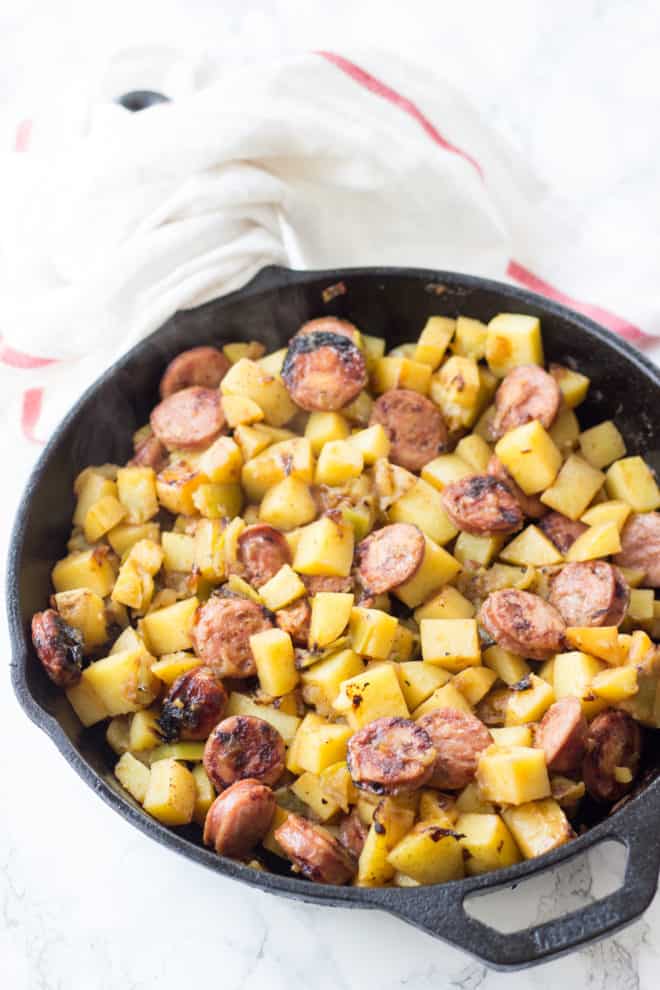 I started by sauteing some onions with the sausage. Once that was nice and golden brown I added in the apple and potato. A few minutes of steaming action and another few minutes of stirring and I had a perfect hash.
Now I guess you could really stop here and you'd still have a healthy and filling dinner, or even breakfast if you want to crack a few eggs on top, but if you're feeling up for it you can whip up an easy slaw in a matter of minutes.
How to Make Chicken Sausage Tacos Paleo
If you're not Paleo you can just use whatever pre-made tortillas you like which will cut down on the prep time tremendously.
If you want to make your own this plantain recipe is good (and paleo) or you can try my flour tortillas or homemade corn tortillas.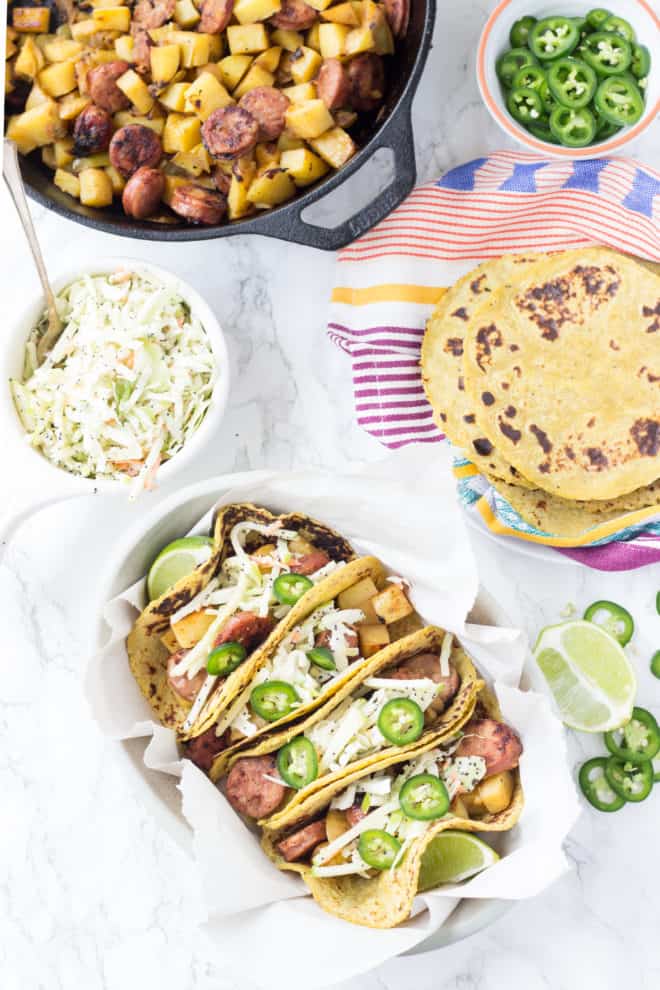 The slaw is a combination of pre-made slaw mix (I'm all about saving a few minutes by not shredding by hand!), matchstick apples, mayo, apple cider vinegar, honey, and poppy seeds. Season it with a little salt and pepper and it's good to go!
Tuck all of that into the tortillas and add a few slices of spicy jalapeño, grab a drink, and enjoy!
How to Make Chicken and Apple Sausage Hash Tacos
The recipe itself is pretty easy and a great weeknight meal.
TBK's Pro Tip: Make it ahead for meal prep and serve as needed.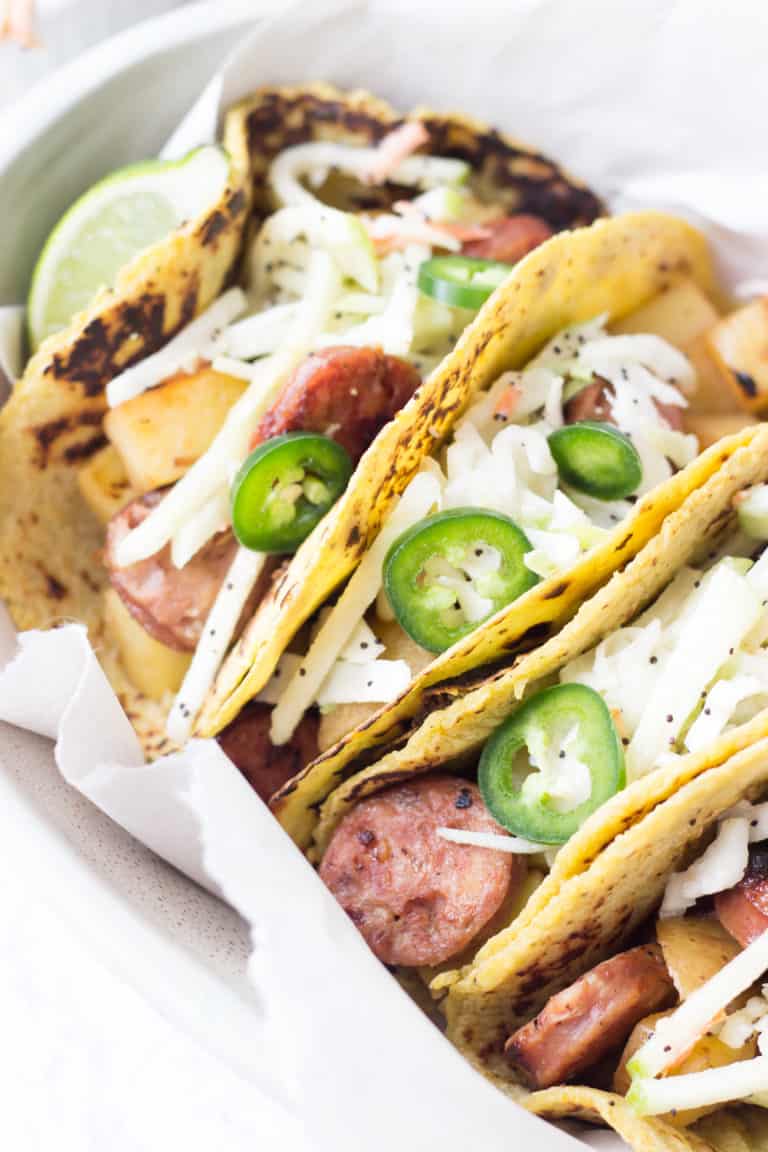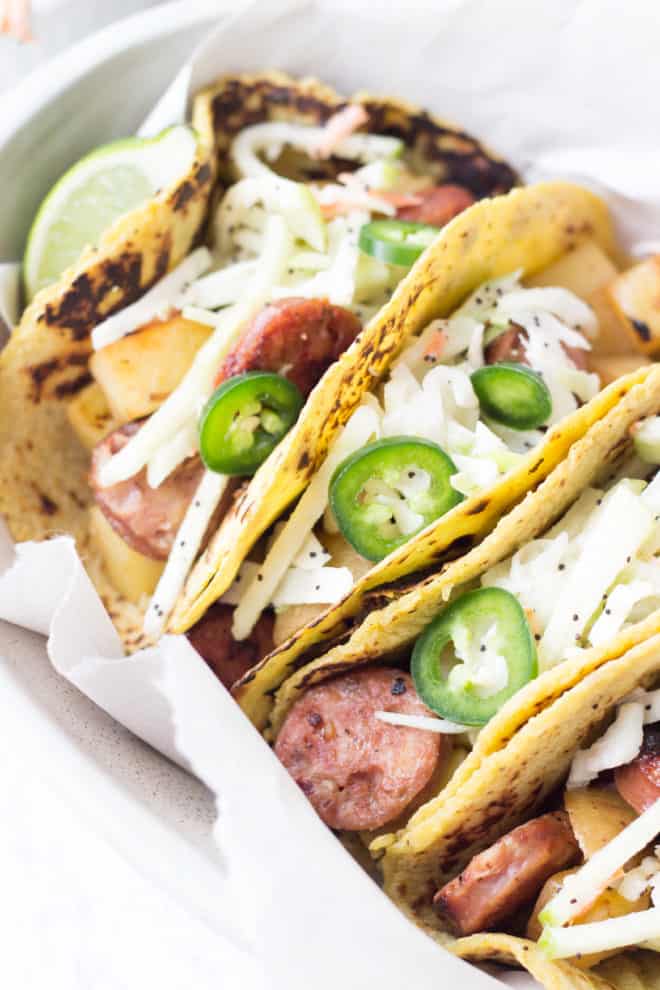 More Taco Recipes:
If you are looking to establish healthy habits and are overwhelmed by the idea. Make sure to register for the 30 Days to a Healthier You challenge. We take building healthy habits one day at a time for life long change.
Chicken and Apple Hash Tacos
These chicken apple sausage hash tacos has a base of of an apple and potato hash, topped with a zesty apple slaw that's to die for! It's love at first bite!
Servings 12 tacos
Calories 233kcal
Ingredients
Hash
4 chicken apple sausage links
4 cups yukon gold potatoes diced
1 granny smith apple diced
1/2 white onion diced
2 tablespoons olive oil
1 jalapeno thinly sliced
12 tortillas Plantain, corn, or flour
Instructions
If you are making tortillas make them now.

Prepare the slaw by mixing together all of the ingredients, set aside.

Heat a large skillet over medium-high heat with two tablespoons olive oil. Add the onion to the pan and saute about 5 minutes until soft. Slice the sausages into rounds and add to the pan in a single layer. Let brown 1- minutes per side.

Add the apple and potato to the skillet and toss with the onion and sausage. Pour in 1/4 cup of water and cover letting the potato cook for about 10 minutes. Remove the lid and stir every few minutes. Season with salt to your taste.

Divide the mixture between 12 tortillas and top with slaw and sliced jalapeños.
Nutrition
Serving: 1taco | Calories: 233kcal | Carbohydrates: 30g | Protein: 9g | Fat: 9g | Saturated Fat: 2g | Cholesterol: 20mg | Sodium: 513mg | Potassium: 359mg | Fiber: 4g | Sugar: 6g | Vitamin A: 152IU | Vitamin C: 19mg | Calcium: 65mg | Iron: 3mg
Follow On Pinterest
Follow @bewitchinkitchen On Pinterest for more delicious recipes!
If you like this recipe then don't forget to share it with your friends by sharing it to Facebook and Pinterest.
FREE Recipe Binder
Are you constantly wondering what's for dinner?
When I don't meal plan I feel behind, and we usually end up ordering take out. This recipe binder will keep you organized and make life a little bit easier.