Shark Steam Pocket Mop
If I was to post about everything I bought that I liked, we would have a lot of posts on our hands here. However, tonight I went to Canadian Tire and purchased the Shark Steam Pocket Mop. I have been curious about steam mops for a long time now, so when I saw in the flyer it was 50% off this weekend, I had to get one (I nabbed the last one too).
Now, I 'm not one to just go out and buy something because it goes on sale. I carefully plan my purchases with lots of research. I have read mixed reviews on the Shark Steam Pocket Mop but it was the YouTube videos that seemed to have the best information that led me to my purchase. 
It's really sad how excited I was to clean when I got home. Setting up was easy and I just used simple tap water to fill the reservoir. Now, I just washed my kitchen floor yesterday (twice) so the results shocked and disgusted me.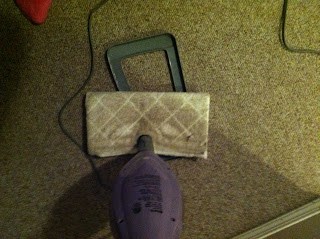 Ew. I couldn't believe how much dirt there was on my kitchen floor (especially after already being "cleaned"). I then flipped the pad over and continued on to my bedroom (where I was able to get some sticky substance off my floor in two passes), office and bathroom. I flipped it over and it was dirty, but didn't compare to my kitchen so I decided to do my kitchen one more time. Here is the result: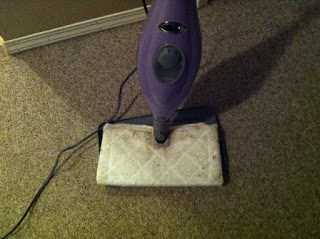 It looks the same as it did from when I did the other three rooms. I can say that at this very moment I believe that my kitchen floor is the cleanest it has ever been. 
To use the mop is simple. You plug it in and let it heat up for thirty seconds. Pump the handle 10-12 times (I did more in the beginning) and then glide it along your floor, pumping to get more steam every once in a while (it's not as big as a deal as what it seems). It's effortless.
I am so impressed with the Shark Steam Pocket Mop that I had to write this review. For those of you who have been debating whether or not to get it, don't wait anymore! It's a chemical free way to clean and sanitize your floor. It works great and you will not regret it.
I did not receive any product or compensation for this review, I genuinely wanted to share my experience with my readers.
FREE Recipe Binder
Are you constantly wondering what's for dinner?
When I don't meal plan I feel behind, and we usually end up ordering take out. This recipe binder will keep you organized and make life a little bit easier.