Spinach Bacon Quiche (Whole30)
If you're looking for a delicious Whole30 breakfast, you are going to love this spinach bacon quiche recipe! Made with a sweet potato crust, bacon, eggs, and any leftover vegetables you have laying around in the fridge it's incredibly easy (and helps with reducing food waste).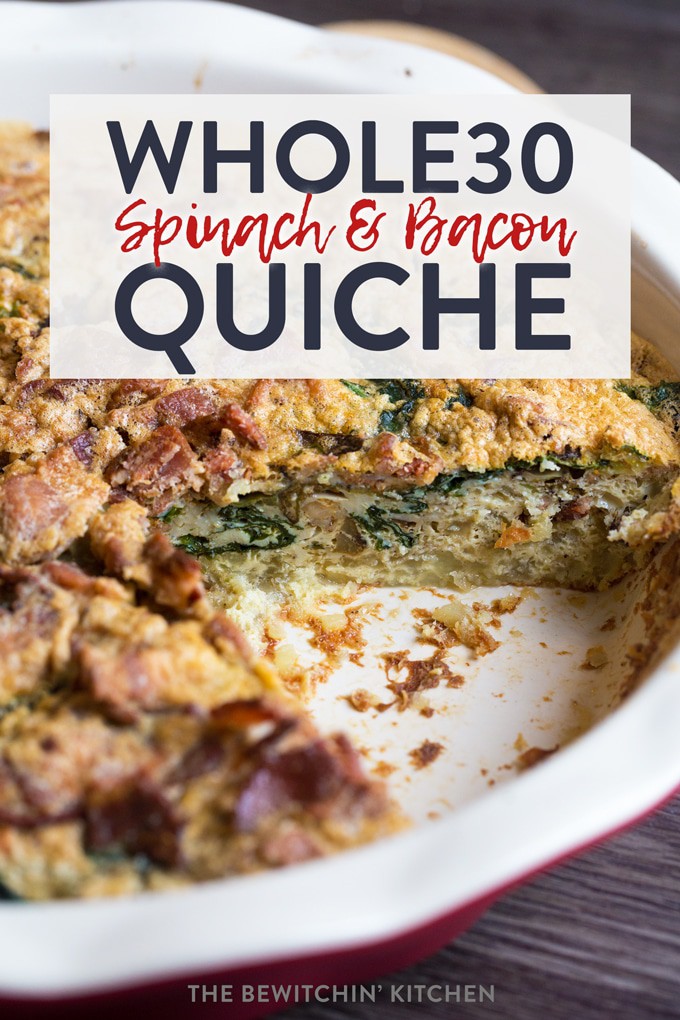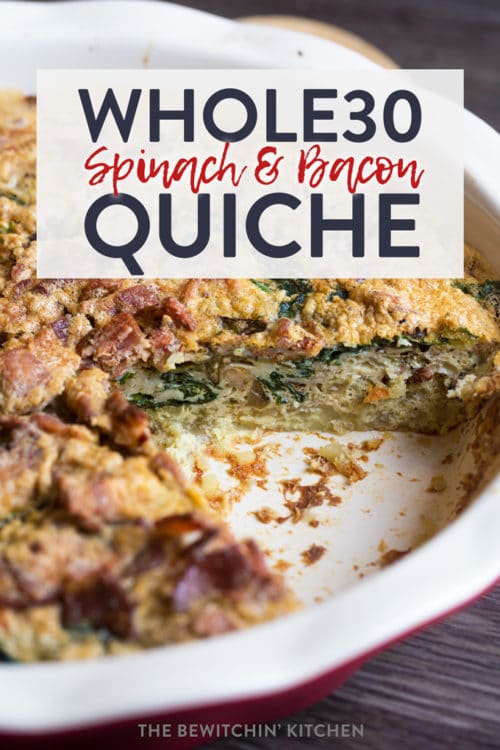 Whole30 Quiche
Disclosure: This post contains affiliate links for your convenience. As an Amazon Associate, I earn from qualifying purchases.
Here's the best part of this spinach bacon quiche recipe: you can use whatever vegetables you have.
Sunday is usually when I scramble to see what vegetables are about to turn and I usually toss them in a soup. This time, I wanted to do something different: I turned them into an easy breakfast that I could grab and go throughout the week.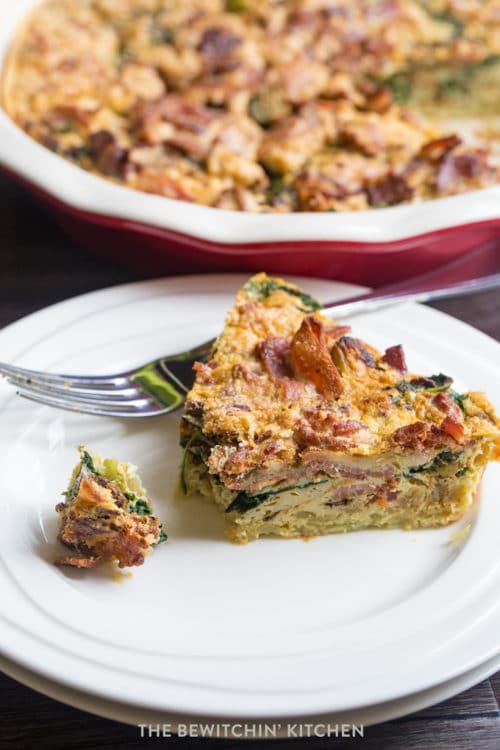 It's full of veggies, satisfying, plus it had bacon in it, so I looked forward to it every morning.
I had a zucchini that was about to go, Brussel sprouts that would have been wasted otherwise, and spinach that was iffy.
Into the quiche, they went!
What vegetables go in a quiche?
Other vegetables that would be delicious in this spinach bacon quick are:
Bell peppers
Asparagus
Tomatoes
Sundried Tomatoes
Kale
Leeks
Shredded Carrots
Green onions
Olives
TBK's Pro Tip: Don't forget to add fresh herbs if you have some on hand!
Is bacon Whole30?
There is Whole30 compliant bacon out there. You need to look for sugar-free bacon (that's also free of nitrates). It should be simply pork and salt, maybe some seasonings and lemon juice.
You may have luck going to a local butcher and asking them straight up for what you're looking for.
If you're looking for Whole30 bacon in Canada – Kirkland bacon (and Kirkland prosciutto) is Whole30 approved (source).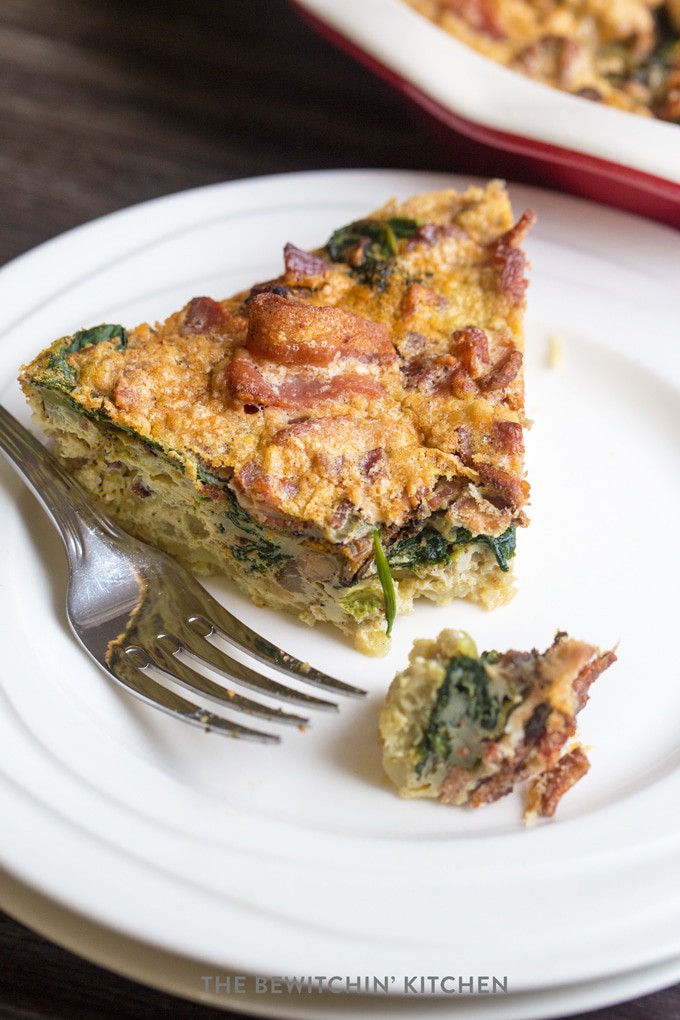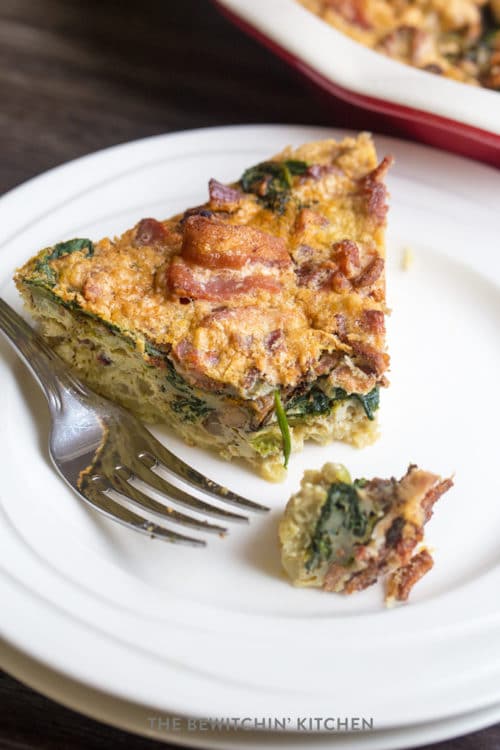 Related: What's the difference between Paleo and Whole30?
Crustless Quiche Supplies & Ingredients
Sweet potato
Bacon
Leftover vegetables: Brussels sprouts, zucchini, onion, etc
Spinach
Garlic
Eggs
Calories in Spinach Quiche
This easy spinach quiche recipe only has 329 calories for 1/8th of the recipe.
For the rest of the nutritional information (macronutrients), you can find them at the bottom of the recipe card below.
This recipe is Whole30, Paleo, Keto, and will fit portion fix containers (I do not have the specifics but you can make it work if you add the containers up and divide them to the servings).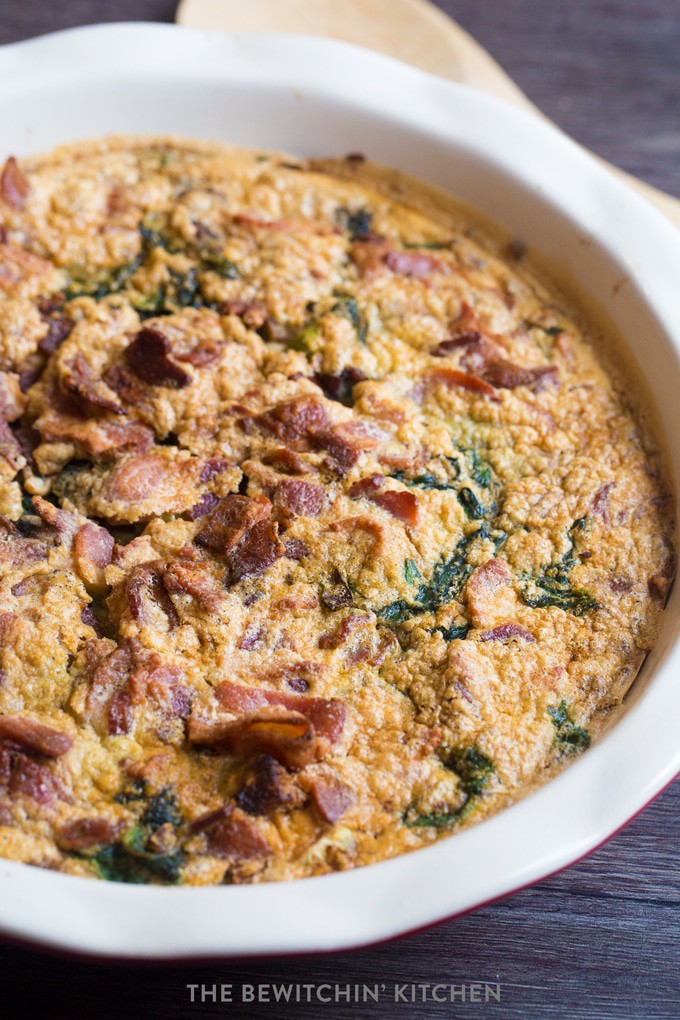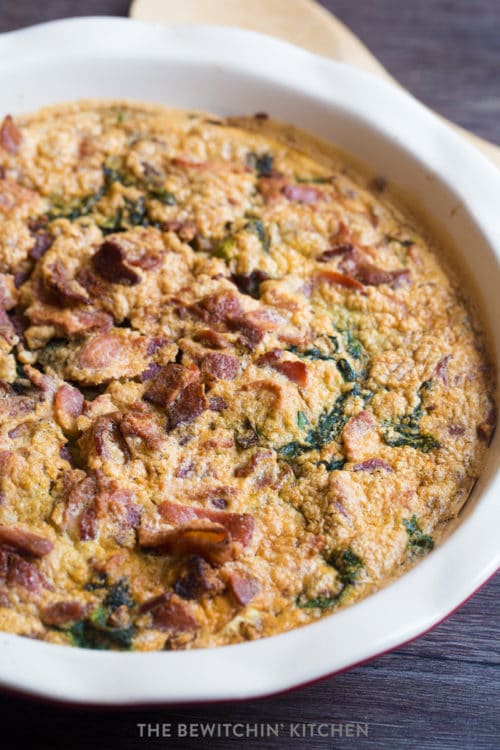 21 Day Fix Container Counts
By popular demand, I am now offering the container counts for the Ultimate Portion Fix. I'll be slowly updating all my recipes so you can use my recipes for Beachbody programs like 21 Day Fix, 80 Day Obsession, Liift4, and more.
Here are the counts for this creamy scallops recipe:
These counts are if you swap bacon for turkey bacon:
Full recipe: 9 green, 8 red, 1 yellow,
Per serving: 1 green, 1 red, trace amounts of yellow.
Whole30 Breakfast Recipes
Here are a few more Whole30 Breakfast recipes found here on the blog.
Spinach Bacon Quiche Recipe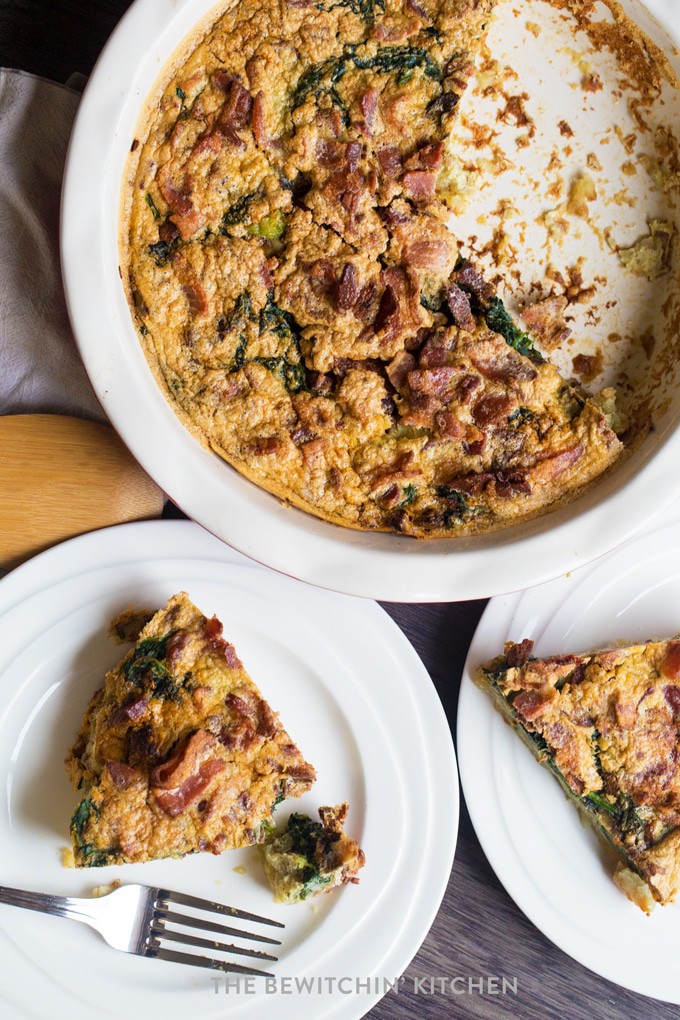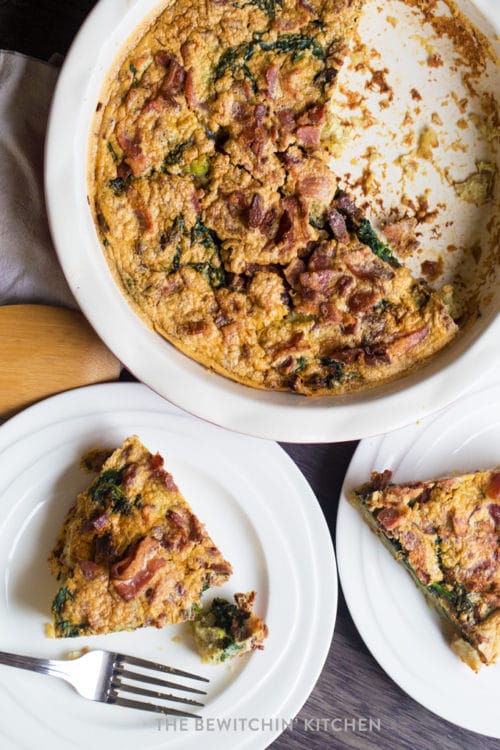 Not only is this spinach quiche recipe easy but it's super yummy.
You are going to love it!
Recipe note: You don't need to salt the mix as the bacon does it for you. If you have unsalted bacon, then go ahead!
How to Make a Quiche
This recipe is fairly straightforward so I don't have any additional tips to add other than to enjoy!
If you added any other vegetables, leave me a comment and let me know what you added and how it turned out!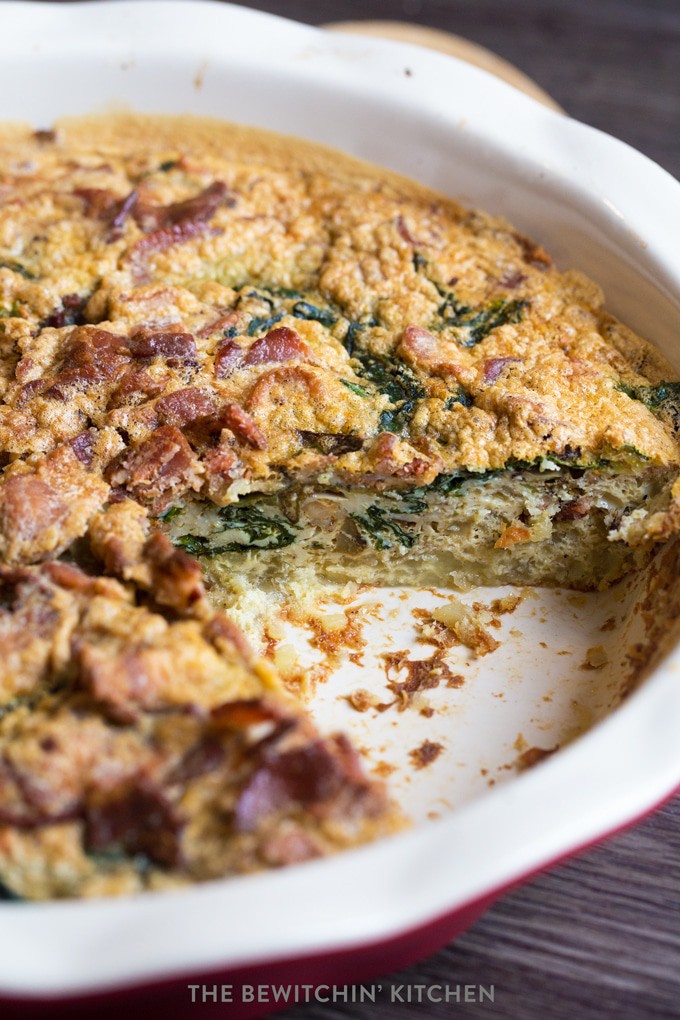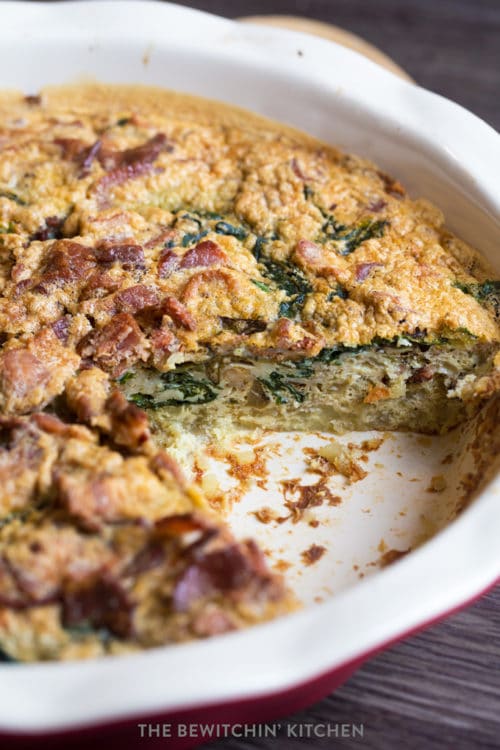 Spinach Bacon Quiche
This tasty and healthy gluten free spinach and bacon quiche recipe is perfect for a fresh breakfast and falls under the paleo diet plus it's Whole30.
Servings 8 servings
Calories 329kcal
Ingredients
1 small sweet potato or 1/2 large one
1 375 g package bacon or 3/4lb, diced
1/2 cup brussels sprouts chopped
1/4 cup zucchini diced
1/4 onion diced
1/2 tsp  paprika
1/4 tsp  pepper
8 cups spinach
3 garlic cloves minced
8 eggs
1/4 cup water
Instructions
Sweet Potato Crust
Peel the sweet potato, chop it into quarters, and toss in a food processor or high powered blender until it's a fine dice.

Press into a pie pan, bake for 25 minutes.
Spinach Bacon Filling
While the sweet potato crust is cooking, heat a skillet over medium heat and add the bacon. Cook until crispy.

Drain most of the bacon fat, leaving about 1-2 tablespoons for cooking.

Add the Brussels sprouts, zucchini, and onion, stir constantly for 2-3 minutes.

Add spinach and garlic. Cook until spinach is wilted.

Top the sweet potato crust with the vegetable mixture and bacon.

Beat 8 eggs and 1/4 cup of water together and pour over the vegetables and bacon.

Bake for 35 minutes.
Notes
Weight Watchers Freestyle Points: 6 (if using center cut bacon).
21 Day Fix Container Counts
These counts are if you swap bacon for turkey bacon:
Full recipe: 9 green, 8 red, 1 yellow,
Per serving: 1 green, 1 red, trace amounts of yellow.
Nutrition
Serving: 1slice | Calories: 329kcal | Carbohydrates: 6.9g | Protein: 14.7g | Fat: 26.9g | Saturated Fat: 8.9g | Cholesterol: 222.5mg | Sodium: 471.3mg | Fiber: 1.5g | Sugar: 1.9g
Follow On Pinterest
Follow @bewitchinkitchen On Pinterest for more delicious recipes!