Ginger Lime Chicken Lettuce Wraps (Slow Cooker + Instant Pot Recipe)
On the nights where you need a nutritious meal that takes little effort, you want these slow cooker ginger lime chicken lettuce wraps in your recipe arsenal. I have included instructions for both the slow cooker and the Instant Pot. You're going to love these healthy chicken lettuce wraps!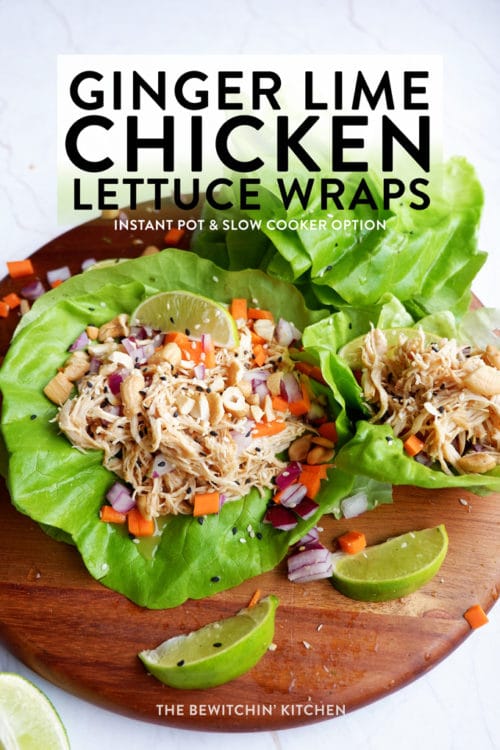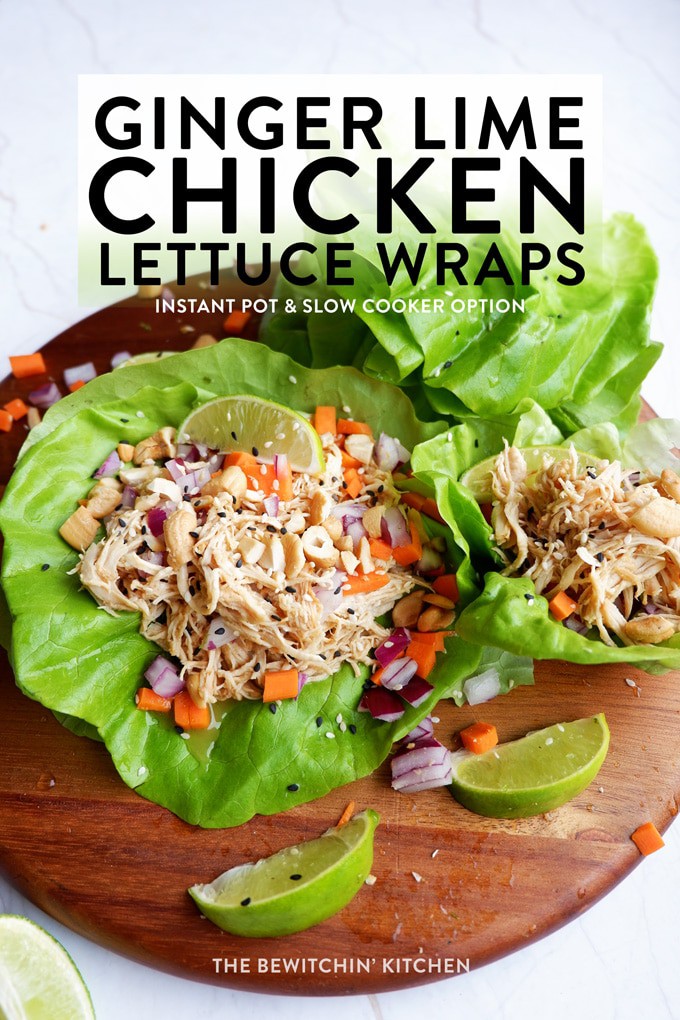 Ginger Lime Chicken Lettuce Wraps
Disclosure: I am participating in the Chicken Farmers of Canada campaign managed by SJ Consulting. I received compensation in exchange for my participation in this campaign. The opinions on this blog are my own. Search the recipe sections over at Chicken.ca. Follow them on the following social profiles: Facebook, Twitter, Instagram, and Pinterest.
Carl, my cat, peed in my CrockPot.
I wish I was joking.
I think it's because he knew I had a slow cooker chicken recipe coming up and he wanted to throw a wrench in things (it's such a Carl thing to do).
Needless to say, the CrockPot is in the trash. This actually works well for me as I've been eyeing a multicooker up for a while and this gives me a reason to buy it when it goes on sale next – but still. I'm highly annoyed.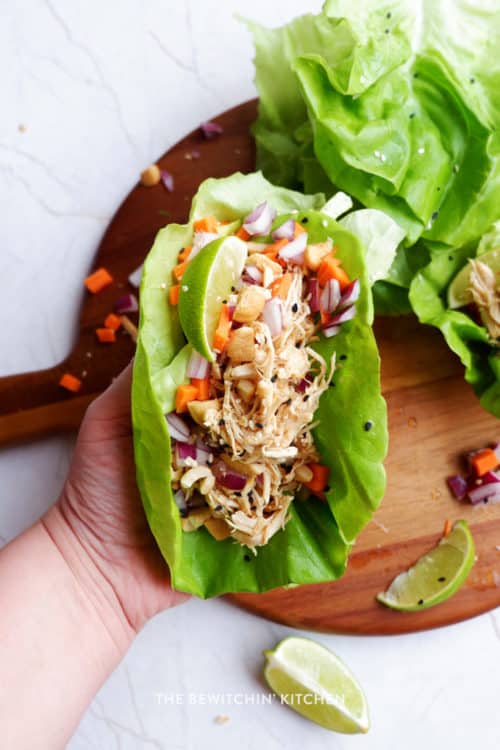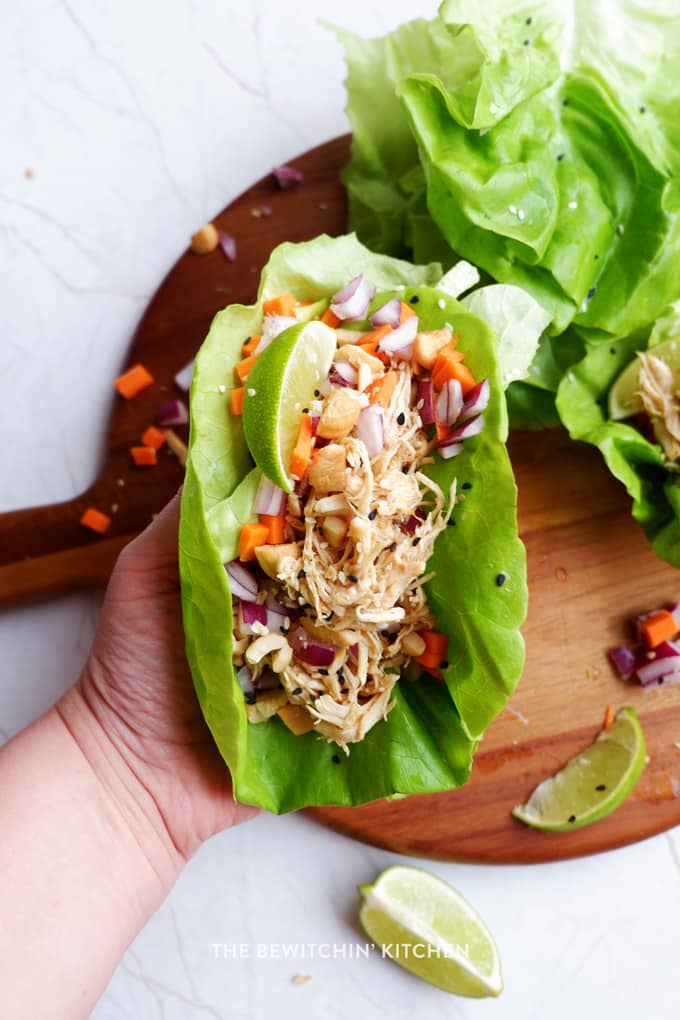 I wanted to have a healthy slow cooker recipe on the blog for you, so I was wondering what I should do and then I remembered my Instant Pot.
Yes, my Instant Pot has a slow cook option – but it doesn't work. It's awful.
However, since the pressure cooker option is a sped up version of it being slow cooked, I did that. I'll include how-toto for both the Instant Pot and a slow cooker in the recipe card below.
Slow Cooker Chicken Lettuce Wraps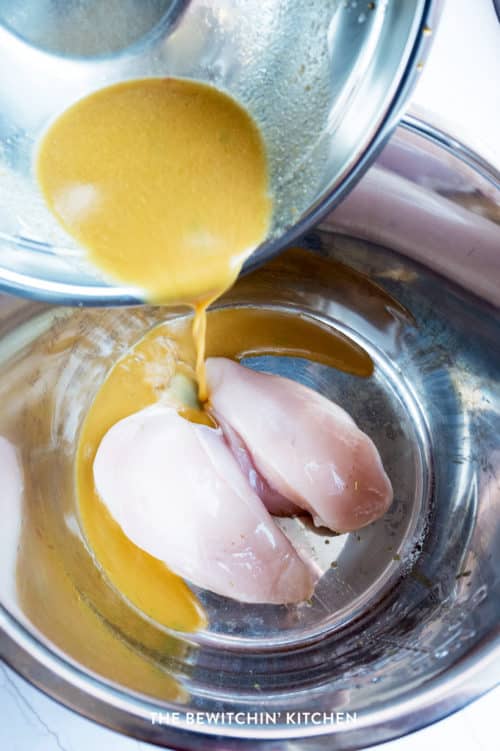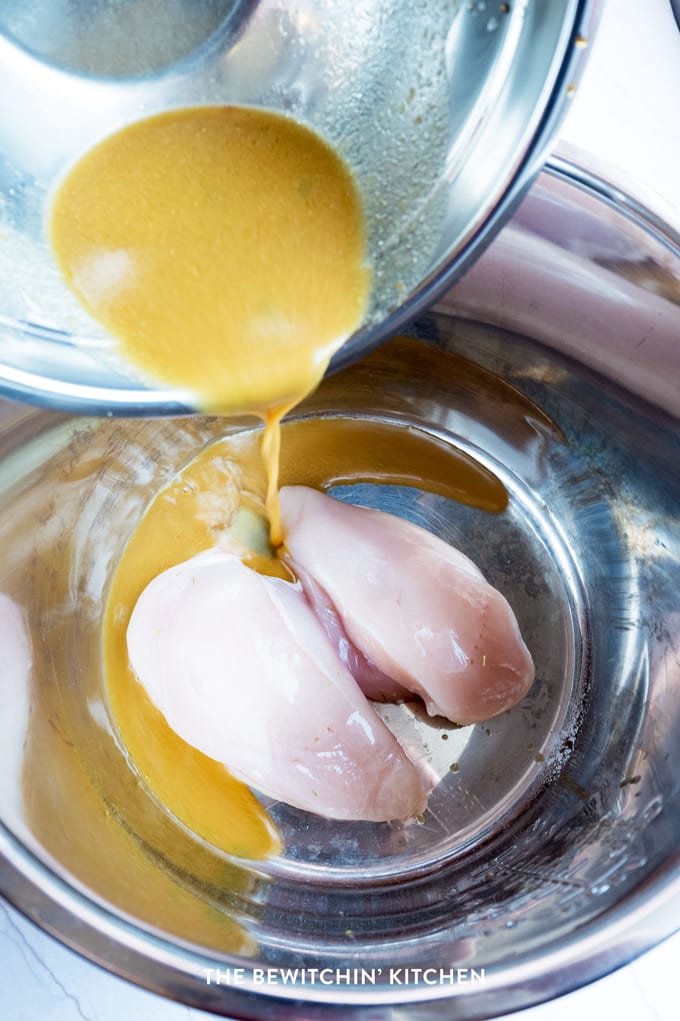 When I throw together a recipe for The Bewitchin' Kitchen, I honest to goodness wing it.
I usually have an idea on what I want and the flavors I believe would work well together and I toss it together and cross my fingers.
However, I do rely on having quality ingredients: fresh vegetables, high-grade spices, and Canadian chicken.
Did you know? Canadian chicken is grain-fed, free of hormones (all meat in Canada is) and steroids?
Canadian chicken is raised here in Canada according to nationally-set, mandatory food safety, and animal care standards.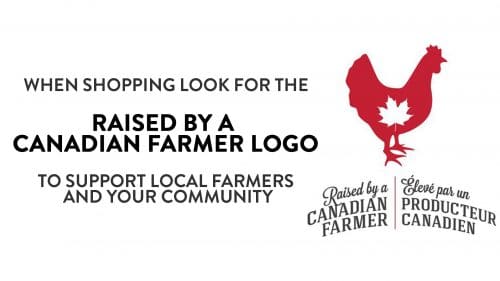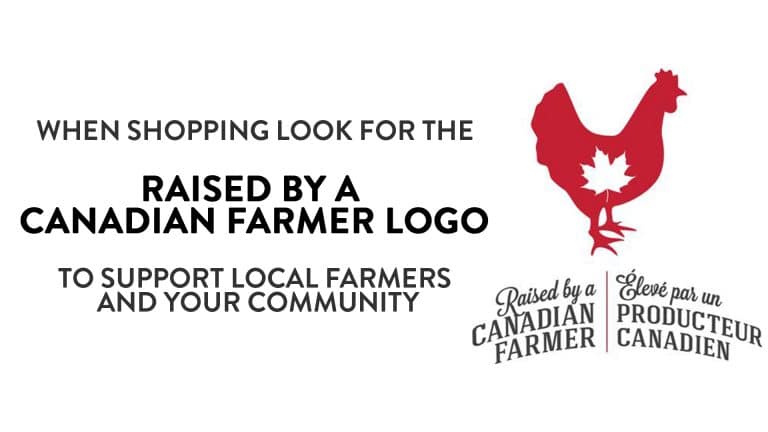 How can you tell that you're supporting Chicken Farmers of Canada? Look for the Raised by a Canadian Farmer logo!
When you see this logo you know the following:
The chicken was raised by a registered Canadian chicken farmer.
The farm is subject to mandatory and auditable programming for food safety and animal care.
You're supporting our local economy and giving back to our communities.
You're supporting a family farm (some of them going back a few generations).
Whole30 Chicken Lettuce Wraps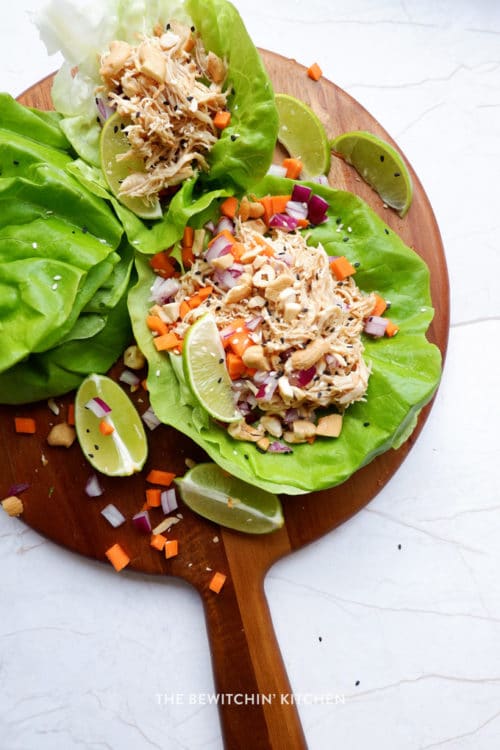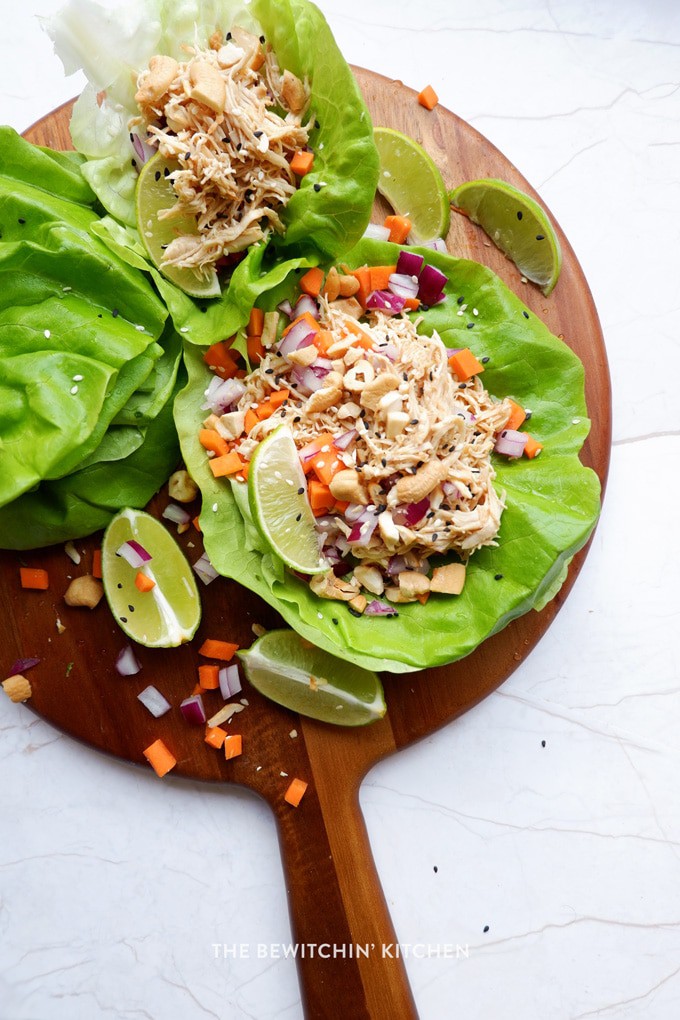 To make these healthy chicken lettuce wraps recipe Whole30 is simple.
Don't add the honey.
That's it!
What kind of lettuce works best for lettuce wraps?
The best lettuce for shredded chicken lettuce wraps is bibb or butter lettuce.
You can use iceberg, but I find that it's too crispy to fold over the filling.
I have also used romaine, but that works best for lettuce boats.
What to serve with chicken lettuce wraps?
I typically highlight the chicken lettuce wraps as the main dish, but if you want a sides I have included a few options.
Chicken lettuce wraps side dishes:
Vegetables for Chicken Lettuce Wraps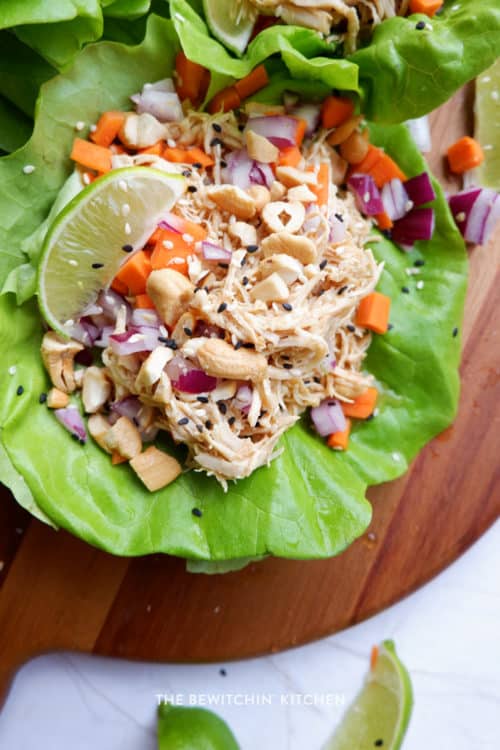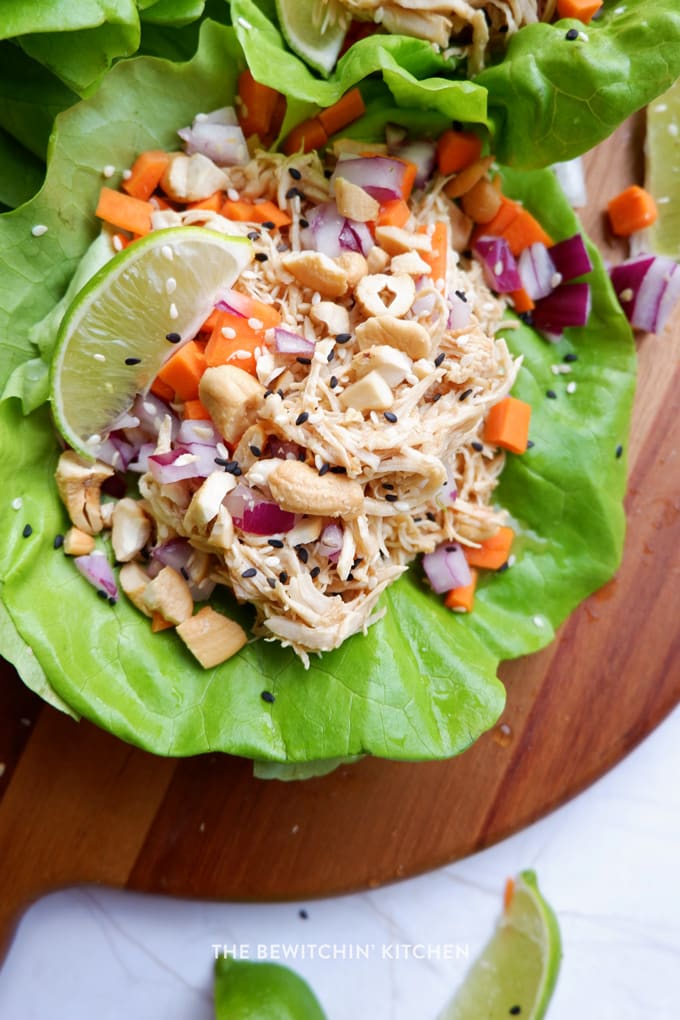 Here are a few vegetables you can add to your chicken lettuce wraps recipe.
Broccoli
Shredded carrots
Red bell pepper
Red onion
Green onions
Mushrooms
Chicken Lettuce Wraps Recipe
I originally added 2 teaspoons of ginger powder to the chicken mixture but it was much too strong.
1 teaspoon is nice and light, but if you love ginger – try 1 1/2 teaspoons.
Randa's Tip: Work with the chicken lettuce wrap recipe to see what works for your tastes.
The same goes for honey. I didn't want it too sweet, so I only added 1 tablespoon but feel free to add 2 tablespoons if you like sweet and sticky.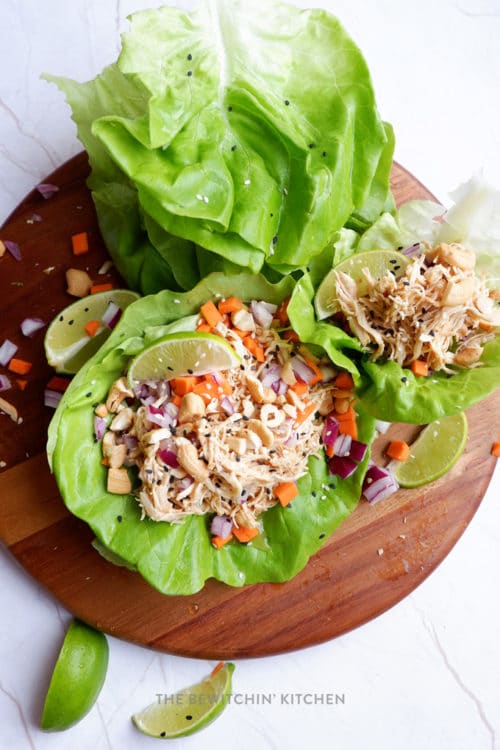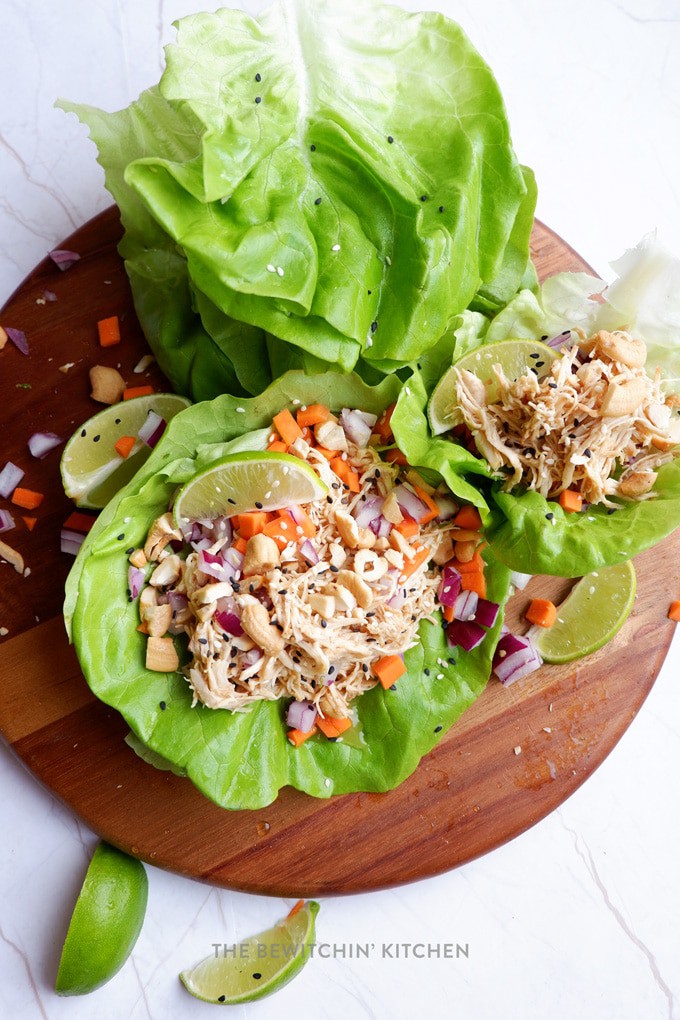 How to Make Chicken Lettuce Wraps
Randa's Tip: Since the honey is sweet and sticky, I added it after the chicken cooked to make clean up easier.
More healthy chicken recipes:
Ginger Lime Chicken Lettuce Wraps
These ginger lime chicken lettuce wraps are a quick and healthy weeknight meal. Make them in the slow cooker, CrockPot, or Instant Pot for easy shredded chicken. Serve with bibb lettuce, vegetables. Option for a Whole30 version included in the recipe.
Prep Time 10 minutes
Cook Time 4 hours
Total Time 4 hours 10 minutes
Servings 6 wraps
Calories 165kcal
Ingredients
Chicken Mix
2 chicken breasts
1/4 cup chicken broth
Juice of 1 lime
1 tsp  lime zest
1 tbsp coconut aminos
1 tbsp sesame oil
1 tsp  powdered ginger
1/2 tsp  sea salt
1 tbsp honey if not Whole30
For Assembly
6 bibb lettuce leaves
1/2 cup shredded carrots or 2 carrots, finely diced
1/2 red onion fine dice
1/3 cup cashews chopped
1 tbsp sesame seeds
Additional vegetables of choice: broccoli red peppers, mushrooms, etc.
Instructions
For the Slow Cooker
Add the chicken breasts to the slow cooker.

In a separate bowl add the rest of the chicken mixture ingredients (not the honey).

Pour over the chicken.

Cook on low 8-10 hours or high 3-4 hours.

Shred the chicken with two forks and add the honey, stir.
For the Instant Pot
Add the chicken breasts to the bottom of the Instant Pot.

In a separate bowl whisk together the rest of the chicken mixture ingredients (not the honey).

Pour over the chicken.

Cook on manual for 25 minutes.

Shred the chicken with two forks and add the honey, stir.
Chicken Lettuce Wraps Assembly
Lay the bibb lettuce down and add the chicken mixture, vegetables of choice, chopped cashews, and sesame seeds.

Roll up and enjoy.
Notes
Weight Watchers Freestyle Points: 3 - 1 point if you skip the cashews.
Nutrition
Serving: 1wrap | Calories: 165kcal | Carbohydrates: 12.7g | Protein: 12.5g | Fat: 8g | Saturated Fat: 1.4g | Cholesterol: 31.2mg | Sodium: 340.4mg | Fiber: 1.4g | Sugar: 5.4g
Follow On Pinterest
Follow @randaderkson On Pinterest for more delicious recipes!
FREE Recipe Binder
Are you constantly wondering what's for dinner?
When I don't meal plan I feel behind, and we usually end up ordering take out. This recipe binder will keep you organized and make life a little bit easier.