Sriracha Mayo
Our 5 minute Sriracha Mayo recipe is creamy, subtly spicy, and tastes great with both meat and vegetables. It keeps for over a week and is great for bulk cooking!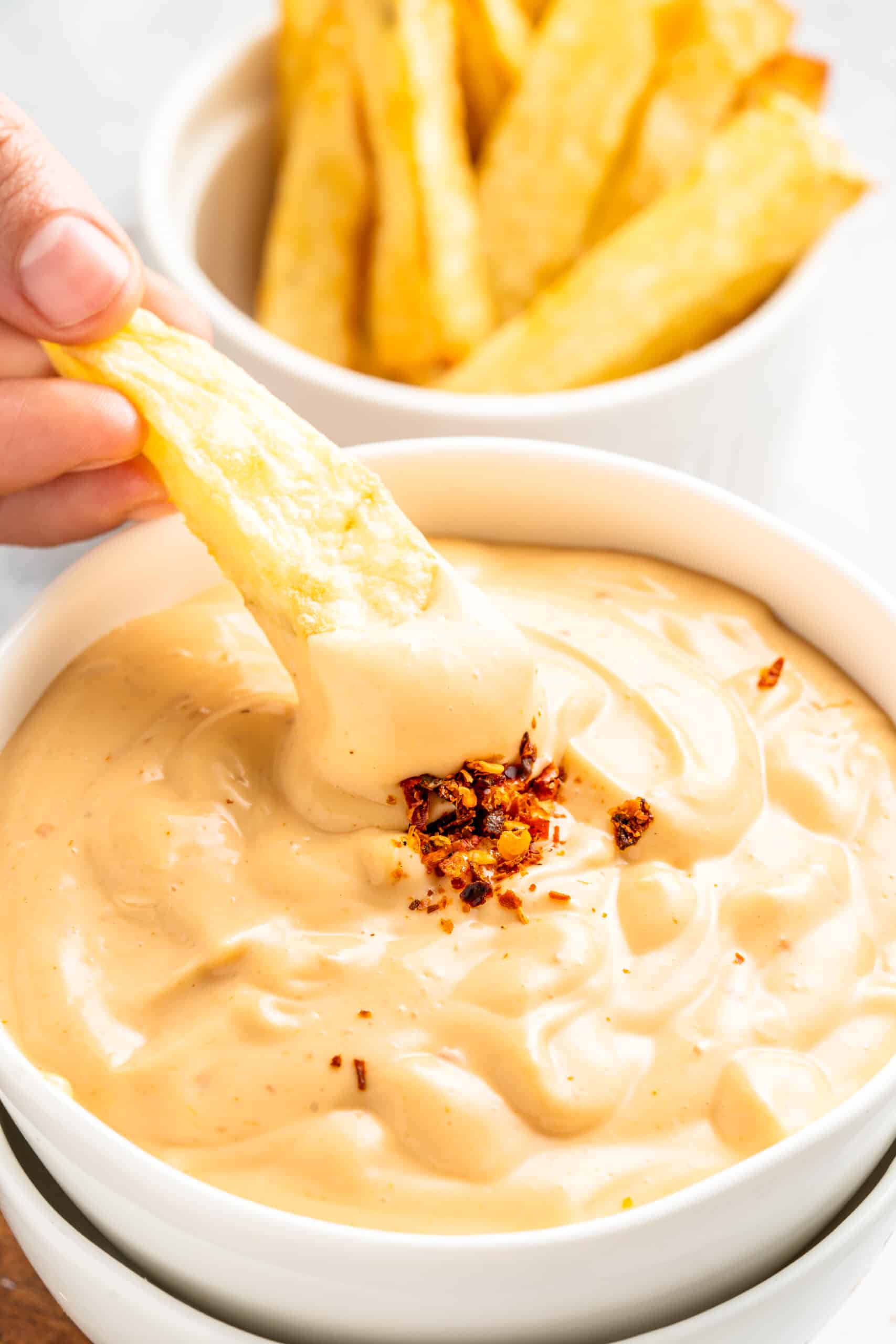 Creamy, Spicy Sriracha Mayo
Have you ever tried mixing Sriracha and mayo? It's the perfect condiment to add moisture, a bit of fat, and a bit of heat in one fell swoop!
But you may have noticed it doesn't taste quite like what you'd get in a restaurant or in the store. There are just a couple (and we really mean a couple) more ingredients you need to add those finishing touches and make a 5 star homemade condiment for sandwiches, wraps, burgers – you name it!
You can save yourself time, convenience, and money by making your own sauces, dressings, and vinaigrettes at home. It's our number one kitchen hack for home chefs!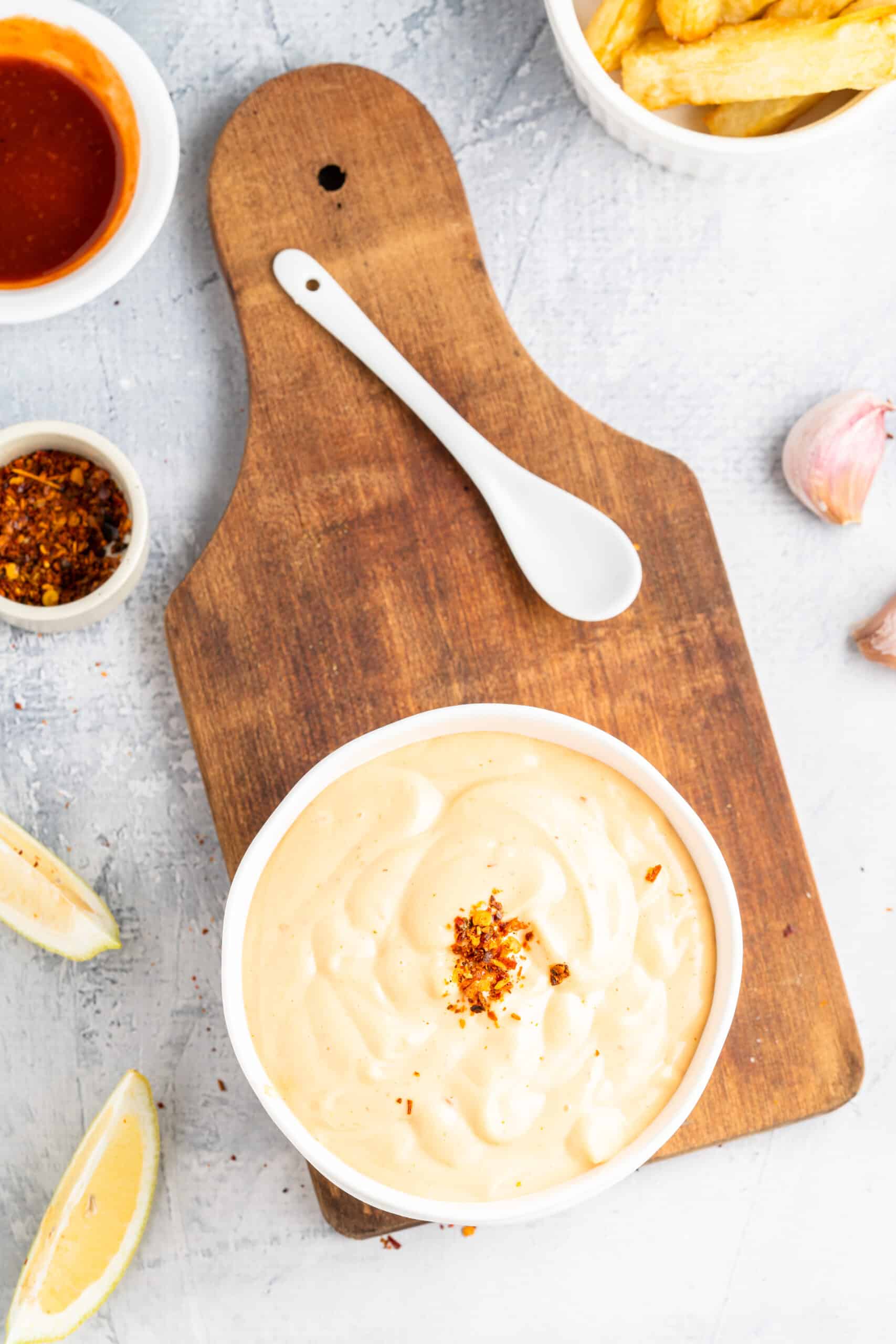 Why you will love this recipe
Only a few ingredients – you can count them on one hand!
It's completely customizable. Make it as spicy or mild as you want!
It keeps well in the fridge to use for breakfast, lunch, and dinner all week.
It's incredibly simple – it hardly takes 5 minutes!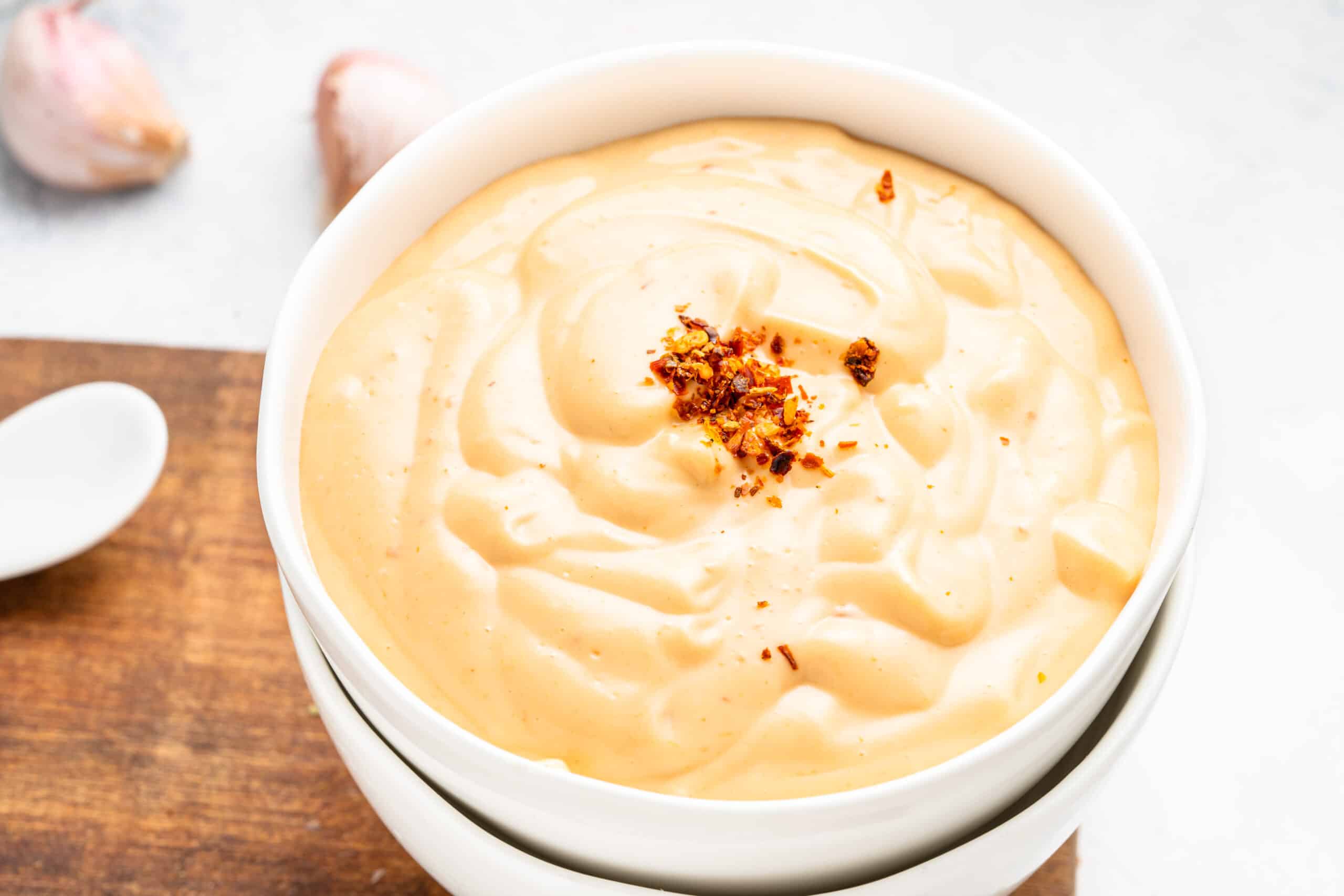 How to make perfect Sriracha Mayo
Prepare the ingredients: Squeeze the fresh lime juice and, if using fresh garlic, grate it just before preparing the sauce.
Mix the sauce: Mix the mayo, hot sauce, garlic, and lime juice in a bowl. Start with 3 tablespoons of hot sauce. If you want more heat, continue adding to taste.
Store or serve: Store in an airtight container and refrigerate for up to 10 days. Do not store at room temperature.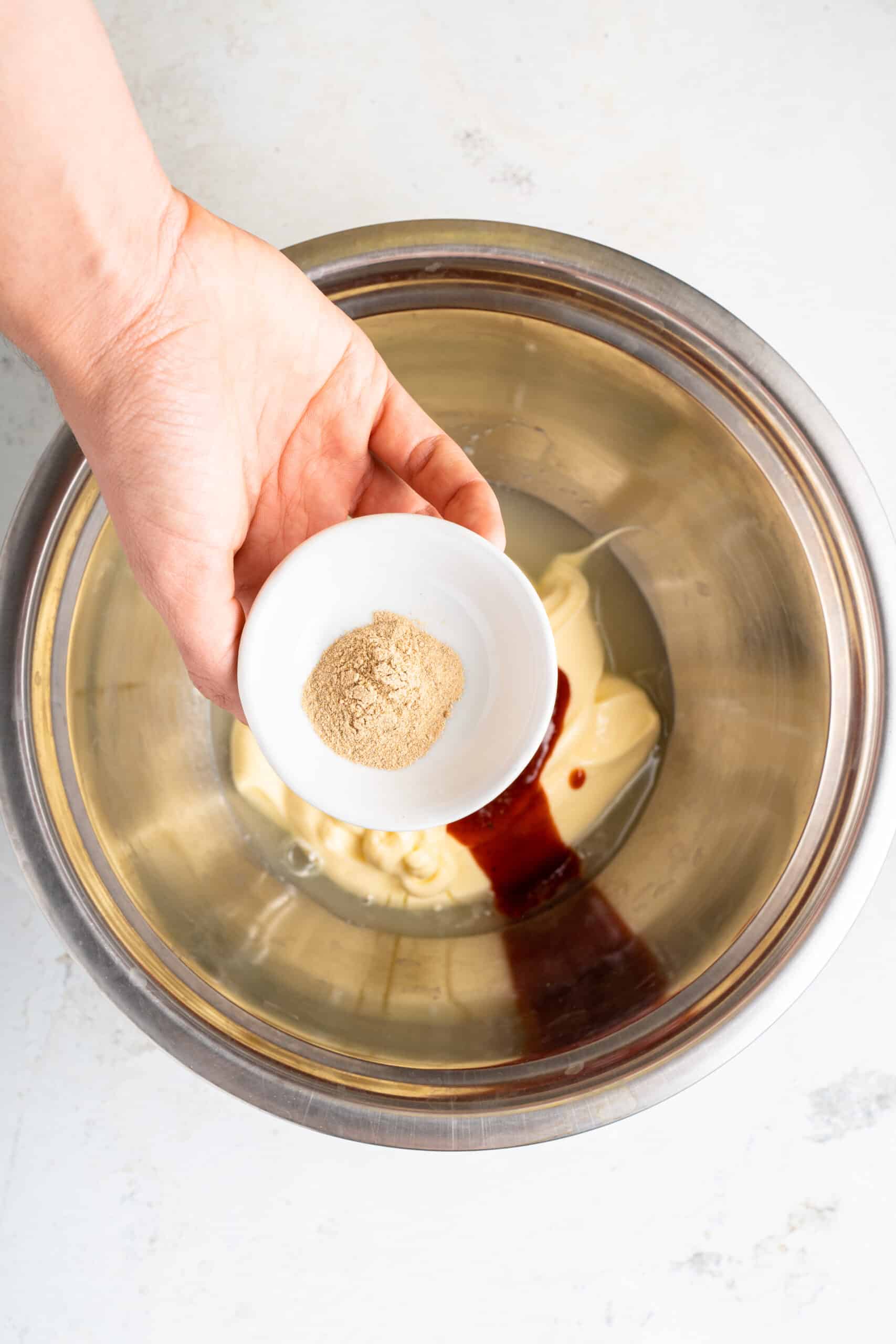 Pro Tips
Pro Tip 1: Chili fanatics can add crushed red pepper flakes or chili powder to their Sriracha mayo sauce to make it spicier.
Pro Tip 2: If you're trying to get a flavor closer to the "Yum Yum" sauce that you find in Japanese restaurants, you'll need to add some sugar for sweetness and a bit of ketchup for that subtle tomato flavor.
Pro Tip 3: Plan on using this Sriracha mayonnaise a lot? Get a couple of small sauce dishes or a reusable, squeezable condiment bottle. This recipe keeps for up to 10 days, so you can feel comfortable making a bottle's worth of sauce.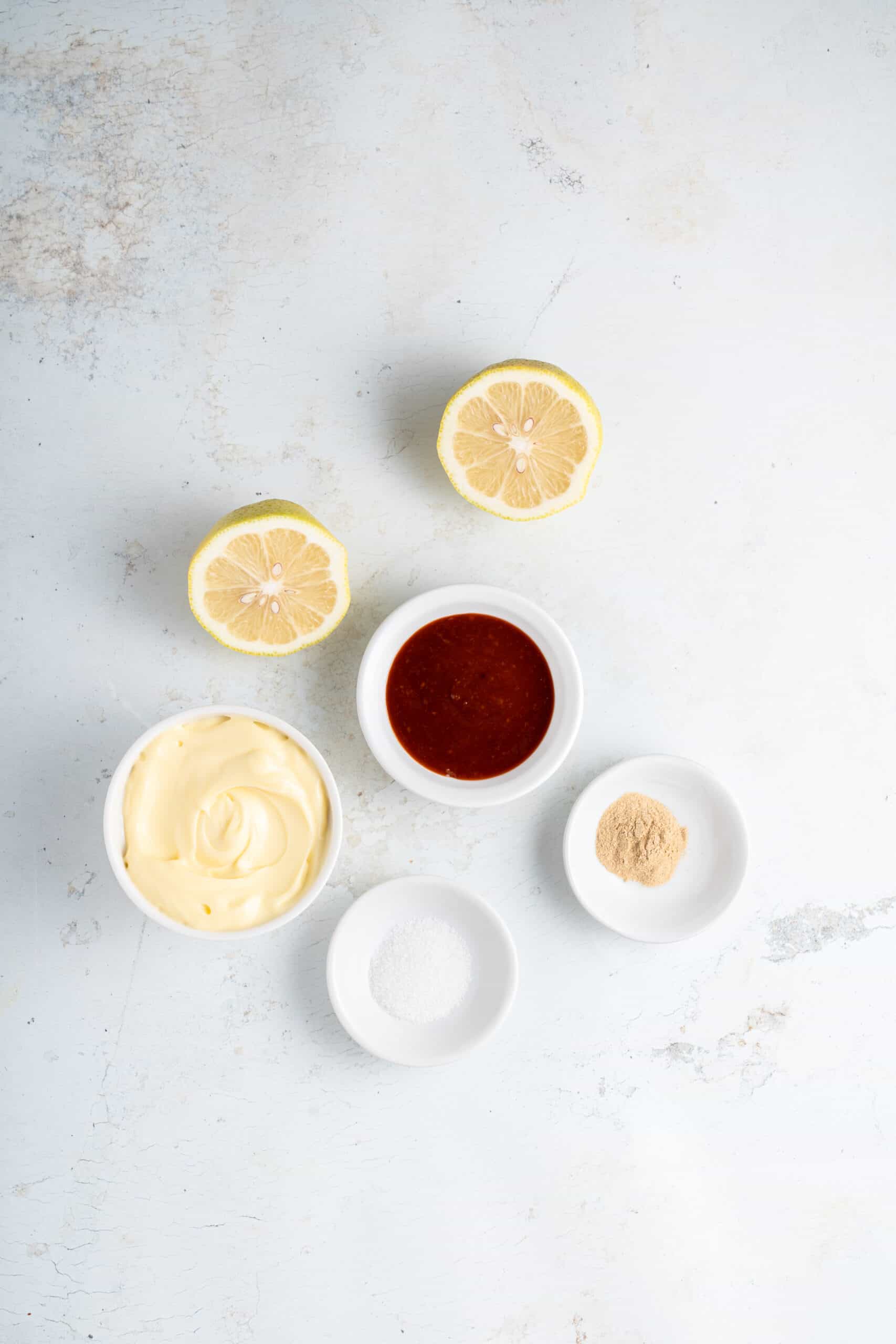 Key Ingredients and Substitutions for Sriracha Mayo
Sriracha: There isn't much to say about this ingredient – the classic Huy Fong Hot Chili Sauce can't be beat!
Mayonnaise: There are so many varieties of mayonnaise these days! Those made with olive or avocado oil tend to be smoother, denser, and creamier than your regular mayonnaise. Choose based on your preferred texture.
Garlic Powder: You can substitute 1 clove of fresh garlic for powder if preferred. It has a different texture but absolutely adds a stronger garlicky flavor. Grating the garlic will get you more of a paste and help it mix in more thoroughly.
Lime Juice: Your average sized lime will get you the 2 tablespoons you need. If using lemon juice instead, then one regular sized lemon will also do the trick. Try to use fresh-squeezed rather than concentrate.
Salt: Don't use a coarse- or large-grained salt – we don't want a grainy texture! Table salt will mix in easily.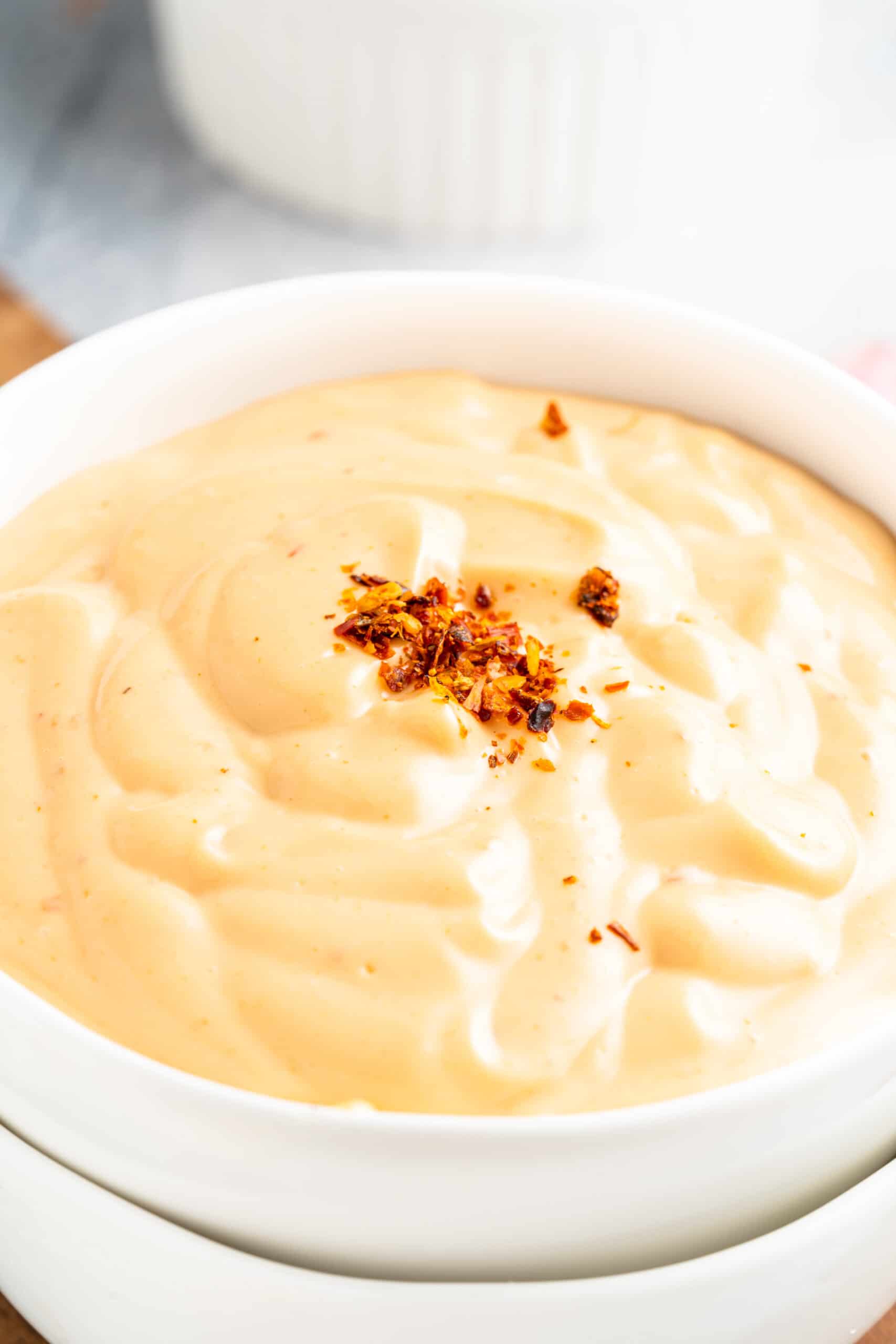 Frequently asked Questions about Sriracha Mayonnaise
What is Sriracha mayo made of?
Sriracha and mayo!
To cut through the fat, acidic and zesty lime juice is added to the mix. A bit of salt and garlic powder adds an extra dimension of flavor, and then it's done!
Can you freeze Sriracha mayonnaise?
While it will freeze, we don't recommend it. The mayonnaise will separate once it thaws, pulling away from the acidic lime juice and hot sauce. You could try mixing it back together, but it'll never return to its original creamy texture.
It only takes 5 minutes to whip up this Sriracha mayo recipe, so make it fresh as needed!
What is Sriracha mayo good on?
It's good on almost everything. Specifically, we recommend serving it the next time you prepare:
Sandwiches or burgers
French fries
Fish or shrimp tacos or wraps
A platter of fresh vegetables
Fried rice dishes
Grilled chicken
How hot is this Sriracha mayo recipe?
This isn't a particularly hot chili sauce. It falls between 1,000 and 2,500 Scovilles – less hot than Tabasco and Texas Pete.
Combined with mayonnaise, it becomes even more mild. It's great to get a chili flavor without too much heat!
Sriracha Mayo
Our 5 minute Sriracha Mayo recipe is creamy, subtly spicy, and tastes great with both meat and vegetables. It keeps for over a week and is great for bulk cooking!
Servings 1 cup
Calories 547kcal
Ingredients
1 cup mayonnaise
4 tsp sriracha sauce 3 or 4
1/2 tsp garlic powder
2 tbsp lime juice about 1/2 lemon, juiced
1/2 tsp salt
Instructions
Mix all the ingredients into a bowl. Start with 3 tsp of Sriracha and add an extra one to taste.

Mix all the ingredients into a bowl. Start with 3 tsp of Sriracha and add an extra one to taste.
Notes
This Sriracha Mayo is mildly spicy. Feel free to add extra Sriracha Sauce if desired.
Nutrition
Calories: 547kcal | Carbohydrates: 25g | Protein: 1g | Fat: 50g | Saturated Fat: 8g | Polyunsaturated Fat: 29g | Monounsaturated Fat: 11g | Trans Fat: 0.1g | Cholesterol: 36mg | Sodium: 3440mg | Potassium: 146mg | Fiber: 0.3g | Sugar: 9g | Vitamin A: 198IU | Vitamin C: 21mg | Calcium: 21mg | Iron: 1mg
Follow On Pinterest
Follow @bewitchinkitchen On Pinterest for more delicious recipes!