Sweet Tea Berry Sangria
The perfect summer sipper, you're going to love this sweet tea berry sangria recipe.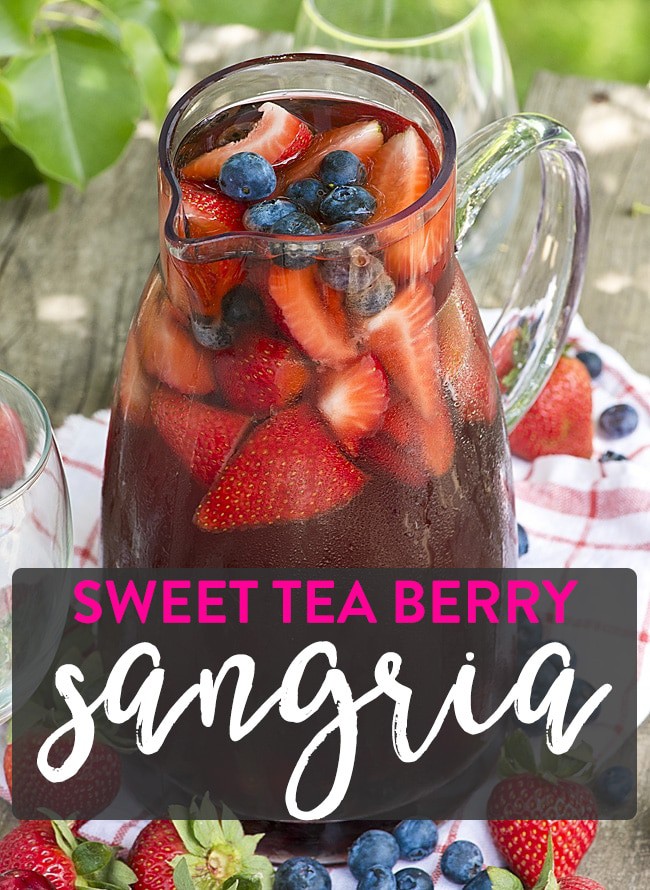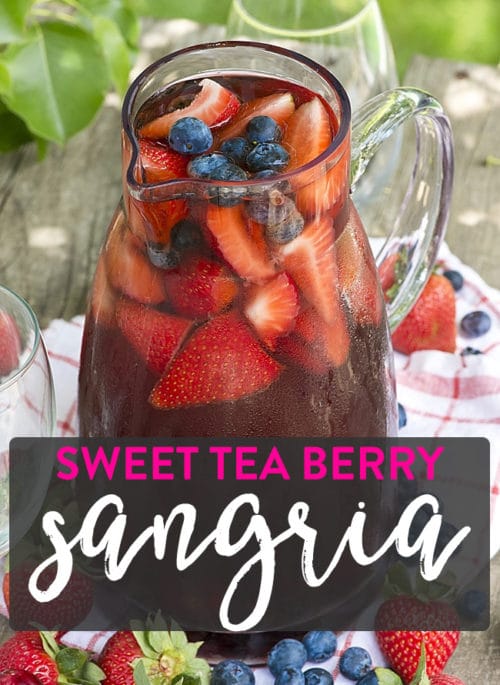 We have pretty hectic schedules at our house, as I'm sure everyone can relate. We've got 3 kids who all participate in extracurricular activities and have part-time jobs after school. And I just recently threw myself into the mix by going back to culinary school part time. Ouch! Weeks are honestly flying by around here. Needless to say, when we get a night with "nothing going on" we're pretty excited. Sunday's for us, is a time to chill, have a big dinner, squeeze in a nap and just catch up with each other.
At the end of every Sunday, I sigh and say, I wish there were two Sundays.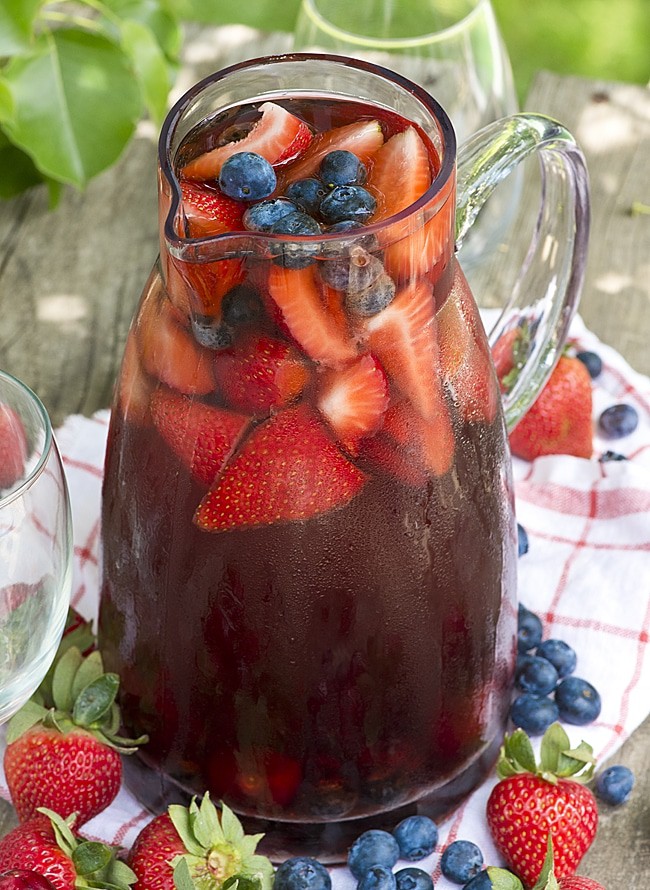 Sweet Tea Sangria
Now that the warm weather is here, our weekends most definitely include winding down by the pool. And for my husband and I, the ultimate afternoon treat for us to share is a glass of Sangria. I love how a bottle of wine and a handful of fresh fruit can be transformed into the ultimate summer cocktail.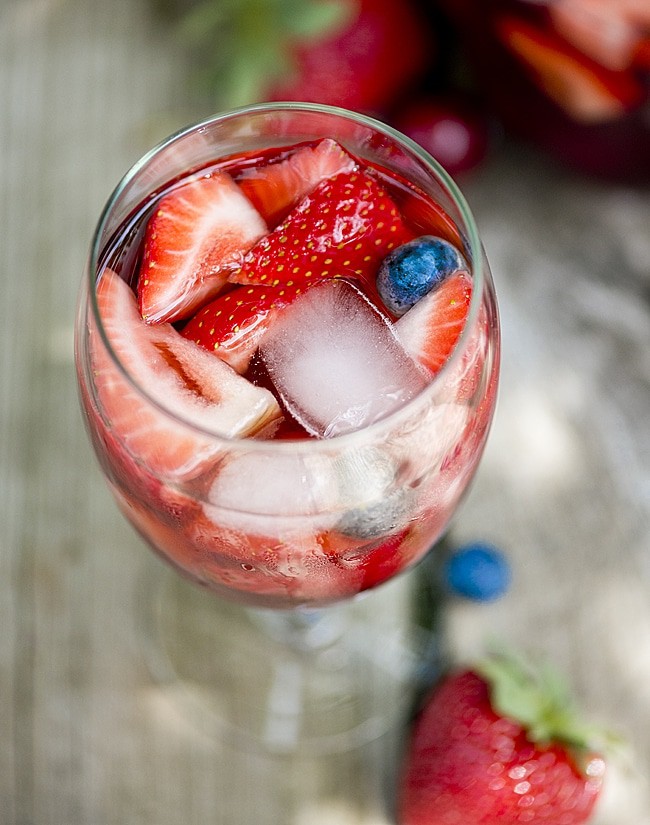 Someone suggested to me last summer to try adding sweetened tea to the mix and I haven't looked back since! Guys, it's so so good. And since I brew the tea myself the night before, I can sweeten it to my preferences (I personally don't like mine super sweet). Adding a bottle of sweet white wine makes this the perfect poolside drink. And once the glass is empty, the very best part is the sweetened berry mixture in the bottom. The recipe is so versatile too, you can switch up the tea for other flavors and add other assortments of fresh fruit.
Sweet Tea Berry Sangria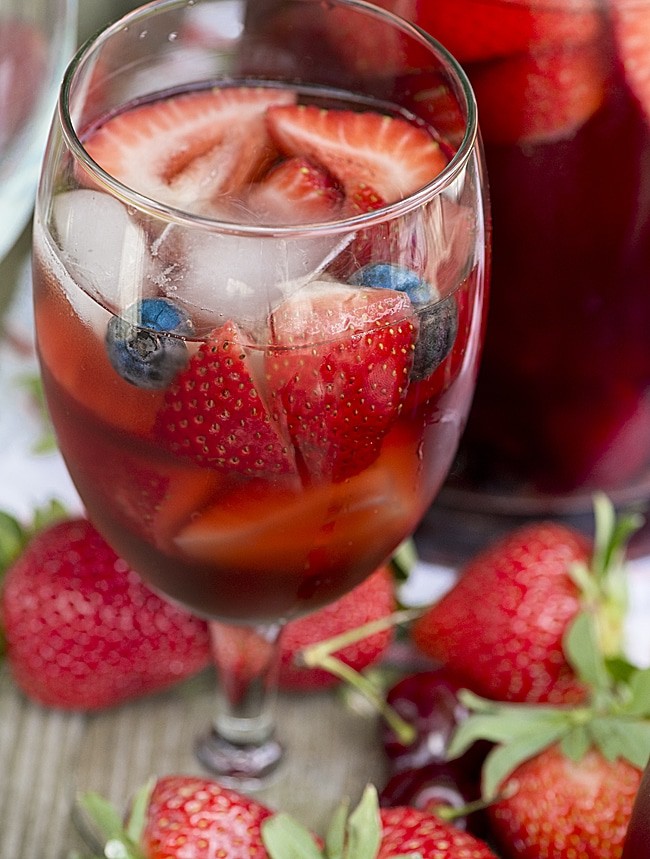 Now that strawberries are in season here, I have the feeling that we will be enjoying our poolside sipping of Sweet Tea Berry Sangria all summer long. Summer is here friends, enjoy every minute of it!
Sweet Tea Sangria
A white wine sangria that uses steeped berry tea! Load the pitcher with summer berries! This sweet tea berry sangria is the ultimate summer cocktail!
Sweet Tea Berry Sangria
A delicious white wine sangria that uses steeped berry sweet tea! Load the pitcher with seasonal summer berries for the ultimate summer cocktail!
Servings 6 servings
Calories 226kcal
Ingredients
3/4 cup sugar
5 cups water boiled
3 1/4 cups sweet white wine
3 cups fresh strawberries blueberries, cherries
 
 
 
Instructions
In a large pot bring the water and sugar to a boil. Remove from heat and stir until the sugar is dissolved. Add the tea bags, cover and let it steep for 10 minutes.

Remove the tea bags. Let the tea come to room temperature (or refrigerate overnight).

In a large glass pitcher, add the cooled tea, sweet white wine, and berries.  Chill for at least an hour. Serve in large goblets with ice if desired.
Nutrition
Serving: 1glass | Calories: 226kcal | Carbohydrates: 33g | Sodium: 17mg | Potassium: 202mg | Fiber: 1g | Sugar: 29g | Vitamin A: 10IU | Vitamin C: 42.3mg | Calcium: 29mg | Iron: 0.6mg
Follow On Pinterest
Follow @bewitchinkitchen On Pinterest for more delicious recipes!
How do you like your sangria?