Tips for Planning a Train Themed Birthday Party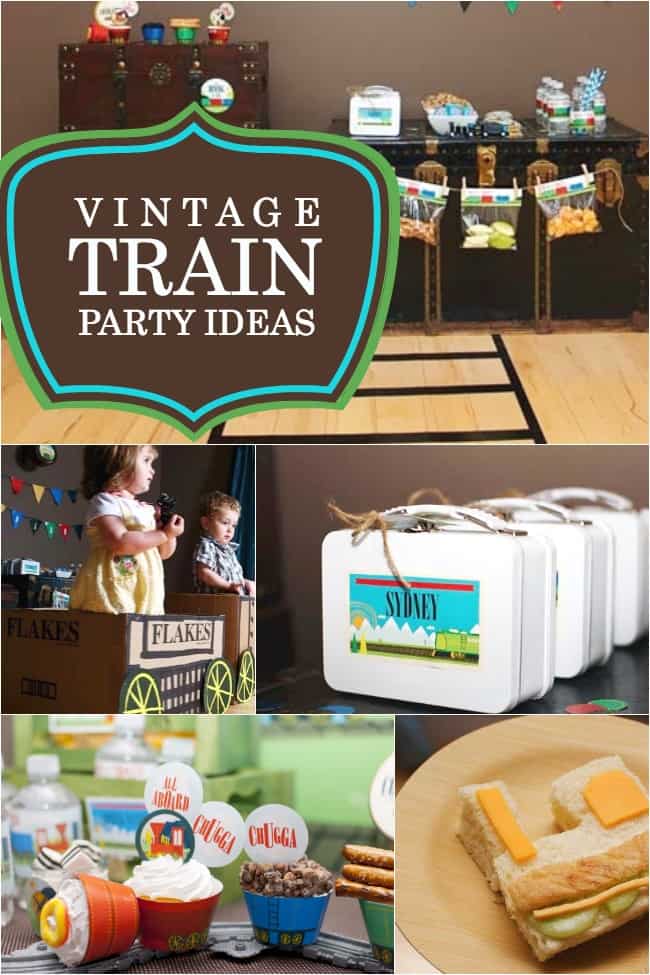 If you're trying to track down help for planning a train themed birthday party, you've come to the right place. Train birthday parties are a popular choice allowing for so many variations—classic, vintage, character themed (Thomas the Train) and modern. No matter which spin you put on this theme, consider sending out creative invitations, incorporating exciting decorations, scrumptious treats and thrilling activities!
Train Themed Birthday Party Tips:
#1- Set the train party theme in motion by sending out creative invitations.  Nothing sets the tone for a great party quite like a theme coordinating invitation. There are many fun ways to invite guests "all aboard" the birthday express, including sending out a train shaped invitation. If time is a factor, many online shops sell printable train themed invitations that can be quickly and inexpensively customized with your guest of honor's name and party colors. Another fun idea would be to create train ticket-style invitations with information on station (venue) location, boarding and any fun dining car offerings. Consider adding a train whistle or engineer's hat with the invitation for increased excitement.
#2- Track down exciting train themed decorations or make your own.  Start with items you have right at home. Raid your child's toy box for trains and tracks that can be used as is or even re-purposed with a coat of spray paint to match party colors (extras can be found inexpensively at dollar stores or thrift shops). Bandanas, train whistles, conductor hats, train books and old vintage style suitcases also make wonderful props. Some of these items can double as take home party favors too, if purchased new. Small cardboard boxes work as box cars with construction paper wheels for displaying refreshments. Next, head out to your garage and consider using old cardboard boxes to make trains. Black electrical tape can be used to create a temporary train track on sidewalks or smooth flooring. Setting up different "stations" like a ticket booth, baggage claim favor station and a sweet station will give guests plenty to be excited about.
#3- Create a sweets station.  Even the Little Engine That Could needed a little fuel in the tank to keep plugging along. Keep your guests filled and hydrated with a sweets station full of train inspired treats. From train shaped sugar cookies, to licorice rope "tracks", to smokestack inspired cotton candy, to fondant train topped cupcakes, there are wonderful treats to choose from. A cake is a great choice for a focal point for your sweets station. Consider topping a round cake with edible tracks, and either a fondant or toy train to impress. Or, how about a railroad crossing sign, piped on top? Whichever you choose, guests will appreciate the cohesive look.
If you're hoping to provide a healthy alternative to sweets, fill up little box cars with snacks like popcorn, pretzels, nuts and dried fruit.
Don't forget your "chugga chugga" water. Dress up water or flavored beverages with custom labels and have plenty of engineer striped straws on hand for mess free consumption.
#4- Keep the party on track with thrilling activities. It takes a lot of steam to keep guests entertained. Keep things simple by hopping aboard a real train and taking guests for a ride! Many cities even have trackless trains for rent. Train themed bounce houses are also a fun option. Some budget-friendly options include train coloring pages and DIY puzzles printed and cut at home.
Whether you are planning a party for a few friends or a large crowd, these train themed birthday party ideas will help you stay on track and put together an awesome celebration.
Train Decorations on Amazon.com

Train Decorations at Amazon.ca
This post was written by Stephanie Keeping. For more party planning tips visit her blog, Spaceships and Laser Beams.