Turkey Meatball Bites with Sweet Sriracha Sauce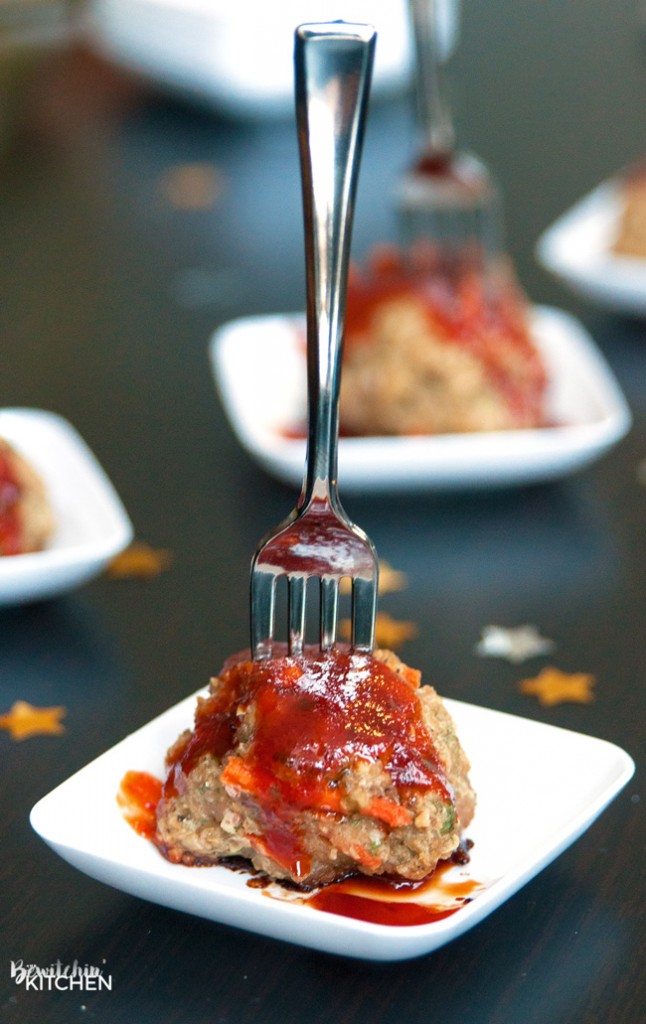 Turkey Meatball Bites with Sweet Sriracha Sauce: this is a great better-for-you party recipe. It can also be a delicious dinner that dances on your taste buds. Ground turkey, hidden vegetables, and sweet sriracha sauce? Yes please!
New Year's Eve is right around the corner, and it's one of my favorite nights of the year. I have happy memories from my childhood of being surrounded by good friends and good food. There would always be a massive spread of appetizers and finger foods to pick at throughout the evening, along with music, laughter and fun activities (which usually involved either skating or sledding).
One of the appetizers that have always been around at New Year's Eve parties is sweet and sour meatballs. I can picture them on the table in an older pyrex dish, and they're usually the first to go (everyone loves a good meatball!). However, I usually skipped them because of the high sugar content and because I prefer a spicier meatball. This year I put a little twist on tradition with these turkey meatball bites. They're low in refined sugar, have a little bit of a kick and they're served on mini plates with a fork. It's my way of classing up "meat on a stick."
Lately, I have been on a spice kick, but my husband has been on a sweet kick, so I have been making a lot of sweet and spicy sauces. I feel that I have finally hit the nail on the end and got the best of both worlds with this sweet sriracha sauce. There's a nice burn on the tongue for me, but a sweet beginning for my husband. This is perfect for New Years Eve this year.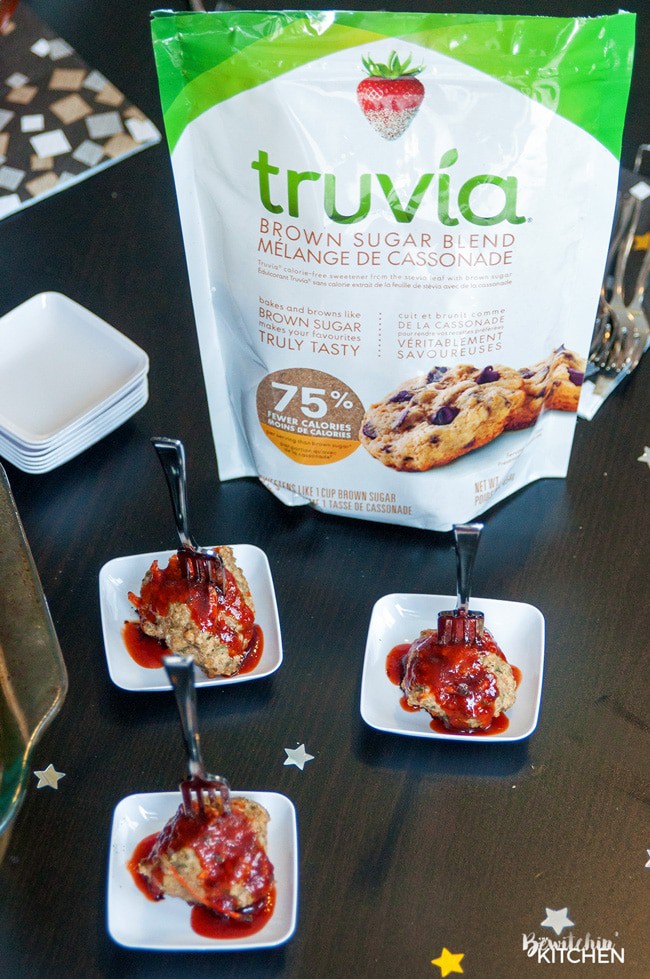 I used the Truvia Brown Sugar Blend to add sweetness to the recipe. I know I have mentioned this before, but I am watching my sugar intake. I love Truvia Brown Sugar Blend because I can cut down on sugar calories by 75% without sacrificing taste and work towards my goal.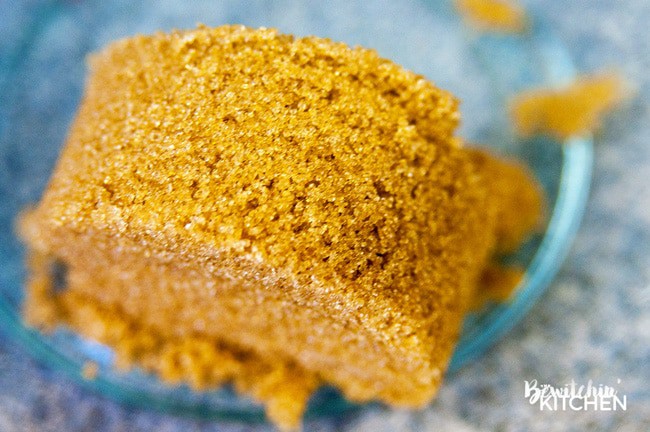 As you can see in the above photo, the Truvia Brown Sugar Blend looks like regular brown sugar, and it bakes and browns like brown sugar as well. Truvia Brown Sugar Blend is a blend of Truvia Calorie-Free Sweetener and brown sugar. It's the newest Truvia product to be released in Canada, and it does not disappoint!  Just a ½ cup of Truvia Brown Sugar Blend (210 calories) provides the same sweetness as 1 cup of brown sugar (830 calories).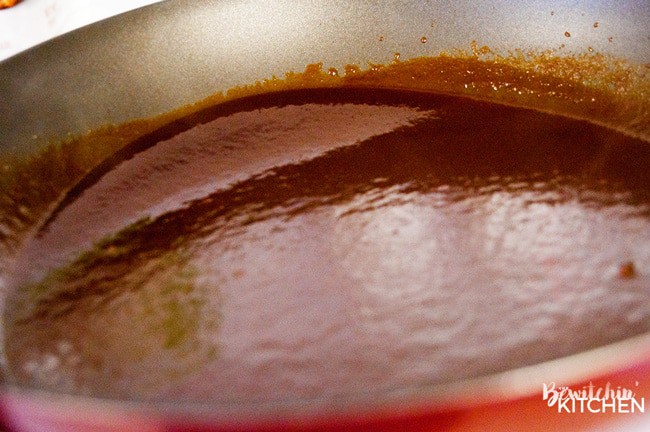 A helpful tip: whisk the sauce constantly. It won't gel, but it will thicken a bit, it will look like the photo above when it's ready.
Turkey Meatball Bites with Sweet Sriracha Sauce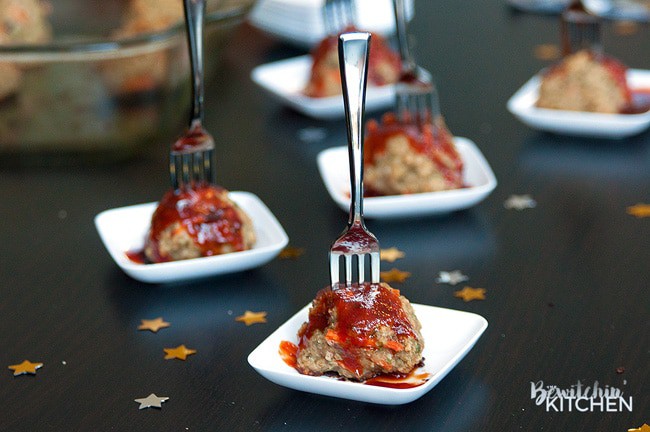 This delicious recipe is incredibly easy and works as an appetizer or a main dish. The sauce starts off sweet, has a hint of sour and then has a sweet burn at the end. Not a fan of the spice? That's an easy fix: add another tablespoon or two of the Truvia Brown Sugar Blend to dial up the sweetness.
Turkey Meatball Bites with Sweet Sriracha Sauce
Servings 20 meatballs
Ingredients
For the Turkey Meatball Bites:
1 lb ground turkey
1 egg
1 tsp sea salt
1 tsp pepper
1/4 cup shredded carrot
1 tbsp minced garlic
1/2 cup oat bran
1 tbsp parsley
For the Sauce:
1/4 cup Truvia Brown Sugar Blend
1/4 cup Sriracha Sauce
2 tbsps liquid amino's soy sauce is fine
2 tbsps Apple Cider Vinegar
Instructions
Preheat oven to 400

Combine all the turkey meatball ingredients and mix until combined.

Rolled into little balls, toss in the oven and bake for 20 minutes (or until no longer pink in the center).

For the sauce:

Over medium heat add all the ingredients for a sauce. Bring to a slow simmer and stir constantly until it thickens.
Putting it together:
Once the meatballs have cooled, pour a tbsp of the sweet sriracha sauce over the turkey meatball bites.
Follow On Pinterest
Follow @bewitchinkitchen On Pinterest for more delicious recipes!
Other favorite recipes of mine using the Truvia brand:
Chocolate Shot Glass with Gingerbread Cheesecake Filling.
For more information on Truvia Baking Blend or to find more recipes using Truvia sweetener, visit http://www.truvia.com/canada.
Like this recipe? You can Pin it by hovering over any image or by clicking the Pinterest icon either on the bottom of the post or the left-hand side.
This recipe has been sponsored by friends over at Truvia. All opinions are my own.