Top 10 Things to do During Summer at Whistler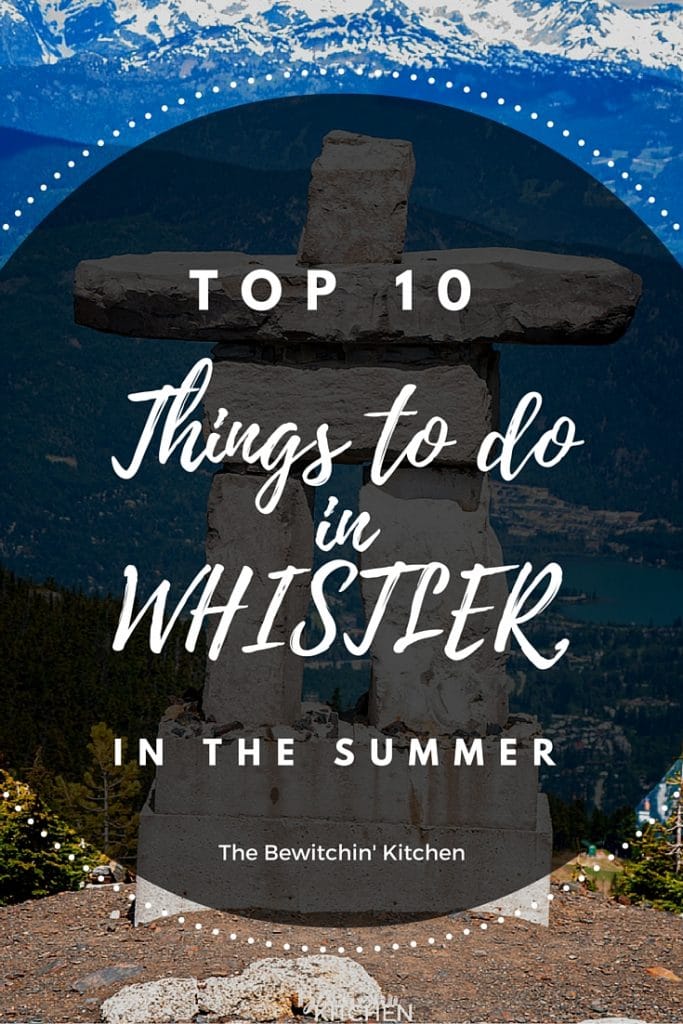 I recently got back from a self-made long weekend in Whistler and after my experiences, I put together this list of the top 10 things to do in Whistler in the summer.
Whistler Summer. Ya it's a thing.
Summer at Whistler can be a great family get away or a romantic trip for two. Before celebrating our anniversary in Whistler in June, I have only spent time in Whistler on Valentine's Day. So I was really excited to head to Whistler in June and explore this beautiful town during the summer.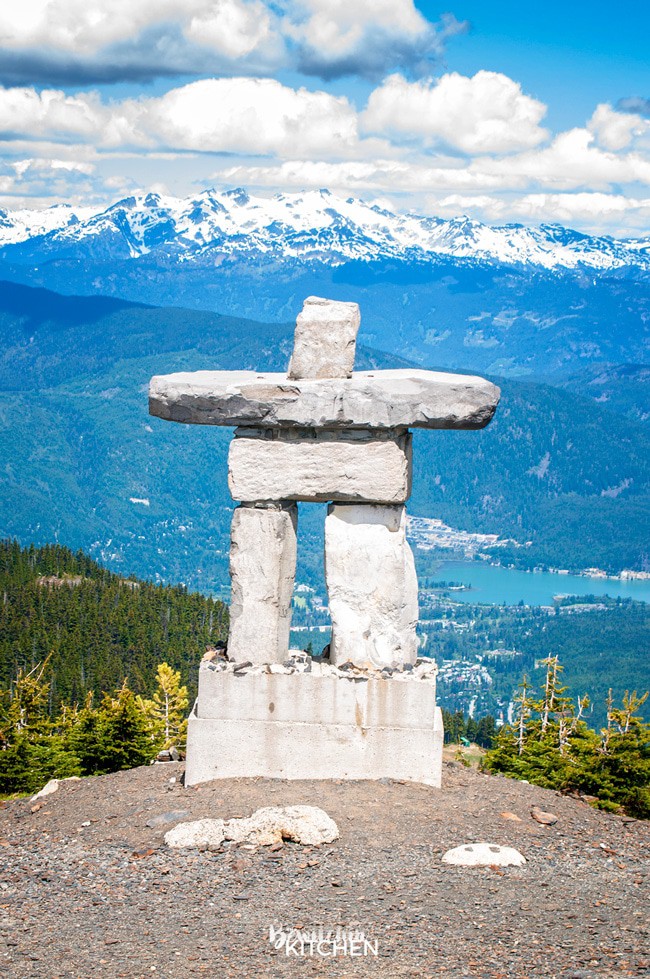 Things to do at Whistler in the summer:
Ziplining with Ziptrek Eco Tours. Summer at Whistler would not be complete without a zipline tour. This was my second experience zip lining and my husband's first and it was so much fun. We did the ZipTrek Eagle Tour, which is about 3 hours long. You complete five ziplines that go back and forth from Whistler Mountain to Blackcomb, including one that descends 30 stories and another that is 2400 feet long. Along with the thrills, you learn a lot about the forest and the coastal rainforest that you're exploring. I grew up in forestry town, and I learned a lot of interesting facts about our natural surroundings. My advice is to accept the free rental of the GoPro and capture the fun like my husband did in the above video. Cell phones are allowed, and I wish I had known this because I would have brought mine for photos and Snapchat purposes (#priorities). Book the Eagle Tour with Ziptrek Eco Tours.
Mountain Biking. This isn't something that I did, personally, but it seemed as though my husband and I were the only ones who weren't. Mountain Biking seems to be one of the top things to do in Whistler during the summer months. It's a huge mountain biking destination. If you're a newbie, that's okay. I noticed at the Garbanzo Bike & Bean (which is beside the Whistler Mountain gondola) they had lessons for the littles to us grown ups. There are bike runs for all experience levels. Not into mountain biking? I recommend renting a bike and checking out the trails. Biking is a popular way to get around in Whistler.


Peak 2 Peak. This is an obvious must do. I've heard about the Peak 2 Peak for years but didn't have the chance to do it the first time I visited Whistler (okay, I chickened out). I have a fear of heights, so I was a bit nervous but it wasn't nerve wracking what-so-ever. After taking the chair from Blackcomb Mountain, we boarded the Peak 2 Peak where we crossed from the peak from Blackcomb to the peak of Whistler Mountain. The views are breathtaking.
When you get off of the gondola onto Whistler Mountain, I recommend checking out the snow walls (#5 on the list).
The river that flows in between the two mountains is called Green River.

Enjoy the wild life. On our way up Blackcomb Mountain, to Peak 2 Peak, we crossed paths with a black bear. She was making her way up the mountain, while eating berries and enjoying herself. Aside from the bear, we saw a grouse which isn't exciting to us but it was to a few of the folks on the tour.

Hike the snow walls. When I was checking into our mountain home at First Tracks Lodge, the lady checking us in recommended that we check out the snow walls. At first, I thought it was odd to seek out snow in July (didn't we JUST get rid of it?) but once we got there, I understood why she was so adamant that we visit. The snow walls are just that, walls made of snow. It was fun to hike up the path, being surrounded by snow, yet we were wearing shorts. The higher you go, the taller the snow.
Scandinave Spa. If you're looking to relax, the Scandinave Spa hot pools are a must-visit. It's a unique experience from the moment to park and hike up the forest to the spa. To experience the spa, you heat your body for fifteen minutes, cool it off for 20 seconds and then spend 15 minutes warming up and relaxing. You can repeat the process 3-4 times. When we went there was a thunderstorm so no one was allowed in the hot pools outside, so we tried the sauna and the eucalyptus steam room. My favorite was the steam room. For more information, or to make a reservation for the hot pools, massage, etc visit the Scandinave Spa website.
Golf. Sadly, this is something that we didn't have time to do. Whistler has four championship golf courses in the area.

Whistler Farmers Market. One of the best things to do in Whistler is to visit the Whistler Farmers Market, especially if you're hungry. From handmade jewelry to delicious treats there is a lot to look at. It's open 11-4 on Sundays. Check out the Solodko Ukranian Bakery, I had the cinnamon roll and my husband had a strawberry rhubarb piroshki. I can't even.


Get out and go where the locals go. While my husband and I went driving around, looking at real estate (we always do this in places we visit, we like to dream) we found Rainbow Park. It's a beautiful place to pack a picnic and enjoy the scenery. For all of you dog lovers, it's dog friendly (as is most places in Whistler).

Shop. There is so much to do in Whistler, I almost forgot about one of my favorite activities. Strolling the village is a must, even if you don't shop. However, if you do, you have plenty of options. From local boutiques to favorites like Lululemon, there is a lot of shopping to be done in Whistler. The village has the majority of the shops, but I also found a cute home decor shop called 122 West in Creekside.
Things to do in Whistler Canada Summer bonus: Meet a Canuck.
My husband (who is a life long Vancouver Canucks fan) happened to spot Henrik Sedin (I was too busy chomping down on the deliciousness from Solodko Ukranian Bakery from the Whistler Farmers Market to notice). He was pretty darn excited when he walked over and got a photo with him.
Best anniversary ever. His words, seriously.
There are so many other places to see in Whistler (Green Lake) and experiences to be had (bungee jumping), but I'm capping the list at 10. If you're looking for hotel/resort options, I recommend First Tracks Lodge. You get a larger living space, privacy and luxury at an affordable cost.
If you're planning a trip to Whistler and trying to decide on what activities to fit in (or maybe you're more adventurous than I am and want to do some more extreme things), the people to contact would be Go Whistler. Not only will they help you out with your activities but they have special deals on their website as well.