22 Greek Inspired Recipes
I'm a big fan of greek food from my greek vinaigrette to my favorite greek dip. I asked Tara to compile a list of the best greek inspired recipes not just for you (the reader) but for me to cook my way through the list.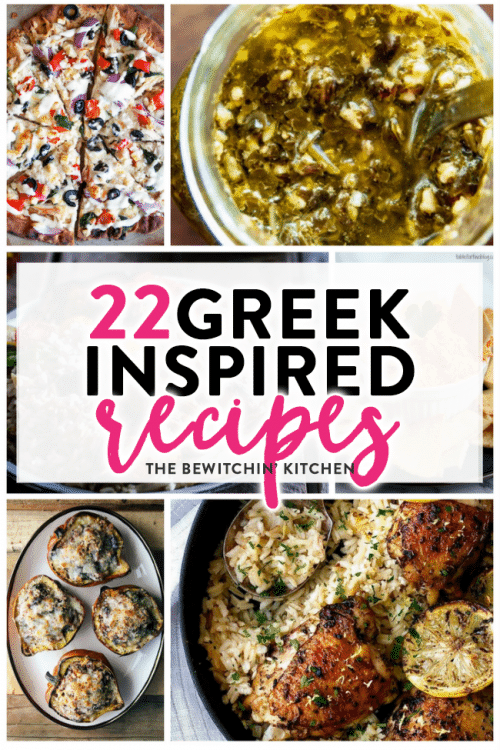 I am darn excited for this recipe roundup. Greek food is one of my faves, you can't go wrong with chicken souvlaki or basically anything with feta on it. Feta is always a winner in my books…and lemon, and olive oil. Okay I'll stop now because I'm drooling.
22 Greek Inspired Recipes - appetizers to soups to dinner recipes. RT if you LOVE #GreekFood.
Click To Tweet
Greek Inspired Recipes
22 Greek Inspired Recipes – the best greek recipes from appetizers to soups to dinner recipes. If you love greek food, then you'll love this recipe round up. The first three recipes are my own, the rest are amazing greek recipes from around the web. They all look incredible, I can't wait to try them all. Let me know what you're excited to try in the comments.

OUR LATEST VIDEOS
PS – if you know of the best greek potato recipe, send it my way.
Do you like greek food? What's your favorite greek inspired recipe?
Looking for more awesome round ups? Check out these amazing pasta recipes or my favorite buttercream frostings.
FREE Recipe Binder
Are you constantly wondering what's for dinner?
When I don't meal plan I feel behind, and we usually end up ordering take out. This recipe binder will keep you organized and make life a little bit easier.