aden + anais Muslin Crib Sheets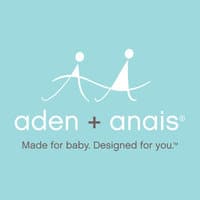 For years I have been hearing amazing things about
aden + anais
and after reviewing their new muslin crib sheet, I understand why.
As a young woman growing up in Australia, founder Raegan Moya-Jones was introduced to many traditional practices of motherhood. One of them in particular– swaddling babies in generously sized, gentle muslin sheets– amazed her. Even the fussiest babies seemed to sleep more peacefully in muslin. Despite the hot days and the cold nights, muslin swaddles helped keep babies comfortable. And, most importantly, the very act of swaddling seemed to build a bond between mothers and their babies. When she moved to the U.S. and started her own family, Raegan couldn't find any swaddles like the ones she remembered from home. The only swaddles available were too small. Or made of much-too-thick flannel. Or, simply, unattractive. And so, aden + anais was born.
I never heard of muslin before this review and this is what I have learned about it: muslin is one of the most purest, gentle and perfect fabrics in the world. It was used by the Egyptians, Greeks and Romans to swaddle their little ones. It protects the wearer from the elements (heat and cold), it's breathable and oh-so soft.
aden + anais just released their line of muslin crib sheets and I had the opportunity to review a classic crib sheet in Super Star Scout (fawn stars). When I first took this out of the packaging, I couldn't believe how soft and luxurious this muslin sheet felt. Immediately I was confident that this would be gentle on Carter's skin. This sheet is very breathable (perfect since Carter sweats like crazy) and it keeps him cool in the summer and warm in the winter.
Here's the best news: the more you wash it, the softer it becomes. Instead of breaking down in every wash and shortening the life (like most sheets) it does the opposite and you get the best use the more it is washed. There is no special care for muslin either: just toss it in the washing machine, which even if it wasn't machine washable it would be going in there anyway – I don't have time to wash by hand.
The print of my sheet is very soft and (lucky for me) matches my decor in his nursery. I'm not a fan of loud prints, and this sheet set is more then appropriate for my taste. The classic set of crib sheets come in seven different prints and the organic set of crib sheets comes in four.
For more information on aden + anais and their muslin products visit adenandanais.com 
Update: it has been over a year and these sheets have got better in time. I LOVE these sheets.
FREE Recipe Binder
Are you constantly wondering what's for dinner?
When I don't meal plan I feel behind, and we usually end up ordering take out. This recipe binder will keep you organized and make life a little bit easier.