Pork Meatballs Loaded with Cheddar and Apple
Many years ago I shared a delicious dinner recipe, Cheddar and Apple Stuffed Pork. That recipe inspired me to create these meatballs (that are a new family favourite by the way): Loaded Pork Meatballs.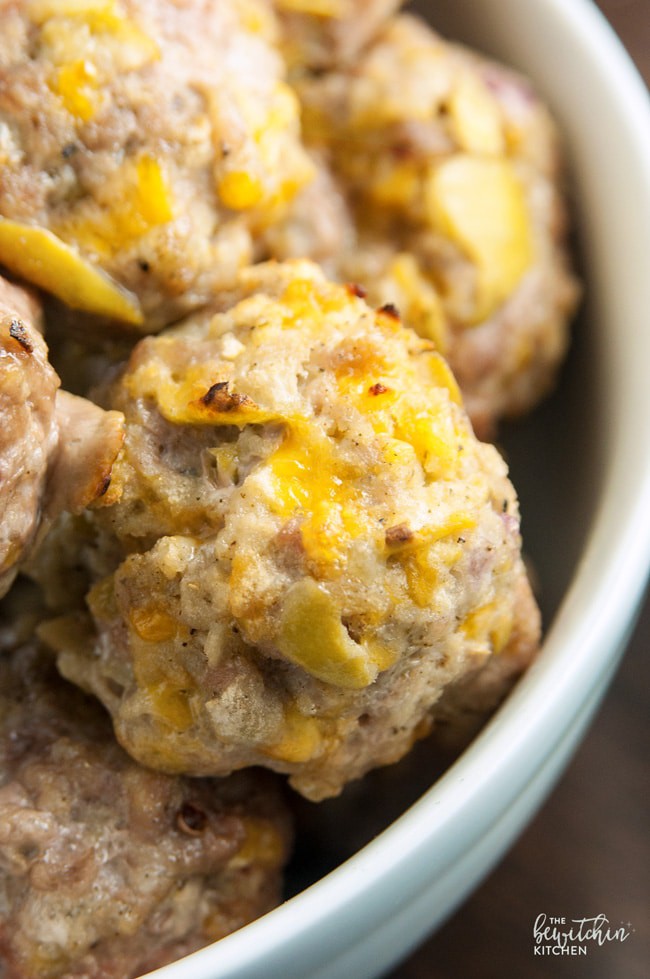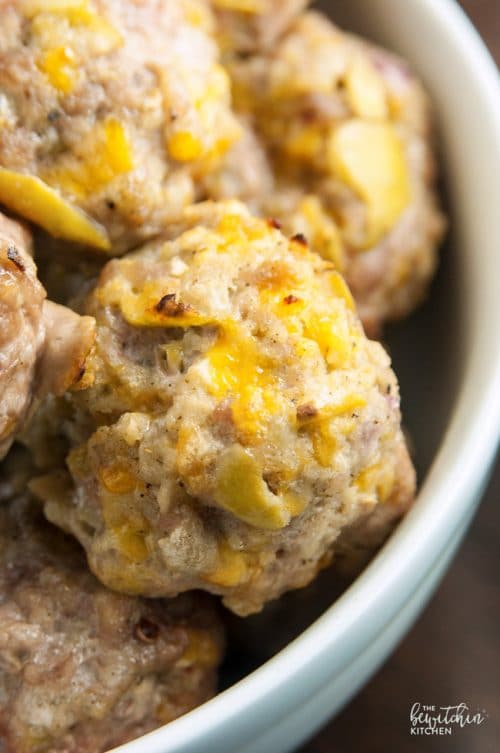 The secret ingredient for these meatballs? An apple. The apple (I used granny smith) not only adds flavour but also keeps the pork tender so it doesn't dry out in the oven. That can't be a surprise, though, is it? Apples and pork go together like Negan and Lucille (too soon?), I remember going to friends home's for dinner and applesauce was always served with their pork chops.
There is no better way to celebrate apple month then to add apples to as many recipes I can. Apple month is when we recognize the quality produce grown here on B.C. soil while encouraging people to support our local growers. Many consumers don't typically think of February as a month for fresh fruit, however fresh B.C. apples are available throughout the long winter months.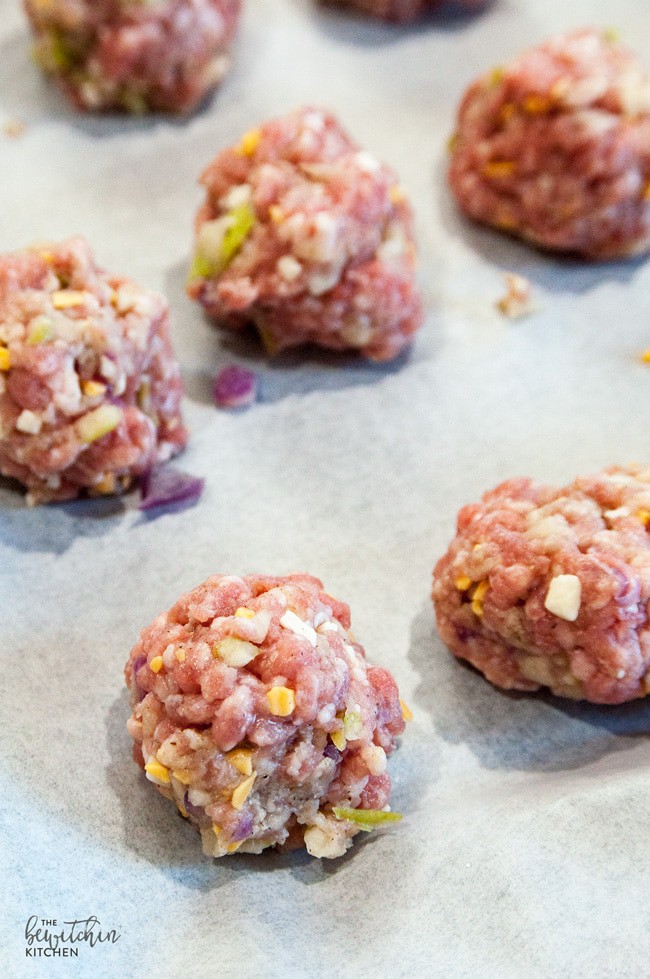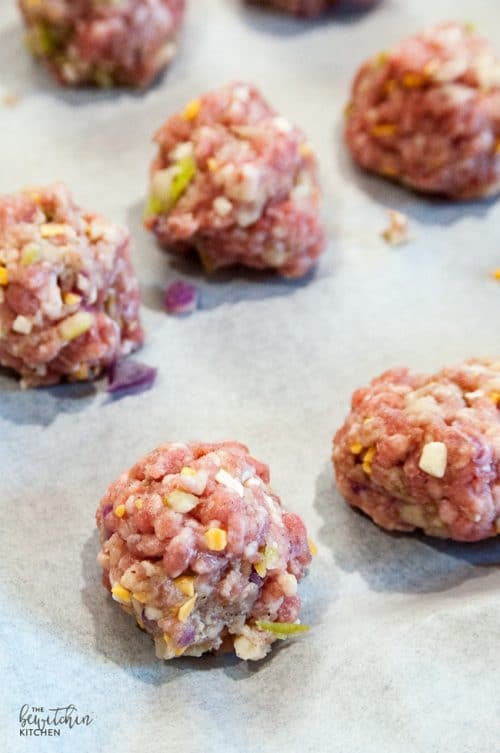 Aside from pork, do you know what else goes well with apples? Cheese. Many years ago, an old friend cut me up a slice of homemade apple pie and told me to place a thin slice of cheddar cheese over top. I thought they were crazy, but I was intrigued and fast forward over ten years later: I believe that is the best way to serve apple pie. I'll skip the ice cream, pass me the cheddar. Where does this originate? I was told it was German, but a quick Google search tells me that it may have started in New England. If you could shed some light on this, please do in the comments.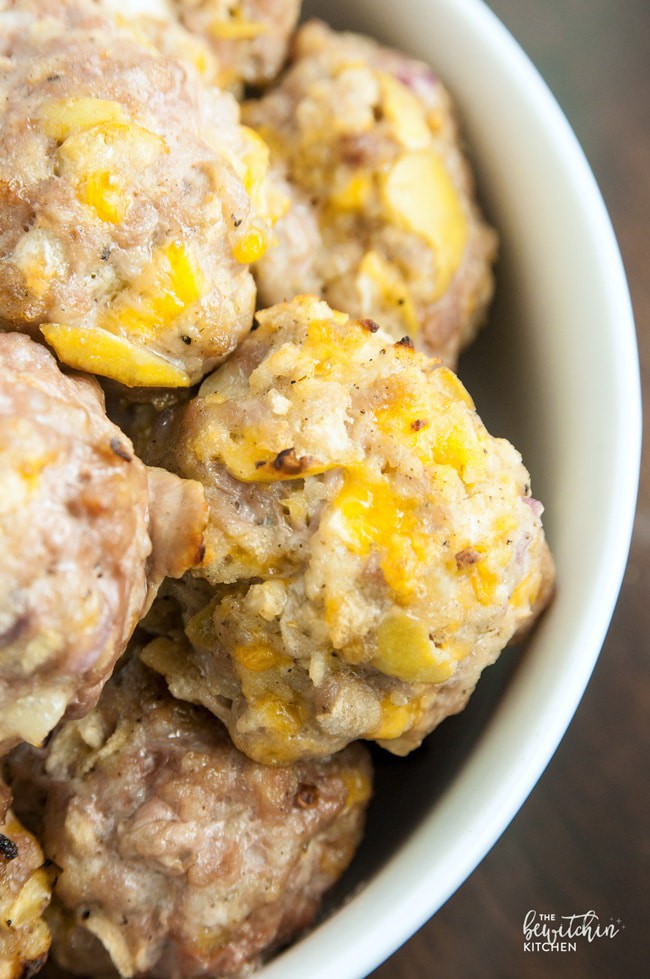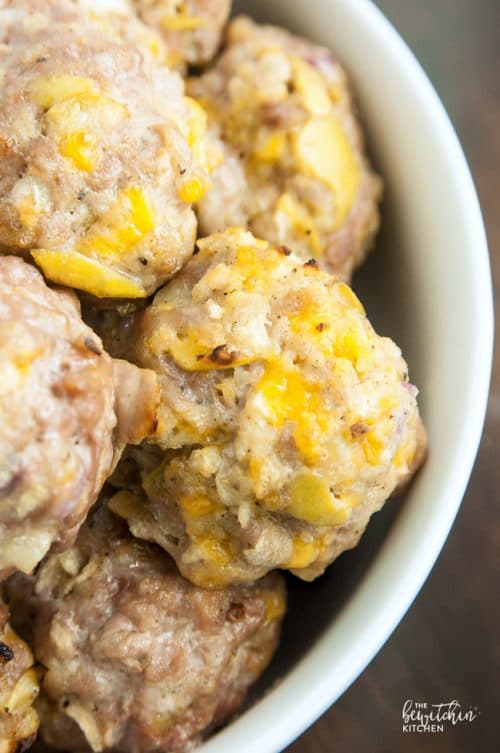 Pork Meatballs Loaded with Cheddar and Apple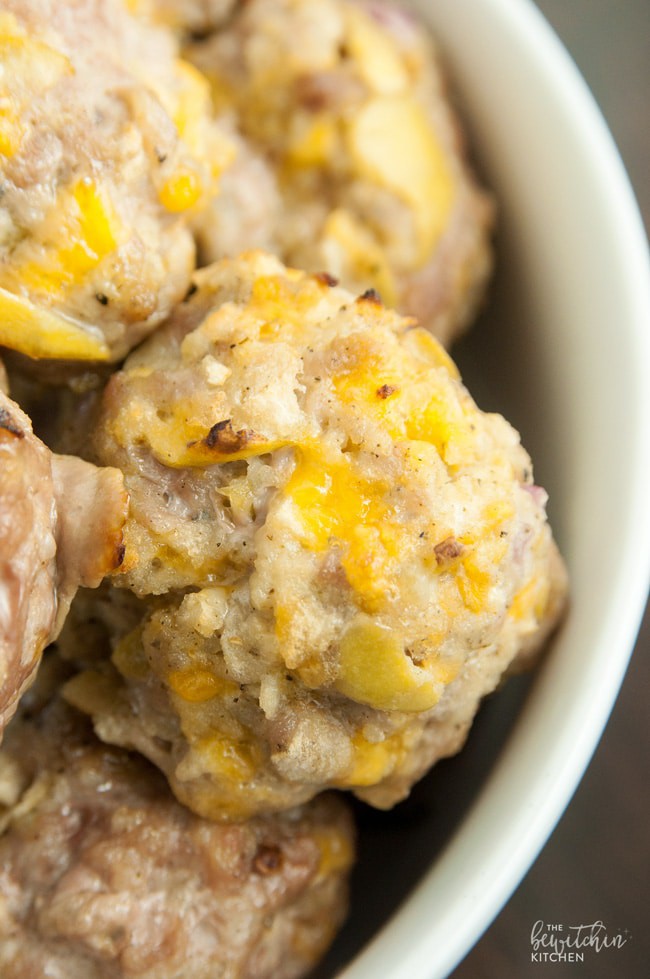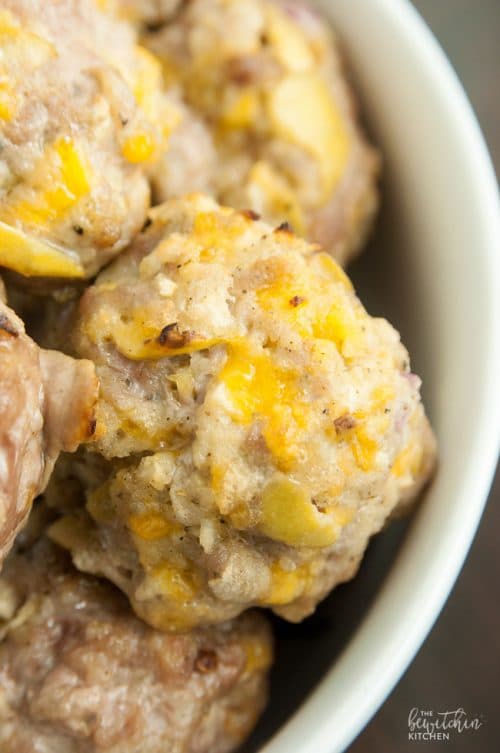 There are two options for this recipe: grate everything by hand and mix or toss it all in a high powered blender or food processor (I use a Vitamix). Go the blender route, it takes two minutes to get everything together. I actually did a Facebook live a few weeks ago to show my love for my Vitamix and shared this recipe. If you missed it, the replay is below.
Apple Cheddar Pork Meatballs
These loaded pork meatballs are jam-packed with cheddar and apple making this a comfort food favorite. It's gluten free too, a great week night dinner recipe
Servings 18 meatballs
Calories 79kcal
Ingredients
1 lbs ground pork
1 apple grated
1/4 cup red onion chopped
1/4 cup grated cheddar cheese
1 tsp ground sage
1/4 tsp sea salt
1/4 tsp pepper
Instructions
Preheat oven to 400°

Add all of the ingredients, except for the pork, to a high powered blender (or you can chop it all up and put it in a bowl) and use the blender to chop it.

Add the pork and gently mix in.

Roll into 1 1/2 inch balls.

Bake for 30 minutes
Nutrition
Serving: 1meatball | Calories: 79kcal | Carbohydrates: 1g | Protein: 4g | Fat: 5g | Saturated Fat: 2g | Cholesterol: 19mg | Sodium: 56mg | Potassium: 89mg | Sugar: 1g | Vitamin A: 35IU | Vitamin C: 0.9mg | Calcium: 20mg | Iron: 0.3mg
Follow On Pinterest
Follow @bewitchinkitchen On Pinterest for more delicious recipes!
More Savoury Apple Recipes:
Spicy Chicken and Apple Sweet Potato Stir Fry
Follow BC Tree Fruits on their social channels for recipes, tips and more: Facebook, @bctreefruits , @bctreefruits.
Disclosure: A big, loud shout out to BC Tree Fruits for sponsoring this post. I have been compensated to make this recipe for Cheddar Apple Pork Meatballs, but all opinions are my own.