Clean Eating Chicken Chili
This Clean Eating Chicken Chili is absolutely delicious! I've made it twice since I originally posted, and it's only been three weeks.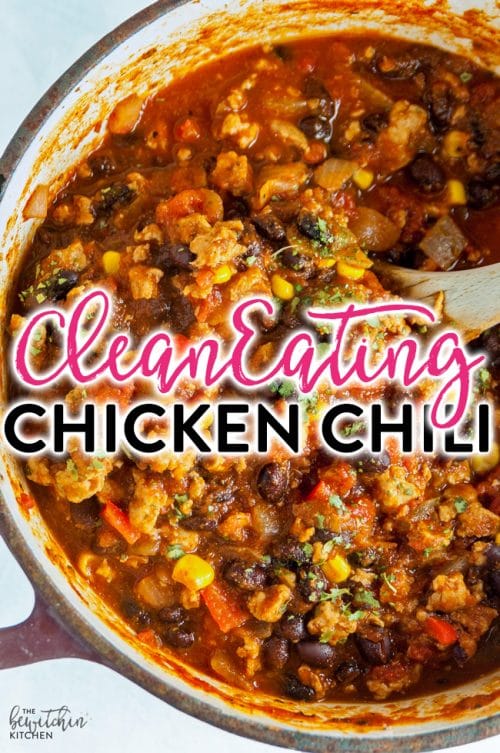 Healthy Chicken Chili Recipe

OUR LATEST VIDEOS
I make a lot of chili, it's my go to for batch cooking for healthy lunches and freezer dinners. I'm prepping and testing out recipes for the Whole30 challenge I'll be taking part of in January (after my Disney trip, of course – because come on, let's be real) and this Clean Eating chicken chili is winner winner chicken dinner.
Friends coming from Pinterest: Ah! I totally forgot that beans and corn are not Whole30! So I thought, maybe Paleo? However, a lot of people don't believe beans are so it's now Clean Eating Chicken Chili. I'll be updating the title and Pinterest image later – it's on my list of 1000 things to do. Repeat: this is not Whole30 Compliant.
Want more proof I love chili? My dog's name is Chilli, but truth be told my husband and I were going in between Chester and Billy, so we combined the two.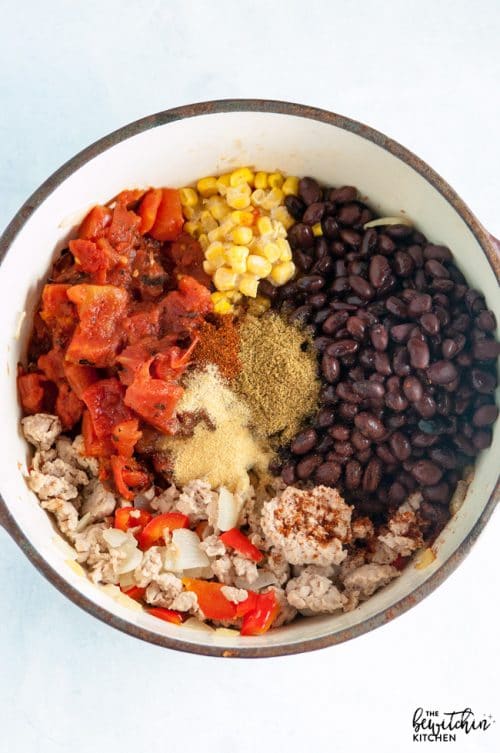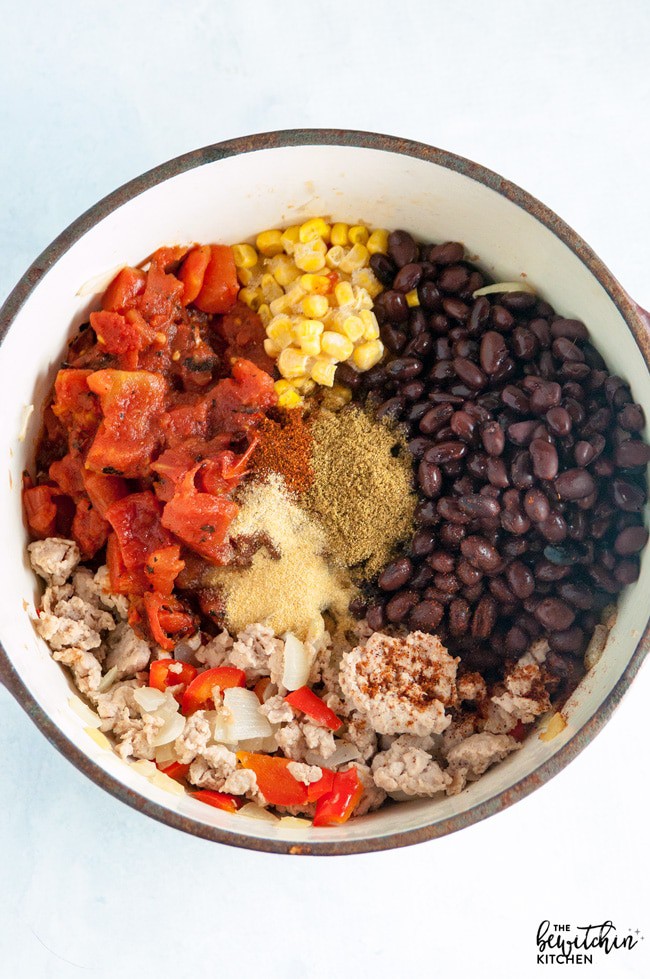 This will be my last post for Canadian Chicken as their brand ambassador for 2016. What a year it has been! I really enjoyed being a brand ambassador because not only did I learn about Canadian Chicken Farmers and how they support our economy but I also got more creative in the kitchen and came up with so many new family favorite recipes. Check out these yummy chicken recipes.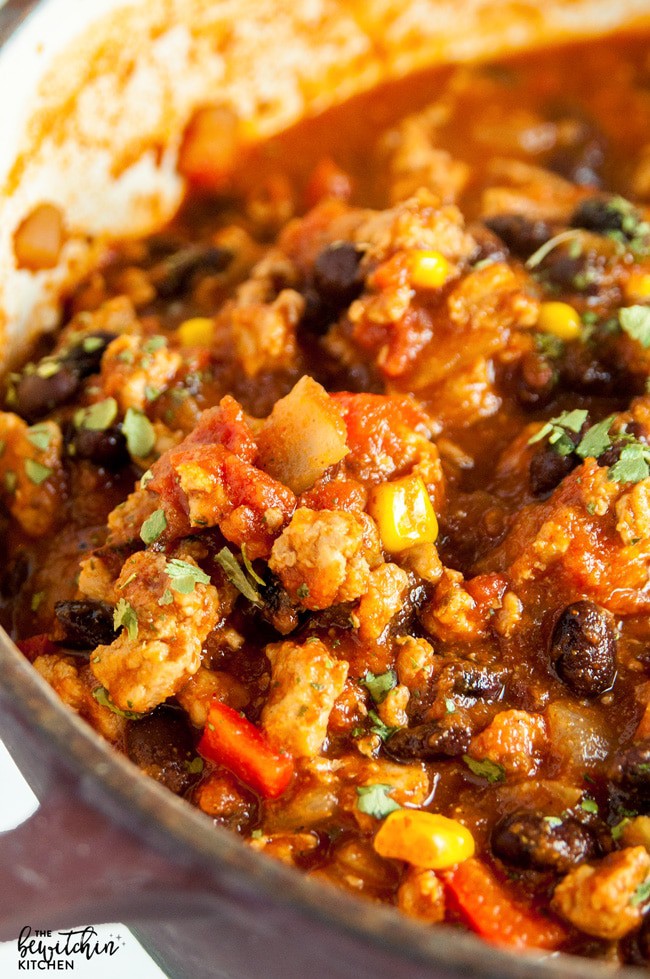 Clean Eating Chicken Chili
I have included affiliate links for your convenience.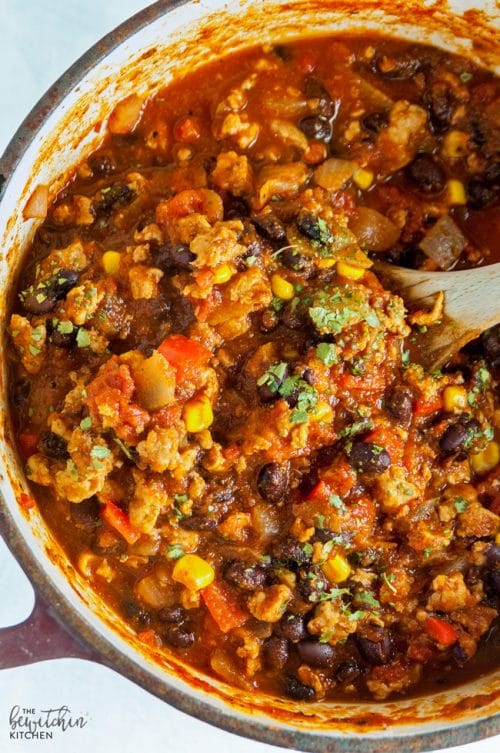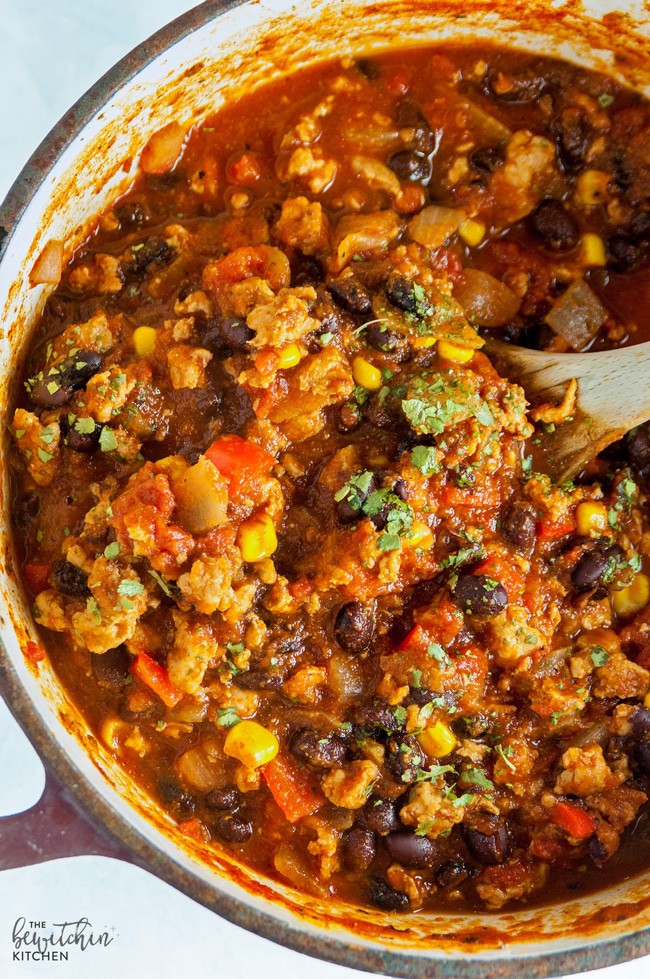 There is a secret ingredient in this clean eating chicken chili recipe, and it's an odd one. I used applesauce, I know right? I was tasting the chili and thought it needed a little sweetness, and being that I was practicing a Whole30 recipe, I didn't want to use Molasses (like in the Super Lean Chili recipe) or sugar. I knew I had to get creative, and that's when I saw the applesauce sitting in my fridge. It worked really well, just use the unsweetened variety to make it Whole30 and Paleo approved. If you want this whole recipe to be compliant with Whole30 and Paleo – no corn or beans.
Randa's tip: I use a ceramic pot (the one I have is a discontinued KitchenAid but this Lodge ceramic pot looks good) when I cook up this chili. It makes for an easy cleanup!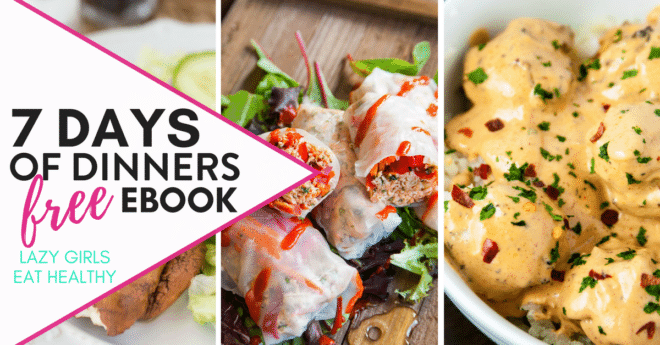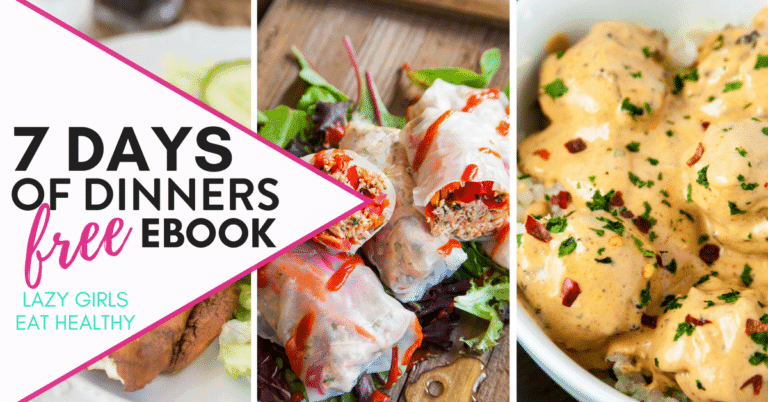 Psst –> Meal planning can be a drag, so I put together The Lazy Girls' Eat Healthy Guide to 7 Days of Dinners. It's a free eBook for you to download! Click here to access it.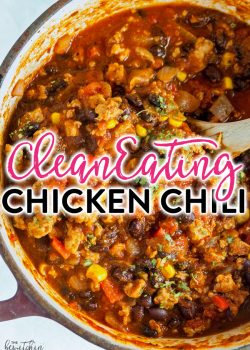 Clean Eating Chicken Chili
This hearty and healthy chili recipe is lightened up with ground chicken and is a yummy clean eating recipe PLUS it's 21 day fix approved.
Ingredients:
1 tbsp olive oil
1 lb ground chicken
1 onion, chopped
1 red bell pepper, diced
1 cup chicken broth
1 can black beans
1/2 cup frozen corn
1 can fire roasted tomatoes (14oz)
1 can tomato paste (roughly 1/4 cup)
1/4 cup applesauce
1 tbsp ground chili powder
1 tsp cumin
1 tsp oregano
1 tsp thyme
1 tsp garlic
1/2 tsp cayenne
Directions:
Heat a large pot over medium heat and add the olive oil. Once that is heated add the ground chicken and scramble fry until it's cooked (about 7-8 minutes). Add the onion and red bell pepper and cook for 3 minutes.
Add the rest of the ingredients and bring to a boil.
Cover the pot and bring it down to a simmer for 50 minutes. Check on it at the 30 minute mark to give it a good stir.
Nutrition Information
Yield: 8 servings , Serving Size: 1 cuo
Amount Per Serving:
Calories: 206 Calories
Total Fat: 7.3g
Saturated Fat: 1.8g
Cholesterol: 49.7mg
Sodium: 398mg
Carbohydrates: 21.4g
Fiber: 6.5g
Sugar: 6.4g
Protein: 16g
All images and text ©
.
For more recipes and chicken tips (like cooking times) please visit Canadian Chicken on the following social channels: 
Facebook: Canadian Chicken, Twitter: @ChickenFarmers, Instagram:@ChickenDotCA; Pinterest: ChickenDotCA.
Disclosure: I am participating in the Chicken Farmers of Canada campaign managed by SJ Consulting. I received compensation in exchange for my participation in this campaign. The opinions on this blog are my own. This post contains affiliate links.
FREE Recipe Binder
Are you constantly wondering what's for dinner?
When I don't meal plan I feel behind, and we usually end up ordering take out. This recipe binder will keep you organized and make life a little bit easier.

products I used to make this happen Shop This Post
(may include affiliate links)