AppleCheeks Cloth Diapers | Baby Gift Guide

The world of cloth diapers is a new one to me. Even with all the reading I have done it was hard to be prepared until I was able to figure it out on my own. It truly is a hands learning experience, at least that is how it was is for me and my first teachable moment happened with AppleCheeks Diapers.
AppleCheeks cloth diapers bring you the ultimate in form and function, combining effective leak control with attractive styling. Imagine a dry bottom that actually looks good! Who knew? New advances in textile technology allow for amazingly trim fitting washable diapers that unstuff by themselves in the wash! Gone are the days of bulky plastic pants and saggy, wet bottoms. Pins and Snappis are a thing of the past.
So what was this teachable moment that I'm so excited to share with all of you? Well you see AppleCheeks was the first cloth diaper I had tried that required an insert, so when it came to figuring out the difference between a bamboo insert versus a micro terry insert I was lost. After speaking with Katie from AppleCheeks and a little online reading, I overcame my first cloth diaper hurdle and here is what I have learned: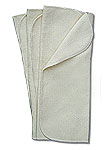 AppleCheeks' Bamboo inserts are the most absorbent option to have for an insert. Bamboo would be the ideal insert to use in your baby's diaper during the night. It will keep your baby dryer, longer. The rayon keeps your baby dry because it can hold twice its weight, and it's antimicrobial. Bamboo liners are made from natural fibers and organic cotton fleece.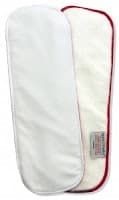 AppleCheeks' Microterry Inserts
are new to AppleCheeks and is ideal to parents who are trying to cloth diaper on a budget. With the microterry inserts, you get two inserts in one (depending on how you diaper). There are two sides of a microFLEECE side and a microTERRY side. If you stuff the insert into the cover of your diaper then you want the absorbent microTERRY side facing up but if you prefer to lay your insert on the cover then you want the stay dry microFLEECE side up. It's easy to tell the difference because the fleece is white and the terry has red stitching (and there is a label that tells you not to lay the microTERRY against the skin). This insert is perfect for daytime use.
I noticed that the bamboo insert has more material than the microterry version as well, so I feel that there are more layers to penetrate, which can also help keep your baby dryer for longer. (You can actually fold the bamboo insert into six layers.) Both inserts have pros and cons. For absorbency, I preferred the bamboo, but for ease of use I liked microterry. I didn't like folding up the bamboo and the microterry was easy to just place over the cover or to stuff in the pocket.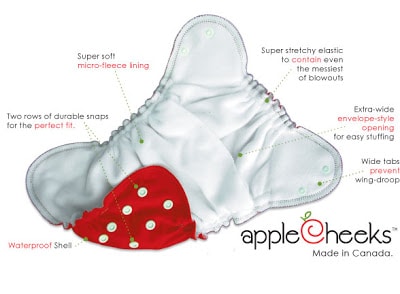 Even though the inserts are probably one of the most important features of a cloth diaper, I just cannot get over the cover. I received the AppleCheeks 2-size envelope cover in dark chocolate. I love how vibrant the color is, it's very eye appealing (a fun aspect of cloth diapers). Being that the diaper is a 2-size, this diaper is able to grow with my baby (saving money in the long haul). My specific size (1) will grow with my baby until he is 20 pounds, thanks to the two rows of snaps which helps with a proper fit around the legs and waist.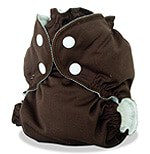 Something unique to the AppleCheeks cover would be the fact that you do not need to unstuff it before you toss it in the wash (very daddy-friendly). The layer will come out itself in the wash and get clean (hubby has taken advantage of this and it works, a great favorite feature).
All in all, I am in love with this diaper and I have so many great things to say about AppleCheeks. It fits Carter perfectly, there are no gaps anywhere and you can tell that he's comfortable. So far, it's my favorite diaper I have tried. It's a definite must have for your cloth diaper stash.
To learn more about AppleCheeks and their products visit AppleCheeks.com and don't forget to follow them on Twitter and "Like" them on
Facebook
.