Hello Baby | Baby Gift Guide
 I love one stop online baby shops. When you're expecting a little one to make it's way into your life all the "must haves" can be a little overwhelming at first and it's a pain to travel website to website to order everything you need. Thankfully there is Hello Baby. They sell everything you need (and only one online store to visit).
Hello Baby is based in St Albans, UK and they are company that insists on providing quality, fun and practical baby and nursery products. Hello Baby also loves the environment and keeps eco friendly and ethical products in stock (such as cloth diapers and organic skincare). At this online baby shop you will find everything from pregnancy and maternity products to feeding necessities and nursery furniture.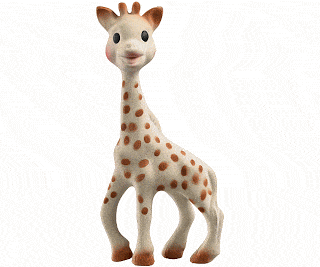 I was sent Vulli'sSophie The Giraffe to review. Now, before I was sent Sophie I had seen her everywhere. Friends of mine had her for their own babies, baby stores always had them in stock and I couldn't go online shopping without seeing her in the suggested sidebars. I never understood why Sophie was such a hot item. Then I received her for my own use.
Sophie the Giraffe from Vulli was born in 1961, her success as Baby teether and toy is legendary in France. Made in the French Alps with natural rubber and non-toxic paint, Sophie Le Giraffe has been safely cuddled and chewed for nearly 50 Years! She is soft, light, and easy to grasp and fits perfectly into Baby hands. Sophie is loveable and amusing. She even makes a happy laughing sound when squeezed. Babies especially love her bumpy head to soothe their teething gums. Most importantly her flexible, renewable, natural rubber materials and non-toxic paint mean Sophie the Giraffe is a safe and all-natural teething toy for your Baby. Parents world-wide trust the joy this classic toy brings to their babies. In today's world it is unusual to see a high production toy still made by hand: Sophie requires 14 manual manufacturing steps. Her retro style has ensured that she has remained fashionable for over 40 years. Slender, flexible and soft, baby can squeeze and chew her in complete safety, and with great pleasure.
Carter is too young to be teething but I use Sophie to entertain him daily. Sophie The Giraffe is the ultimate sensory development toy. When you squeeze Sophie, she squeaks which stimulates your little one's hearing
,
it's very attention grabbing for my little guy. Here are some of the other sensory benefits Sophie The Giraffe provides:
Smell: The singular attractive scent of natural rubber from the hevea (rubber) tree makes Sophie the Giraffe very special and easy for your child to identify amongst all their other toys.
Sight: The dark contrasting spots all over Sophie the Giraffe's body provide visual stimulation and make her easily recognizable to baby. She becomes a familiar and reassuring friend.
Taste: Sophie the Giraffe is very flexible and has lost of parts for baby to chew, ears, arms and legs. She is perfect for soothing baby sore gums when teething and is completely safe. Made of 100% natural rubber and food paint.
Touch: She is perfect for baby's small hands. She is very light and her long legs and neck are easy for baby to grip. She is soft to the touch just like baby's mummy stimulating soothing physiological and emotional responses.
I am thankful that I received Sophie as a review product because otherwise I would have never of given her a chance, meaning I would have missed out on an ideal "toy" develops with my baby and will be a friend for years to come.
For more information on Sophie The Giraffe, or to see the many products carried visit the Hello Baby website.
Don't forget to connect with Hello Baby on their Facebook Page and Twitter account.
Pin It
FREE Recipe Binder
Are you constantly wondering what's for dinner?
When I don't meal plan I feel behind, and we usually end up ordering take out. This recipe binder will keep you organized and make life a little bit easier.