Baby Grins UV Protective Car Seat Cover

Baby Grins is an online one stop shop for all of your baby needs. From pregnancy to baby Baby Grins has the products you will need (and even some you never thought of).
About Baby Grins 
At Baby Grins they make parenthood easy & fun! With a wide range of innovative and practical baby and toddler solutions, Baby Grins will simplify your life as a new parent! Whether you are an expecting mom, new dad or savvy gift-giving grandma, they have a wide range of solutions, perfect for today's busy families and modern lifestyle!
What you'll find on their online shop is a collection of highly recommended maternity, baby and toddler products. What's great is If Marcie (the shop owner) wouldn't use it… you won't find it in the store. If a product doesn't live up to Marcie's high expectations (or yours), Baby Grins drops the line and moves onto something new.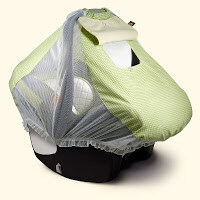 I was sent the Airy Cotton Car Seat Cover to review from Baby Grins. This car seat cover is made by Jessica Kim and BabbaCo. Did you know that doctor's do not recommend putting sunscreen on children younger then 6 months? Carter will be 2, 3, 4 months during our peak "sun season" here in central Alberta and I want to keep him protected. This lightweight car seat cover does just that with a SPF 40+ screen built in.
Not only is this cover lined with an SPF UVF of 40-50 + but it also has a built in mosquito net, to keep those annoying (and sometimes dangerous) pests from getting to your baby. The cover itself has elastic around the button so it will fit snugly on any carseat. I have a Britax BSafe and it fits secure enough to keep the bugs out. If you need to have access to your baby, instead of taking the whole thing off every time, there is a peek-a-boo flap that you can secure up to pass your little one a bottle, give a pacifier, etc.
Although I love how this car seat cover keeps my baby sun-safe, I have to say my favorite feature would be how practical it is. This cover has a hole at the top so the car seat handle is available and ready, giving me a safe grip on the handle to carry my son (no fabric to get in the way and cause potential spills).
Care instructions are easy: just toss in the washing machine and hang to dry.
For more information on the Airy Cotton Car Seat Cover or other products supplied by Baby Grins, please visit the Baby Grins website. 
All readers of The Bewitchin' Kitchen will receive $10 off when you purchase the Airy Cotton Car Seat Cover. Use code Bewitchin 10, offer expires April 30.
Follow Baby Grins on Twitter and don't forget to Like them on Facebook to get a 10% off coupon..