Crescent Roll Apple Turnovers
This is the easiest recipe ever for Crescent Roll Apple Turnovers. Sweet, gooey filling inside a tender, flaky crust — what more could you want from a dessert? Top with powdered sugar or caramel drizzle… Or both!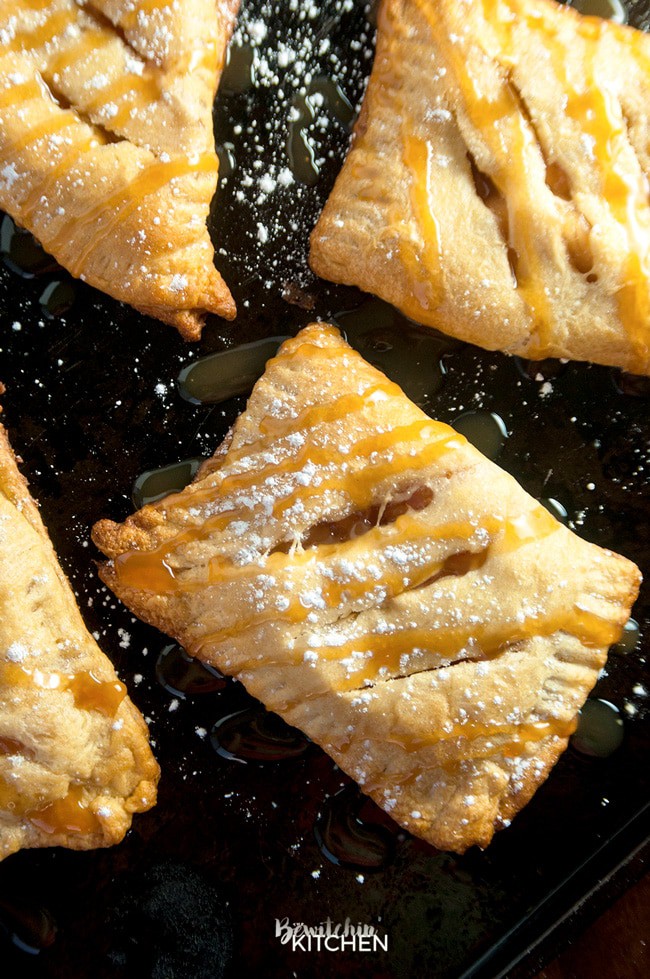 Easy Apple Turnovers
Disclosure: This post contains affiliate links for your convenience.
Caramel Crescent Roll Apple Turnovers — this is the easiest recipe ever! Two ingredients for apple hand pies and three if you add the caramel. Gotta love easy dessert recipes!
This apple turnover recipe (can I even call it that with how easy it is?) came to light last minute. I was looking for pumpkin pie filling for a future recipe and saw the apple pie filling next to it. I was already planning to make Strawberry Rhubarb Cream Cheese Turnovers, so I decided to do one for apple pie as well!
Just roll out some refrigerated crescent roll dough, spoon canned filling in the center, and pinch the edges before baking. It's that simple to make quick and easy apple turnovers for dessert.
Why You Will Love This Apple Turnover Recipe
Easy to make – two ingredients and 5 minutes of prep
Sweet, fall flavor – but you'll want to make them year round
Customizable – try different toppings or even a new filling
One pan recipe – everyone loves easy clean up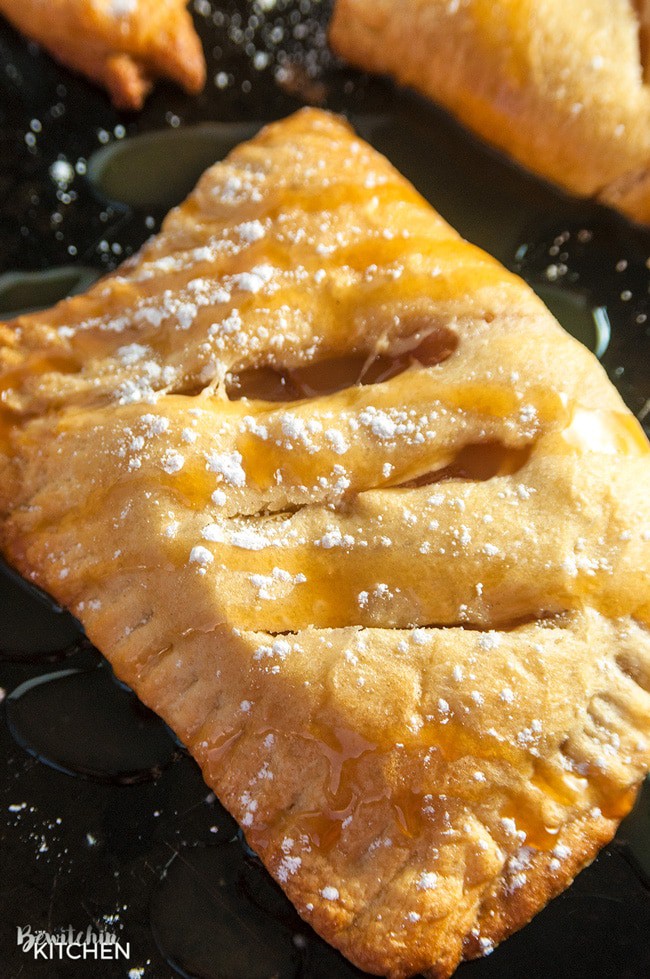 How to Make Perfect Pillsbury Turnovers
There really isn't much to this recipe, but it does require a little bit of care. Once baked, these crescent roll apple turnovers can be kept at room temperature for a day, or in the refrigerator for up to 3 days. That's assuming you don't eat them all right away!
FYI – there will be extra apple pie filling, so try your best not to eat it straight out of the can.
Decide on the Shape
Whichever you choose, this apple turnover recipe makes four hand pies. Throwing a party or hosting dinner guests? Simple increase the amounts to make as many as you need!
For rectangles: Separate the crescent roll dough into four sections and pinch the seam together to form solid rectangles.
For triangles: Separate the dough along all of the perforations, then stack two triangles on top of each other with the filling in the center.
Just for fun, I made a triangle apple pastry to show you what it would look like. I found that this shape held less apple pie filling than the rectangles, so I only made one.
Assemble Each Apple Pastry
Spoon the pie filling onto the dough and seal the edges with a fork — seriously, that's it!
Be sure to leave space around the edges so the filling doesn't ooze out the sides when baked. You'll also want to make two or three slices across the top of your Pillsbury turnovers before they go in the oven. These act as vents and allow steam to escape so your desserts doesn't explode.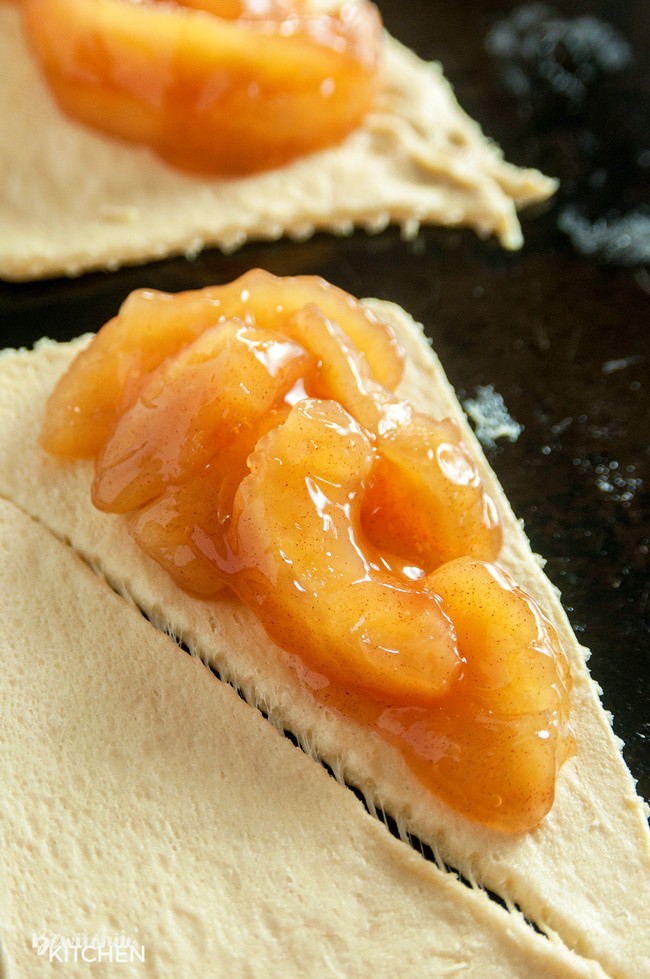 As I mentioned before, I prefer the rectangle shape to get as much filling as possible into each bite. Instead of spooning the apples into the center of the dough, add them to one end and fold the dough over the top to seal.
Add a Topping
A light dusting of powdered sugar transforms these humble pastries into something worthy of a bakery display case. For extra fall flair, try a dash of cinnamon as well.
If you're craving extra decadence, you can bust out the caramel syrup and turn these easy apple turnovers into caramel apple turnovers. So much yum! Can't get enough caramel? You can find more caramel recipes here.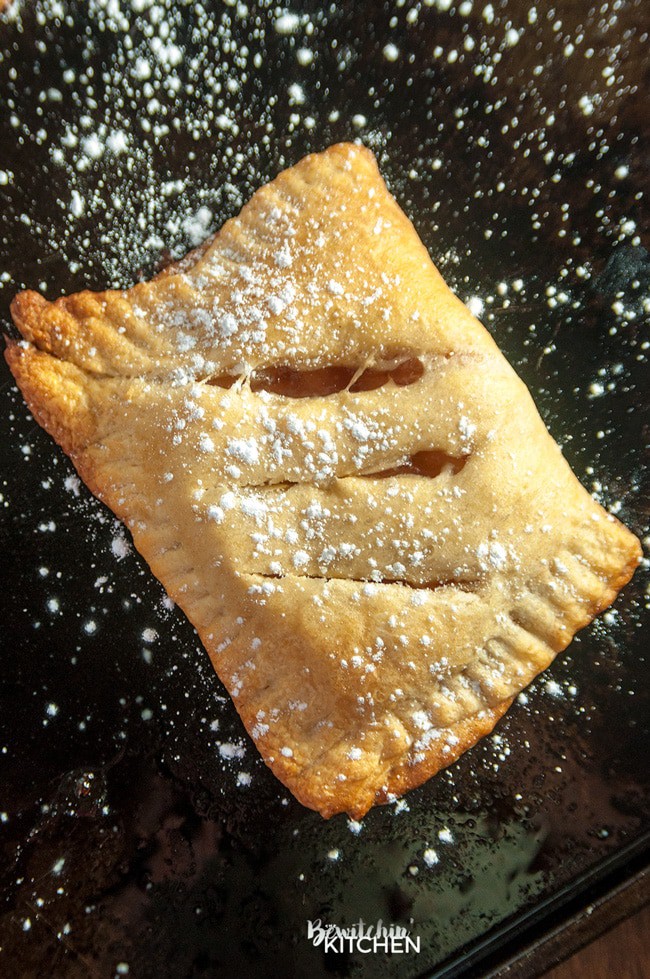 Frequently Asked Questions about Crescent Roll Apple Turnovers
What pastry are apple turnovers made from?
This delightful apple pastry is typically made with puff pastry dough. When prepared from scratch, the dough is folded over and over (called laminating) to create the most incredibly flaky texture when baked.
Instead, crescent roll apple turnovers are made with — you guessed it — crescent rolls. This shortcut saves loads of time in the kitchen and still delivers on those flaky layers we all know and love. Grab a tube (or three) from the store and get to baking!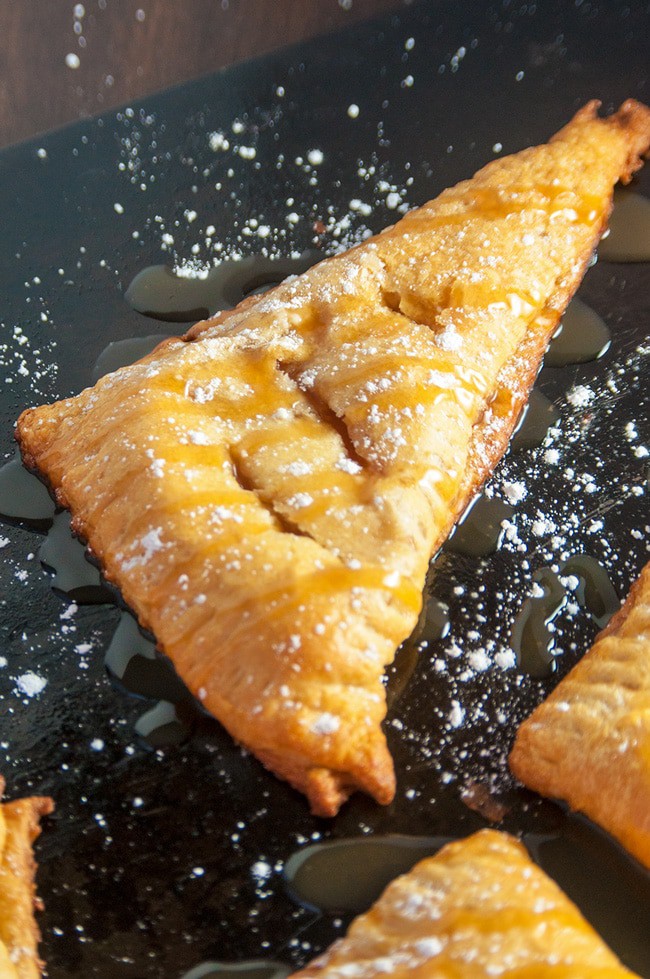 What is the best apple for baking?
When it comes to pies and pastries, Granny Smith is considered the gold standard. This variety is both tart and sweet, and it won't turn to mush in the oven.
Since this apple turnover recipe uses canned apple filling, there's no need to fuss over the best apples. That said, you could easily make your own pie filling from scratch and use your favorite apple variety. Honeycrisp, Cortland, and Pink Lady are other great options.
Can I use a different filling for Pillsbury turnovers?
You bet — in fact, I already have some options for you to try! Remember when I mentioned my hunt for pumpkin pie filling? Well, that is just what you need to make these Pumpkin Cheesecake beauties.
Or, whip up a tangy and sweet homemade filling for my Strawberry Rhubarb Hand Pies instead. They are the perfect way to eke out a little bit more summer flavor before ushering in the cooler months. Any berry pie filling would be tasty too.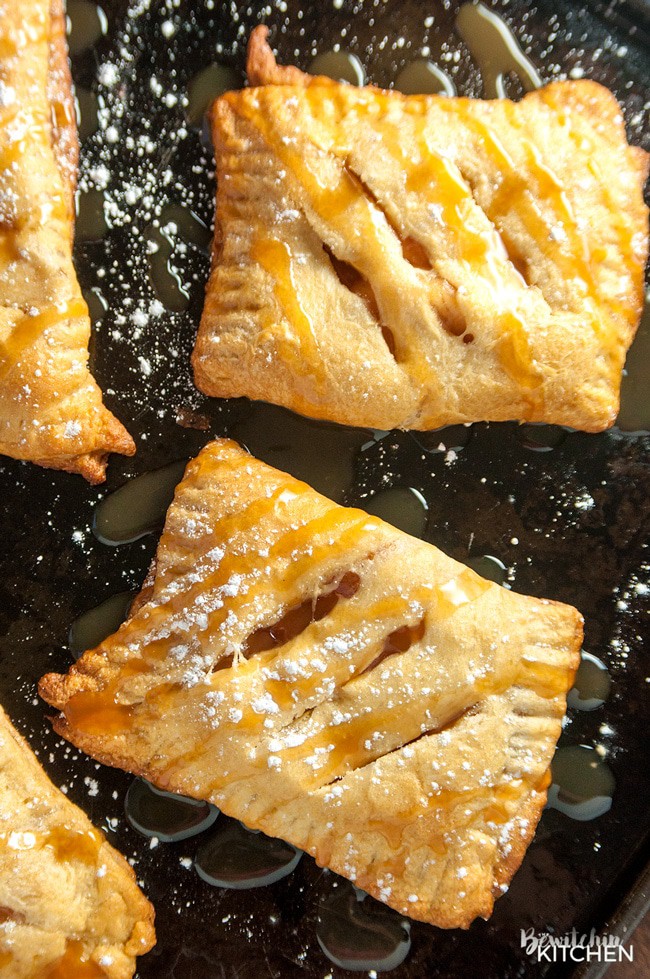 Supplies:
More Apple Pastry Recipes
Mini Apple and Salted Caramel Cheesecakes
Crescent Roll Apple Turnovers
This is the easiest recipe for Crescent Roll Apple Turnovers. Sweet, gooey filling inside tender, flaky crust — what more could you want?
Servings 4 turnovers
Calories 348kcal
Ingredients
1 can Pillsbury Crescent Rolls
1 can apple pie filling or homemade apple pie filling if you're fancy – just make sure it's cooked
Optional: caramel to drizzle
Instructions
Pre-heat oven to 375 F

Roll out the crescent rolls flat and separate into the four squares. Push the seams together so there is no separation in the square (or separate them to make triangle apple turnovers).

Spoon the apple pie filling onto one side of the turnover.

Using a fork, press the edges together.

Place the apple turnovers on a greased baking sheet (or a sheet lined with parchment) and bake for 18-20 minutes, or until brown.

Let cool.

Optional: drizzle with caramel syrup
Nutrition
Serving: 1g | Calories: 348kcal | Carbohydrates: 62g | Protein: 4g | Fat: 10g | Saturated Fat: 4g | Sodium: 489mg | Potassium: 66mg | Fiber: 1g | Sugar: 26g | Vitamin A: 35IU | Vitamin C: 2.5mg | Calcium: 6mg | Iron: 1.2mg
Follow On Pinterest
Follow @bewitchinkitchen On Pinterest for more delicious recipes!