Baked Donuts Recipe
This baked donuts recipe is so fun to make with the kids, especially with colored maple glaze and plenty of sprinkles! Even better, you can easily make homemade baked donuts without a donut pan. So, what are you waiting for? Make a batch of these tasty cake donuts today!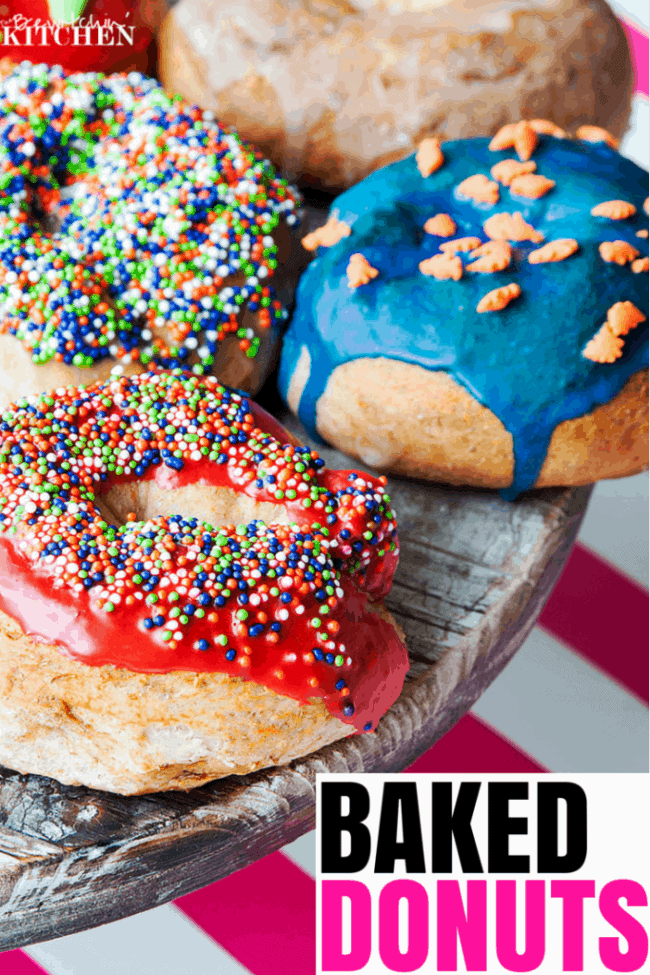 Easy Baked Donuts Recipe
Have you ever had baked donuts? Soft and chewy, but not too sweet — they may just be my new favorite thing to make (and my son's favorite thing to eat)!
Aside from the maple extract, there's a good chance you already have everything you need to make this baked donuts recipe. Just mix together a simple yeast dough, let it rise, then shape into circles and pop them in the oven.
Here's a little disclaimer: I had no idea what I was doing when it came to making homemade baked donuts! I pulled out my tried and true cinnamon rolls recipe and started making some adjustments. They may not be the prettiest, but they sure are tasty!
Why You Will Love Cake Donuts
Make with the kids – they can help every step of the way
Skip the oil – avoid hot splatters and use the oven instead
Customizable – try a different flavor or some spices, and decorate however you'd like
No special equipment needed – easily make baked donuts without a donut pan
How To Make Homemade Baked Donuts
This baked donuts recipe does include two separate rises, so be sure to account for the extra time before you get started. Other than some patience, all you need are simple pantry ingredients and a large baking sheet!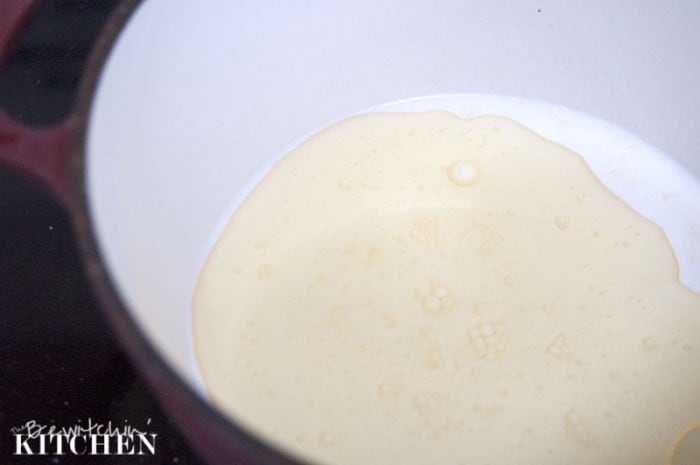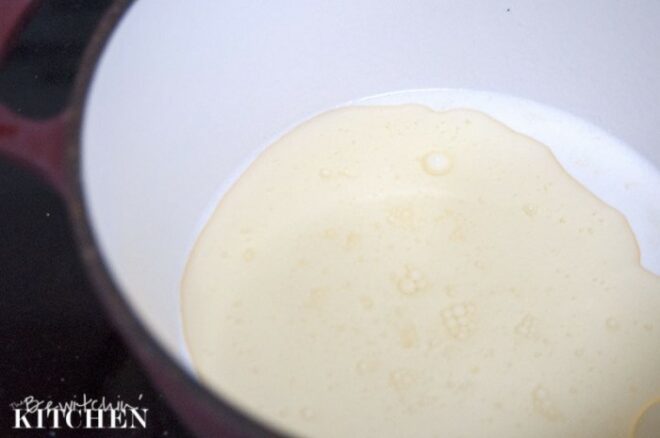 Make The Dough
Start out by scalding the milk — bring the milk, sugar, and oil almost to the point of boiling. Once it starts to foam at the sides, remove it immediately from the heat. Any longer and it will curdle, meaning you'll have to start over with a fresh batch.
Allow the milk mixture to cool until it is lukewarm, about 45 minutes or until it reaches 110-115 degrees F. Then, stir in the maple extract and the yeast (I use Fleischmann's Quick Rise Yeast).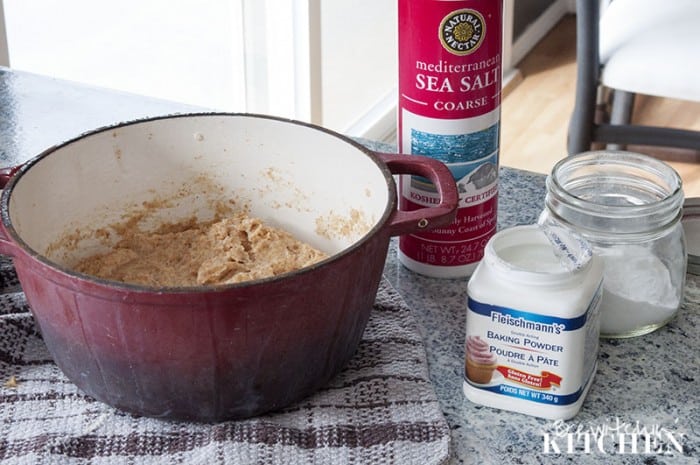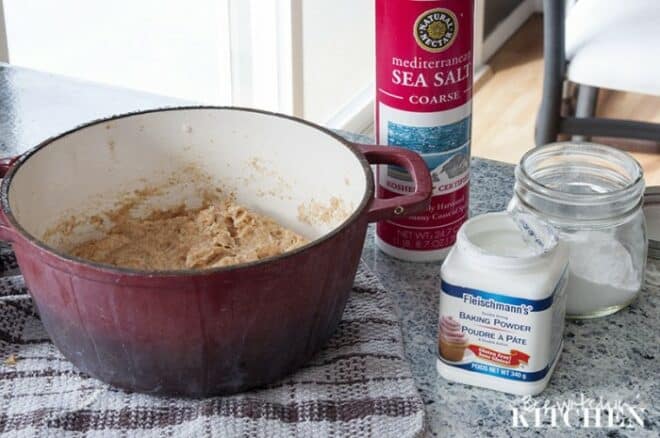 Once the yeast starts to expand, mix in the flour, baking powder, baking soda, and salt. Cover the bowl and place it somewhere warm for the dough to rise — in the oven (not on!) or on top of the refrigerator are usually good places.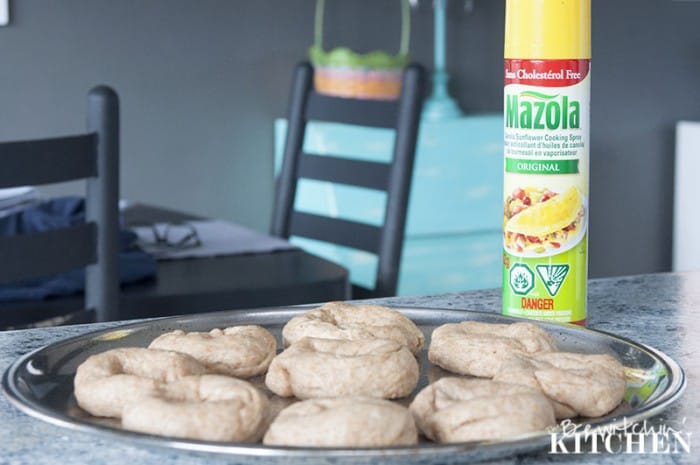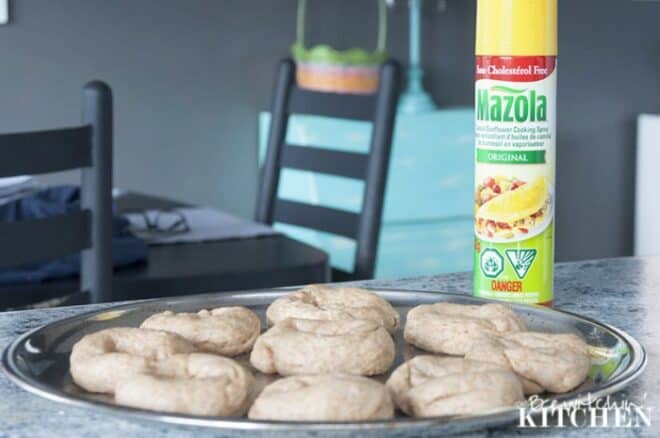 Shape the Donuts
Grab a baking tray (I used my stainless steel pizza pan) and add a layer of nonstick spray.
Divide the dough into 10 even pieces, then roll each into a log. Shape the logs into circles and pinch the ends together, but reshape that section so it's not flat. They won't be the prettiest, but you can just think of them as "rustic."
Place the dough circles onto the greased baking tray, then let them rise for another 30 minutes.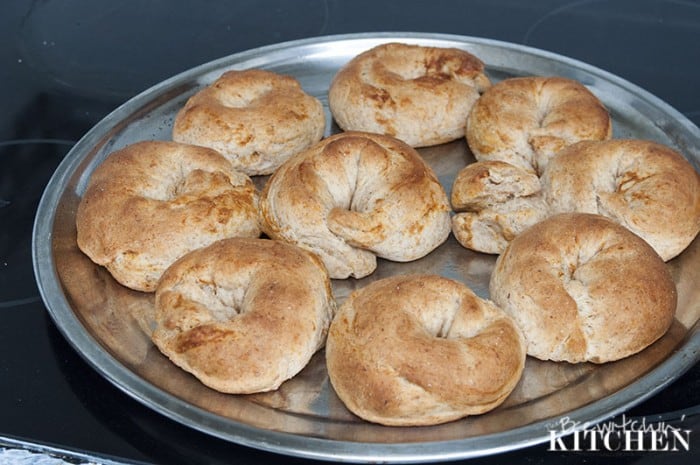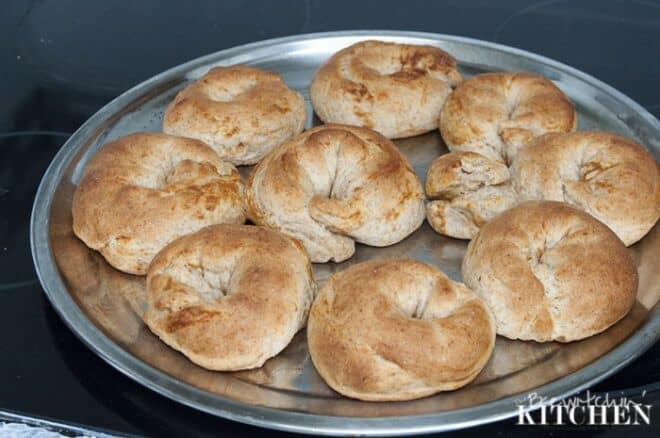 Bake and Decorate
After the second rise, pop the tray in the oven and bake your cake donuts for about 20 minutes at 375 degrees F. They should be golden brown all over and spring back when poked with a finger.
Transfer to a wire rack until cool enough to touch — then, it's time for the fun part!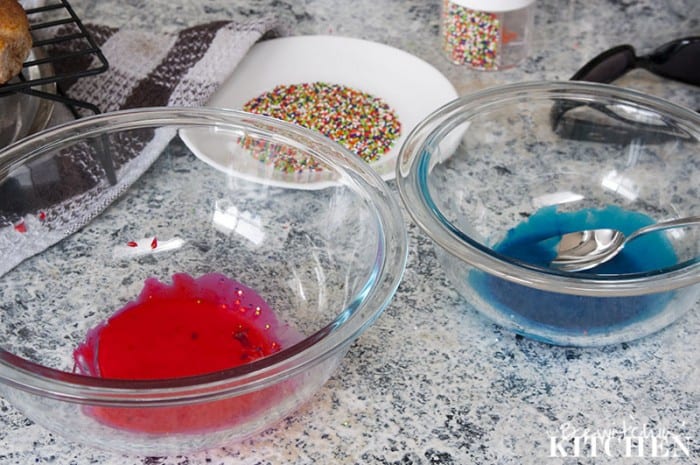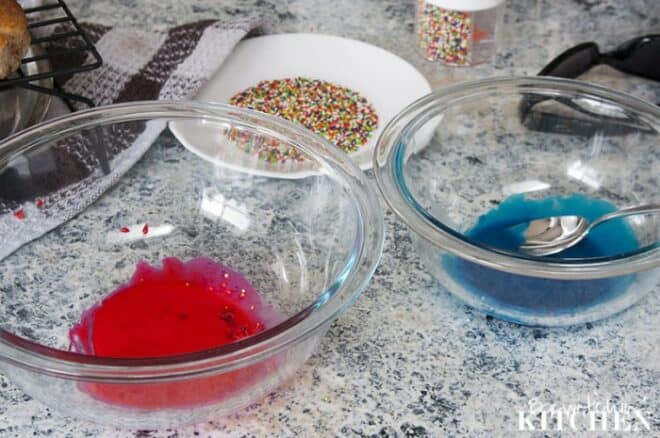 Whisk together a simple maple glaze with powdered sugar, milk, and maple syrup. Leave it plain if you prefer, or divide it into a few different bowls and add your favorite colors.
You'll want to have some bowls with sprinkles or other toppings available as well. Shredded coconut, chopped nuts, or mini chocolate chips are always tasty!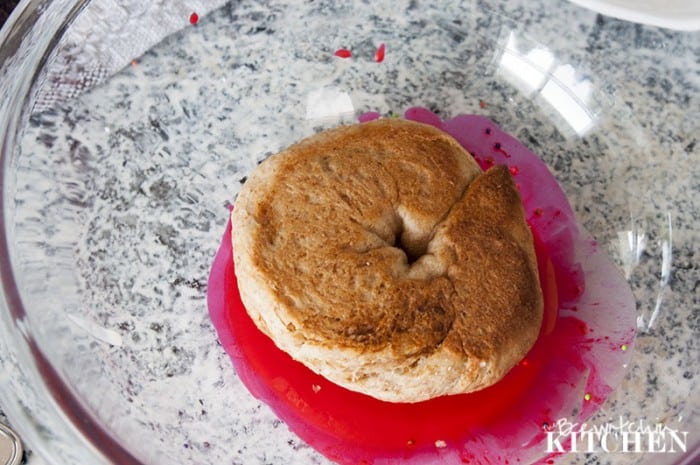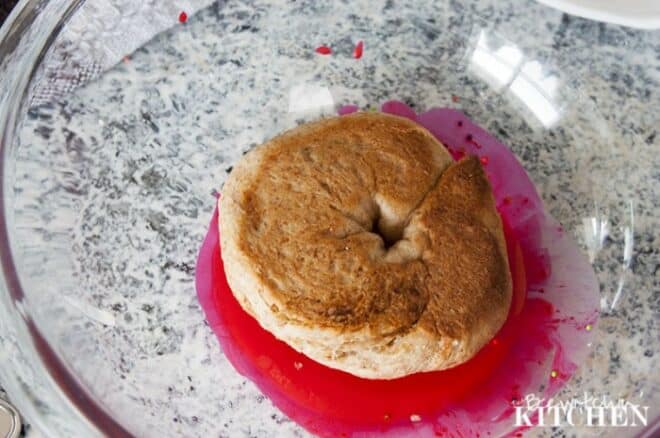 Once the donuts are cool, grab them one at a time and dunk the top in the glaze. Place back on the wire rack and immediately add the sprinkles (or other toppings) before the glaze starts to harden.
I recommend having something under the wire rack to catch the drips and excess toppings — try a sheet of parchment paper or even a large baking sheet.
Then, just wait for your baked cake donuts to cool completely and dig in!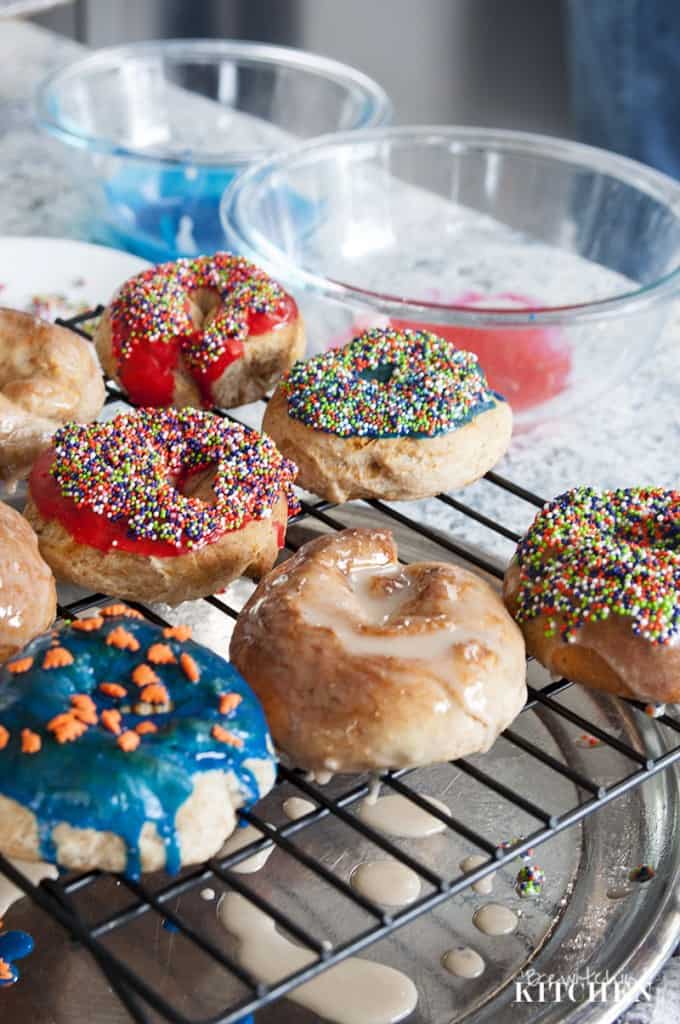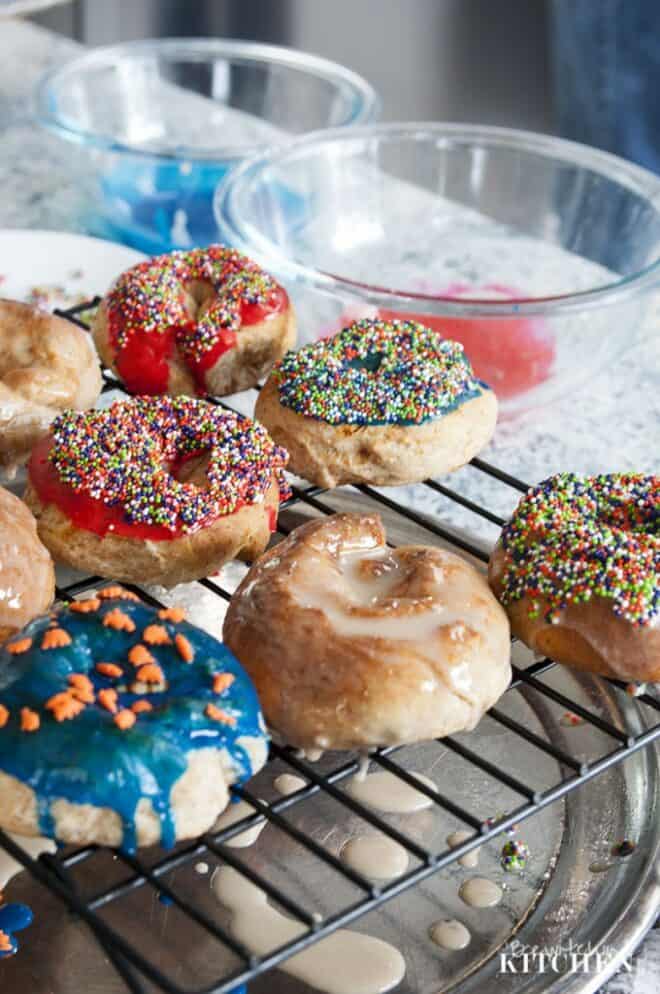 Frequently Asked Questions about Baked Cake Donuts
What is the difference between a cake donut and a regular donut?
Traditionally, cake donut batter is made with baking soda and baking powder which gives it a cake-like texture when cooked. Raised donuts are leavened with yeast before they are fried, giving them that classic airy center with a crispy exterior.
For this baked donuts recipe, I combined the two methods to get just the right texture — a fluffy, cakey bite.
How do you make donuts without a cutter?
It's so easy to make baked donuts without a donut pan or round cutter. Plus, it's one less thing to clean afterward! Simply divide the dough, roll each piece into a log, then form it into a circle and pinch the ends together.
This method works just as well for fried donuts as it does for baked cake donuts. They may not be "picture perfect" but they taste just as good!
What is the best flour for making donuts?
All-purpose flour is the best choice for homemade baked donuts. Most everyone has it on hand, and the gluten won't overdevelop the same way it might with bread flour.
I used whole wheat flour for my cake donuts, but cake flour is another great option. If you do choose to use cake flour, you'll need to add a little extra — an additional 2 tablespoons for each cup of all-purpose flour.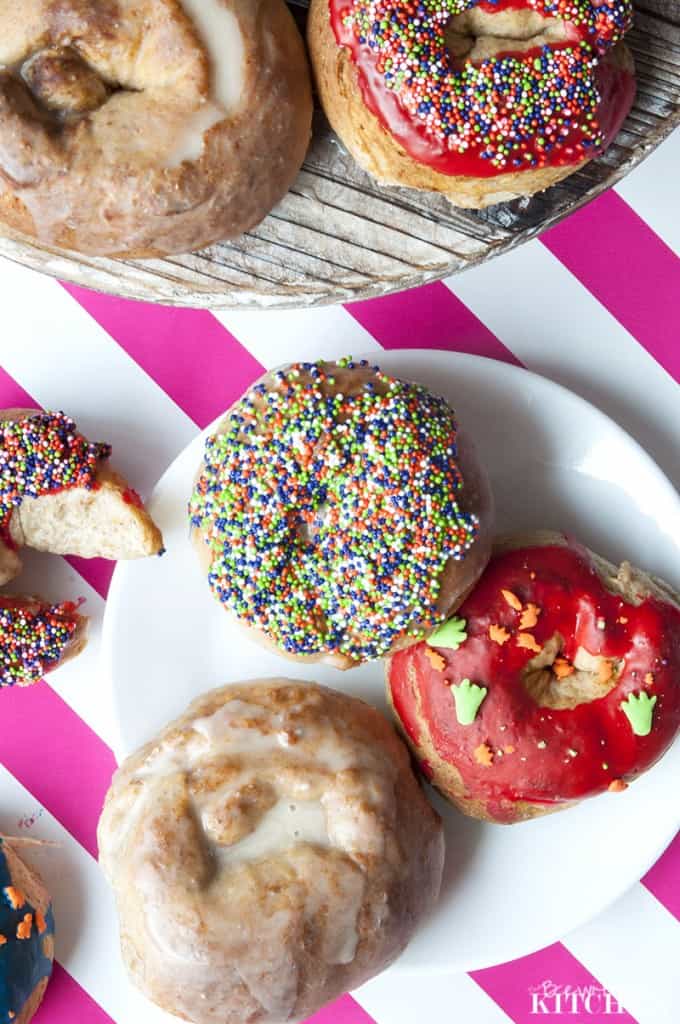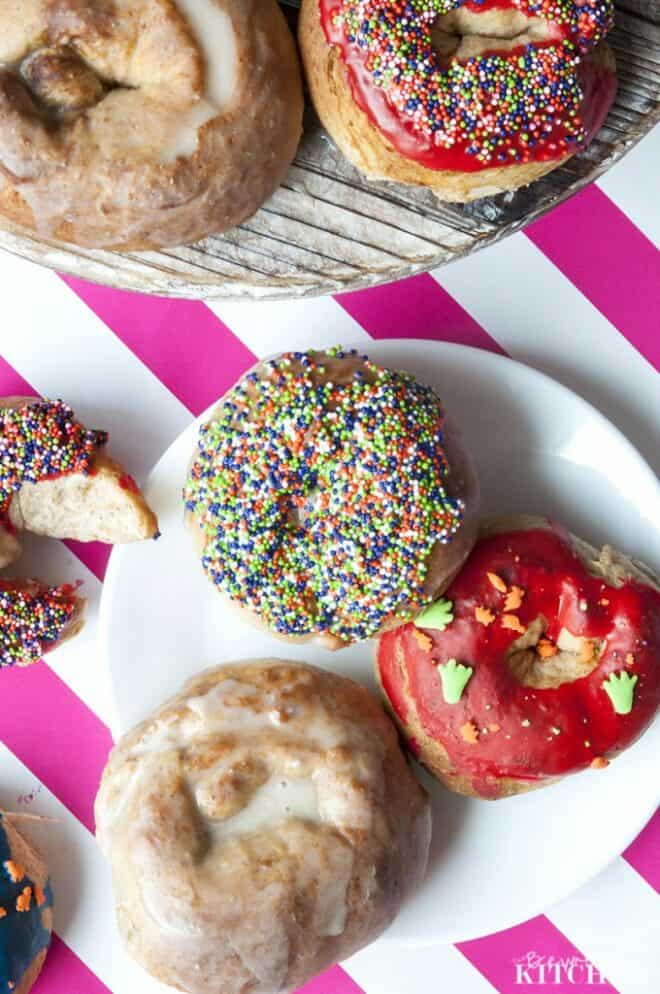 More Easy Baking Recipes:
Baked Donuts Recipe
This baked donuts recipe is fun to make with the kids! No need for special pans or tools — just add a simple glaze and some sprinkles!
Servings 10 donuts
Calories 231kcal
Ingredients
For The Donuts:
3/4 cup 2% millk or just use 1 cup whole milk
1/4 cup cream
1/4 cup sunflower oil
1/4 cup sugar
1 tsp maple extract
1 pkg quick rise yeast
2 cups flour I used whole wheat
1/4 tsp Fleischmanns baking powder
1/4 tsp baking soda
1/4 tablespoon salt
For The Glaze:
1 cup powdered sugar
2 tbsp milk I used 2%
1 tsp maple syrup
Instructions
For The Donuts:
Add your milk + cream, oil and sugar to a pan and scald the mixture. (Heat it right before a boil. The sides will become frothy.)

Take off the burner and let it set for about 45 minutes, or until it's lukewarm.

Add 1 tsp of maple extract and then add the yeast and let it sit for a minute, you will see the yeast beginning to expand.

Add the flour baking powder, baking soda, and salt and mix together.

Cover and let rise for an hour.

Grab some dough and roll it between your hands to make it tub, connect the ends into a donut shape and place on a greased baking pan.

Let rise for 30 minutes – preheat oven to 375.

Bake for 20 minutes.
For the Glaze:
Combine everything together, color if needed.

Dip donuts in the glaze.
Nutrition
Serving: 1g | Calories: 231kcal | Carbohydrates: 37g | Protein: 3g | Fat: 8g | Saturated Fat: 2g | Cholesterol: 8mg | Sodium: 210mg | Potassium: 41mg | Sugar: 17g | Vitamin A: 85IU | Calcium: 11mg | Iron: 1.2mg
Follow On Pinterest
Follow @bewitchinkitchen On Pinterest for more delicious recipes!