Boogie Wipes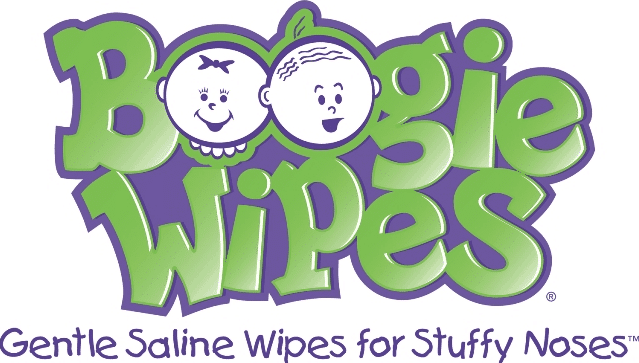 One of the most difficult tasks I have with a 10 month old is wiping his nose. He can't blow and those bulb syringes are too small (still) to suck the "boogies" out. Over the last few weeks I have been using Boogie Wipes and they're tagline is correct, they're "Snot Your Average Wipe".
So what's so special about Boogie Wipes, what makes then different then moist towelettes? They're made with natural saline to dissolve the mucus that can cause colds, allergies and other icky moments. Boogie Wipes are alcohol, paraben (a cancer causer), and phthalate free. Alcohol found in most towelettes will dry our your little one's skin where Boogie Wipes will replenish moisture to the delicate skin around the nose. I love how hydrating Boogie Wipes are, I have used them to remove makeup, change diapers and clean messes when I have been in a pinch. They really can be an all purpose life tool.
When it comes to the main task at hand [removing "Boogies"] Boogie Wipes does the job like no other. It's almost like it grips on, making it easy to remove (the bigger "chunks) and dissolves the runny nose. I don't know the science behind it, all I know is it works. I love Boogie Wipes.
Boogie Wipes comes in the following scents: Great Grape, Minty Menthol, Fresh Scent and Unscented. I personally like the unscented best but the menthol can help open the airways when your little one is congested. You can buy them in On The Run packs (perfect to slip in your diaper bag) or in their original packaging, which is similar to to go baby wipes.

I'm a huge Boogie Wipes fan and will be purchasing it as the years go on. Nothing else compares.
UPDATE: The last week I have had a terrible cold and my nose is dry and cracked. I would not suggest using Boogie Wipes on tender noses – it burned.
You can find Boogie Wipes at reputable stores such as: Walmart, Toys R Us, Walgreens, Target, Amazon (just to name a few) or at the Boogie Wipes website.