Booking Travel Online: 3 Ways To Save Big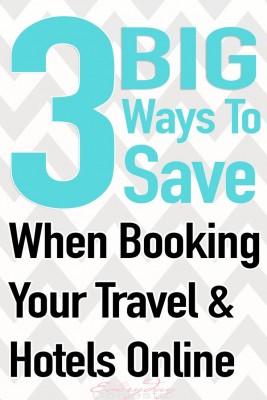 I book all my hotels online, I spend a little bit of extra time and hunt down the best deal possible. It's worth it as I have saved up to $100 a night on some specials, and I thought I knew it all when it came to saving money when booking online. Then yesterday I learned a new tip for when it comes to booking travel online. It's a game changer.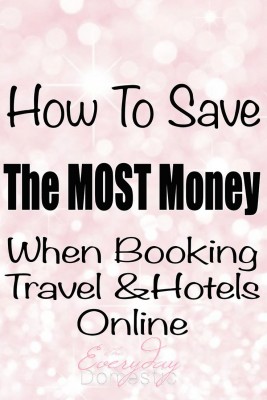 I was booking a few rooms while chatting with my friend, Katie, and she let me in on a HUGE travel tip that I can't keep to myself. I have to share it.
Before you start searching deal sites like Hotels, Orbitz, Expedia, etc you need to do one simple thing first:
Clear your cookies
I was checking out a room and when I went back it went up $5. I was a little confused and that's when Katie told me that travel companies track you and see that you've been searching and give you different rates – each time. It's always better to start fresh when booking travel online.
The above photo shows you how to clear your cookies using Firefox on OSX. If you don't have a Mac or use a different browser, it will be different. If you're not sure how to clear your cookies, a quick Google search will help you out.
Booking Travel Online, More Ways To Save:
Use Ebates. I'm a HUGE believer in Ebates, I love love love this site. Before I buy anything online, I always check to see if Ebates supports the store. For travel Ebates supports Orbitz, Hotels, Expedia, Travelocity, and many MANY more. All you have to do is head to Ebates, click on the online store you want to shop at and that's it. You will then earn cash back for your purchase.



Back in January, my husband needed a hotel for 10 days, so we used Ebates to book his hotel through Hotels.com. Not only did I get $114 cash back from Ebates, I got a free nights stay credited to my Hotels.com account. Most of the time there is a double cash back deal or a special with travel. The hotel I booked yesterday? I got 10% cash back. It's only $20 but hey; $20 is $20. What kills me is that if I knew about Ebates a few years ago, the $5000 vacation I booked to Hawaii would have got me $500 cash back.
Use a discount hotel site. Not only do you get great deals, there are always benefits to using one. For example, when you use hotels.com when you book 10 nights, you get the 11th for free. You have a variety of hotels to choose from too. I really like Hotels.com because I have had to cancel last minute and never lost my money or points (however, it's usually up to the actual hotels policy) and I find great prices on there.For my last booking, I used Orbitz. It was my first time using this site, but I got a $150 room for $93. Plus the 10% back on Ebates and I got $6.40 Orbitz bucks to use towards a later stay. Edit: Another discount hotel site is Booking.com, I just saved $50 on a room last month.
Use Groupon. Wait, before you use Groupon or Groupon Getaways – go to Ebates first. It qualifies (more money in your pocket). There are two ways you can do this:
Groupon Getaways – Get your vacation for super cheap. You can book worldwide or local travel.They offer flash deals, right now I'm looking at an All Inclusive 5 Star resort in Cabo San Lucas for $525 (ARV $1890) – 72% off!
Groupon – Find activities, or meals for cheap. Dinner for two at 51% off? It's a great way to save money while traveling. Or use it for activities: spa days for $30, Zoo admission for the whole family for $10. There are so many great deals to be found on Groupon.
Like these tips? Please share it for others to enjoy.
Disclosure: This is not a sponsored post, just me sharing my tips However, I do have some affiliate links added.