Smart Tiles Review Update Your Backsplash The Easy Way
My house was built in 1969, and that seems to be the last time the kitchen and bath were updated. I have a lot of work ahead of me, but thankfully one of the jobs that I have been dreading ended up being incredibly simple. Here's a spoiler alert to the whole review: Smart Tiles are amazing.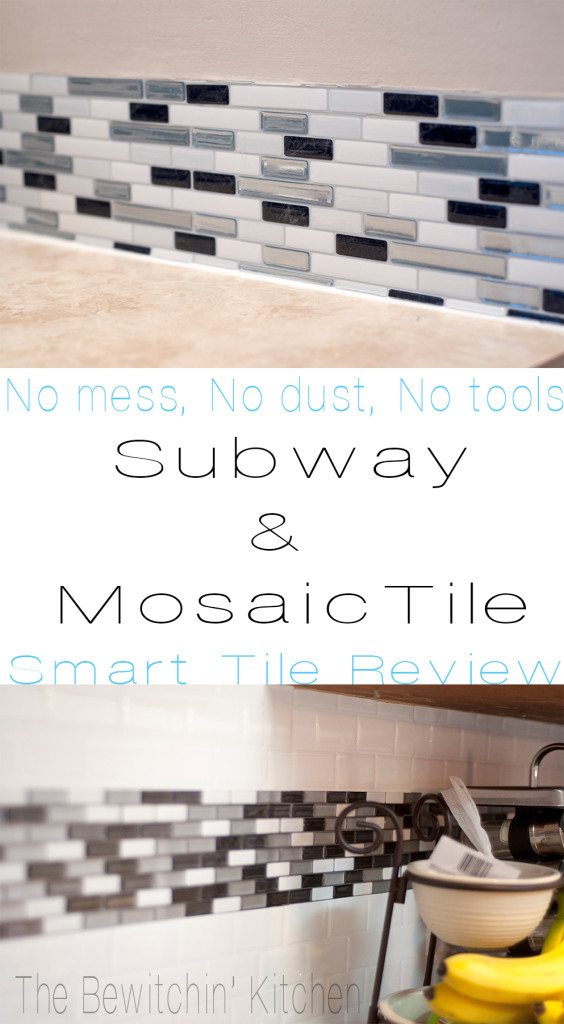 I've had my eye on Smart Tiles for a while, but they seemed a little too good to be true. An easy application and no mess, yet looks authentic? It sounded like a pipe dream. So when I had the opportunity to review Smart Tiles I was really excited, anxious and a little nervous.
What are Smart Tiles?
Smart Tiles are basically 3D stickers, used in place of tile. They're unlike any brand out there, in the sense of quality is their main focus. Based in Quebec, Canada Smart Tiles are designed, manufactured, and distributed in Magog. Everything is coming from North America. These tiles look just like the real thing. It's the clear gel component called Gel-O™ and it gives the 3D effect, which resembles to the glass mosaic. Smart Tiles are specifically designed for the kitchen and bathroom, they are resistant to heat and moisture. No mess, no dust, no additional tools. Installation is so easy.
Smart Tiles For The Bathroom
I wanted to do the bathroom first, just so I could get into the swing of things. I felt that if I made a mistake in the bathroom, it wouldn't be as big of a deal as making a mistake in the kitchen. Here are a few "before shots" of my upstairs bathroom: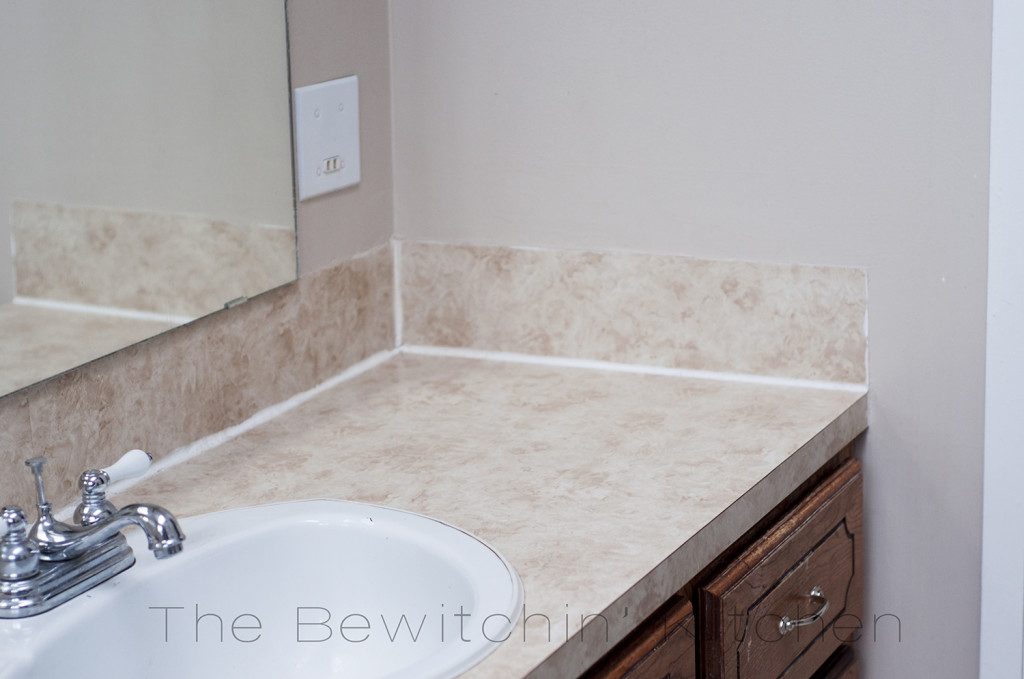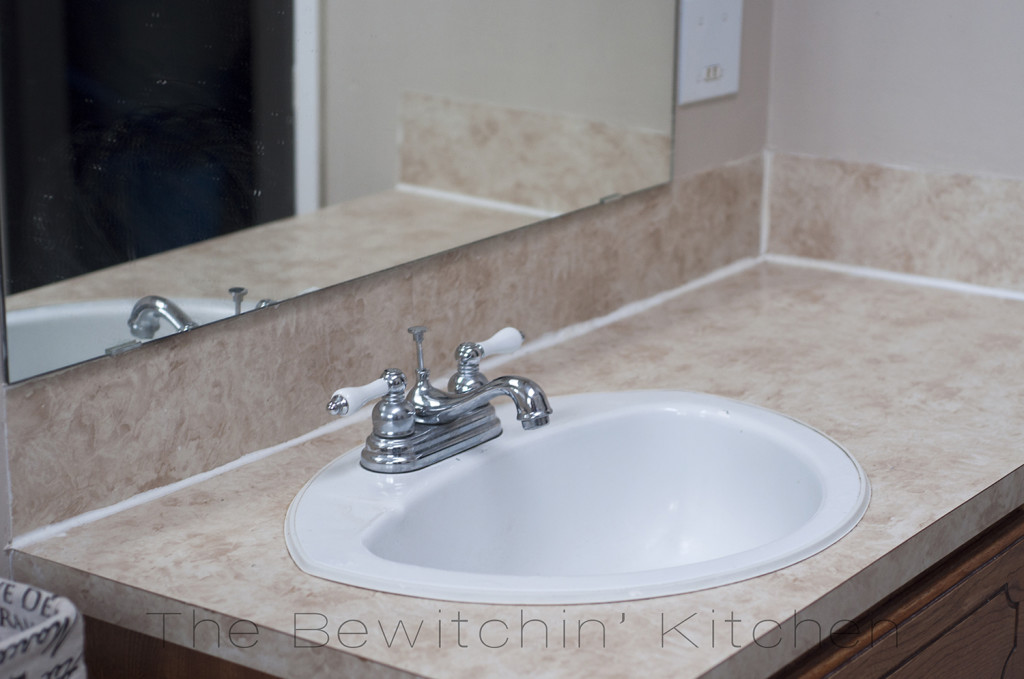 Now for the afters (I used the Muretto Brina Smart Tiles ):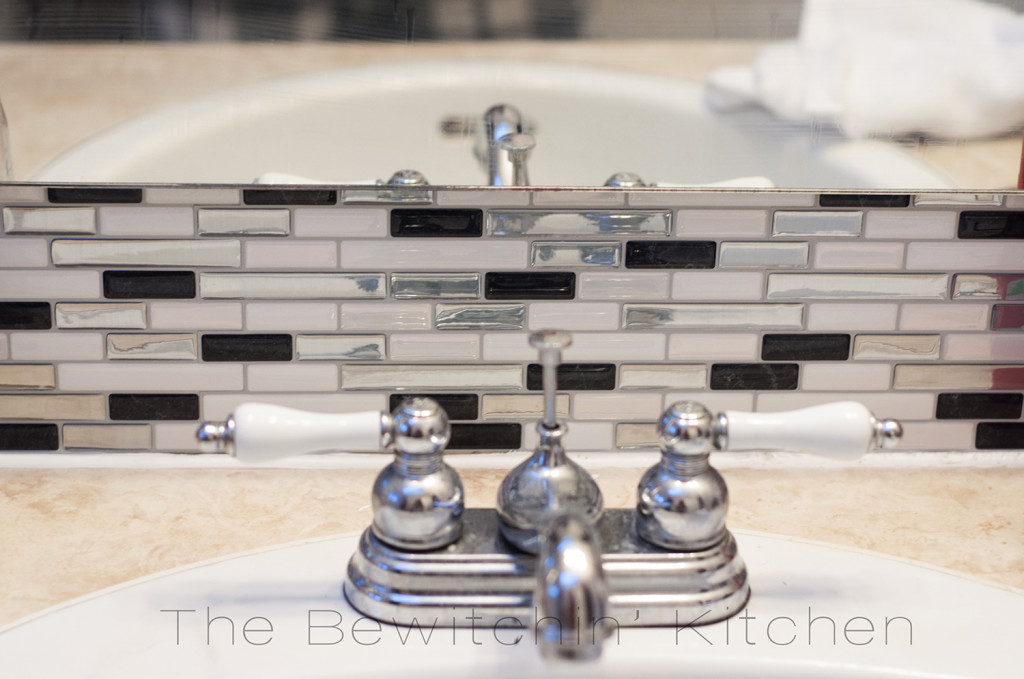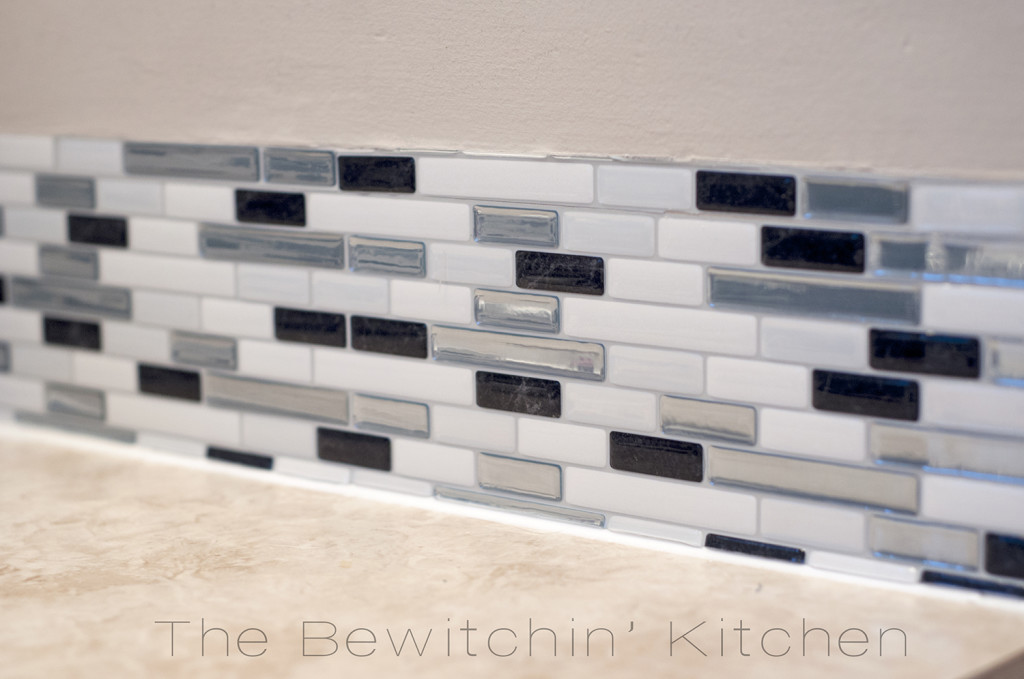 It looks a million times better already! My long term plan with the bathroom is to paint the walls Chelsea Grey, stain the vanity Java and re do the counter top in a white/grey marble swirl.
Smart Tiles offers a lot of support on their website, including an installation video. I didn't have the proper knife (well I did, but I couldn't find it), so I took matters into my own hands (not recommended). Here's a video I made on Instagram on installing the bathroom tiles:
Smart Tiles In The Kitchen
I was feeling pretty confident after the bathroom installation (which took under an hour), so I did a little bit of the kitchen the same day. In total I took three days to do the kitchen, a few hours at a time. Whenever I found myself getting bored, I stopped. I didn't want to start rushing the project and getting sloppy results.
Here are some before shots (ignore the one wall, I ripped out the cupboards and I still have to do some patching and painting):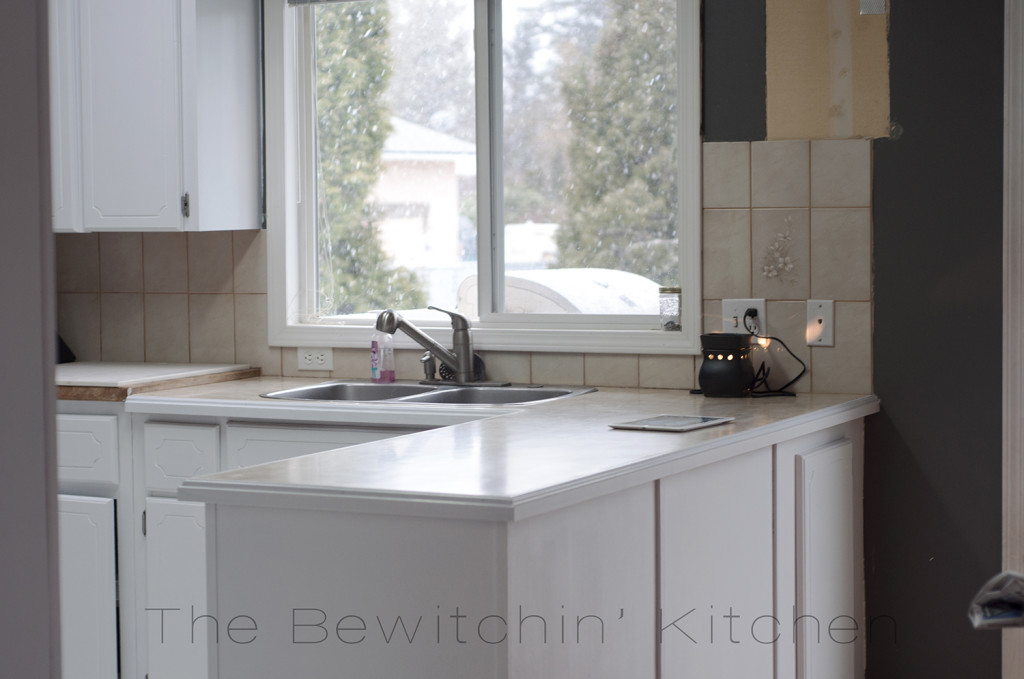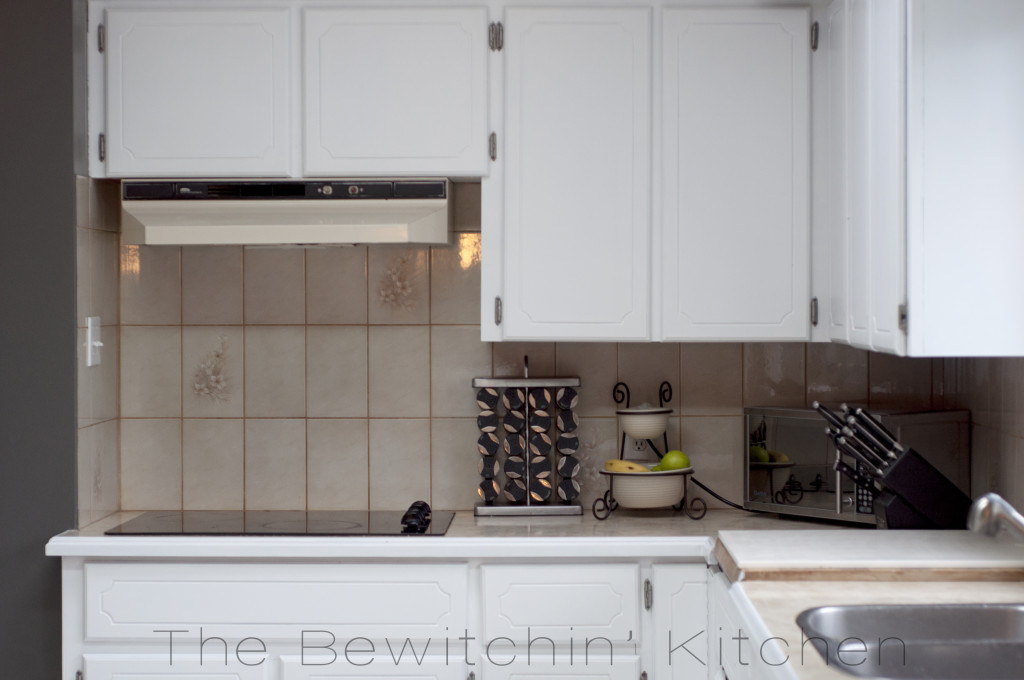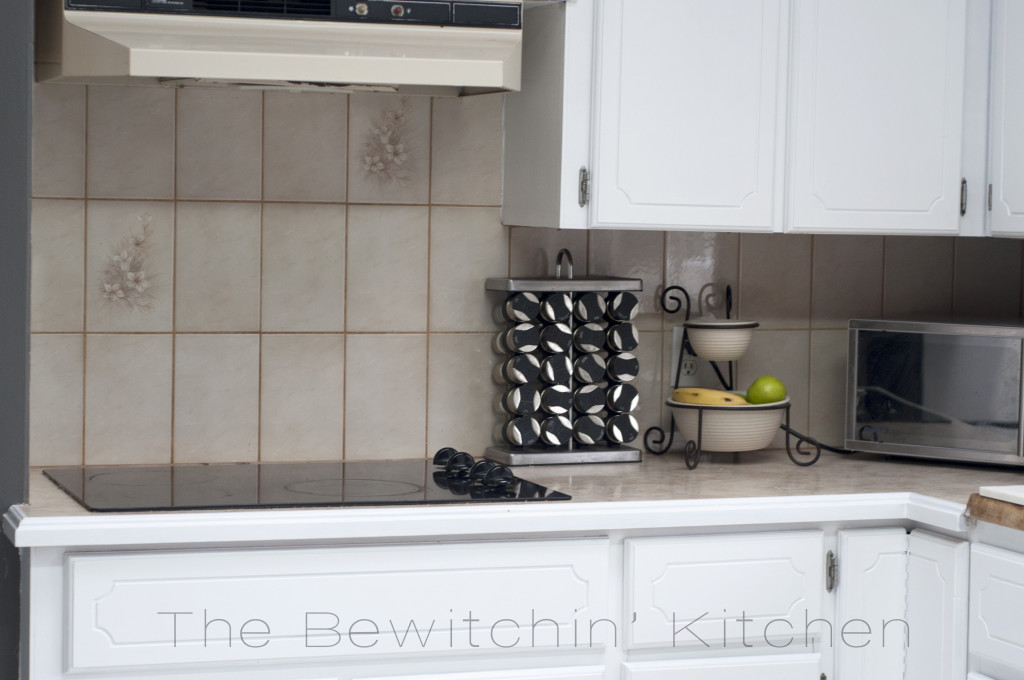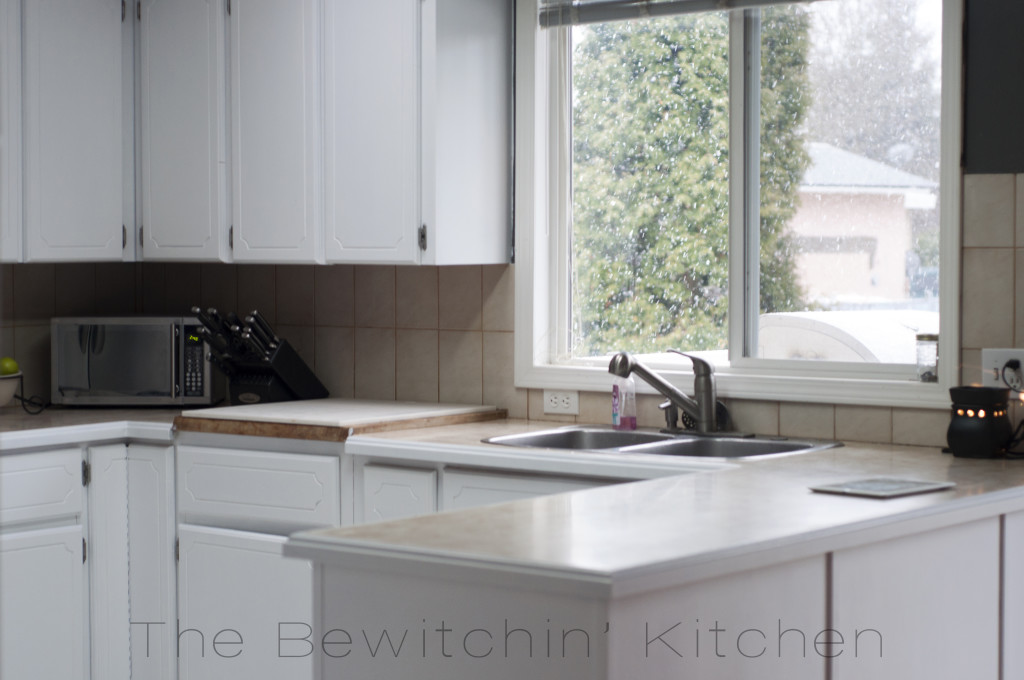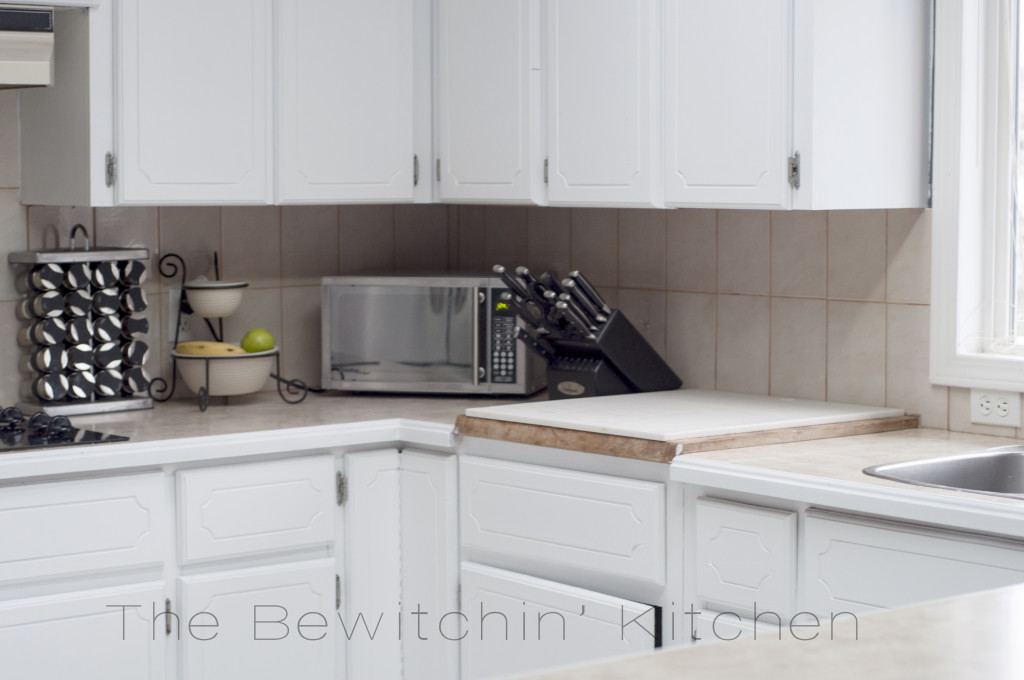 Smart Tiles Installation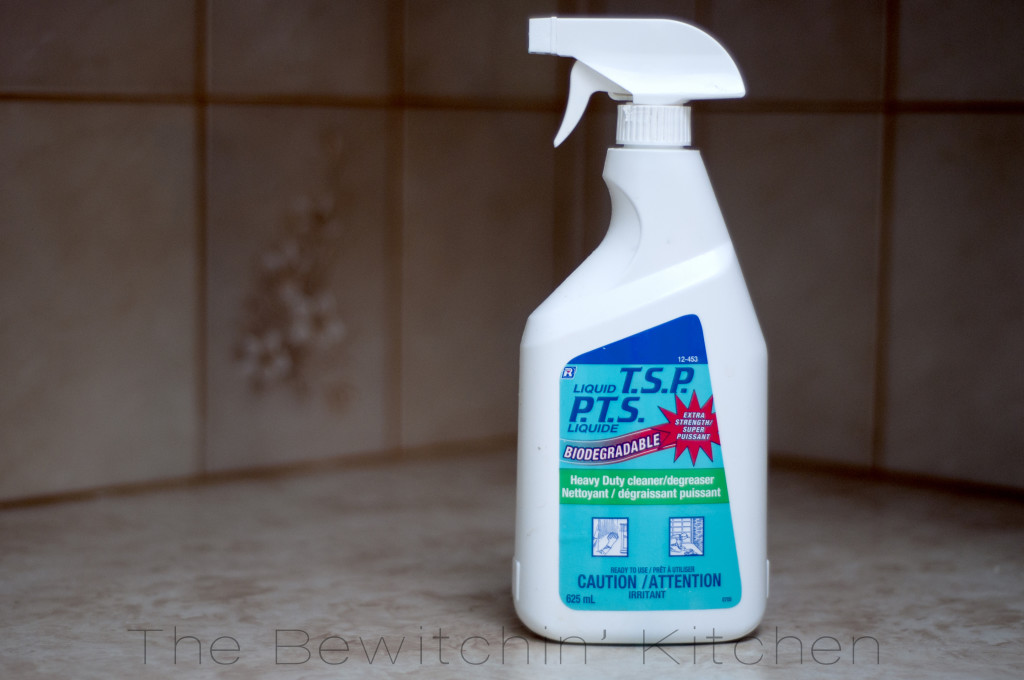 First I sprayed the pre-existing tiles with TSP and then wiped it off and "rinsed" with a damp rag. Then I let it dry completely. You're going to tile OVER the existing tiles. Yes, you heard me right – LESS WORK FOR YOU!
You're going to want to measure your wall and make sure you cut the tiles to fit. I decided to use two different tiles with my kitchen: the Subway White Mosaic and the Murano Metalik. The fact that I used two different styles, caused me to do a lot of cutting. When you're doing an accent strip I have been told that you never want it in the middle. So, because of that, I had to cut the first section off of all the subway tiles on the bottom row. Then there is the cutting you have to do to fit it in the spot and the I also cut the Murano Metalik in half. (I didn't want the accent strip to be too thick.)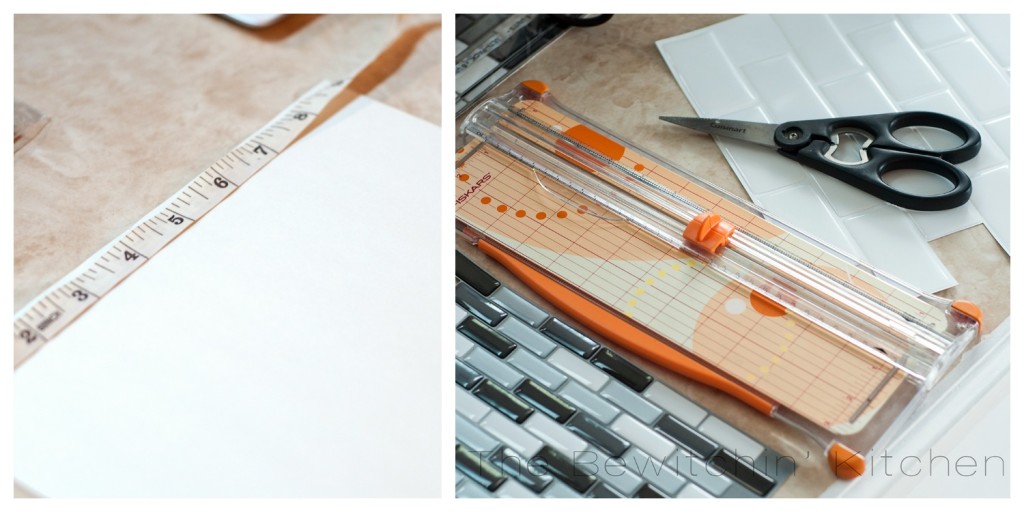 Since I couldn't find the exact-o knife, that is recommend, I took matters into my own hands. I used my scrapbooking paper cutter. It actually worked really well, it kept everything straight. It wouldn't completely cut through the 3D part when I needed to, so that's when I took my kitchen knife to it. Having the guide that I have myself with the paper cutter helped keep my cuts proper.
Note: I recommend using a straight edge and a sharp knife. This method worked well, but it wasn't perfect and I had a few crooked cuts.
After cutting, you just have to peel and stick. I'm a perfectionist, so there was a lot more adjusting to do. There were a few times where I had to take the sticker off and stick it back on at least ten times, and I'm happy to say that the Smart Tiles never lost it's "stickiness".
Smart Tiles After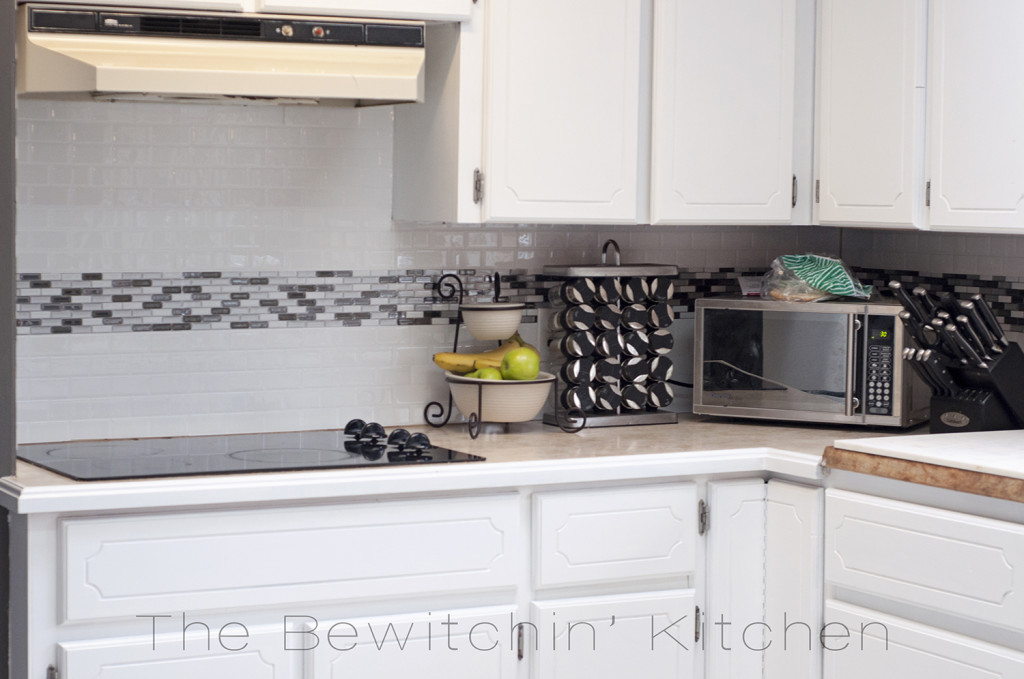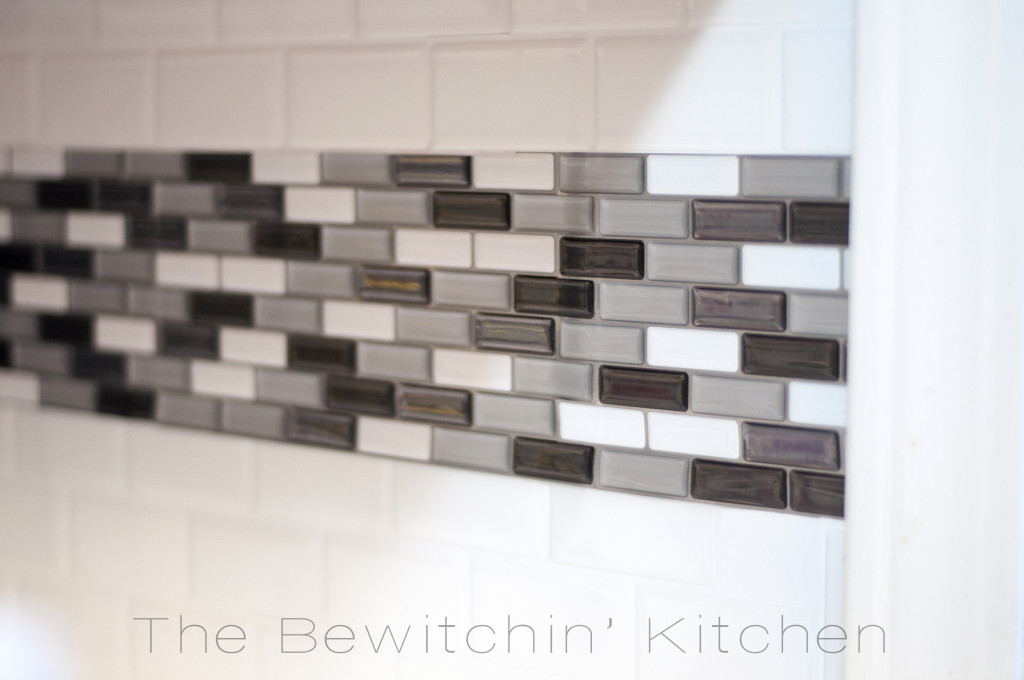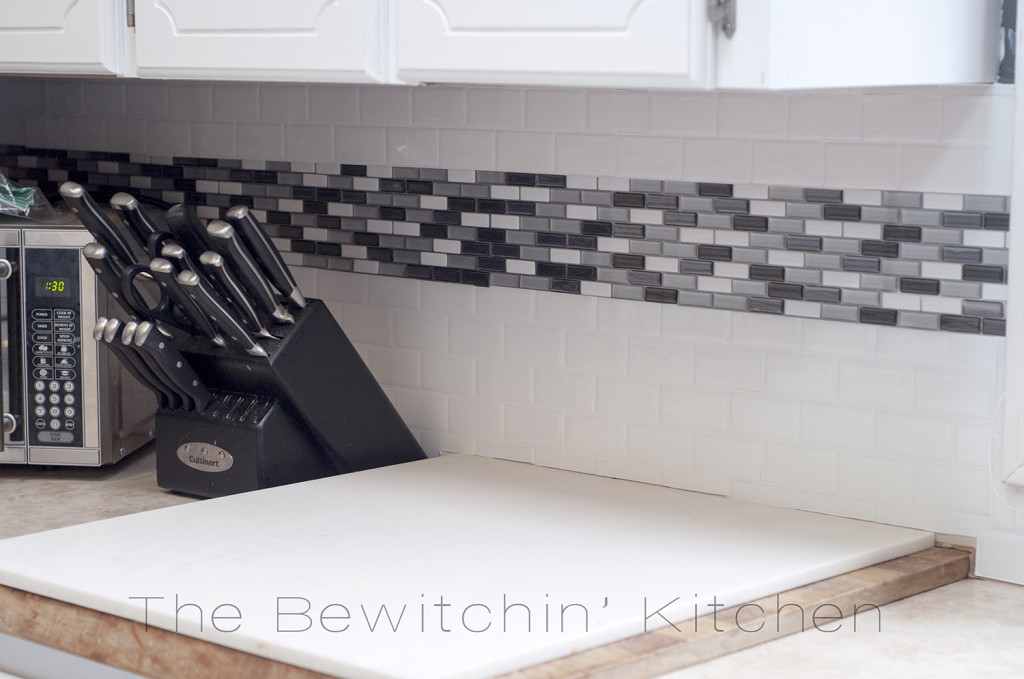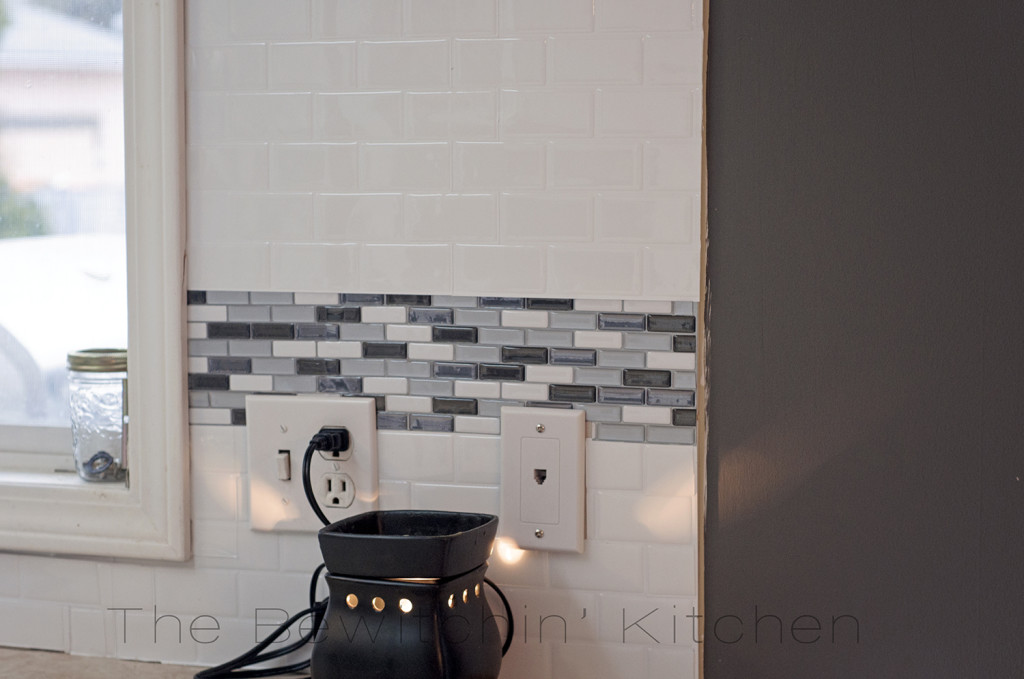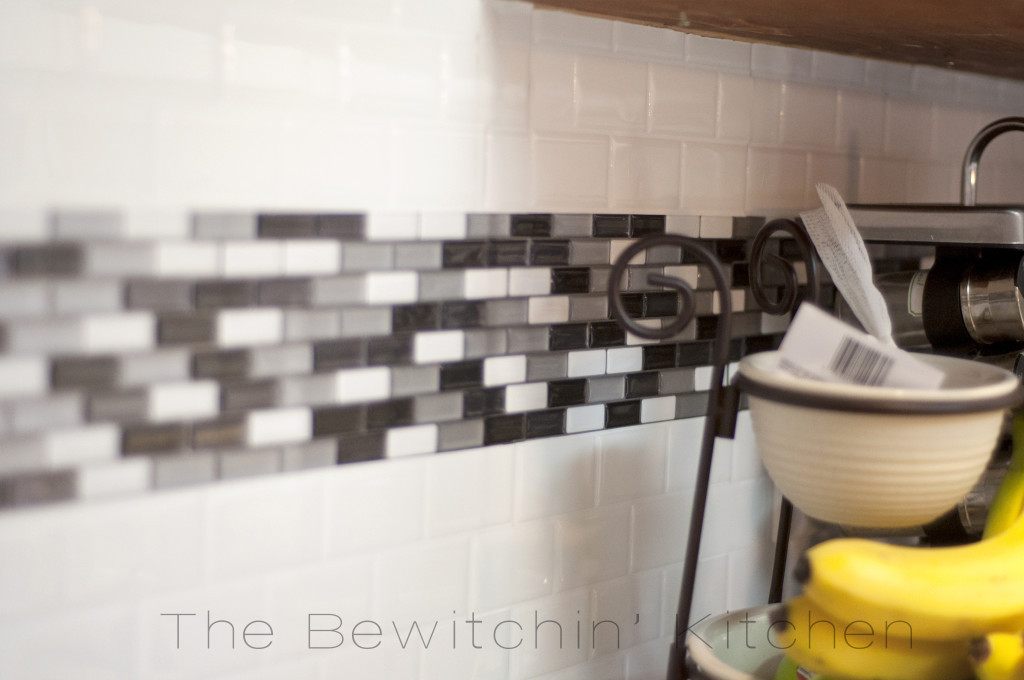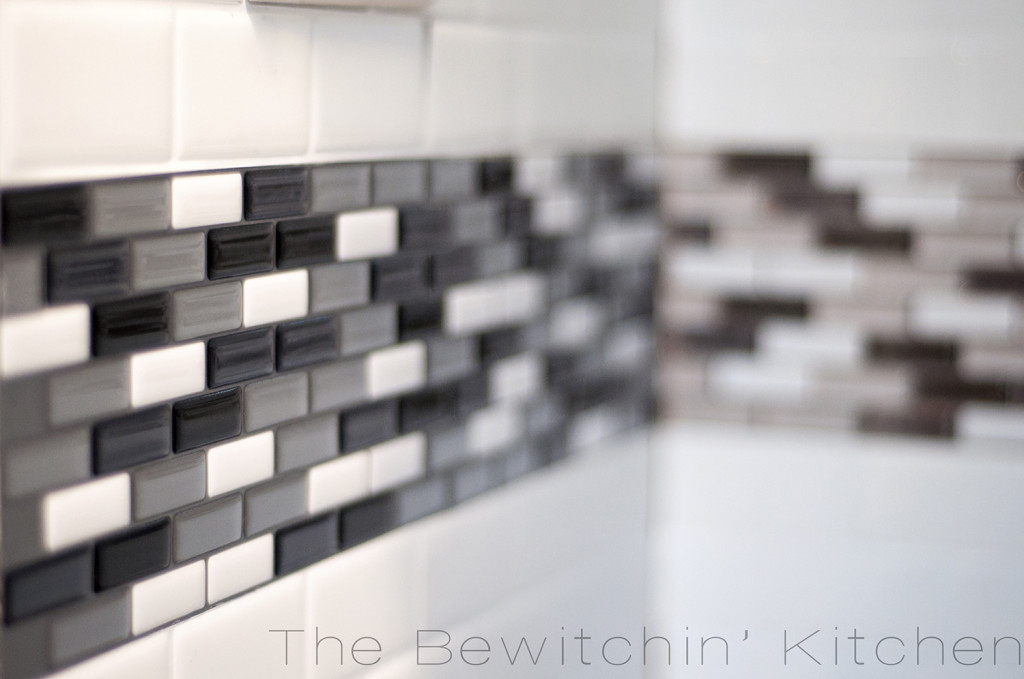 Doesn't it look fantastic? It looks even better in person. If I didn't know any better, I would never have guessed that my backsplash is actually a bunch of stickers. Amazing! There are a few areas where I can tell they're stickers, I do believe that it is because of my error. It's where I had an issue with "tiling" because of all the cutting I had to do. It's the gap near my sink and near my range. They're the only two spots where I have noticed any flaws: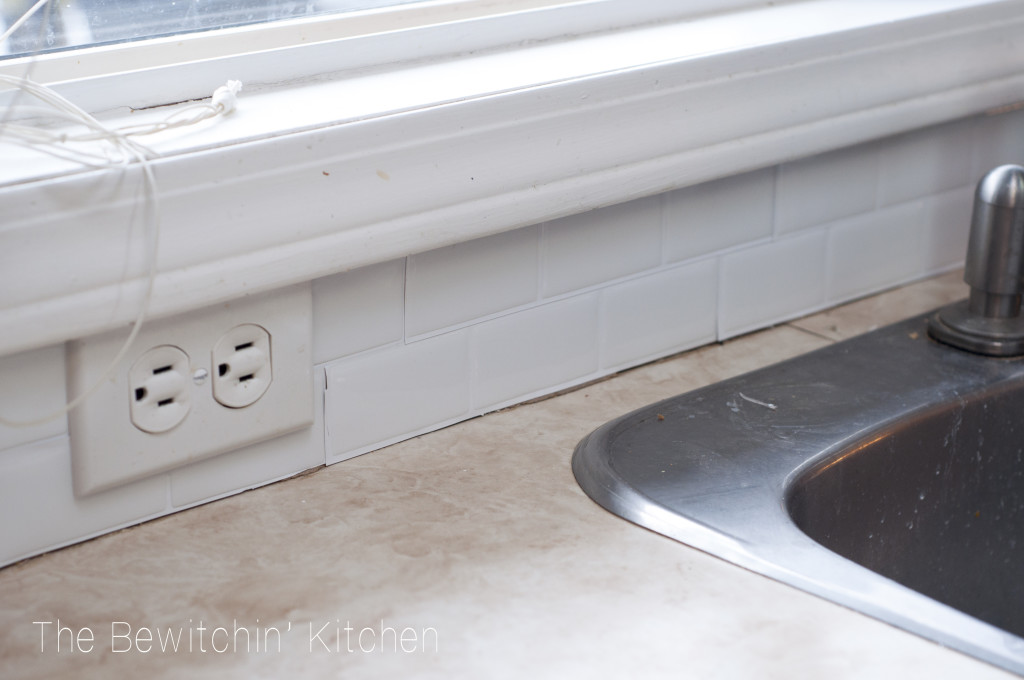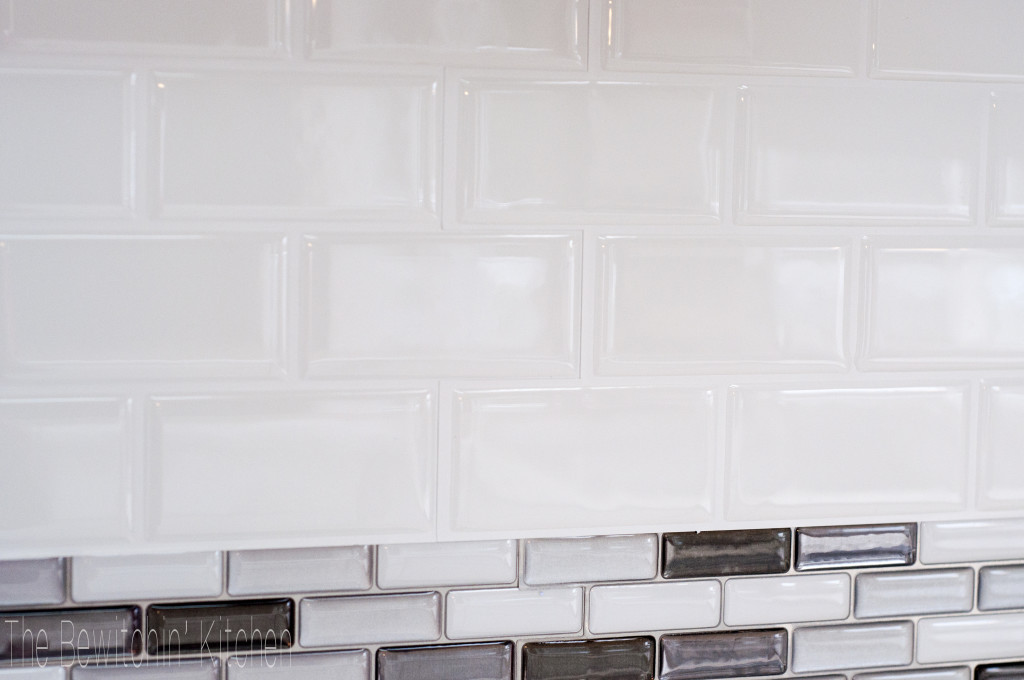 I know there are a lot of photos in this post, but when I research a product: the more photos, the better. I only have a few more. If you want to see even more photos, check out my Instagram page.
If you're interested in learning more, please visit The Smart Tiles website.
Do Smart Tiles Last?
Update 2016: I have moved away from that house, but I can say that up until the day I moved the Smart Tiles held up beautifully!
Smart Tiles Important Information To Know:
Smart Tiles only have one quality: A1. Stick to the wall, do not change colors, flexible and durable. You can purchase The Smart Tiles on their website, Home Hardware, and Lowes.
Home Depot no longer carries The Smart Tiles in Canada (however 400 US stores do). Home Depot Canada carries a similar product, but it's made in China. This product has been tested by Smart Tiles and it did not stick, it turned yellow and it curled. So please don't confuse the two. It's an authentic product when you see The Smart Tiles logo on the package and it's Made in Canada, whatever it's from the site or other stores (see the list here https://www.thesmarttiles.com/en/where-to-buy/), the quality is the same: A1!
You can also find Smart Tiles on Amazon!
My kitchen renovation is almost complete! The backsplash is done, I painted my oak cabinets, and I also finished up painting the kitchen countertop.
Want more DIY home projects? 
Do you have a renovation coming up?
Looking for more great ideas? Click here to follow me on Pinterest!
Visit Randa | The Bewitchin' Kitchen's profile on Pinterest.