Painting Kitchen Cabinets: How I Transformed My 1970's Oak Cabinets.
The idea of painting kitchen cabinets first came around at our old house in Alberta, but I was too scared. I have seen too many kitchens with awful painted cabinets, and I was worried they would have a similar effect. Then we moved to BC and bought this house. This house has had the dated 1970's kitchen cabinets.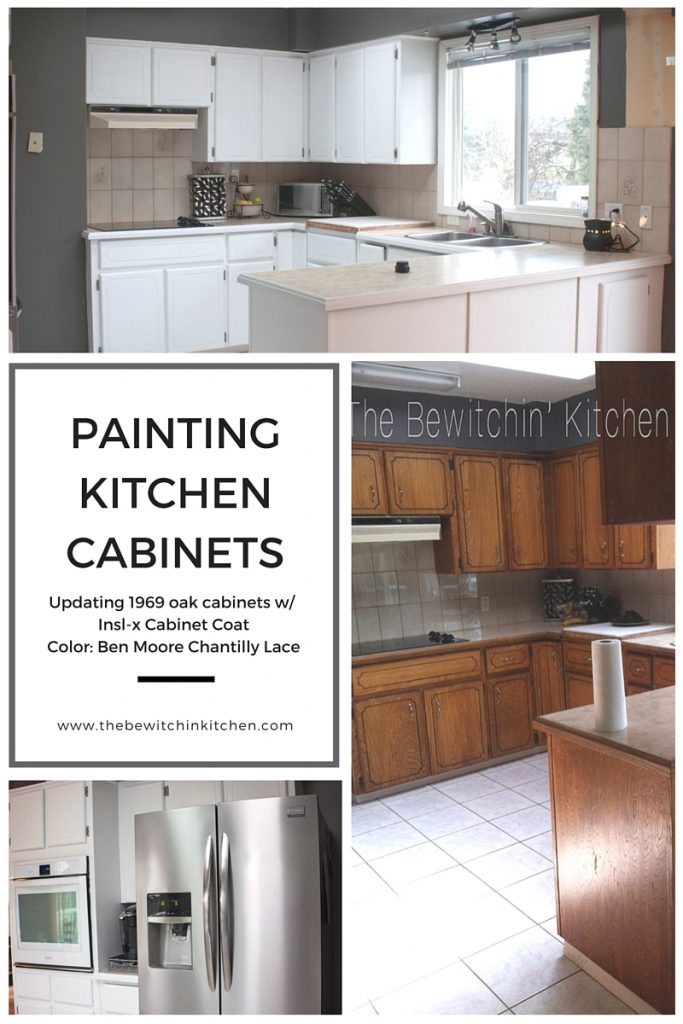 I wrote this post a few years ago, and I know longer live in the house we now call "The Terrace House". You'll have to bare with me with the images, they were hosted on an old blog and I'm currently in the transition of adding them to The Bewitchin' Kitchen.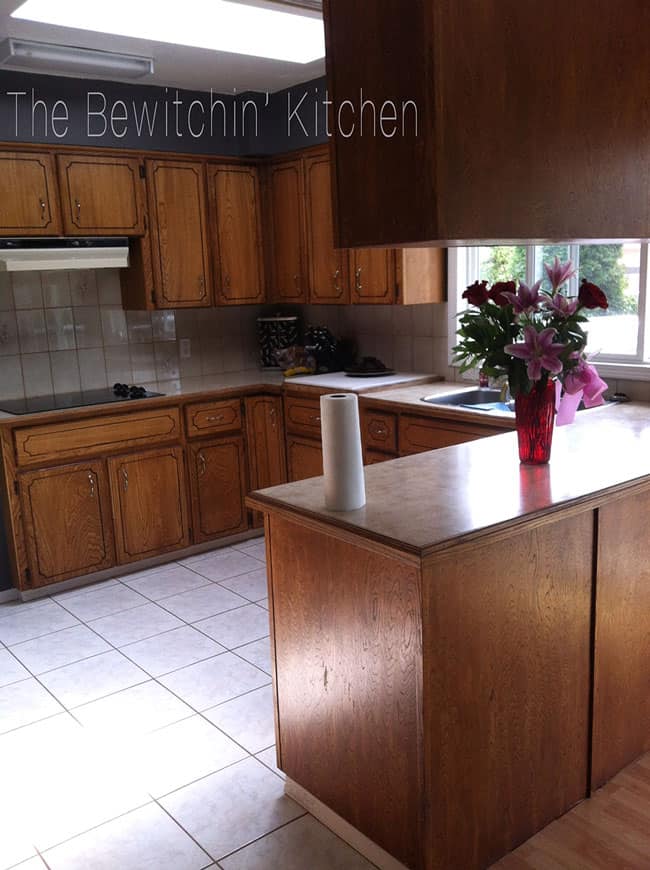 We looked into purchasing new cabinets but it would have cost us thousands. It was out of our budget, especially since once the kitchen cabinets were done, then I would want to install subway a tile backsplash, counter tops, etc. It's a similar situation to the book "If You Give a Mouse a Cookie". I'm the kind of person to get an "itch" and just do it. A few months ago, I hit my head on the cupboards shown above and had enough. I grabbed a pull bar and they were down within a few minutes. I still have to prime and paint there.
So it was settled. My 45-year-old kitchen cabinets were getting a facelift. I Googled, Pinned and researched for months and settled on using Benjamin Moore's Advance Paint (after the priming stage). Naturally, at the point of purchasing I found out the paint store didn't carry it, and since I was hours away from the second nearest Benjamin Moore store I went with something completely different. Something I never got to research: Insl-x Cabinet Coat. I had it tinted to Benjamin Moore's Chantilly Lace.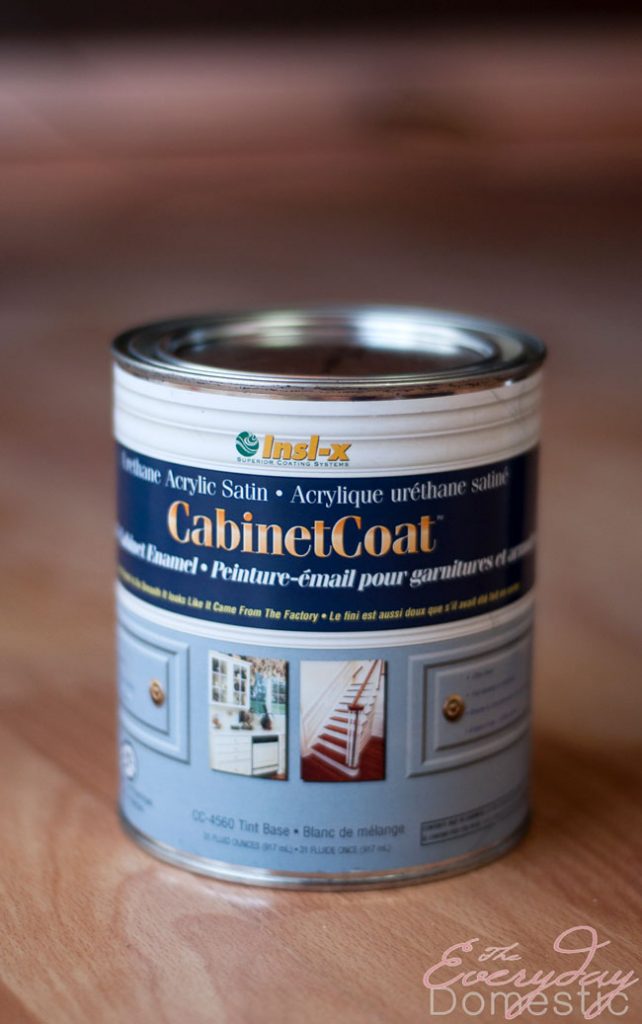 Painting Kitchen Cabinets: The Steps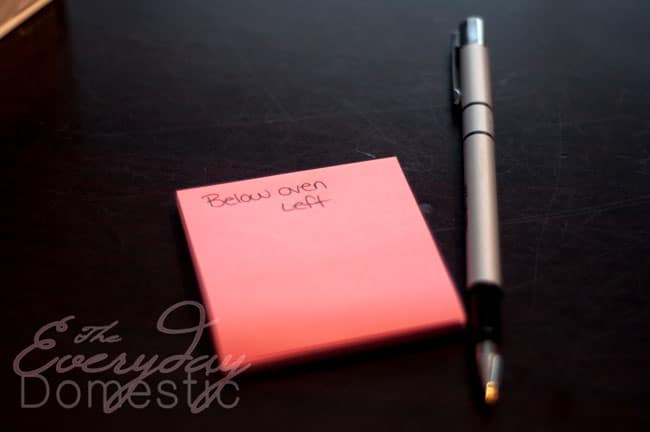 I started off with labeling my cabinets doors with Post-It's. In all honesty, this was a useless step. With all the moving I had to do with the doors while cleaning, sanding, priming, and painting I lost every single Post-It I had. I was able to figure out what door belonged where bu matching them by size and lining up the hinges with the holes on the frames.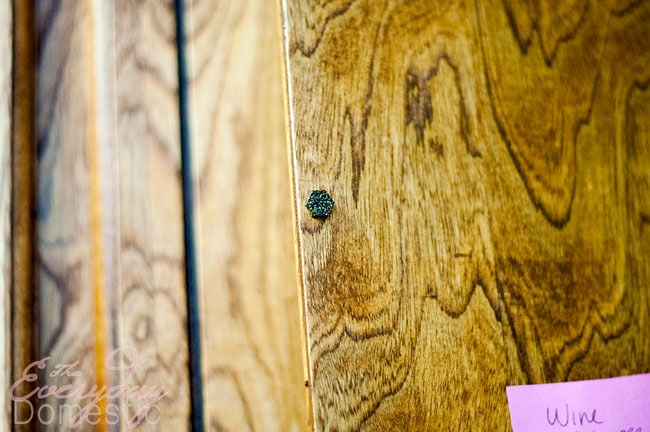 I then went and began to peel off the sticky "padding" the previous owner had on the doors and started to take the doors down and remove their hinges.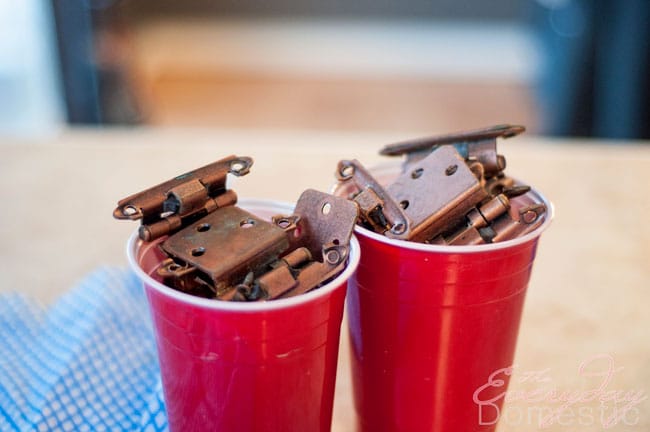 I used Dixie cups to store the hinges, this kept the clutter at bay (I later spray painted them a nickel color and re-used them).
Prepping Kitchen Cabinets for Paint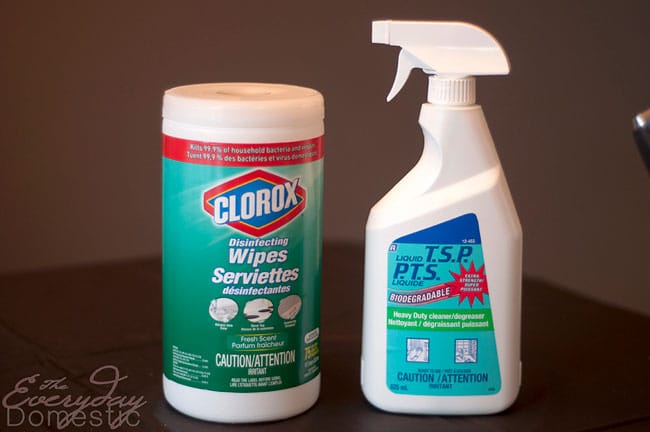 Then it was time to clean. First, I wiped down the cabinet doors and frames with Clorox Wipes and once that was dried I used TSP. My cabinets were caked in grease and gunk (I don't think they were cleaned for the last 10-15 years) and leaving that on for fifteen minutes got it off like it was nothing. After the TSP sat for 15 minutes on the cabinet boxes, and front and backs of the doors I took a wet cloth and "rinsed" them. I wanted to ensure the cleaner was removed as I read in a few forums that keeping it on could cause problems.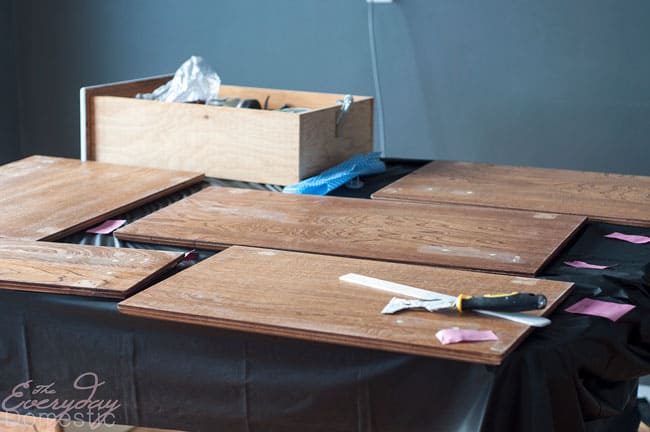 I then used wood filler (not poly fill) and filled in the holes of the hardware and the cracks and dings of wear and tear. I didn't fill in where the hinges go as I planned on reusing them.
Sanding Kitchen Cabinets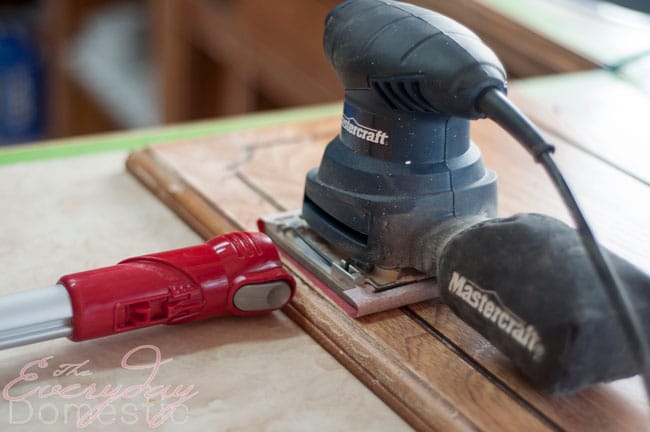 TBK's Pro Tip: Set up a vacuum (or a shop vac) next to wear you sand, it eliminates most of the mess.
This stage was the worst: sanding. Just the memory of it makes me cringe. I used a medium grit paper, I believe it was 100. I sanded the cabinet boxes first and then the doors and drawers. It was so much work and creates a huge mess. Do this outside if you can, but since I decided to tackle this project during the first week of January – that wasn't an option. I wanted to make sure there was no shine what-so-ever on the doors. When I wanted to give up and call it "good enough", I thought about the results I wanted and just kept going. I started sanding the boxes at night before bed (I was driven to get some done) and when I woke up, I continued – all day. Hours upon hours of sanding.
When I finished sanding, I alternated between the rest of the Clorox Wipes that I had left and a damp tack cloth. I wanted to ensure I had all the dust off.
TBK's Pro Tip: Sand AFTER you TSP. If you sand before you TSP you can push the grease into your wood and it's just a mess after that. When I read that on a DIY forum, I made sure I engraved that in my brain. It's good information to know.

Priming Kitchen Cabinets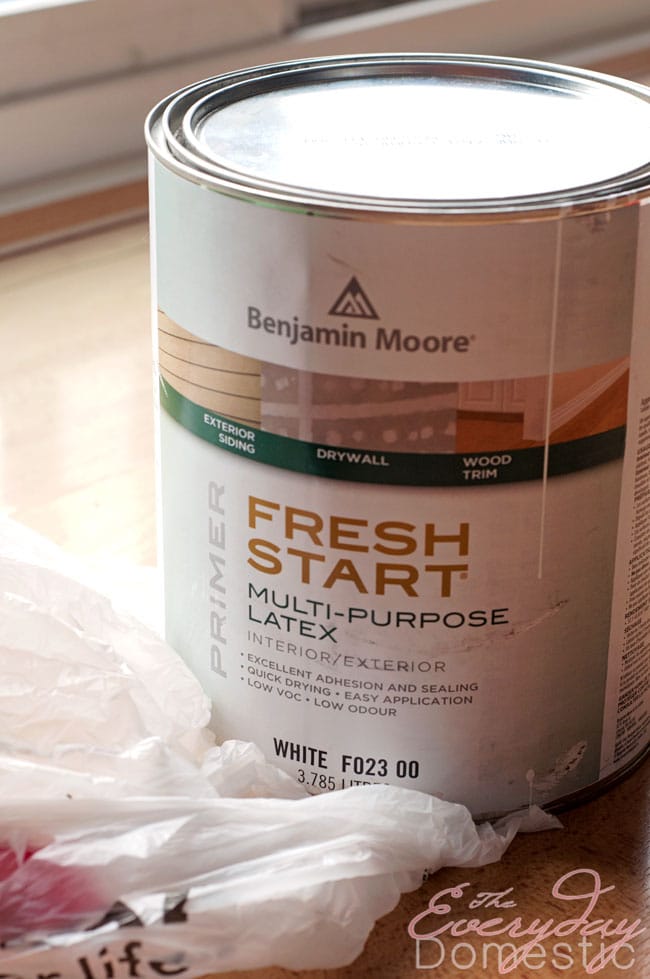 For the primer, I used Benjamin Moore Fresh Start Primer, in latex. I made sure I had all the edges taped off first.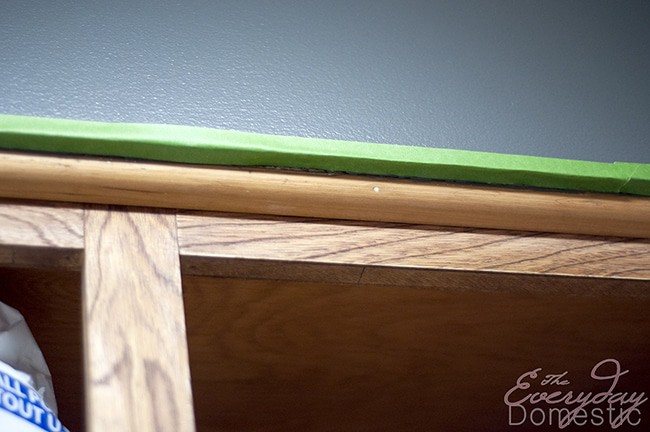 I used a small foam roller and a 1 1/2″ angled brush. I did the cabinet boxes and island first.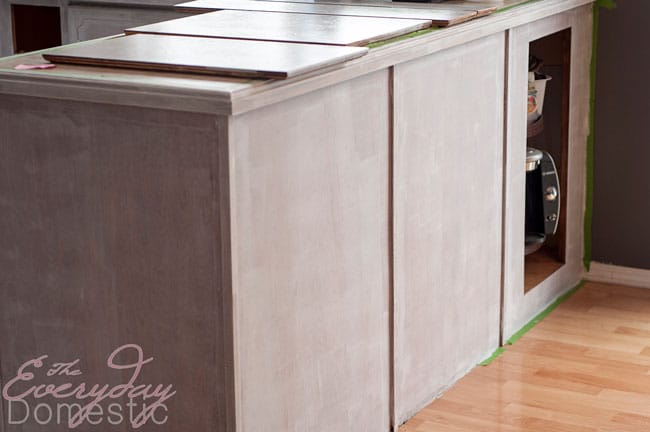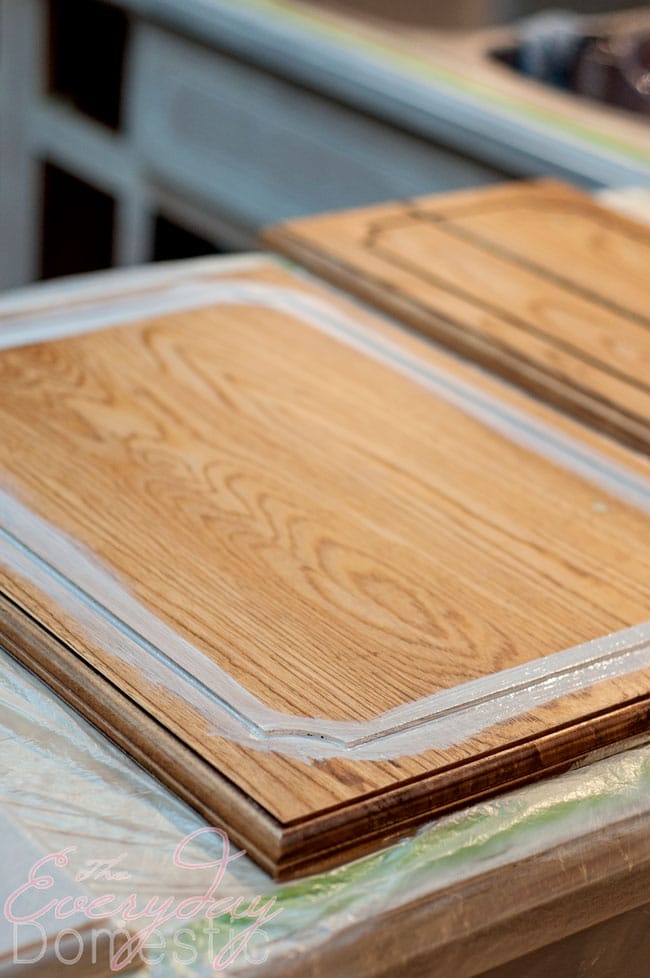 When priming the front of the cabinet door, I did the grooves first and then the edges with a 1 1/2″ paintbrush. I then finished it by rolling on the rest.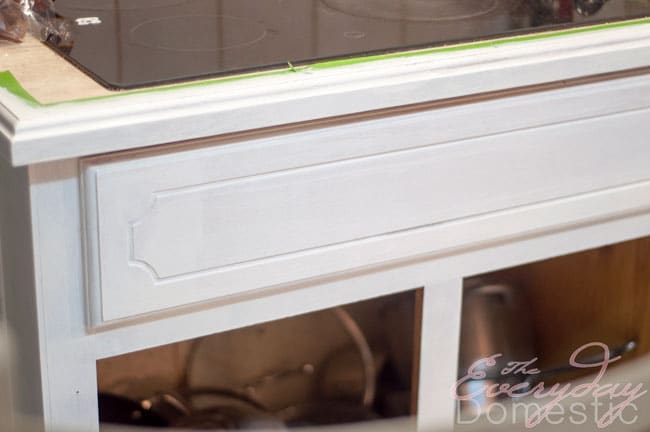 I decided to toss on one more coat of primer, I wasn't comfortable with just how much of the color of the wood I could see after one. I let 12 hours in between each coat.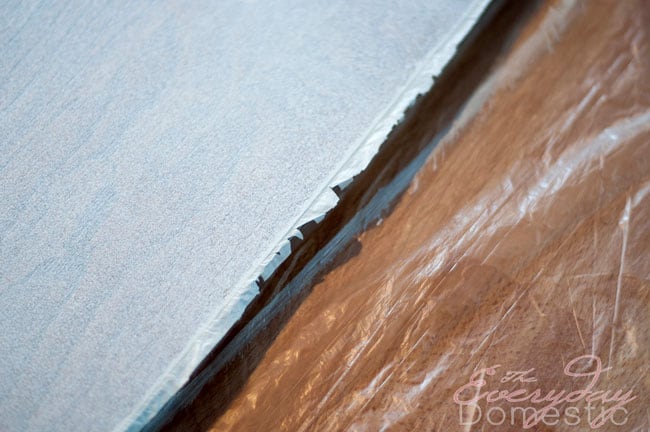 Do not use primer or paint on top of a plastic sheet and then let it dry. THIS HAPPENS. If this does happen to you, lightly sand it down and hold your tears back. Take a deep breath, painting is next.
TBK's Pro Tip: Paint while the door is raised and not touching anything, so nothing is left to sit and pool.
Painting Kitchen Cupboards
My painting stages 1 and 2 (3 was in the basement). I utilized my drawers to keep my cabinets up to paint them. It worked really well. I would paint them, let them dry for about an hour and transfer them to the plastic on the floor. Or on chairs, window sills, wherever they would fit. My house was a DISASTER during this whole process.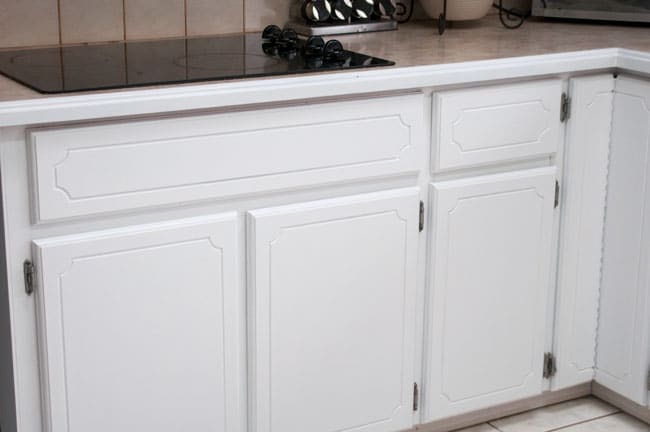 The wonderful thing about Insl-x Cabinet coat is that you're able to add another coat after only 6 hours, but the way I did my cabinets it didn't really work out like that. I would do the backs first (so when I flipped it, they would more likely get damaged and not the front, after six hours I flipped it and painted the fronts using the same "technique" as I did while I primed them. Since it was usually night by the time I finished this step, I let it sit until morning. Then I would flip it and do a second coat.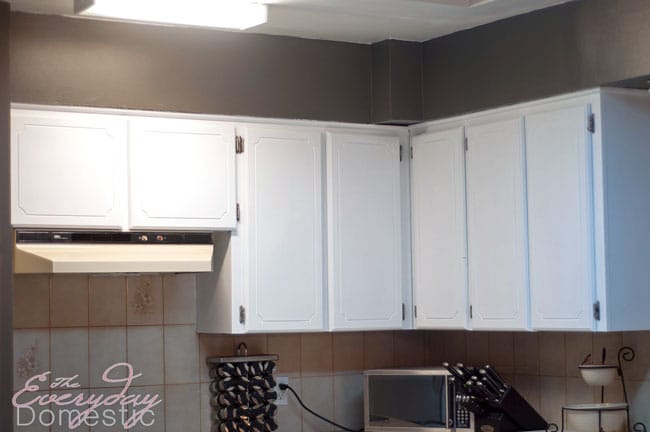 Added July 6 2016 – Yikes, I see some of this post has been deleted. I have no idea where I was going with this. So let me try to remember the painting process.
From what I can remember, I rushed this project a little more than I should have. It took me a little less than 7 days doing this project, and I lost 11 pounds (because I barely ate and was working hard, I don't recommend that). If you want to live like a normal person, I recommend planning a little bit longer for the process. I rushed it at the end, as I didn't let the cabinets cure more than 24 hours before I put them up (I had company coming). I recommend you wait the time stated on the can.
Painting kitchen cabinets before and after: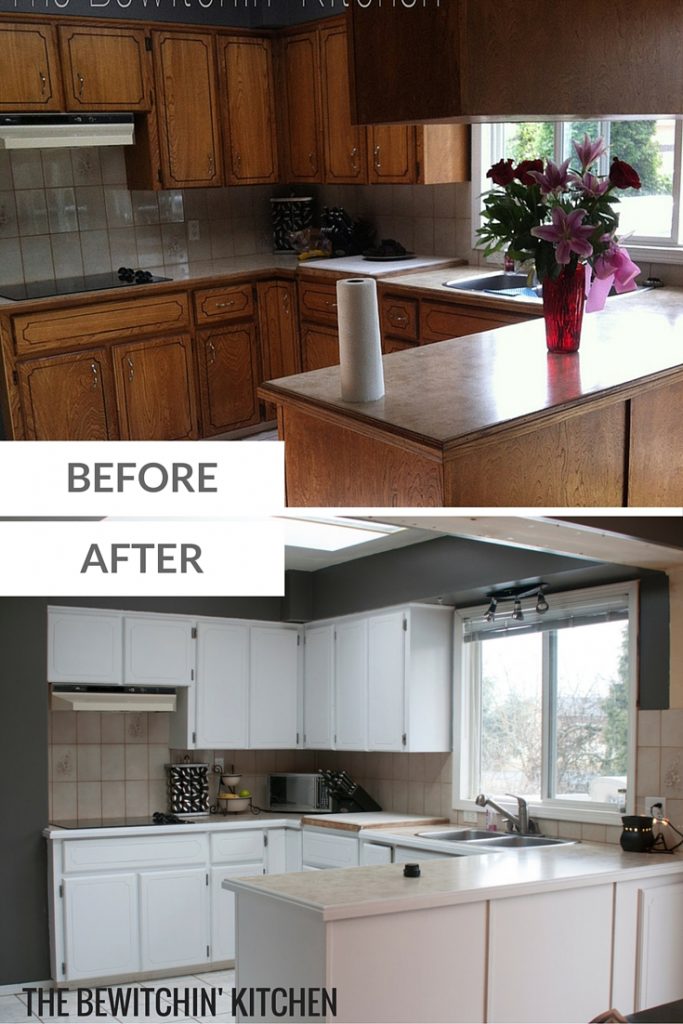 I hope this post was helpful if it wasn't – it looks like I'm going this again this winter in our new home. I'll be sure to document the process a little bit better this time (and maybe do a video too). Don't forget to read about how I painted my kitchen countertops and used Smart Tiles as an alternative for a tiled backsplash.
The next house, I did another DIY kitchen renovation. See how I found kitchen cabinets and quartz countertops on a budget.