13 Breastfeeding Must Haves to Help Make Nursing & Pumping Easier
Breastfeeding is no joke! It's hard to understand what's needed for breastfeeding and pumping before you even start. I put together a list of breastfeeding must haves that have helped make nursing and pumping easier on my body and my mind!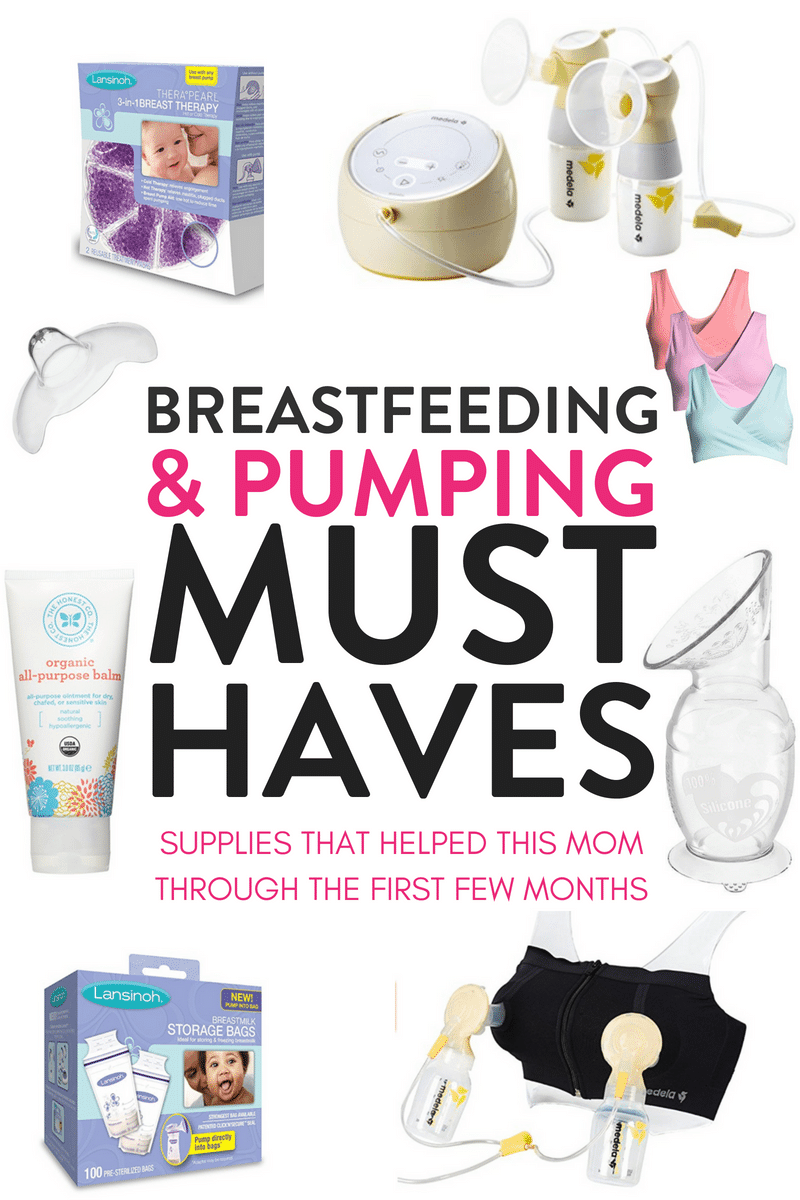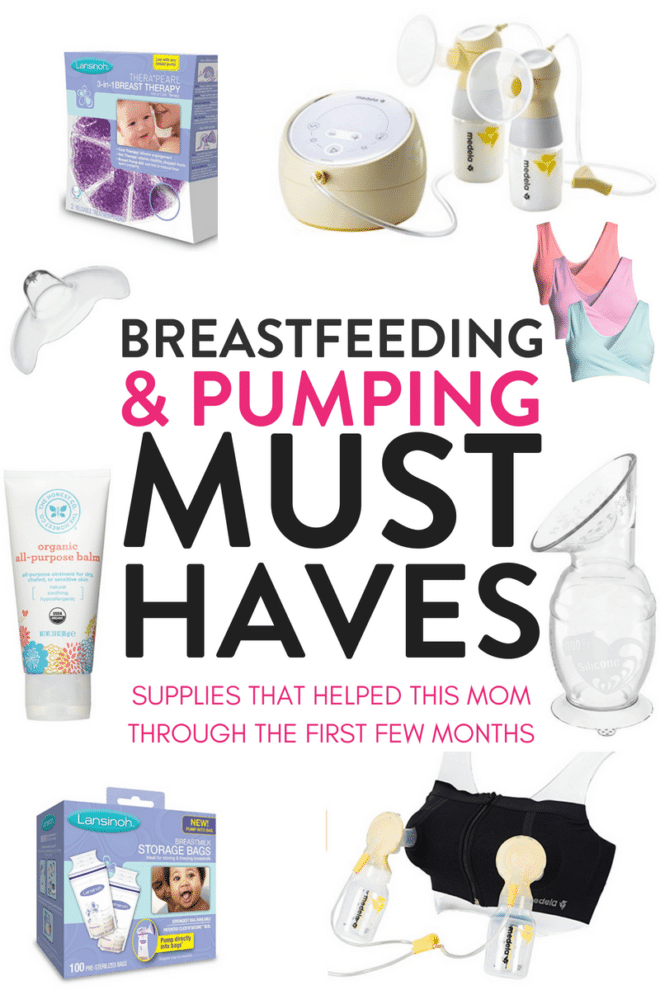 Disclosure: This post contains affiliate links for your convenience. As an Amazon Associate, I earn from qualifying purchases. Everything on this list I personally bought, tried and loved.
While writing this I am at the two-month point of breastfeeding (and pumping) my baby girl. I am so proud of this! I made it to 6 weeks with my son before I lost supply, got frustrated, and quit.
I wanted to list off the breastfeeding supplies and pumping accessories that have helped me to continue breastfeeding because they have made such a difference.
What to Buy a Breastfeeding Mom
I have divided this list into two categories:
Breastfeeding accessories to buy
Pumping accessories to buy
So whether you're exclusively breastfeeding or exclusively pumping, you're covered.
Breastfeeding Must Haves
Here are some nursing essentials that really helped me!
Nursing Bras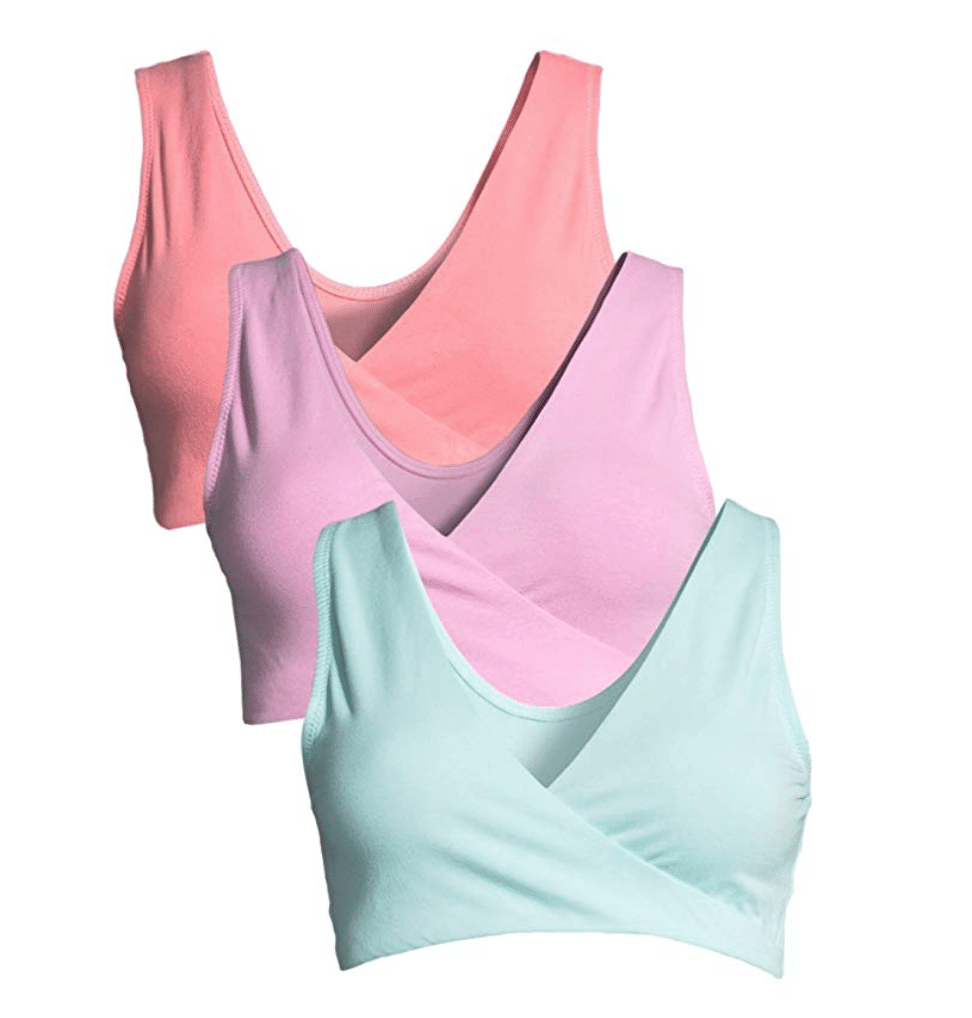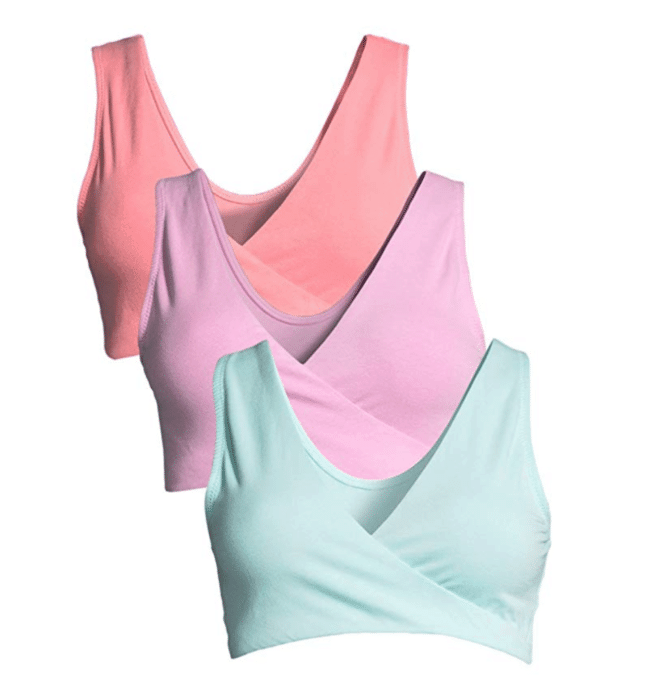 I have multiple nursing bras and I like them all. However, these nursing bras from Lamaze are the most comfortable ones. I have one in black (I got it on a Zulily deal) but I found them in a variety of colors on Amazon and they're cheaper too! They are the best nursing bras to sleep in!
Healing Balm

Trust me, there are going to be times where your nipples are going to feel like they're on fire. It took me a long time to be able to tough it out and I used a nipple shield for weeks (see next). What helped me was healing balm. I used both this nipple cream and The Honest Company's All Purpose Balm. Both work well, but I LOVE the all purpose balm – it's the best! I used it for V's cradle cap, my dry hands (with all the bottle washing), lip balm, and nipple cream! You have to try it! Definitely one of my favorite breastfeeding must haves.
Nipple Sheild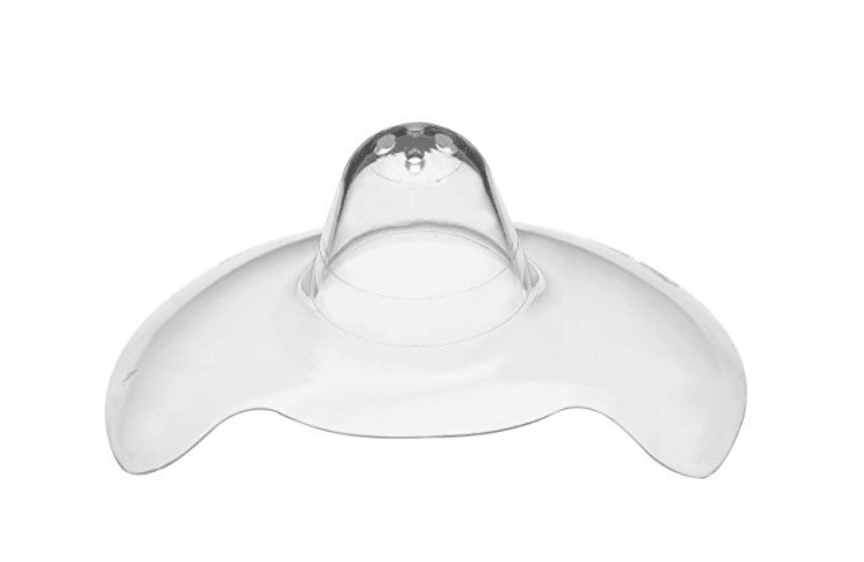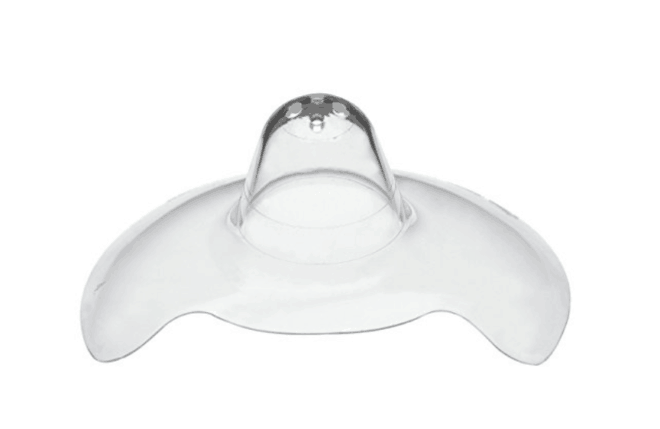 The NICU gave me this one to help combat sore nipples and give my preemie a better latch until her mouth got bigger. My tip: buy two. For some reason, they thought it would be a good idea to make these clear. Needless to say, they're easy to lose.
Hot and Cold Therapy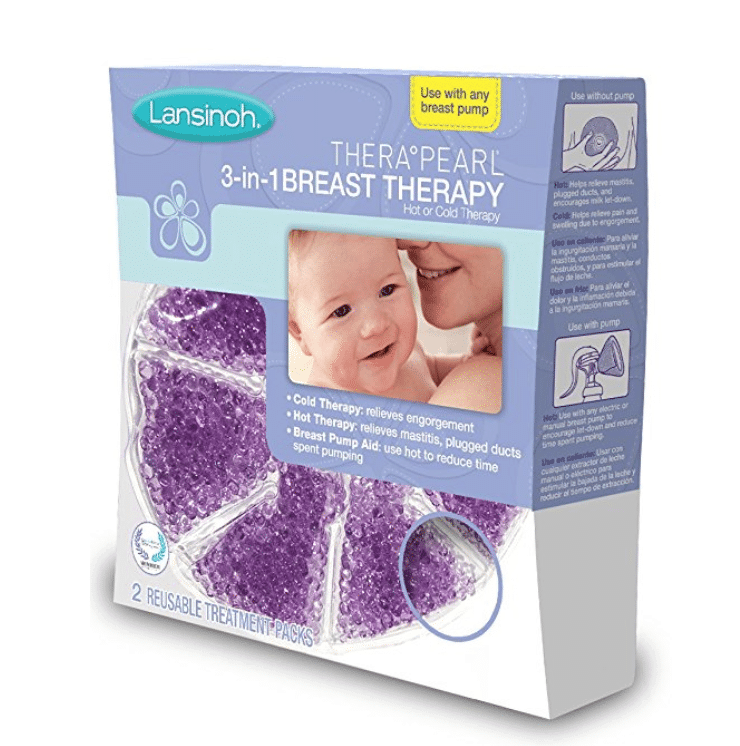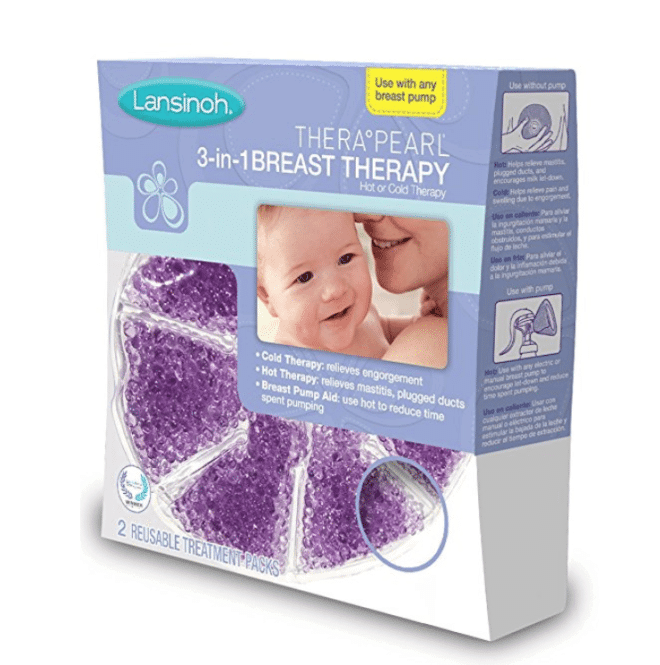 These 3-in-1 Breast Therapy discs are the only products in this guide that I haven't bought – yet. I have read amazing reviews about the Lansinoh Therapearl, and I have them in my cart ready for checkout. I get clogged ducts often, and so far I have been able to nip them in the bud right away, but when I google ways to do it – these always come up with rave reviews! The heat helps loosen the duct and you can wear them while pumping or breastfeeding to make it that much more effective. The pads shape the breast and cover it all, so there is even heat. The heat also helps with milk letdown.
If you're weaning off of breastfeeding I read that these, cooled, help with engorgement.
Nursing Pads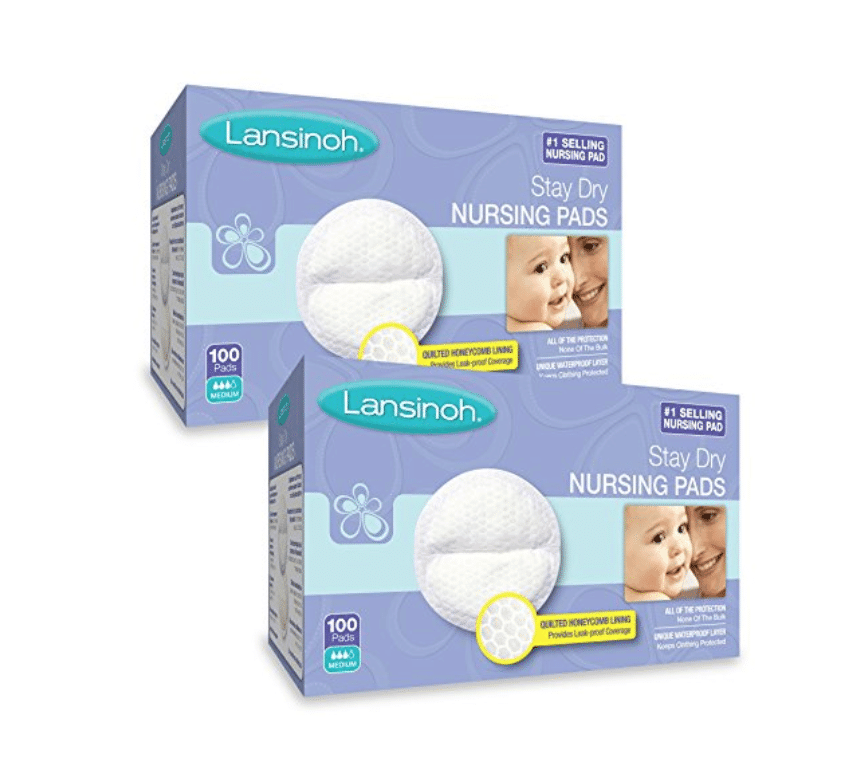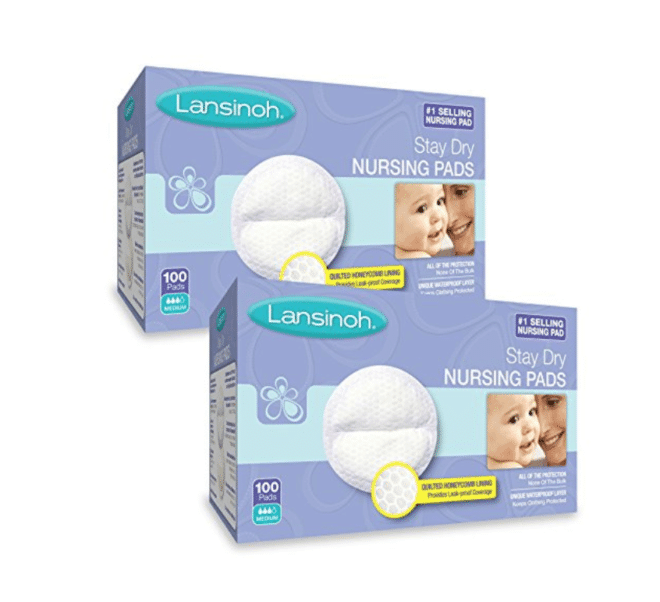 This is a huge must have in my books! There is nothing worse than randomly leaking through your shirts, especially while in public. I found these nursing pads to be the best because they don't show through my nursing bras and tops. Not a fan of disposble? I've heard great things about Bamboobies.
Silicone Manual Breast Pump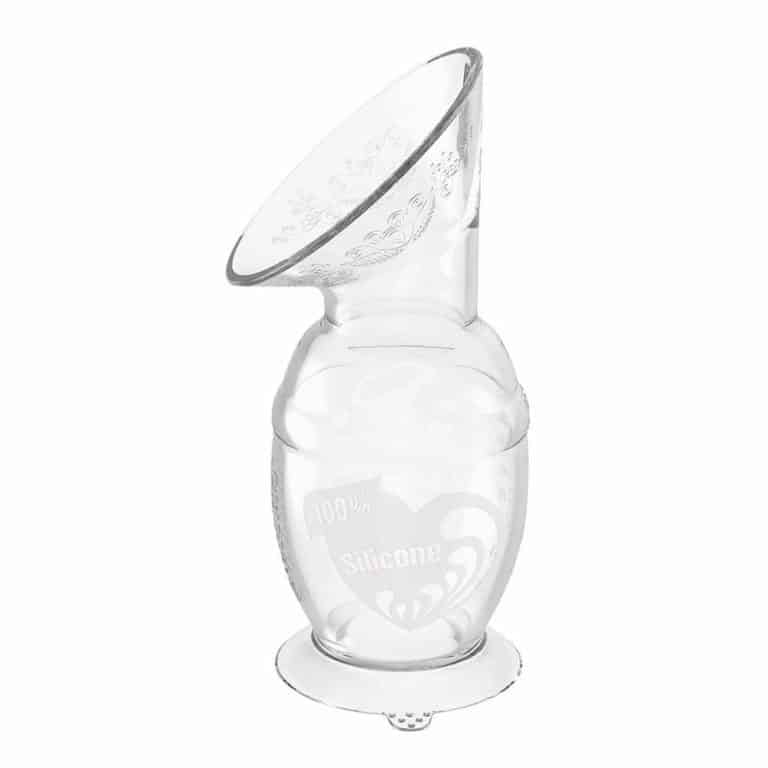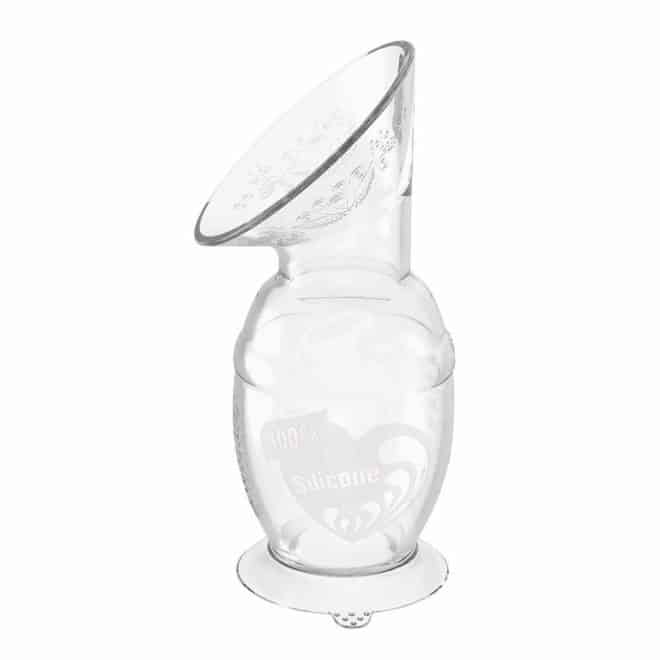 This is a favorite among nursing mothers (myself included). This silicone manual pump really isn't much of a pump but it does collect drips (and pours) from the breast you are not feeding with. It does have a little bit of suction (think of a suction cup) and helps draw out a bit more. It may not seem like you lose a lot while nursing one side, but I have collected upto 60mls (2oz)! This is a nursing must have.
Pumping Must Haves
These breast pump accessories really helped me get through these last few months. I hope you find them just as useful!
A quality breast pump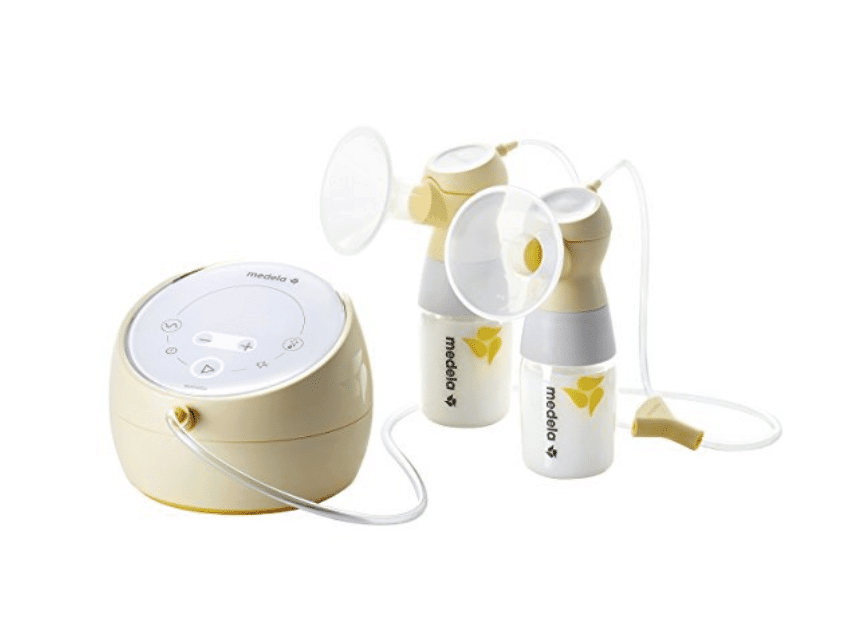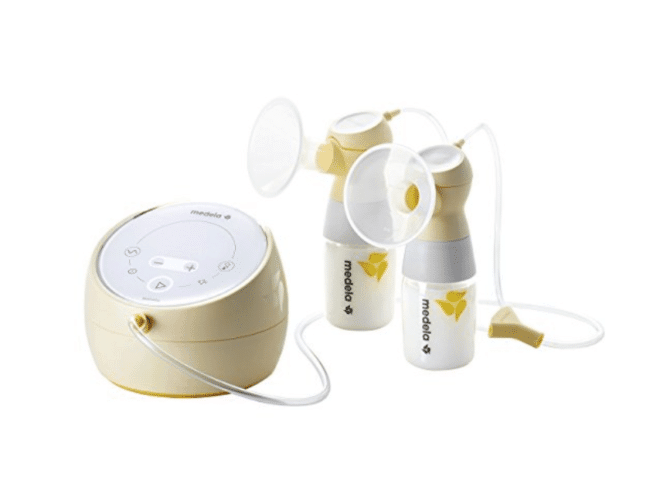 I'm using the Medela Sonata and it has made all the difference in the world. I used the Pump In Style Advanced with my son, and although I liked it – I didn't feel like it pumped much. So I bit the bullet and coughed of the money for the Sonata (after reading, what felt like, 10,000 reviews). It's not cheap, but I really like it. I compared the Medela Sonata with the Ameda hospital pump I used in the NICU and I was able to get an extra 10 mls on each side during those early days (every little bit helps). I also really like how the machine syncs with the app, it makes tracking a lot easier.
TBK's Pro Tip: Don't overwhelm yourself with the app – you don't have to use everything! I simply just use it to track how much I pump, when I pump.
If you have a pump, buy extra parts
I was hemming and hawing over buying the double pumping kit for my breast pump and thank goodness I did!
If I only had the one set of pump parts, I would be chained to the sink all day washing parts and bottles (well, I kind of am already but this gives me a bit of a break). This reason alone is enough to buy it!
Two days ago, my cat chewed through the tubing. Duct tape helped (yes, I rednecked my breast pump) but it didn't do the job completely. Thank heavens I had spare tubing.
The kit comes with some extra breast pads (the Medela ones are not my favorite) and the sterilizer bags (which are awesome and perfect for travel by the way).
Pumping Bra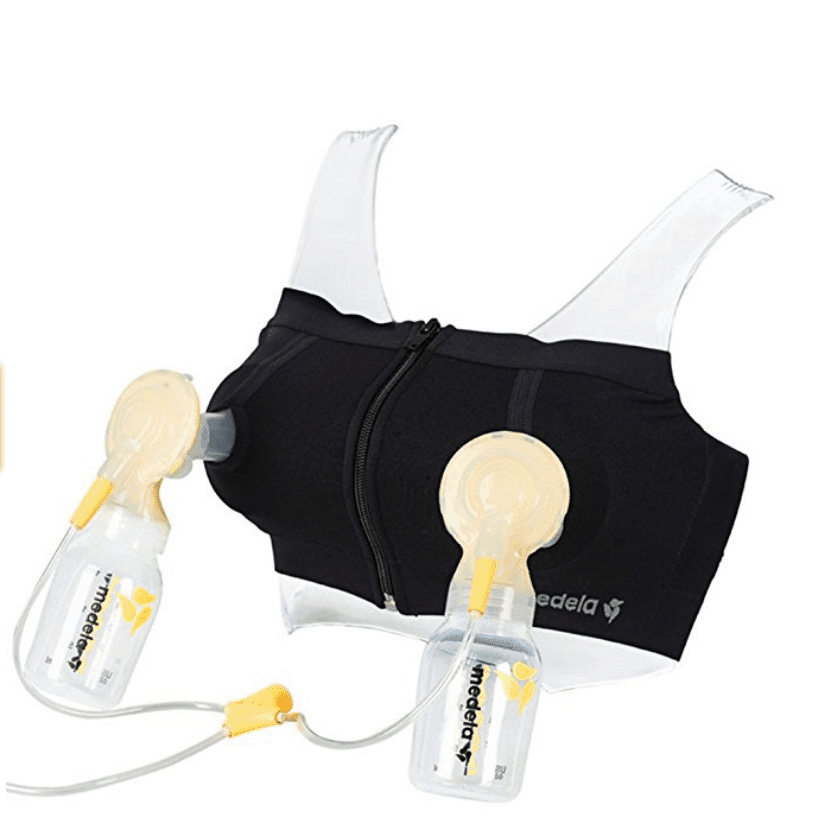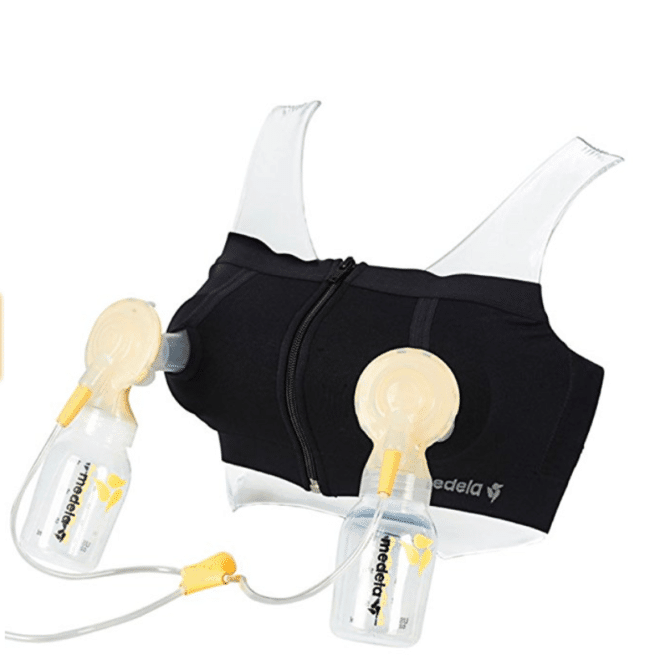 I bought this pumping bra and it does the job. My only semi-issue is that it's a little tight and I can't wear it all the time (only pumping) because of the holes where the pump parts go. They're always there, they never get covered. I've been eying up this strapped pumping bra because it covers the girls even when the parts are gone so you can wear it all day.
Breastmilk Bags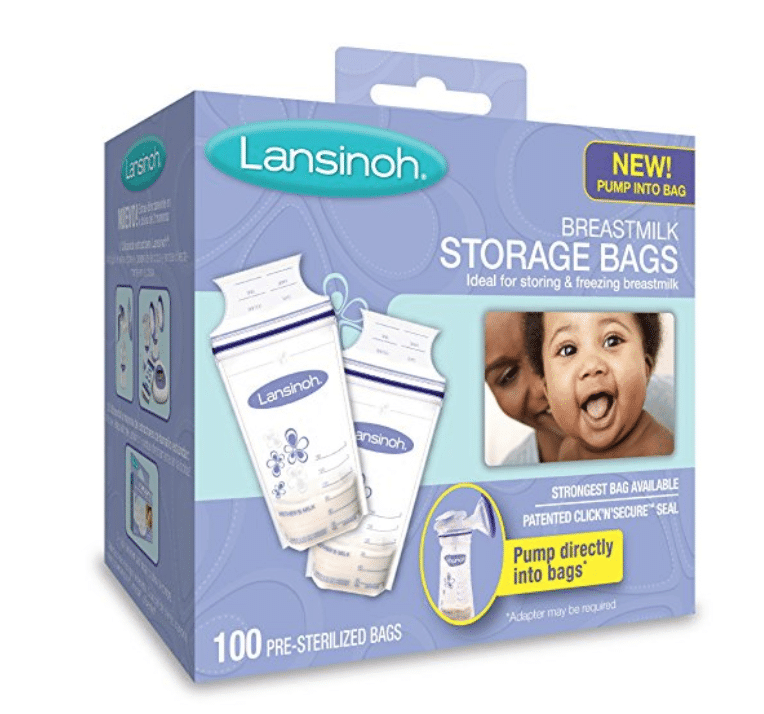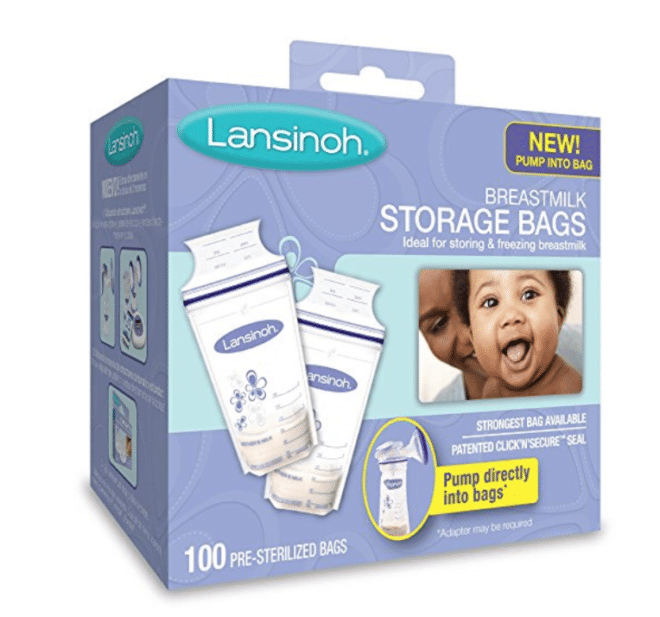 If you plan on freezing milk, then you will need breastmilk storage bags. I tried the Medela, Ameda, and Lansinoh bags. My favorite was the Lansinoh bags because they would lay flat nicely.
Nanobebe Newborn Gift Set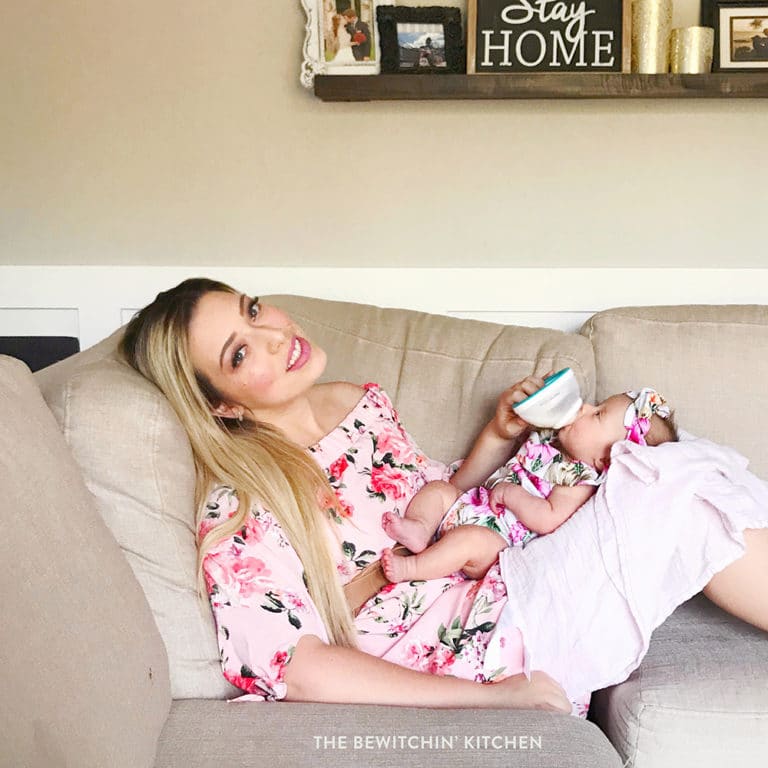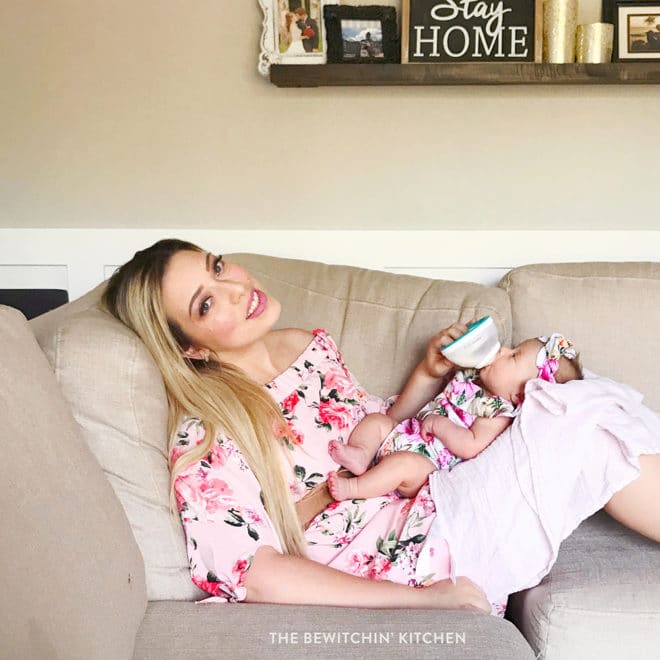 I first checked out Nanobebe when I was pregnant with V and was immediately intrigued. Fast forward two months and I've been using the system for the last two weeks. The bottle is the first of it's kind to preserve nutrients as breastmilk gets warmed from the fridge or frozen. Nanobebe reached out to me and sent me the Newborn Gift Set, which includes: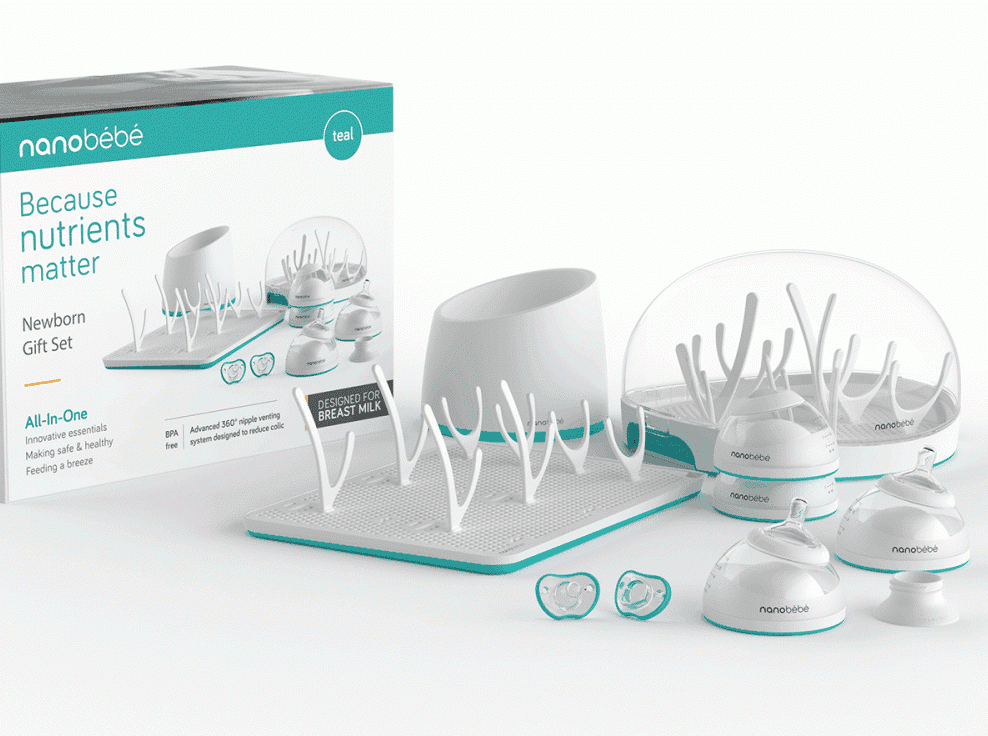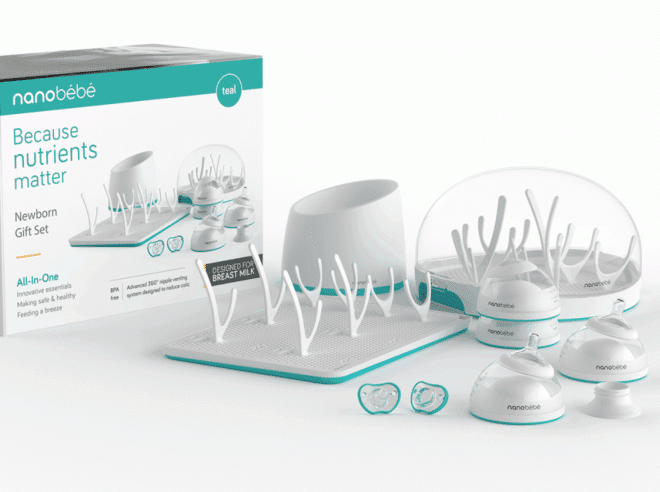 4 Nanobebe bottles (which are designed to preserve nutrients, and I found helped my baby transition from breast to bottle easily).
Medium and slow flow nipples
Smart warming bowl (no power needed)
Microwave steam sterilizer (eliminates 99.9% of household bacteria)
2 pacifiers
Drying rack (I love how thin this is)
Breast pump adaptors (works with the Medela Sonata)
Grab the newborn gift set here
.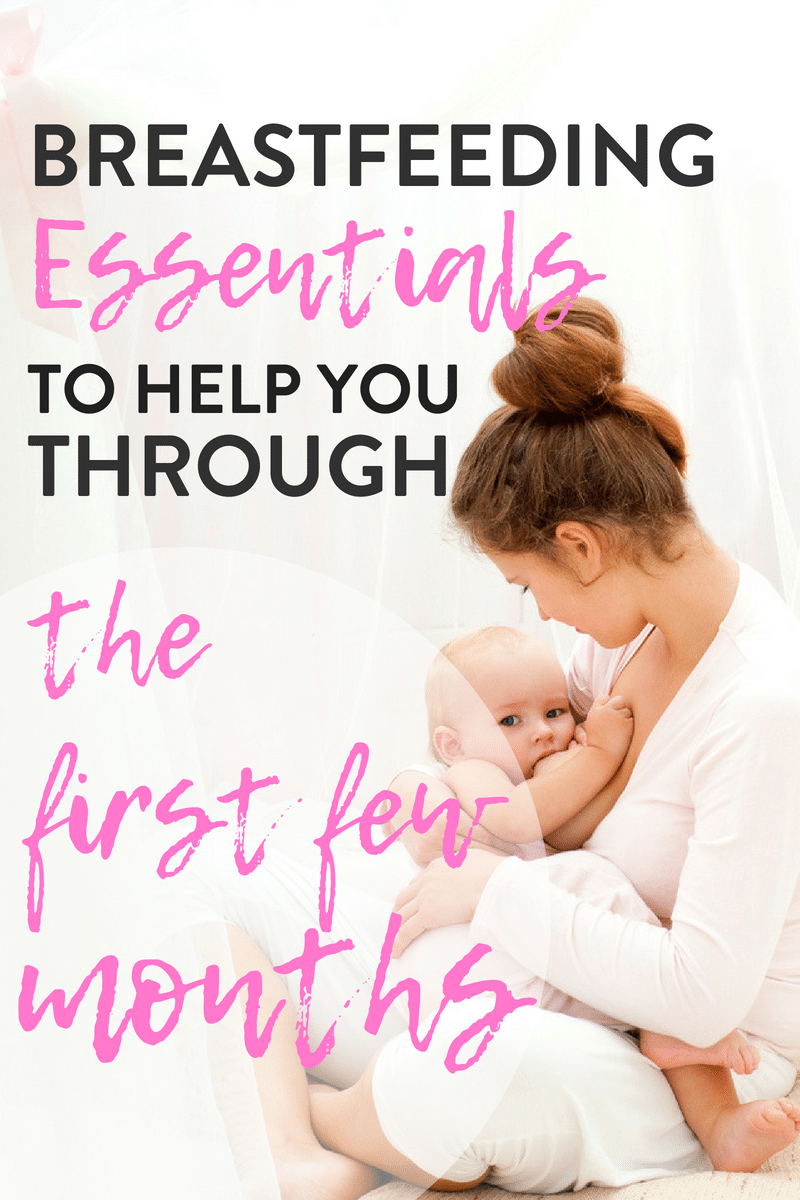 More breastfeeding must haves that may help you:
Mother's Milk Tea – I have this but haven't tried it yet (I'm a bit scared, I heard it's not the best tasting).
Netflix subscription 😆 – I don't think I need to explain this one.
I hope this list helped you know what to buy before the baby gets here or helped you decide what to buy the expecting mom in your life.
Be sure to check out my Baby Registry Must Haves and the rest of my gift guides.
What are/were your breastfeeding must haves? Let me know in the comments.