Clean Week Results and Beginner Postpartum Weight loss
It's time for me to kick off losing the baby weight (and the 15ish pounds I gained before 😅) and I'm starting it with Clean Week. Here's how the week of clean eating went and my clean week results!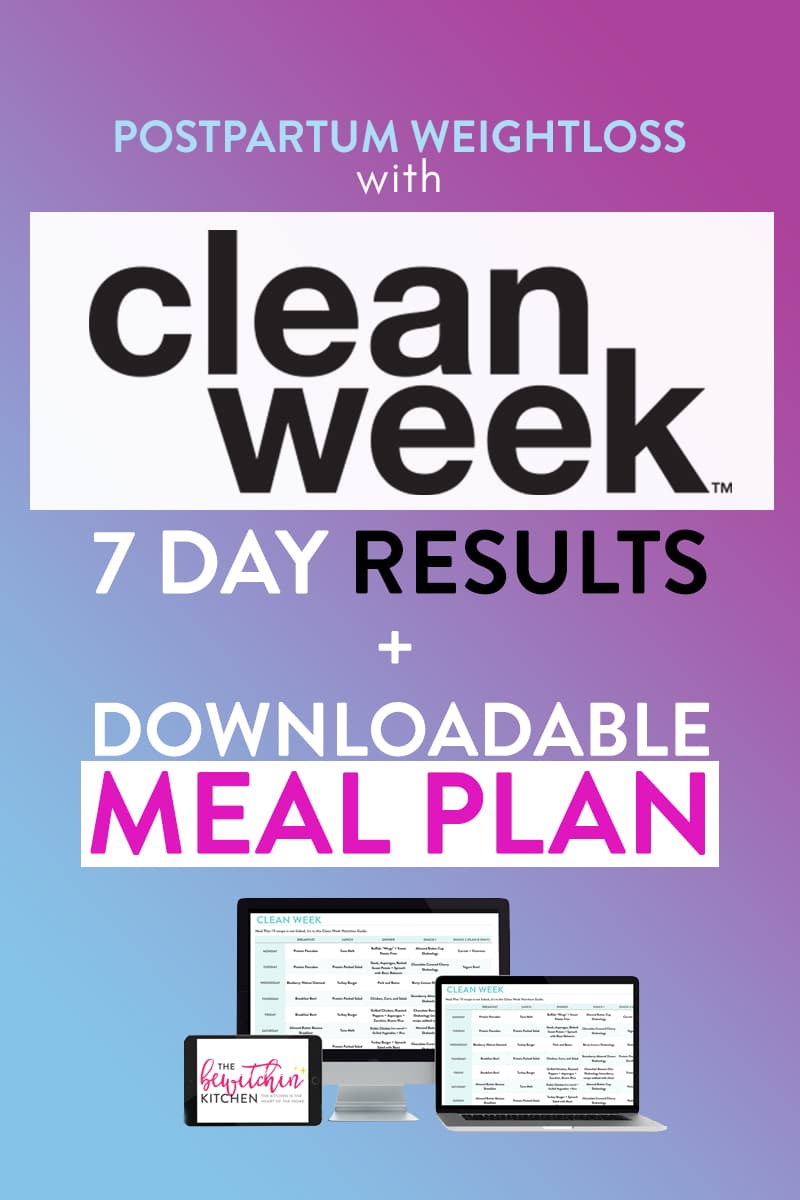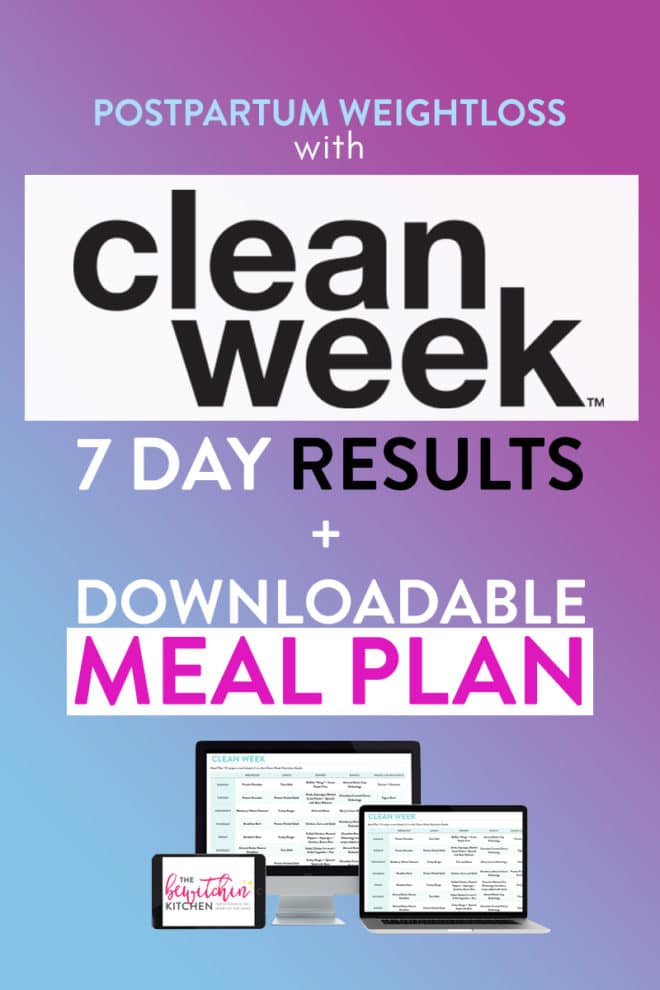 Disclosure: This post contains affiliate links for your convenience. As an Amazon Associate, I earn from qualifying purchases. 
I was well versed in 21 Day Fix, I have several posts about my experience and 21 Day Fix results here on The Bewitchin' Kitchen. If you want to check it out, head to my 21 Day Fix Guide. The program was never "easy" but I thought it would be a great place for me to kick off my postpartum weight loss. I was wrong.
I did the first three days and realized it was a little bit too much to start out with at six weeks. My shoulders and legs shook with five pounds (I used to use 25's for a lot of it) and I found the moves a little too quick for my balance. I was embarrassed at first until I spoke with my RMT and realized that my body is still overcome with hormones that I just simply wasn't ready, and that's totally okay!
So I swapped 21 Day Fix for Autumn Calabrese's postpartum workout and only did it twice last week (this is available exclusively on Beachbody on Demand). It was great because it worked my core in a beginner way and it made me feel a little more comfortable with working out again. Now it's time for the next step: Clean Week by Beachbody.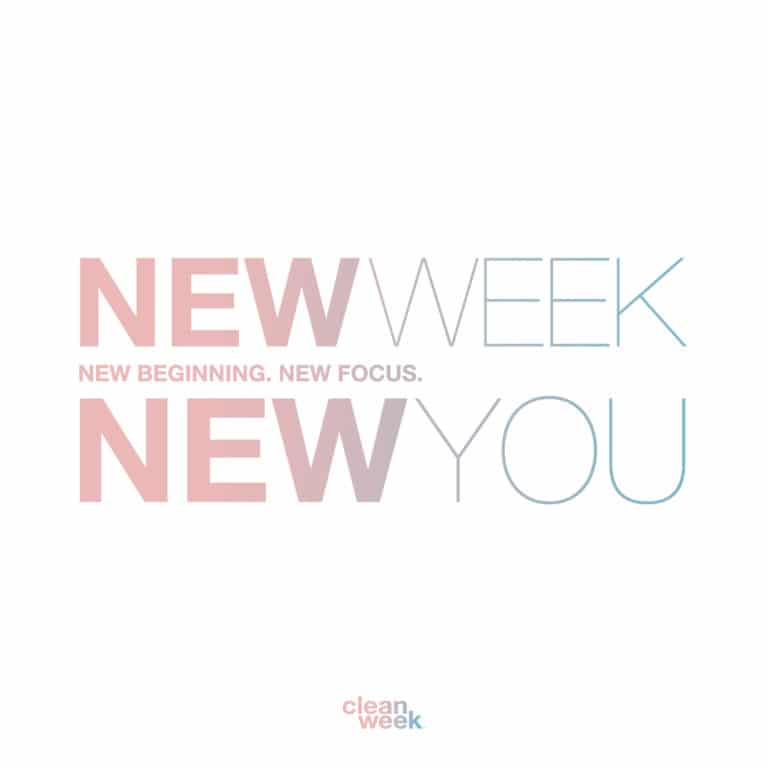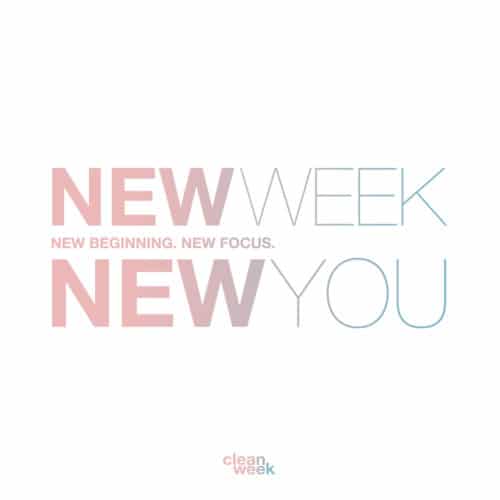 Clean Week
Clean Week is free for subscribers of Beachbody on Demand (A streaming service, think Netflix for all your health and wellness needs).
It's a beginner program that builds a solid base for fitness and nutrition to go hand in hand, just what I need right now! It helps you get your form correct and even has a sample meal plan you can use to make this week even easier.
Below I'll chat about how many calories I burned doing Beachbody on Demand's Clean Week, the nutrition plan (plus I'll share my meal plan), and my results.
Calories burned in Clean Week
If you're asking how many calories are burned doing Clean Week by Beachbody, I recorded my sessions.
A little about me that will factor my calorie burn:
7-8 weeks postpartum. Even though these are beginner workout moves because I'm out of it I'm a beginner again. My body is working hard to nail them and learning how to balance again = more calories burned.
170ish pounds and 5'3 (well, almost 5'3). I consider myself to have a stocky build.
I recorded these workouts with the Polar Ft4 heart rate monitor.
Day 1: Core Function – 299 calories burned.
Day 2: Cardio – 368 calories burned (I did intensify it with a few hops).
Day 3: Strength – 290 calories burned (I used 7.5lbs throughout).
Day 4: Active Flex – 83 calories burned.
TBK's Pro Tip: Check out the Beachbody workout calorie burn guide. Whenever I do a workout and record it – it goes there. Not every workout is listed yet, but my goal is to get a few programs completed this year.
Equipment for Clean Week
Here are the tools I personally used for Clean Week, I already owned it all. I highly recommend the select techs if you're looking at buying weights. I have had mine for 6-7 years now and they still feel like brand new.
Clean Week Nutrition
There are two nutrition brackets: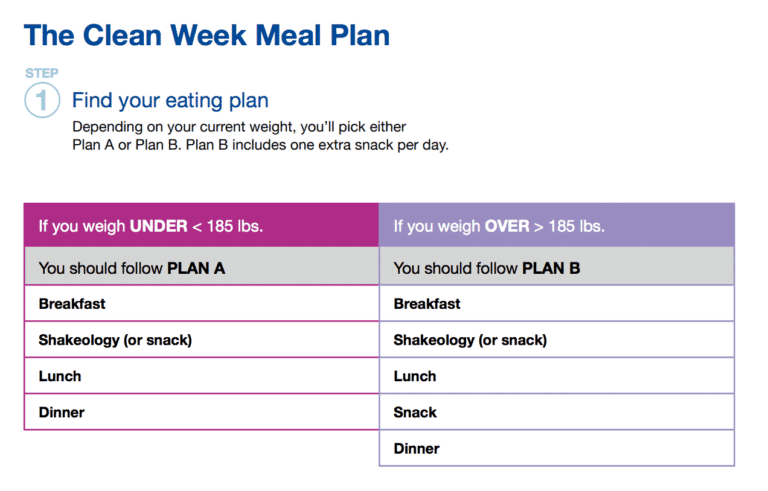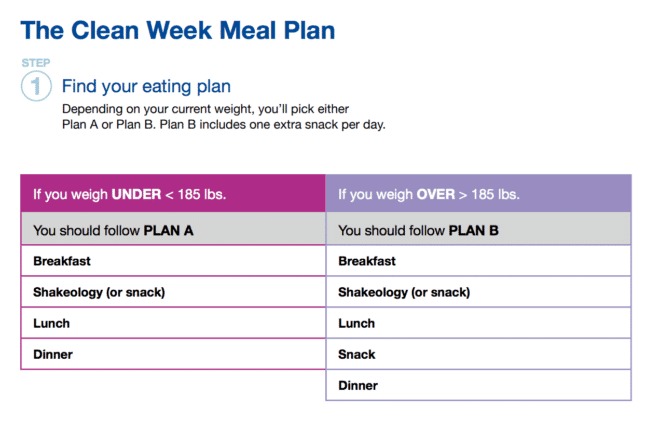 Although I'm under 185 pounds, I still chose plan b because I'm breastfeeding and don't want to mess around with my supply. As much as I'd like to drop weight quick, I know from experience that slow and steady wins the race.
Clean Week Meal Plan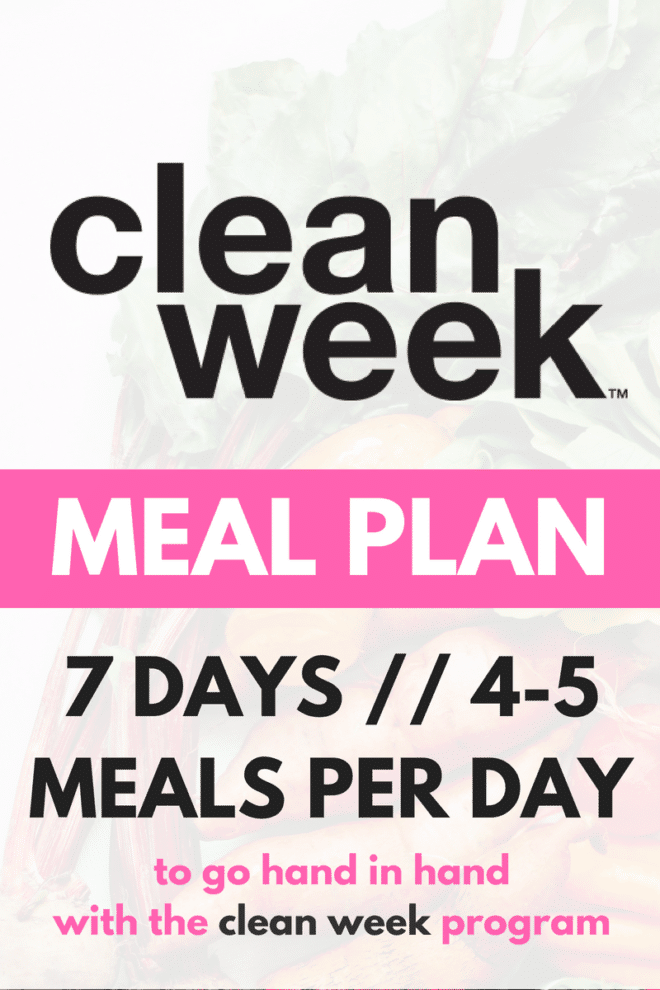 As I said, the Beachbody Clean Week program offers a free 7 day meal plan to follow. I kept a lot of the clean eating meals, but swapped a few ingredients or used what I had in the freezer so I didn't have to spend more money.
Here is an example of what I ate:
Breakfast: Protein Pancakes
Lunch: Tuna Melt
Dinner: Buffalo Chicken + Sweet Potato Fries + Carrots
Snacks: Shakeology + Fruit and Carrots + Hummus
Clean Week Results
Weight lost: 2 pounds
Inches Lost: 1 1/2″
So I didn't lose all the baby weight overnight and I'm a little disappointed as I thought I would drop a bit more weight (I was down another pound on Friday) BUT 2 pounds a week is a HEALTHY weight loss pace, especially while breastfeeding. I'm going to continue with the mindset that any loss is a win. I told myself before I gave birth that I would not put pressure on myself this time around and lose it slowly (while still enjoy a few summer treats). So that's what I'm going to do.
A few notes: After Friday I skipped my weekend workouts + ate the majority of the weekend off the meal plan so that could be why I gained that pound back and didn't fall back down.
So what's next?
I'm in the Liift4 Test Group that's kicking off July 16th, so I have another week before our prep week of B4 Liift4 and then I'll be focusing on that. Don't worry, I'll let you all know how it goes.
The Clean Week program is free for Beachbody on Demand subscribers. If you're looking for the full Clean Week Program you can find that here (you're basically paying for the 7 day Shakeology Sampler).