Cheeseburger Casserole
This Cheeseburger Casserole recipe is packed with savory beef, springy macaroni, and plenty of veggies and seasonings. You'll waste no time scooping past that cheesy topping for your next bite!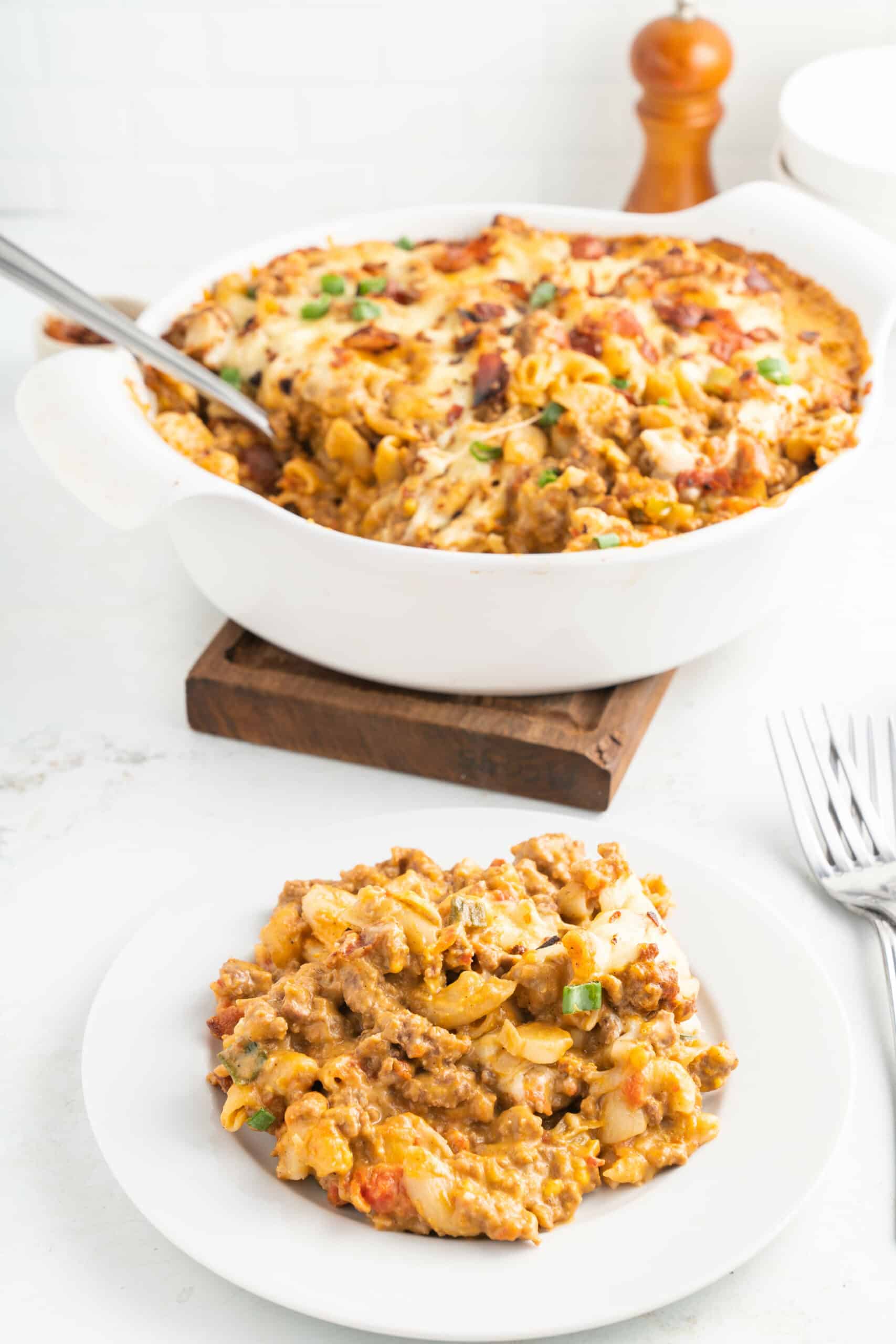 Cheesy Cheeseburger Casserole Recipe
Hamburger Helper is one of the most nostalgic tastes from our childhood. It's so simple, yet so delicious! But with a couple of tweaks and extra ingredients, you can make a homemade cheesy hamburger casserole that's even better.
Adults will love this recipe for its classic taste, and kids will love it for its fast food texture and flavor!
This is one of our more unique casseroles, along the lines of the Bewitchin' Kitchen One Pot Pierogi Casserole Bake, Curried Cauliflower, and Spinach Artichoke Casserole. They're all about classic flavors built into a filling and satisfying bake.
Why you will love Cheeseburger Casserole
A simple recipe that takes only 15 minutes to prepare
Crunchy bacon and melty cheese on top for the perfect finish
Just one dish and one pan makes clean-up a breeze
Makes enough to feed a family
So many dimensions from the meat, pasta, and veggies – no side dishes necessary!
This fun bake appeals to dinner guests of all ages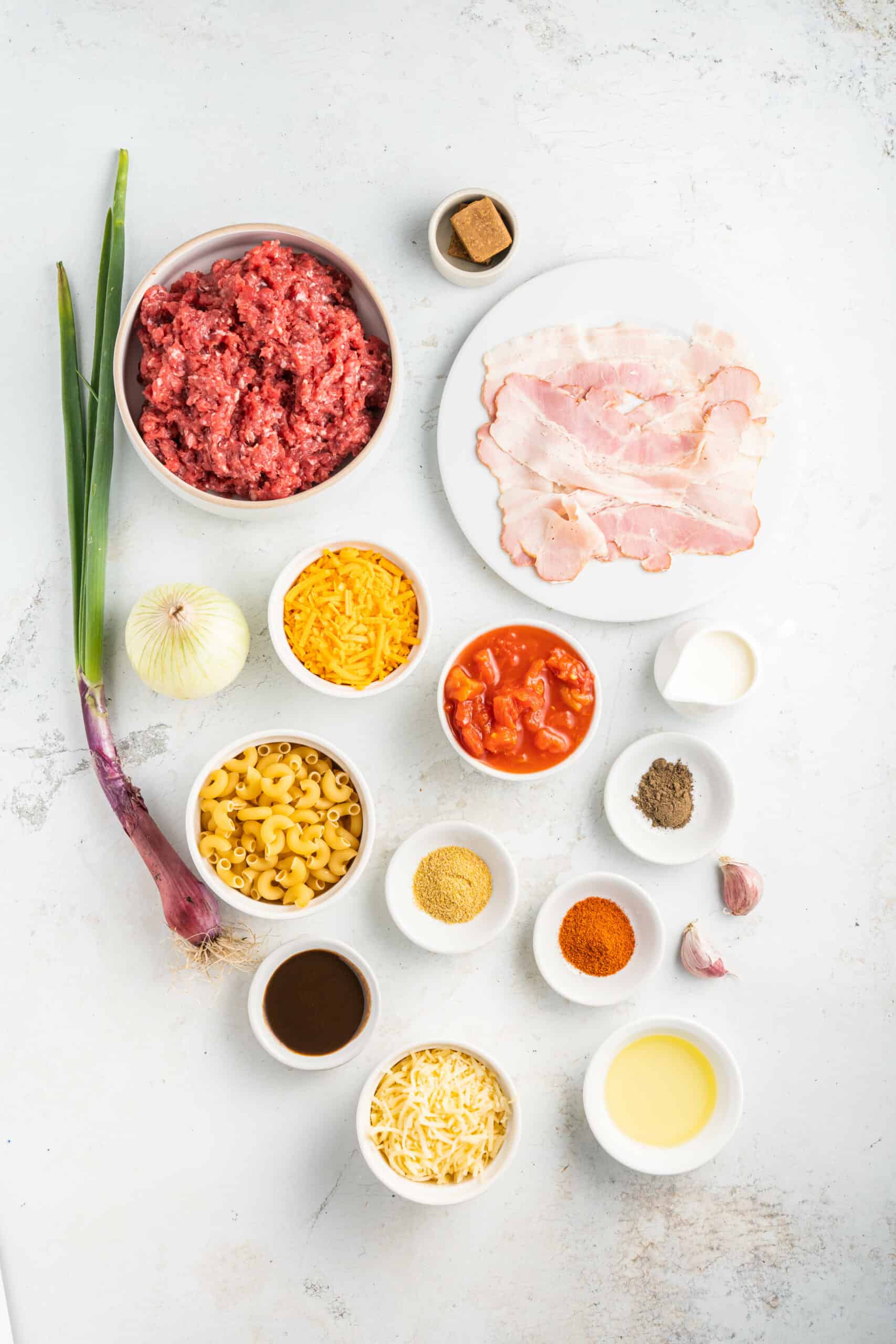 How to Make Perfect Hamburger Casserole
Step 1: Sauté the yellow onions until translucent (5 to 7 minutes) before adding the garlic. Stir for another minute until the onions and garlic become aromatic.
Step 2: Add the uncooked beef to the pan and cook for 10-12 minutes until browned.
Step 3: Preheat the oven to 375F.
Step 4: Pour the canned tomato into the pan along with the green onion, uncooked pasta, cream, mustard, salt, pepper, paprika, and broth. Stir until combined and cover. Simmer for 8 minutes until the pasta cooks to al dente, stirring often to prevent the pasta from sticking to the pan.
Step 5: Remove from heat and fold in the cheddar cheese.
Step 6: Transfer to a large baking dish and top with the mozzarella. Slide the baking dish into the oven and cook for 10-15 minutes, until the cheese melts completely.
Step 7: Top with bacon bits and any other desired toppings, and serve while warm.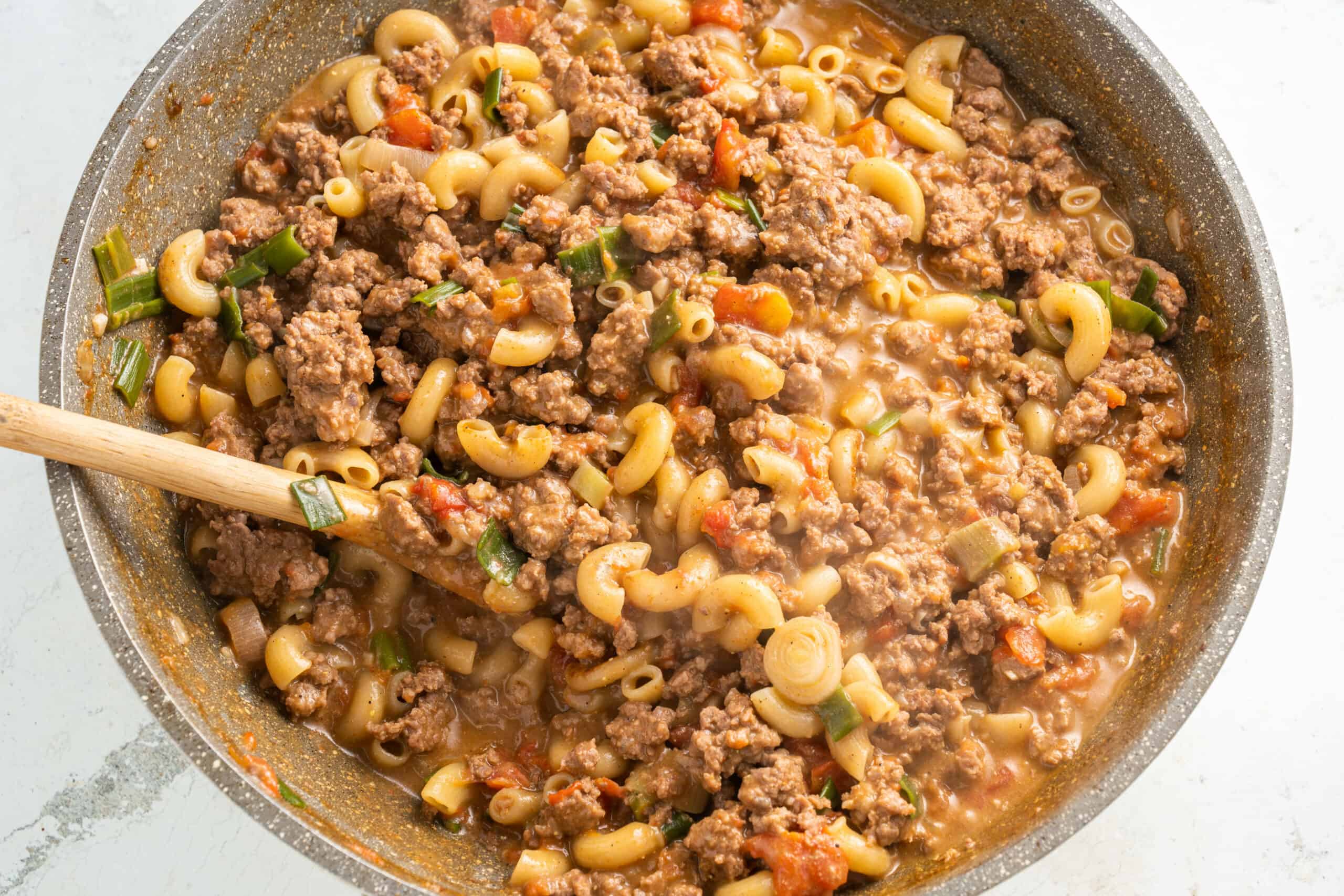 Pro Tips for Cheesy Hamburger Casserole
Pro Tip 1: Different brands and varieties of pasta have different cook times – any short pasta can be used in this dish. Follow the instructions on the package and cook until the pasta is tender yet still firm.
Pro Tip 2: Drain the grease after cooking the beef before proceeding to Step 4 to avoid an overly greasy texture.
Pro Tip 3: You can substitute any ground protein, including chicken or turkey.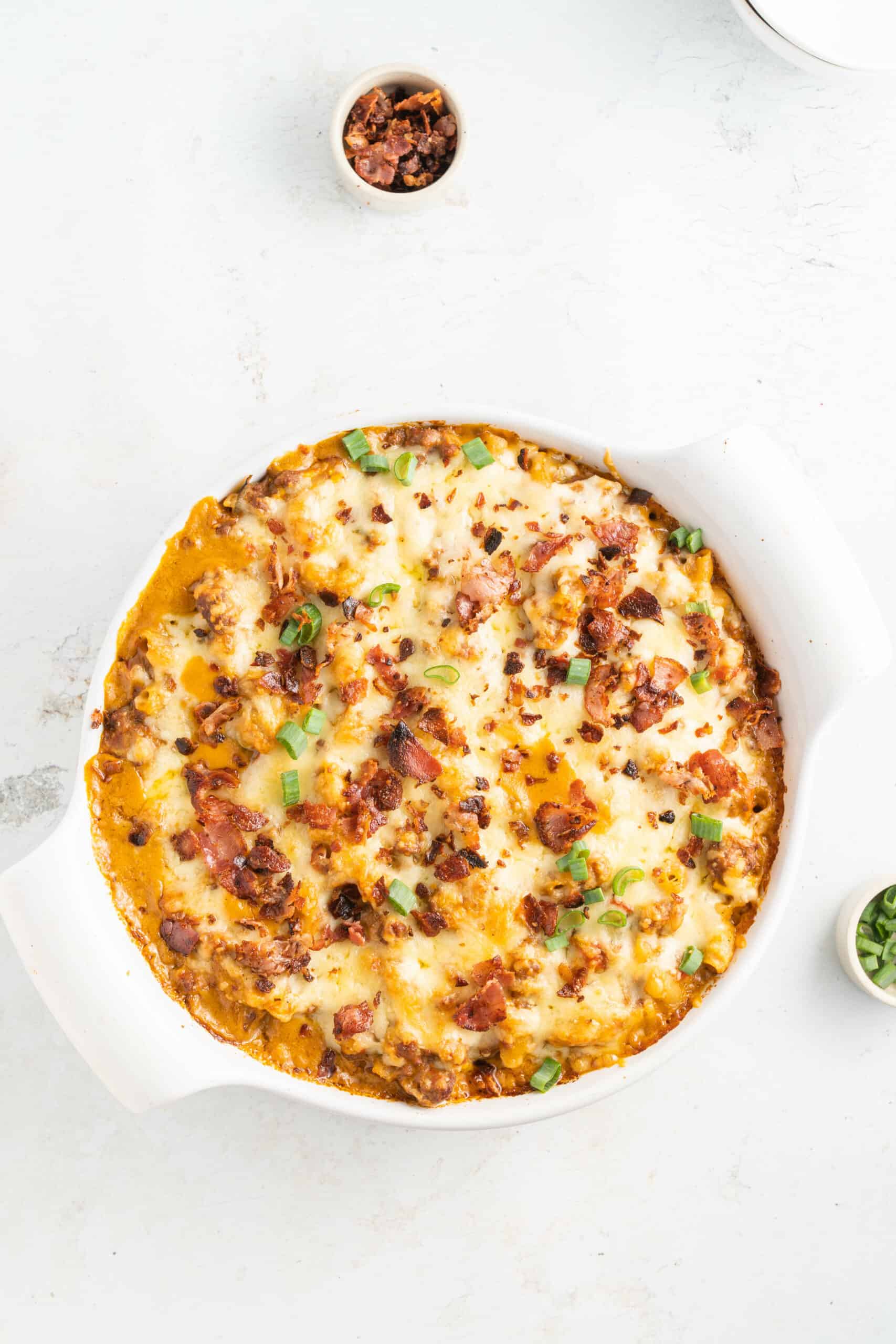 Frequently asked Questions about Cheesy Hamburger Casserole
What is in this cheeseburger bake?
The main ingredients are ground beef, pasta, cheese, light cream, beef broth, and diced tomato.
Additional flavor comes from garlic and onions as well as salt and pepper, Worcestershire sauce, powdered mustard, and paprika. Some cooked bacon crumbled on top gives the dish a real Big Mac flavor that kids just love – and adults are a big fan of it, too.
Can this cheeseburger casserole recipe be made ahead of time?
Leftover casserole can be stored for up to 5 days in the refrigerator. Store in an airtight, covered container to keep the beef from spoiling and cheese from hardening.
To reheat, slide the whole dish back into the oven for 10 minutes at 350F.
However, this baked recipe is best fresh! While it's still delicious the next day, it becomes soggy and remains so even after reheating.
Do you put uncooked pasta in cheeseburger casserole?
Yes – the pasta cooks right alongside the broth, tomatoes, and other ingredients. It's best that way, too! It absorbs the taste of the onions, garlic, broth, and other seasonings for a fully flavorful pasta.
Cheeseburger Casserole
This Cheeseburger Casserole recipe is packed with savory beef, springy macaroni, and plenty of  veggies and seasonings. You'll waste no time scooping past that cheesy topping for your next bite!
Servings 6 Servings
Calories 906kcal
Ingredients
2 lbs ground beef
1 tbsp Worcestershire sauce
2 cup short dry pasta
1 medium yellow onion diced
2 clove garlic cloves minced
2 1/2 cup cheddar cheese shredded
1/2 cup light cream
2 cup beef broth
1 cup mozzarella cheese shredded
1 can diced tomato 14oz
2 medium green onions
1/2 tsp ground black pepper
1 tsp paprika
1 tsp powdered mustard
2 oz bacon slices cooked and chopped
Instructions
Sauté onion in a skillet until translucent, about 5-7 minutes. Then add minced garlic and stir for a minute until fragrant. Next, add ground beef and stir until cooked, about 10-12 minutes.

Preheat the oven to 375F.

Add canned tomato, green onion, dry pasta, light cream, powdered mustard, salt, pepper, paprika, and beef broth. Simmer, covered with a lid for 8 minutes or until pasta is al dente. Note: stir regularly so the pasta doesn't stick to the bottom of the skillet. Remove from heat.

Fold in shredded cheddar cheese and mix.

Transfer the mixture to a large oven-safe dish and top with shredded mozzarella cheese. Finally, bake for 10-15 minutes for the cheese to melt.

Serve warm with crispy bacon bites on top.
Notes
This Cheeseburger Casserole is packed with comforting flavors and satisfying ingredients. You'll taste a burger in every bite due to ground beef, cheddar cheese, and saucy tomato. Then, crispy bacon is the cherry on the pie as it provides texture and Big Mc's flavors!
Tips
This casserole is best when freshly made, as the pasta will be soggy once reheated, although it'll still be tasty.
Keep leftovers in the fridge, covered, for up to five days. Then, reheat it in the oven at 350F for 10 minutes.
Nutrition
Calories: 906kcal | Carbohydrates: 43g | Protein: 50g | Fat: 58g | Saturated Fat: 27g | Polyunsaturated Fat: 3g | Monounsaturated Fat: 21g | Trans Fat: 2g | Cholesterol: 187mg | Sodium: 947mg | Potassium: 841mg | Fiber: 3g | Sugar: 4g | Vitamin A: 1001IU | Vitamin C: 9mg | Calcium: 512mg | Iron: 5mg
Follow On Pinterest
Follow @bewitchinkitchen On Pinterest for more delicious recipes!