One Pot Perogie Casserole Bake
Fun fact: I'm 1/4 Ukranian and so pierogies (or perogies, however, you spell them) are in my blood. This One Pot Perogie Casserole Bake tastes (and smells) amazing. They're basically the food equivalent to a hug.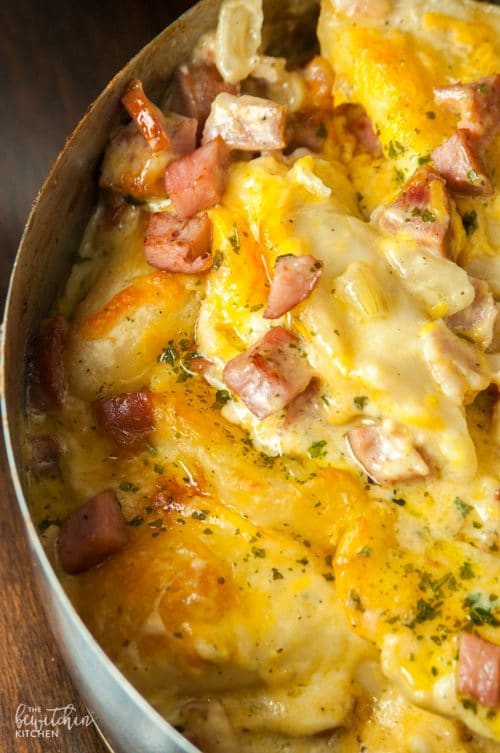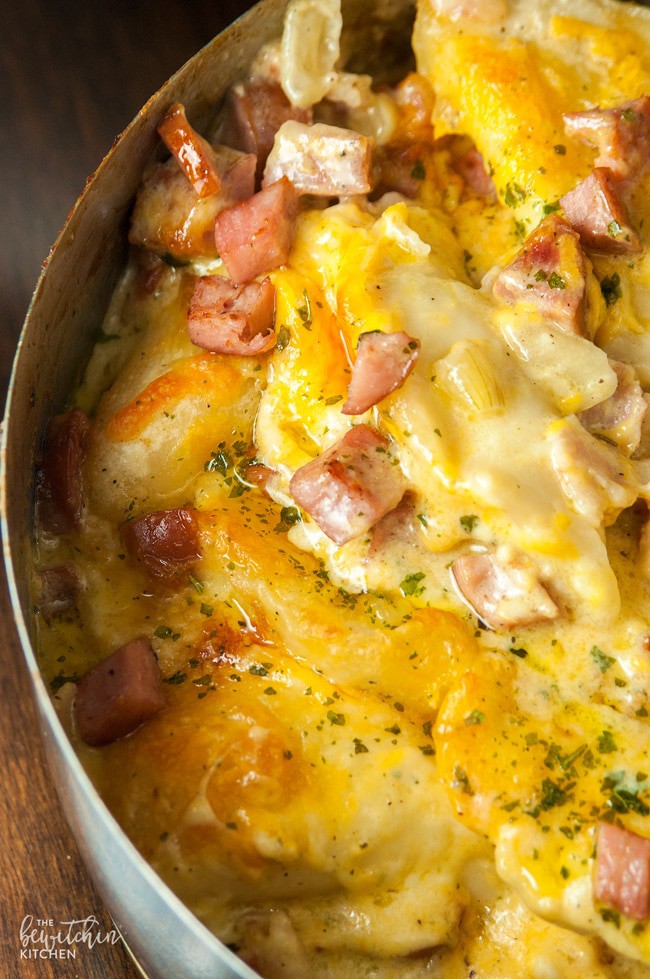 This is the ultimate comfort food, but please keep in mind that this is not the meal you eat the day before you put on your skinny jeans. So ladies, put those bad boys away (the jeans, not the dish – because this is the ultimate cheat meal).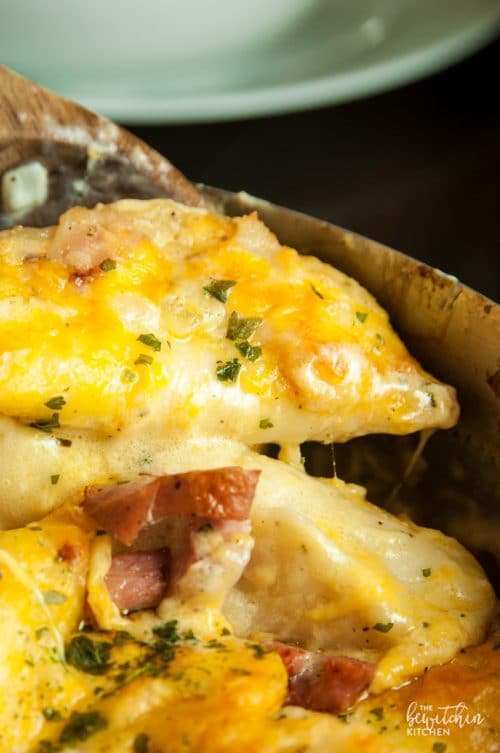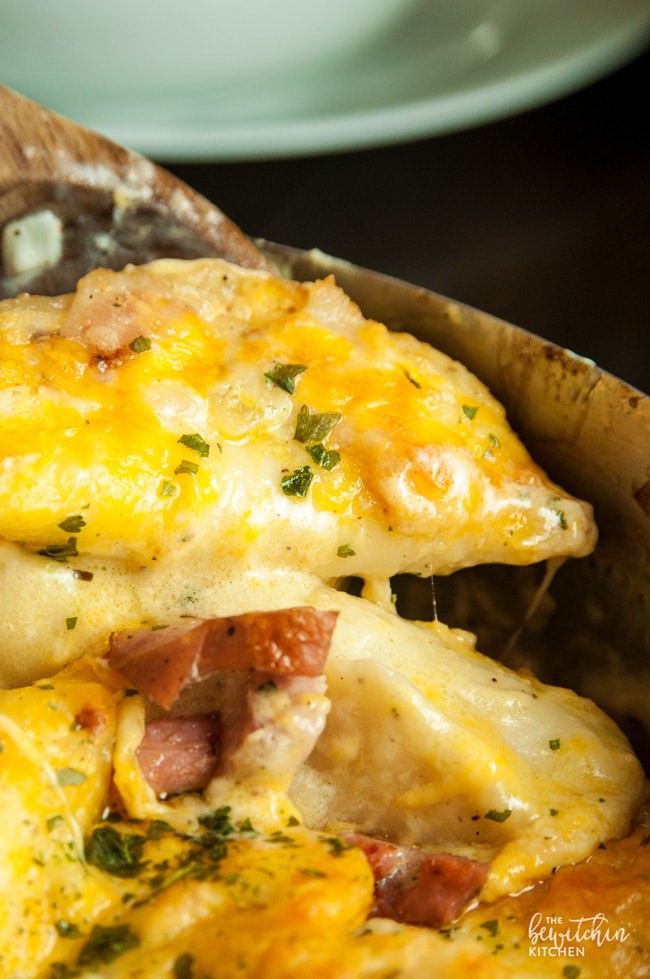 For the Holiday Entertaining Guide, we decided to do an easy, one pot meal idea because we know that the holidays can get hectic and it's nice to have an easy (and comforting) meal to fall back on.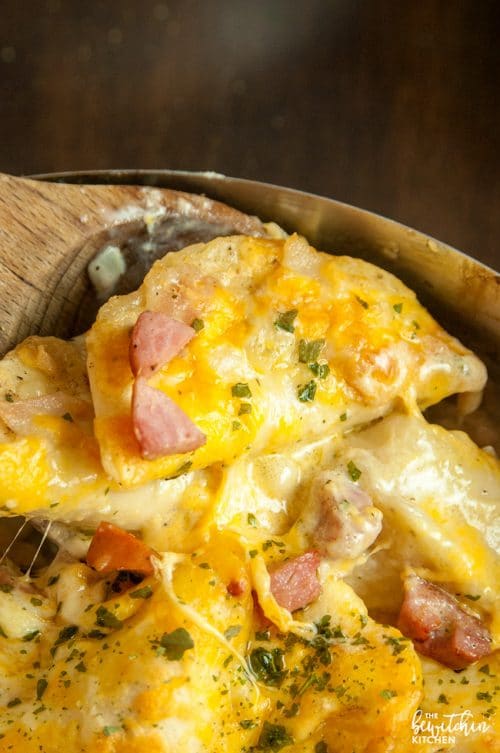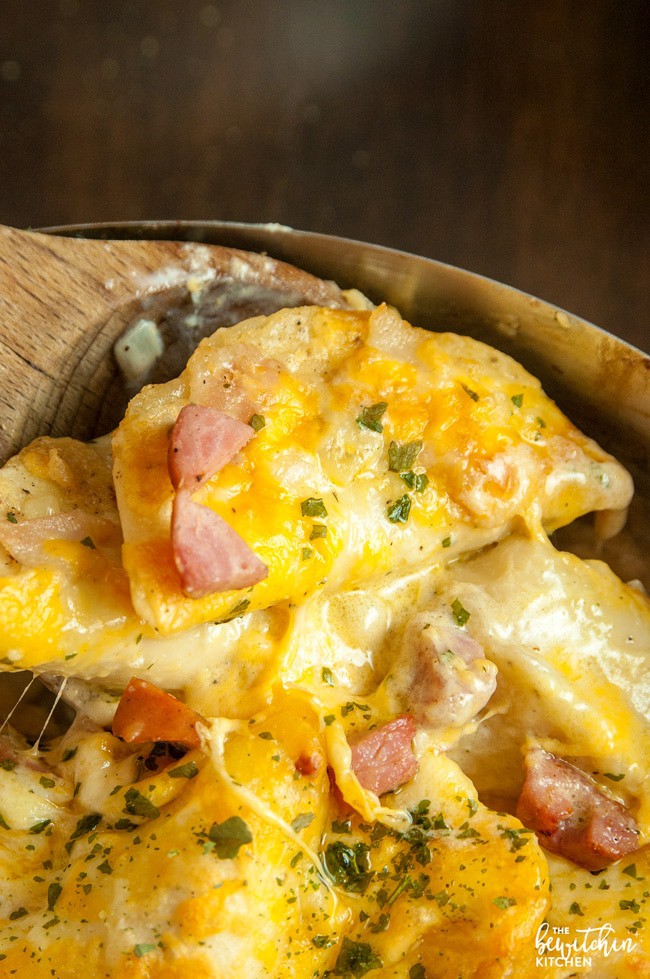 When it comes to comfort, I think of Christmas morning and the Ukrainian Christmas Breakfast my family and I have traditionally shared since I was a baby. Now this is how I'll prepare everything for that breakfast (minus the eggs) because it was so much easier than watching a few pans.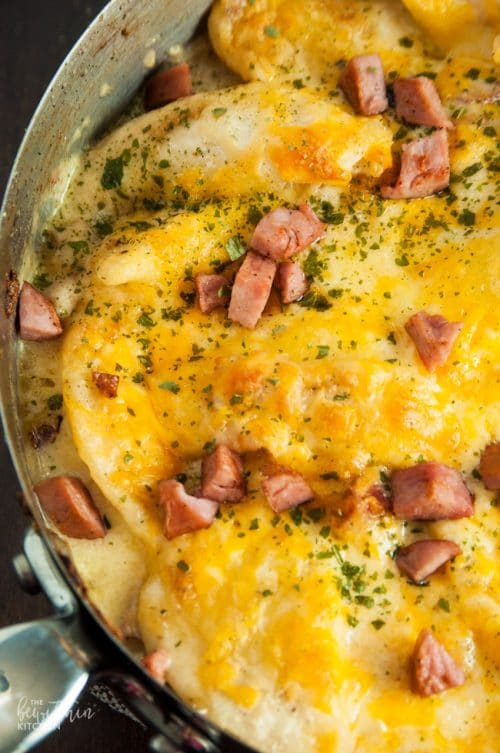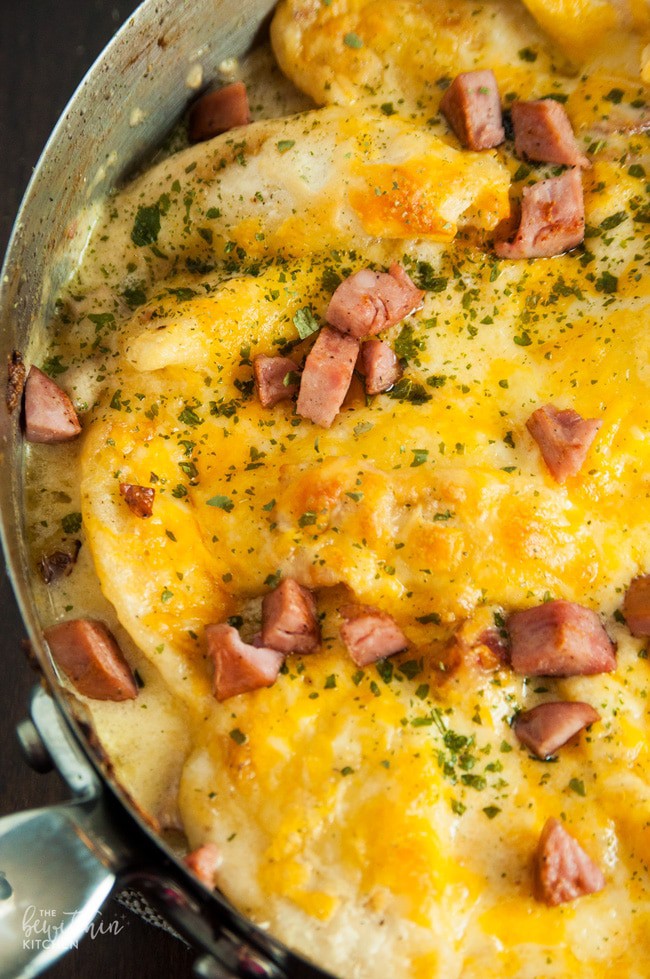 Cream. Butter. Bacon. Cheese. Sausage. Perogies. 
Seriously, is there anything better than that?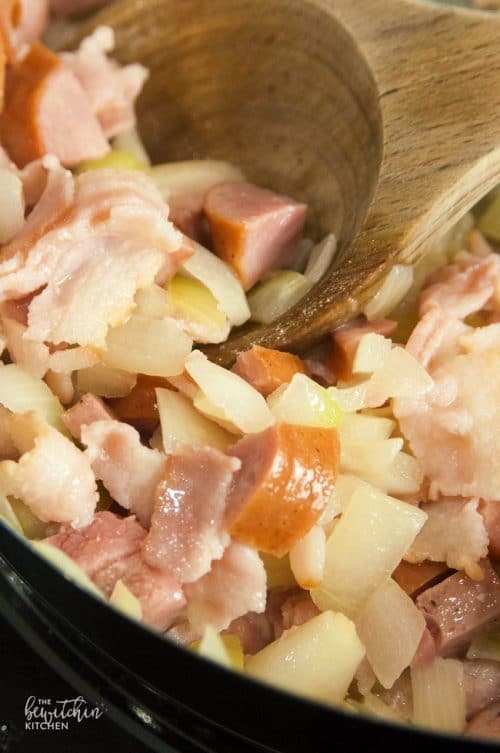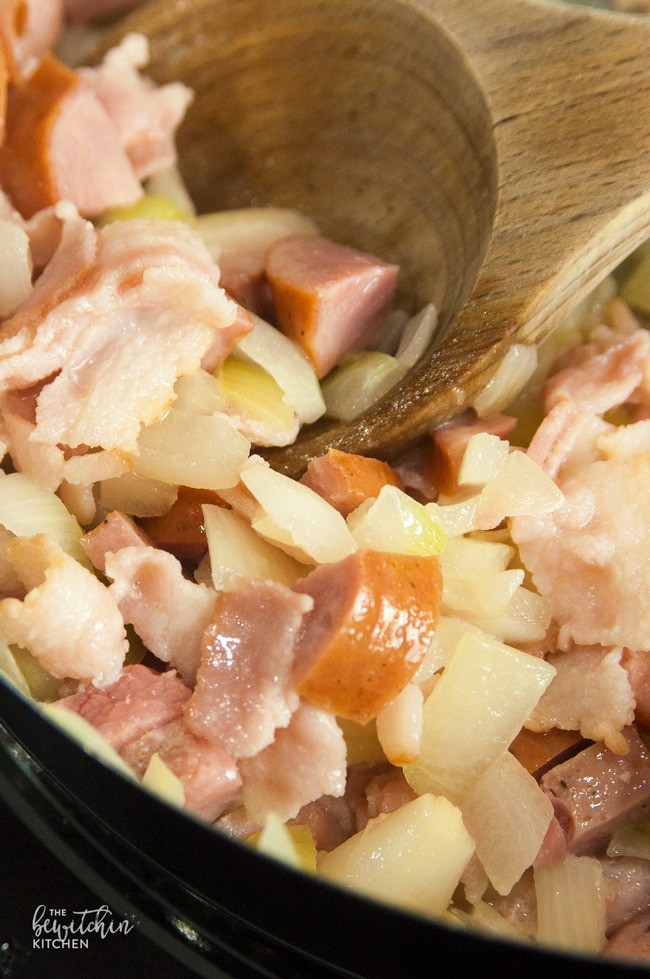 When the onions, bacon, and garlic sausage hit the melted butter in the hot skillet – your home smells so darn good. This is the smell I grew up with.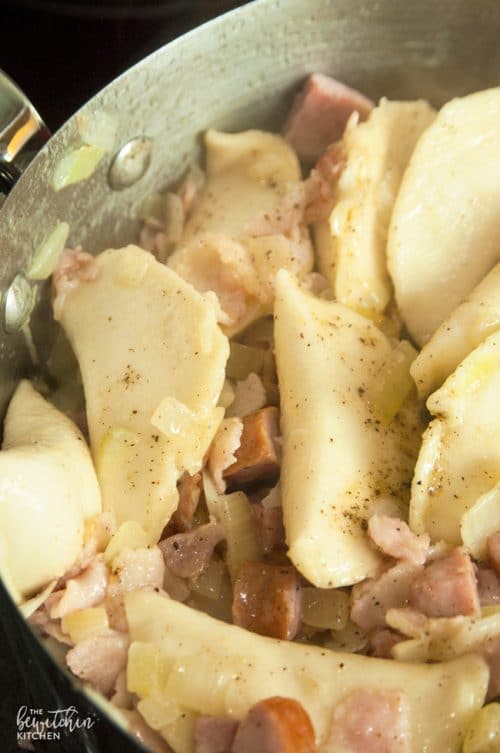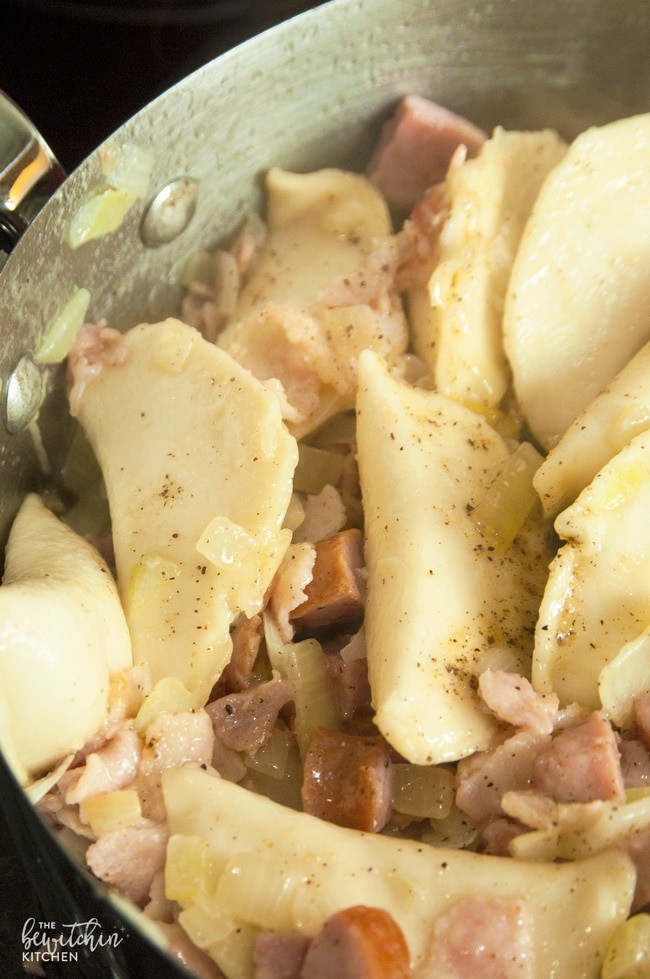 I used frozen perogies, but if you have homemade – more power to you! Fun fact: my mom makes and sells perogies in my home town and I have never even made an attempt to make them yet. One day, and when that day comes you know darn well I'll share the recipe with you all.
During this part of the recipe (when the perogies are added), it's not uncommon for the perogies to stick to the bottom of the pan a bit. If that happens, just add some more butter. It's okay, you can have a salad tomorrow.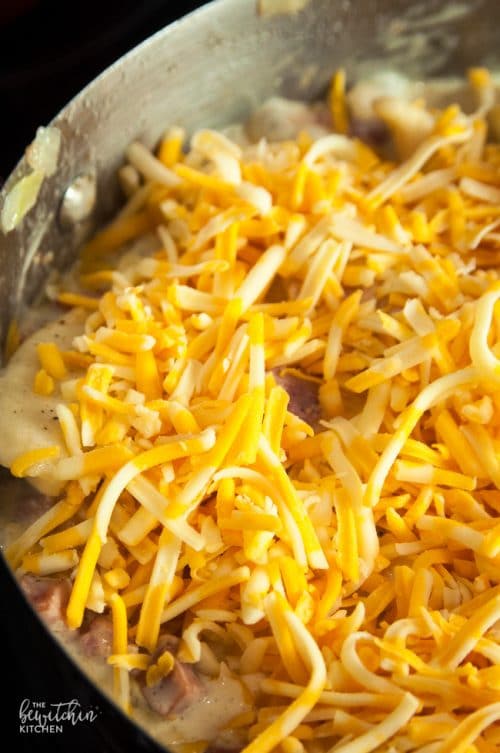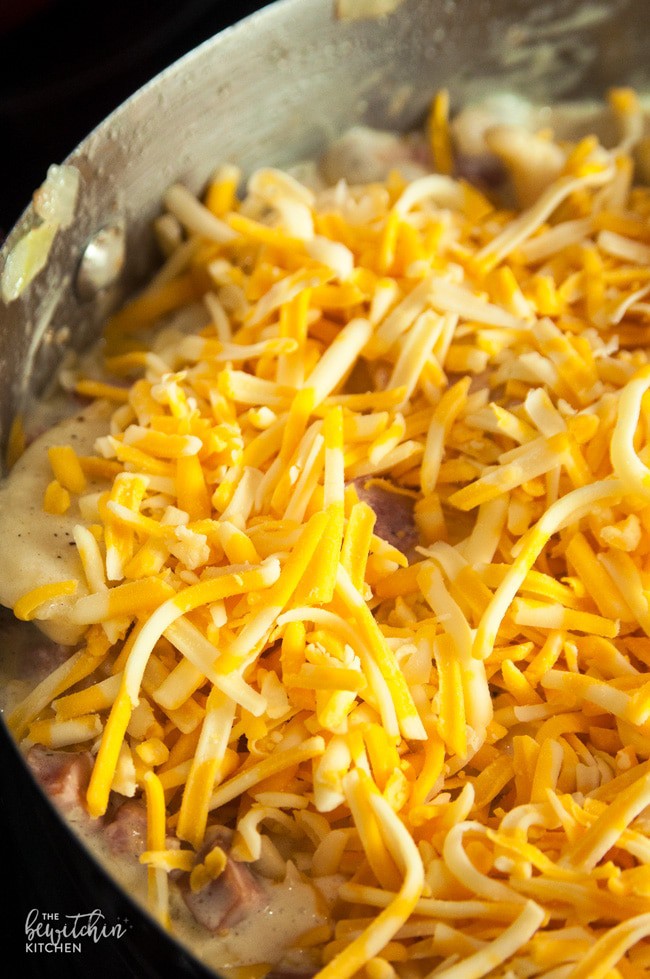 I didn't measure the amount of shredded marble cheese I used, but I'm guessing at least two cups. I tried for one, but I could tell it just wasn't enough. You're welcome!
Perogie Casserole Bake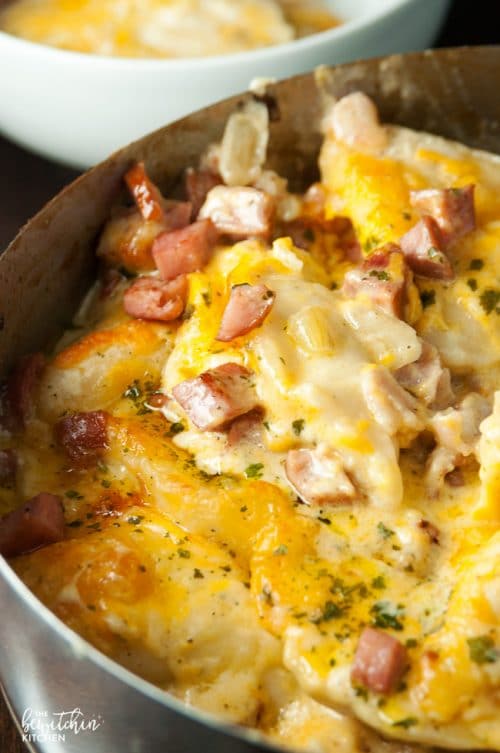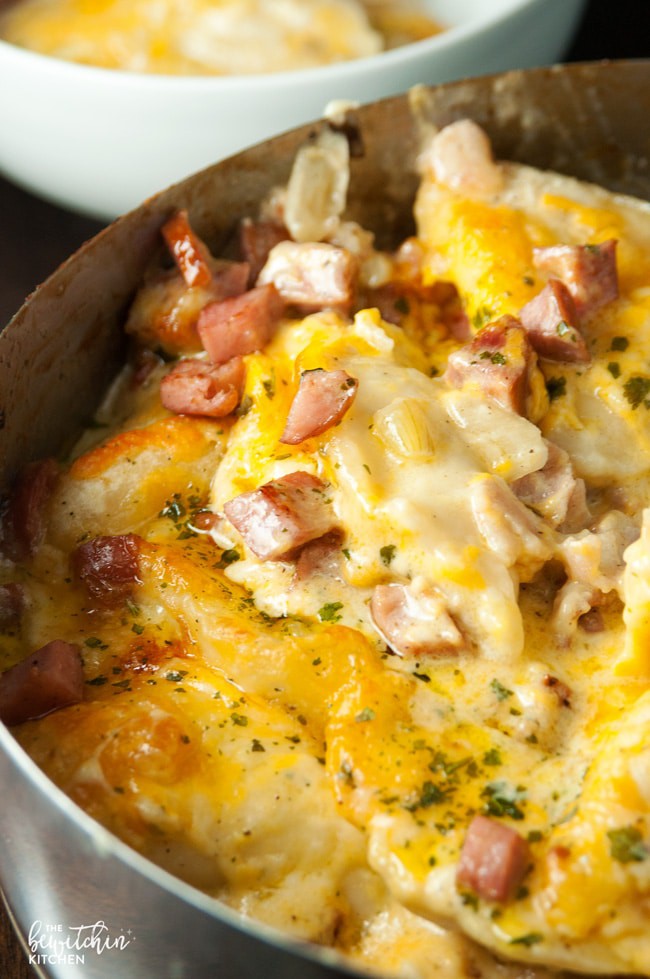 If there is one dish that will make me famous, this is it. I hope you all enjoy and you guys…it's THAT good.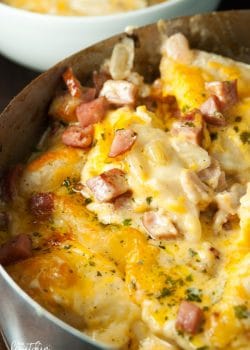 One Pot Perogie Casserole Bake
These creamy baked pierogies are AMAZING and a super easy dinner recipe! Perogies, cream, butter, garlic sausage, bacon, onions, and cheese.
Ingredients:
1 onion, diced
4 slices bacon, chopped
1/4 cup butter
18 frozen pierogies
1/3 ring garlic sausage, sliced and then quartered
3/4 cup whole cream
2 cups shredded marble cheese
Optional: parsley and extra cooked sausage for garnish.
Directions:
Pre heat oven to 375F
In a large skillet/chefs pan over medium heat add the chopped onion, diced bacon, sausage and half the butter. Saute until onion is translucent.
Add the rest of the butter and the frozen perogies. Saute for 5 -8 minutes, stirring around frequently until the perogies are no longer frozen.
Add 1/2 cup of the cream and turn the heat to medium-low. When the cream looks like it's thickening, add the rest, stir and top with the cheese.
Put it in the oven for 20 minutes, or until cheese is bubbly.
Top with parsley and extra cooked sausage to garnish.
Nutrition Information
Yield: 6 servings, Serving Size: 1
Amount Per Serving:
Calories: 474 Calories
Total Fat: 25.2g
Saturated Fat: 13.2g
Cholesterol: 71.2mg
Sodium: 1215.5mg
Carbohydrates: 40.3g
Fiber: 2.6g
Sugar: 4.8g
Protein: 22g
All images and text ©
.
Check out what my friends did for their one pot or one skillet meals: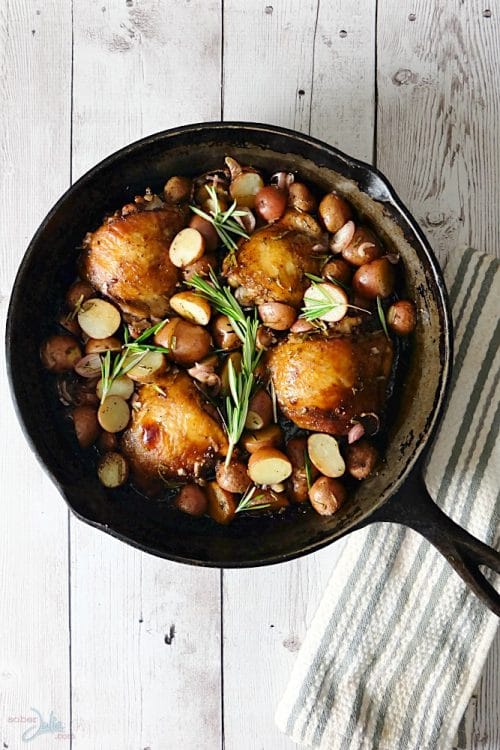 One Pot Balsamic Chicken via Sober Julie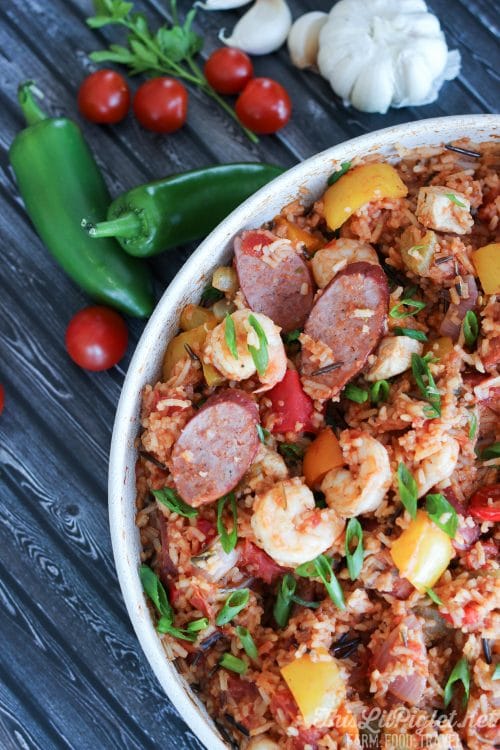 One Pot Jambalaya via This Lil Piglet


FREE Recipe Binder
Are you constantly wondering what's for dinner?
When I don't meal plan I feel behind, and we usually end up ordering take out. This recipe binder will keep you organized and make life a little bit easier.