Peri Peri Chicken
Peri Peri Chicken is a mouthwatering combination of tingling heat and bright acidic flavor. It's marinated for maximum moisture and spice – don't skip this easy yet extraordinary Nandos chicken recipe!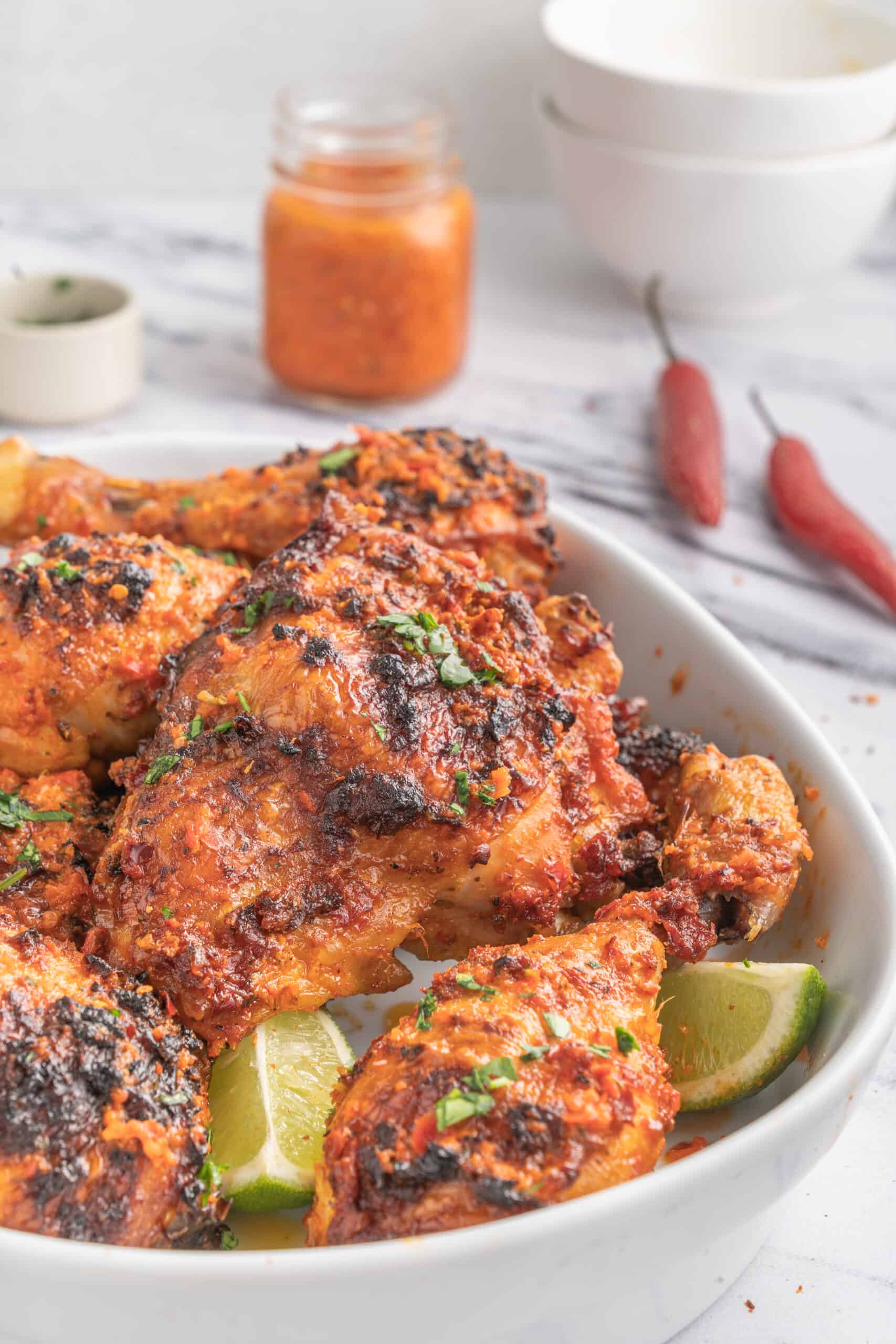 Mouthwatering Peri Peri Chicken Recipe
Vibrant citrus and peppery heat are the best flavors to add to any chicken dish. In our Nandos chicken recipe, we let the chicken soak in lemon and orange while resting in a spicy marinade prepared with ground herbs and spices.
The marinade makes it extra juicy – it can even sit overnight, making this peri peri chicken recipe the perfect overnight dish!
Creating the perfect spicy dish can be tricky, but we think we have it figured out! Try our 5 ingredient Cranberry Chicken Wings, Slow Cooker Chicken Tacos with a hot mayo sauce, or this Spicy Avocado Dressing you can add to almost anything!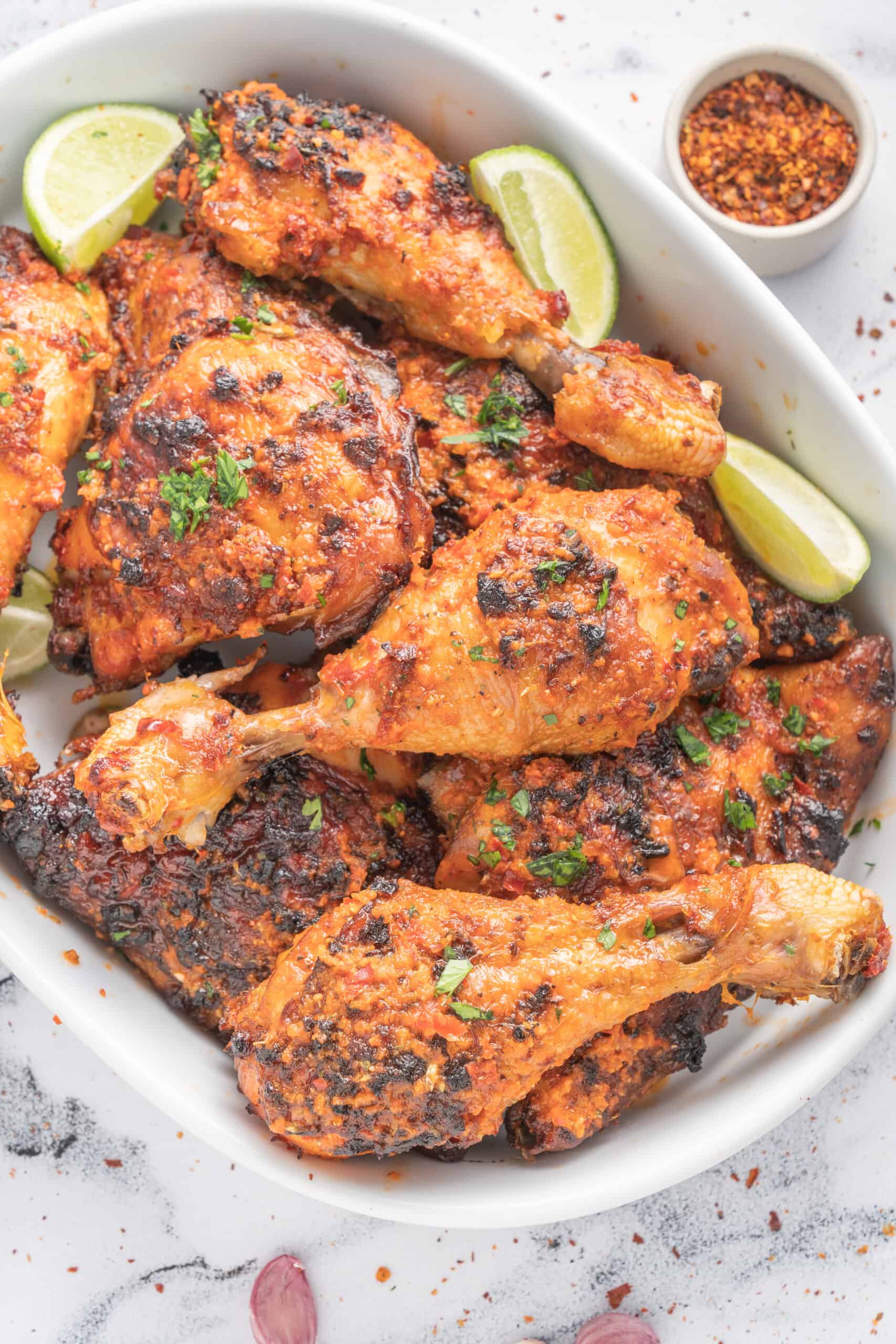 Why you will love Peri Peri Chicken
A quick and easy marinade that adds incredible flavor while it rests
Adjustable spice levels to suit your palate
Guaranteed moist, succulent chicken every time
You can mix and set the marinade the night before for time-saving meal prep
Leftovers keep for up to a week!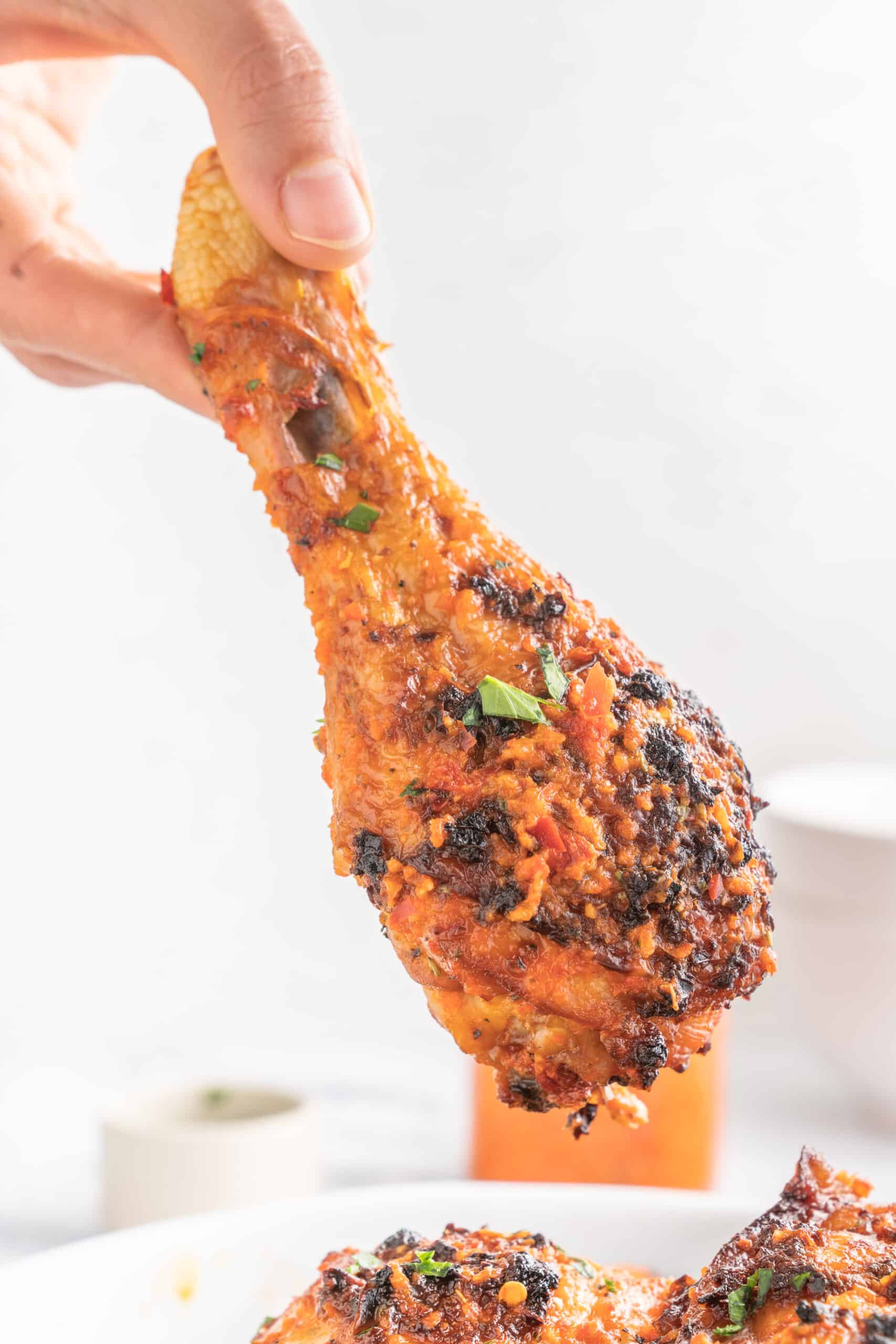 How to Make Perfect Peri Peri Chicken
Step 1: Add all of the peri peri marinade ingredients (everything except for the chicken and water) to a blender or food processor. Process until completely mixed and smooth.
Step 2: Add the sauce to a saucepan and simmer for 10 minutes or so to really meld the flavors and release the oils in seasonings and peppers.
Step 3: Put the chicken in a freezer bag or large bowl. Pour the sauce over the chicken, tossing it to coat, and cover well. Let it marinate for 4 to 24 hours.
Step 4: Preheat the oven to 375F before baking. Transfer the marinated meat to a baking tray, move it to the oven, and pour ½ cup of water into the baking tray – this helps the skin to crisp up while maintaining a moist interior.
Step 5: Bake for 40 minutes or until the meat reaches 165F with a browned, crisped skin.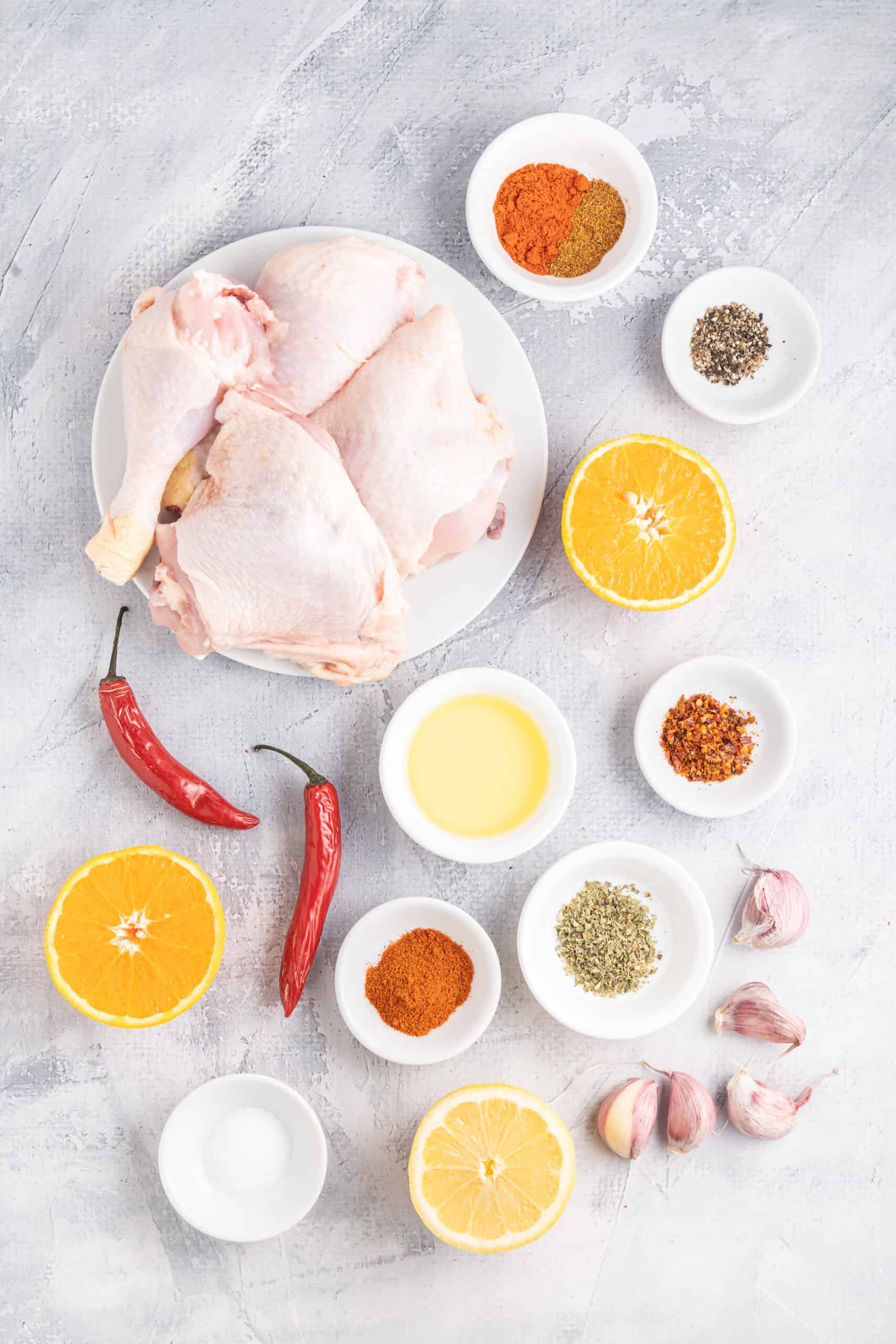 Pro Tips for This Peri Peri Chicken Recipe
Pro Tip 1: Make extra sauce to add when plating.
Pro Tip 2: Marinating time can vary. Let the meat rest in the peri peri marinade for at least 4 hours, but it could marinate for up to a day.
Pro Tip 3: If you're having a hard time achieving that smooth, thick texture in the sauce, you can add a bit more olive oil to the mixture ½ teaspoon at a time.
Pro Tip 4: A food processor or blender is absolutely needed for this recipe – merely mixing, chopping, and grinding on your own won't achieve the same smoothness.
Frequently asked Questions about Grilled Peri Peri Chicken
What is peri peri chicken?
It's a dish made with chicken marinated in a relatively spicy pepper sauce – it is definitely for those who enjoy spice!
It is generally made with bone-in cuts of chicken, which gives you the most moisture and flavor possible, though you could really apply the marinade to any cut.
Is peri peri chicken Portuguese or African?
The dish was created in South Africa but influenced by Mozambique Portuguese that passed through the country hundreds of years ago.
What does peri peri chicken taste like?
It's very spicy! The smoky, peppery heat is cut with citrus juice – a bit of sharpness from lemon, and a floral acidity from orange. The meat itself is tremendously tender and juicy after marinating.
Keep in mind that the heat can be easily adjusted. Extra heat can be achieved with an additional ½ – 1 teaspoon of cayenne, while less pepper can take away some of the spice.
What should I serve with peri peri chicken?
Saucy dishes are always best served with rice or bread. Additionally, a green salad or side of stir fried or roasted vegetables would add some must-needed freshness to your plate.
Peri Peri Chicken
Peri Peri Chicken is a mouthwatering combination of tingling heat and bright acidic flavor. It's marinated for maximum moisture and spice – don't skip this easy yet extraordinary Nandos chicken recipe!
Servings 2 Servings
Calories 701kcal
Ingredients
4 clove garlic cloves
1/4 cup lemon juice
1/3 cup orange juice
2 tbsp olive oil
1/2 tsp salt
1 tsp sweet paprika
1 tsp smoked paprika
1/4 tsp ground black pepper
1 tsp red pepper flakes
1 tsp dry oregano
2 piece red chilies seedless and chopped
1 piece bell pepper chopped
Chicken
4 chicken thighs or drumsticks
1/2 cup water
Instructions
Add all the Peri Peri sauce ingredients into a blender or food processor. Pulse until smooth.

Pour sauce into a small saucepan and simmer for 10 minutes to bold in flavors.

Place chicken in a large bowl and cover with the Peri Peri Sauce. Wrap it with cling paper and marinate for at least 4 hours or overnight.

When ready to bake, preheat the oven to 375F. Place chicken into a large baking tray and place it in the oven. Add ½ cup of water to the tray, so the chicken bakes crispy but juicy.

Bake it for 40 minutes or until nicely golden and cooked through.
Notes
This delicious and straightforward dish is a must-have recipe! Full of spices and flavor, this citric-spicy chicken comes with a homemade Peri Peri sauce to marinate the chicken and then baked in the oven until juicy and crispy.
Tips
You can make some extra sauce for serving.
Store leftovers, covered, in the fridge for up to seven days. Reheat it in the oven at 350F for 10 minutes.
Nutrition
Calories: 701kcal | Carbohydrates: 20g | Protein: 40g | Fat: 53g | Saturated Fat: 12g | Polyunsaturated Fat: 10g | Monounsaturated Fat: 26g | Trans Fat: 0.2g | Cholesterol: 221mg | Sodium: 785mg | Potassium: 973mg | Fiber: 4g | Sugar: 10g | Vitamin A: 4269IU | Vitamin C: 176mg | Calcium: 74mg | Iron: 4mg
Follow On Pinterest
Follow @bewitchinkitchen On Pinterest for more delicious recipes!