Chicken Fajitas Served with Cauliflower Tortillas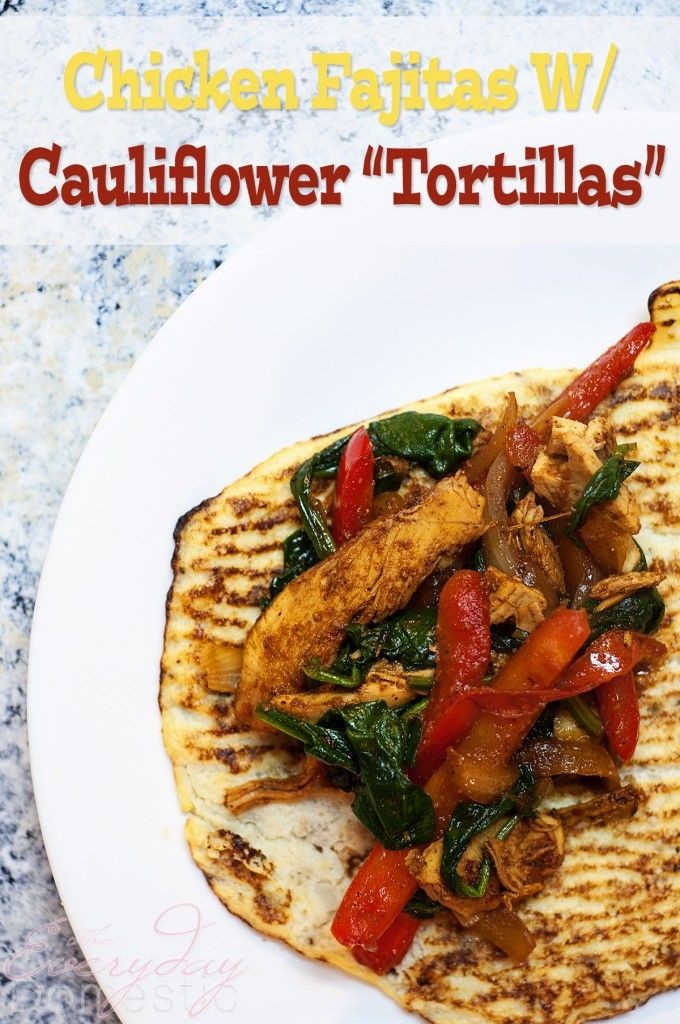 I love cauliflower, I love how versatile it is and I LOVE all the amazing "wheat swap" recipes I've been trying with cauliflower. Okay, that's a lot of love but it's my favorite vegetable. Move over cauliflower pizza crust, it's time for cauliflower tortillas.
Update: as I merged The Everyday Domestic to The Bewitchin' Kitchen, I lost a few photos. Please bare with me as I get them updated.
The cauliflower tortillas do crumble a bit, after my initial test I think they could use to stay in the oven for another five minutes or so. Next time I make the, I'll be sure to update this recipe.
I decided to try this recipe with chicken fajitas for two reasons:
I like chicken fajitas
It's what I had in the fridge.
Before I receive comments saying how these are not authentic fajitas, I know that. I put it together when I used cauliflower in place of actual flour and when I decided to use spinach because it needed a pop of color. That's the beautiful thing about recipes, you can always change them and create a new family favorite. I love adding spinach to my food, you don't taste it and it's an extra veggie!
Right at the step where I had to add fajita seasoning, I found that I didn't have any. So after a quick Google search I used this fajita seasoning recipe but left out the corn starch and sugar. I also doubled the cumin and used a full tsp of chicken bouillon.
Enough photos of me cooking (I'm just proud of some of the shots I got and want to show them off), here's the recipe:
Chicken Fajitas Served with Cauliflower Tortillas
Related recipes:
Chicken Fajitas Served with Cauliflower Tortillas
These Chicken Fajitas with cauliflower tortillas are tasty for the whole family.
Servings 4 people
Calories 251kcal
Ingredients
Cauliflower Tortillas
1 Head of Cauliflower
4 Eggs
2-3 cloves of garlic
1 tsp rosemary
1 tsp thyme
For The Fajitas
2 pre-cooked chicken breasts roughly 8-10 oz, sliced
1 tbsp olive oil
fajita seasoning link in post, I used the whole batch
1 onion sliced
1 red pepper cut into thin strips
2 cloves garlic
3 handfuls spinach sorry I'm not a formal cook most of the time
1/4 cup water
Instructions
For the cauliflower tortillas:

Cut the cauliflower into florets and toss in a blender or processor (if you have a good blender, I use a Ninja and it's awesome).

Once they become rice like, transfer to saucepan with 1/4 cup of water and cook, covered, on medium high for about eight minutes.

Drain the cauliflower and use paper towel to take away an excess moisture. Transfer to a bowl and add the eggs and spices.

Line a baking sheet with parchment paper, pour 5 tortillas and bake at 375 for 20-25 minutes.

Cool on a wire rack so they don't get soggy. (Don't do what I did and stack them on a plate.)

For the Fajitas:

Heat olive oil over medium high heat and add the onion and pepper. Saute until soft. Add garlic, chicken, seasoning and spinach. Give it a good stir and let the spinach wilt. Add water and reduce.

Serve with salsa, greek yogurt, black beans and your other favorite toppings.
Nutrition
Calories: 251kcal | Carbohydrates: 17g | Protein: 25g | Fat: 10g | Saturated Fat: 2g | Polyunsaturated Fat: 2g | Monounsaturated Fat: 5g | Trans Fat: 1g | Cholesterol: 209mg | Sodium: 782mg | Potassium: 992mg | Fiber: 6g | Sugar: 6g | Vitamin A: 3990IU | Vitamin C: 122mg | Calcium: 97mg | Iron: 3mg
Follow On Pinterest
Follow @bewitchinkitchen On Pinterest for more delicious recipes!
An added bonus to this recipe is the fact that it's so low in calories, but you feel full! You can thank all the vegetables and protein for that. This recipe is really easy to swap for a vegan option as well, instead of chicken add some more veggies like beans! I'm a huge fan of black beans and was really disappointed to find that I was out when I made this. I usually add black beans to my fajitas.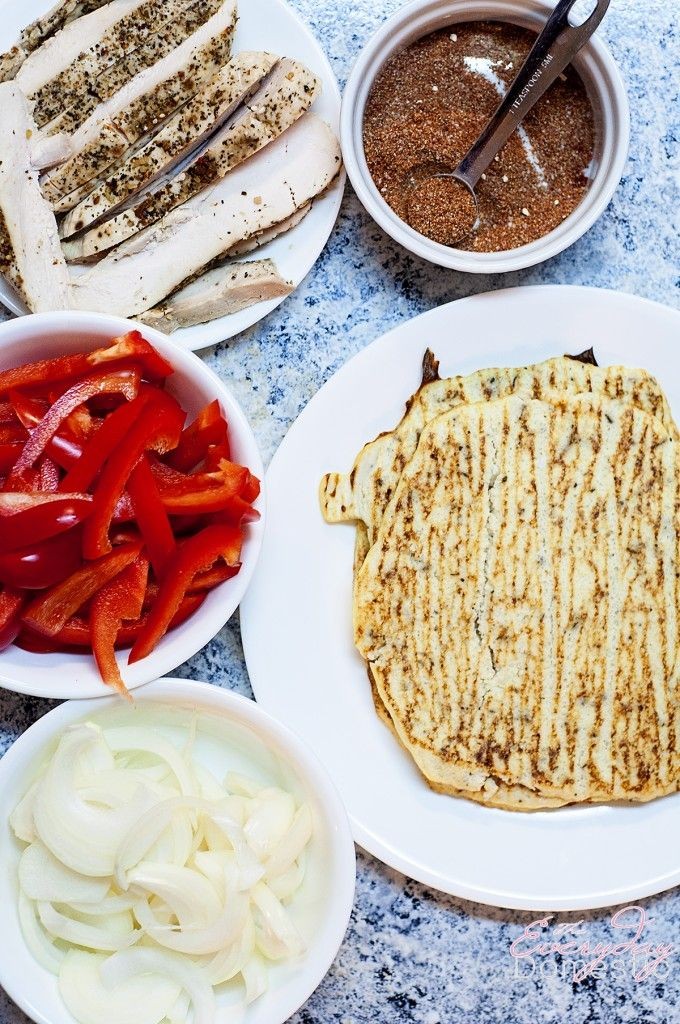 What's your favorite cauliflower recipe?