Chocolate Pumpkin Homemade Protein Bars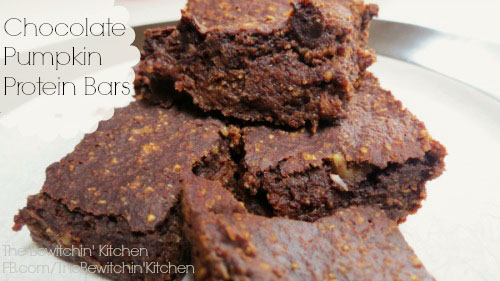 I love protein bars, especially the P90X bars that I used to order all the time. I've put a hold on my home direct order to save a little extra cash but I have been feeling lost. I really miss having a chocolate, high protein snack in the the late afternoon. After going through a million homemade protein bars recipe searches I found Jaime Eason's Pumpkin Protein Bars recipe and switched up a few things to make it suit what I had in my pantry.
I added Chocolate Shakeology instead of protein powder for two reasons:
It's all I have in my house
I wanted even more nutrients then that what this recipe originally offered (kale, spinach, chia, and about 67 other good for you ingredients).
If you don't have Shakeology you can order Shakeology from me or feel free to use a high quality protein powder that you currently have.
Chocolate Pumpkin Homemade Protein Bars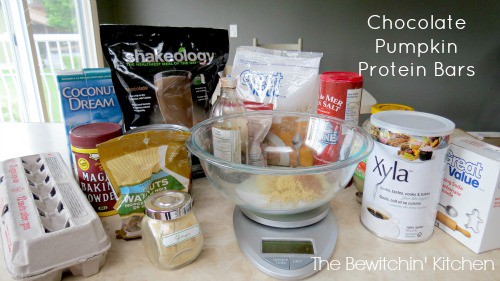 Ingredients
½ cup Xylitol (stevia would work as well)
1/2 cup unsweetened apple sauce
2 tsp cinnamon
1 1/2 tsp ground ginger
1 tsp baking powder
1 tsp baking soda
1/2 tsp sea salt (regular salt works fine)
2 tsp vanilla extract
4 large egg whites
1 can of raw pumpkin (15 oz)
2 cups oat flour (find out how you can make your own oat flour here)
2 scoops Chocolate Shakeology (or try the new vanilla variety)
½ cup almond milk, coconut milk or skim milk
1/2 cup walnuts (optional)
Method
Preheat the oven to 350.
Spray a 9 X 13 baking pan with non-stick butter spray.
Combine first 11 ingredients and mix well.
Add the final four ingredients and mix until it comes together nicely. Spread batter into the Pyrex dish and bake for 35-40 min.
I cut the pan into 32 servings, and each serving has approximately 72 calories. This recipe is incredibly filling, after two squares I'm satisfied and am held over until dinner. They're more like a protein brownie, then a protein bar.
I live on the North Coast of British Columbia and the climate is fairly humid. I have made this recipe twice now and baking times will vary. Bake until you can insert a toothpick or knife and it comes out clean. Try it in a few different places.