Easy, No Fuss DIY Bathroom Remodel
I don't have the patience for renovations, that's why I LOVED doing this easy DIY bathroom remodel. I didn't expect such a small budget remodel update to have as much of an impact as it has.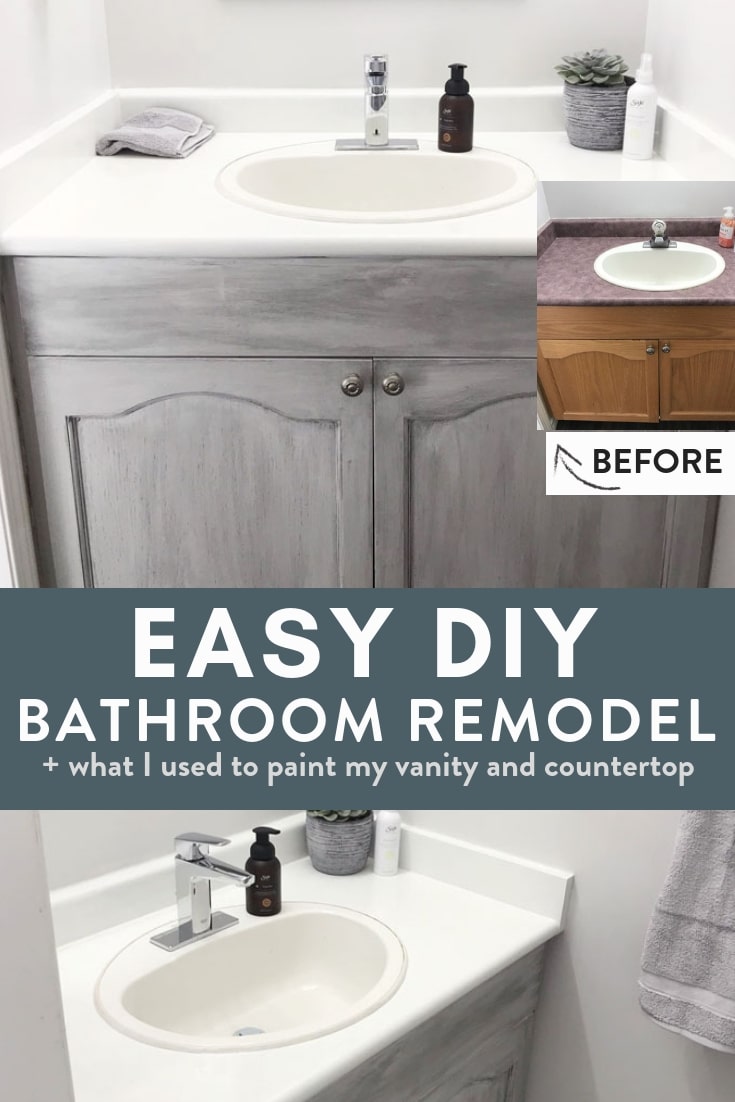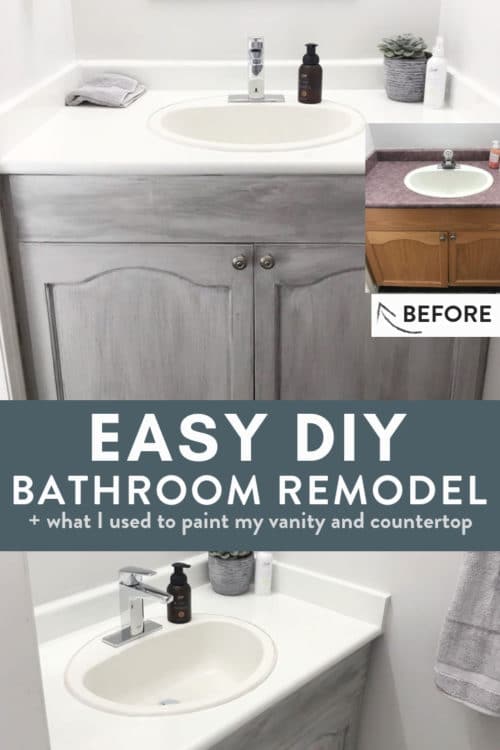 DIY Bathroom Remodel on a Budget
Disclosure:  This DIY Bathroom remodel has been sponsored by The Home Depot Canada. I received compensation for my time, all opinions are my own. Following Home Depot Canada on Instagram, Facebook, and Twitter. This blog post contains affiliate links.
Since we bought this house almost three years ago, we have done so many DIY renovations to our home:
Put up DIY wainscoting on the main floor.
Painted almost every room.
Overhauled and renovated the kitchen.
Refloored the main floor.
Put in a nursery (you can see it here on my Instagram).
Re-shingled the roof.
Put in a new double gate and extended the driveway behind it for RV/boat parking.
Put in fake built-ins and built a shiplap fireplace wall (still in progress).
Plus now we did a DIY bathroom remodel.
This house needed a bathroom update pronto.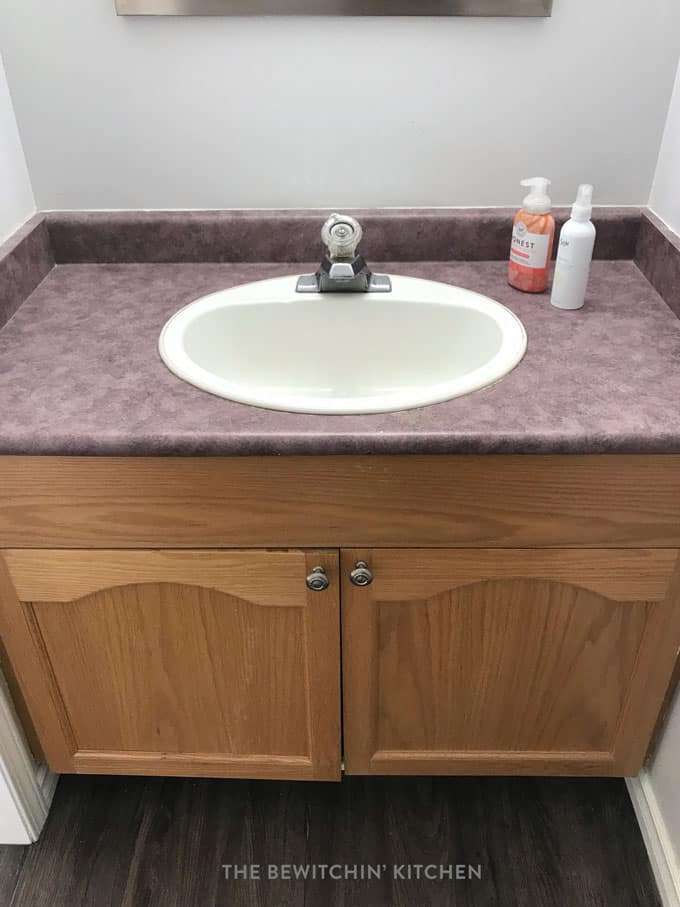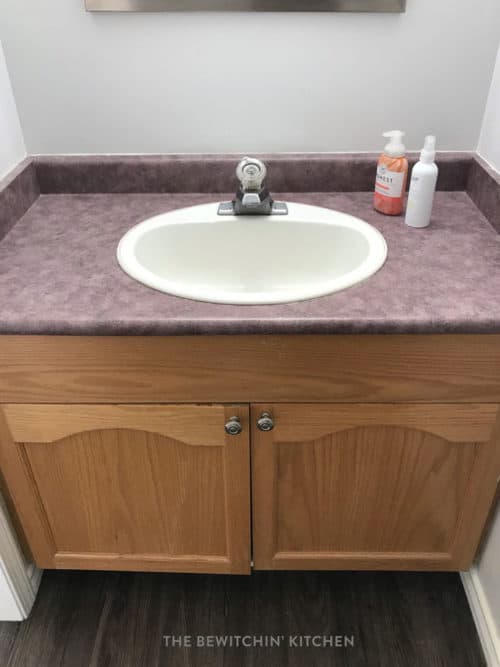 Before – yikes!
With classic 1990's oak and a purple speckled laminate countertop, it was time.
Man, oh man. Was it ever time.
The thing was, I didn't want to spend a lot of money.
I accomplished this bathroom renovation on a budget and I'm thrilled to share the results.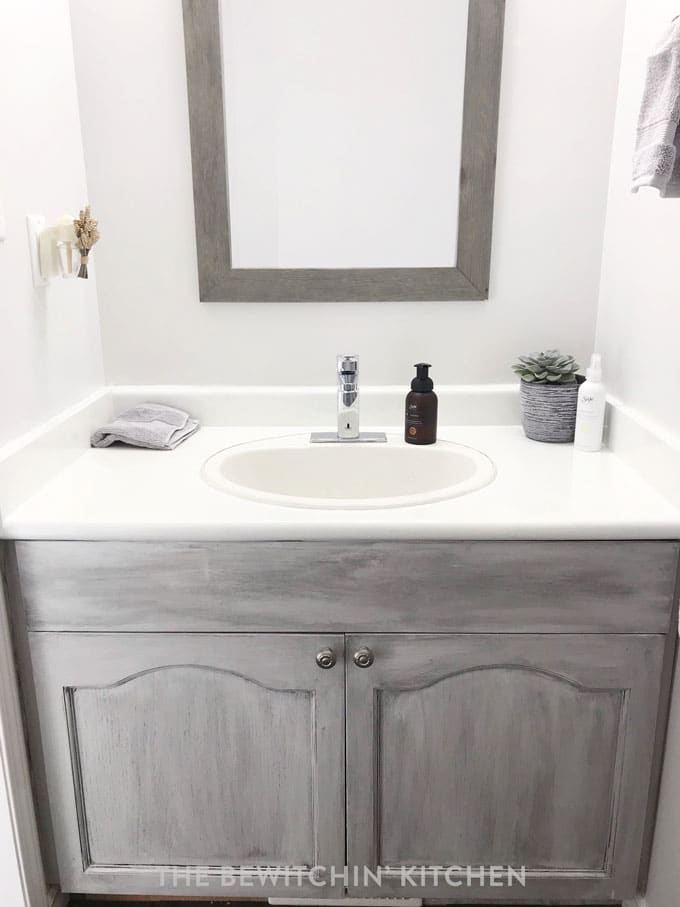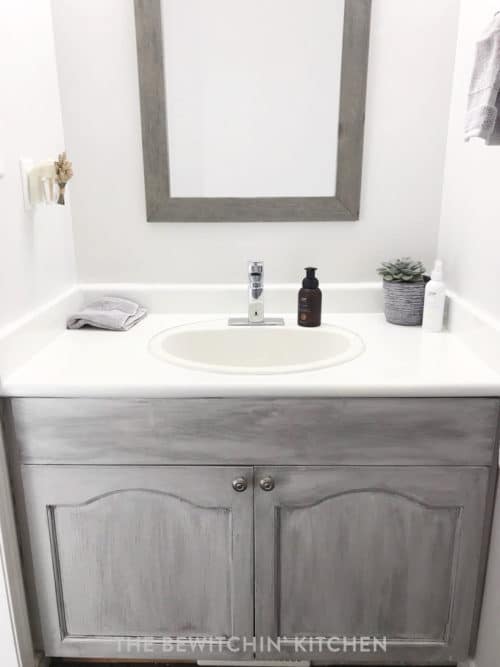 After – much better!
DIY Bathroom Vanity
The original plan was to replace the bathroom vanity entirely.
However, it's an odd size and for us to have one that would look good in the space it had to be a custom order.
Let's not forget to mention all the vanity's I loved were over my budget.
So I decided to paint my bathroom cupboards and countertop.
As I was walking through the aisles of Home Depot Canada, I wasn't sure what I was looking for when it came to the product.
I knew I wanted easy, I knew I wanted simple, and I knew I wanted a modern rustic look.
I came across a Chalked Decorative Glaze Project Kit, saw that it had everything I needed for $45 and was sold.
Chalk based paint was high on my list because I didn't want to sand down my cabinets. I wanted a no fuss.
This kit comes with the following:
Chalked paint
Decorative Glaze
Top Coat
Brush
I won't get into how I did it as I'm sure there are a million tutorials out there. I did want to show you what I used and share with you how much I love it.
The best part?
I still have enough for another vanity (possibly my double vanity).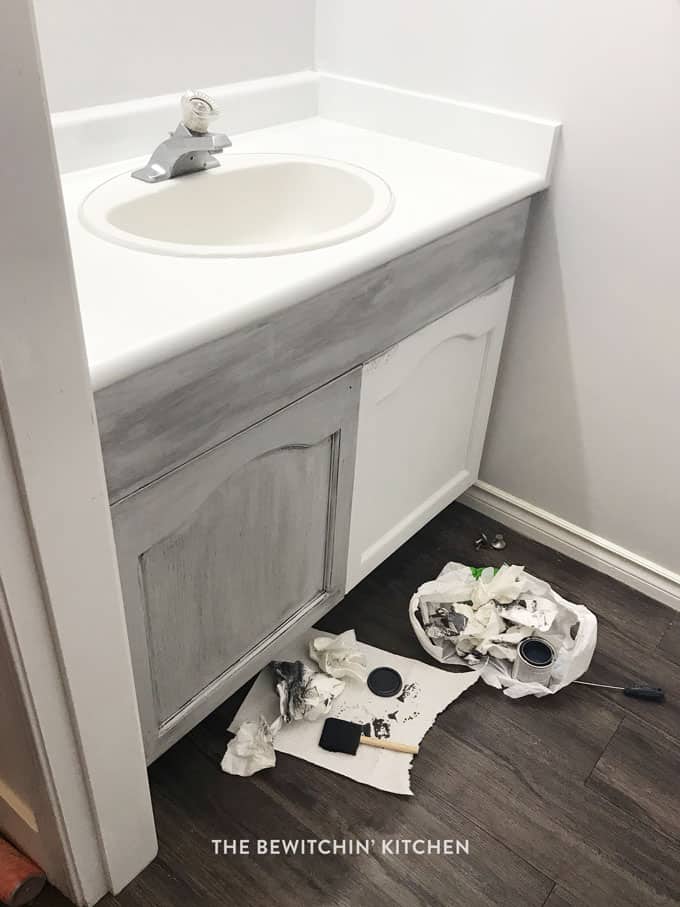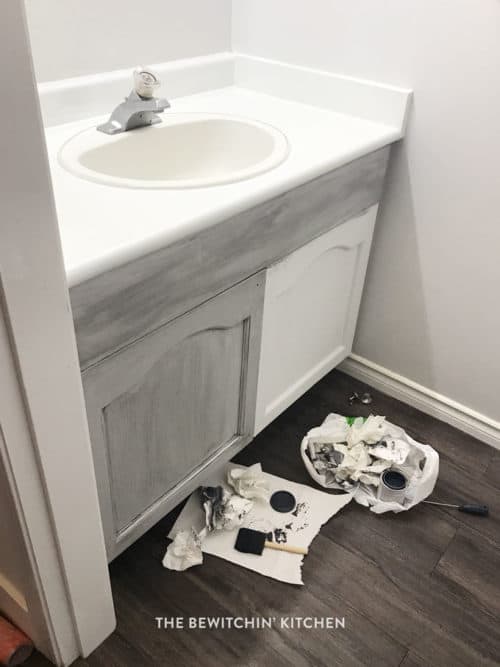 See, I told you I wanted no fuss! I didn't even remove the doors (not recommended).
DIY Bathroom Countertops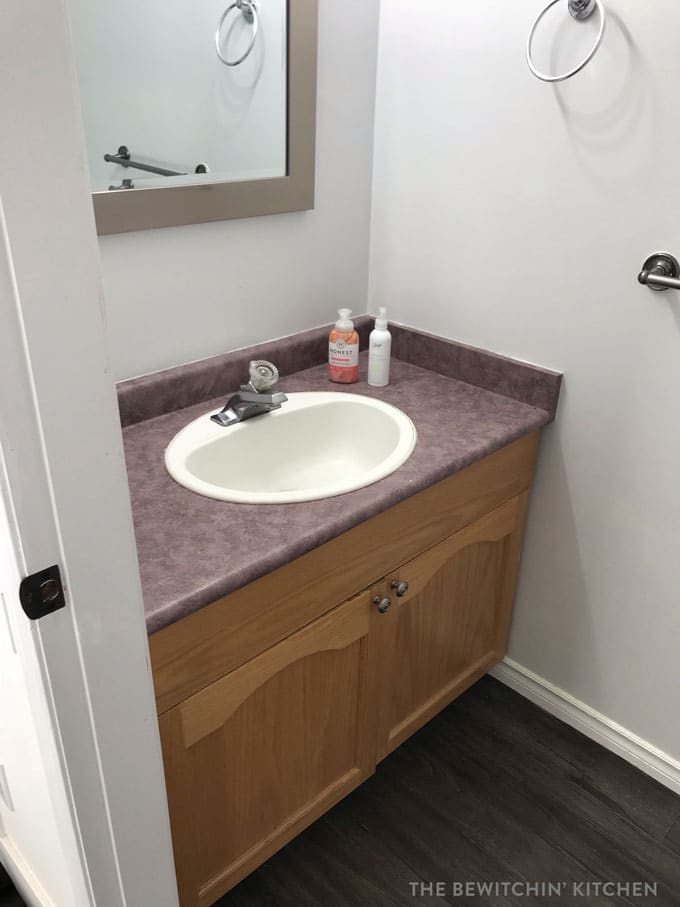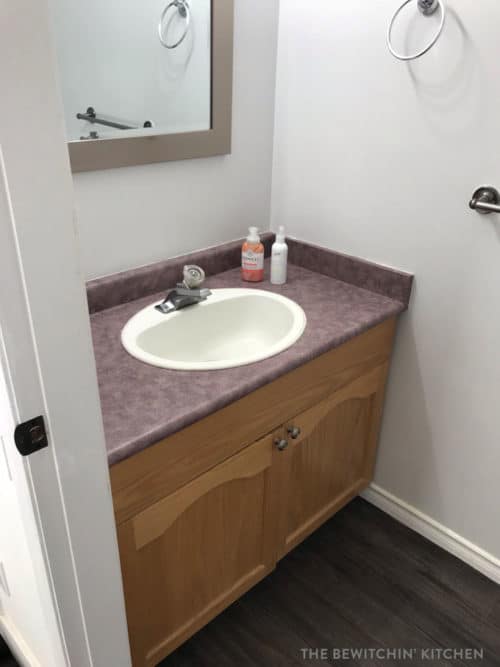 Before – adios 1996!
I knew going into Home Depot Canada that I was going to buy a Countertop Transformations Kit in White Mica.
I was looking at reviews online and reading reviews for a few weeks and wanted to try this one.
It cost a little more than I wanted to spend ($200) but I figured I could use it on my other countertops too.
Side note: I later found out that I couldn't as once you mix the topcoat together you have to use it within four hours (I haven't started my other bathroom projects yet). I have over 3/4 of the paint left so I will head back to see if I can purchase the two-part epoxy separately. 
The bathroom countertops were a little more involved.
It was easy, but I was stressed with the process because I only had one shot (queue Lose Yourself by Eminem).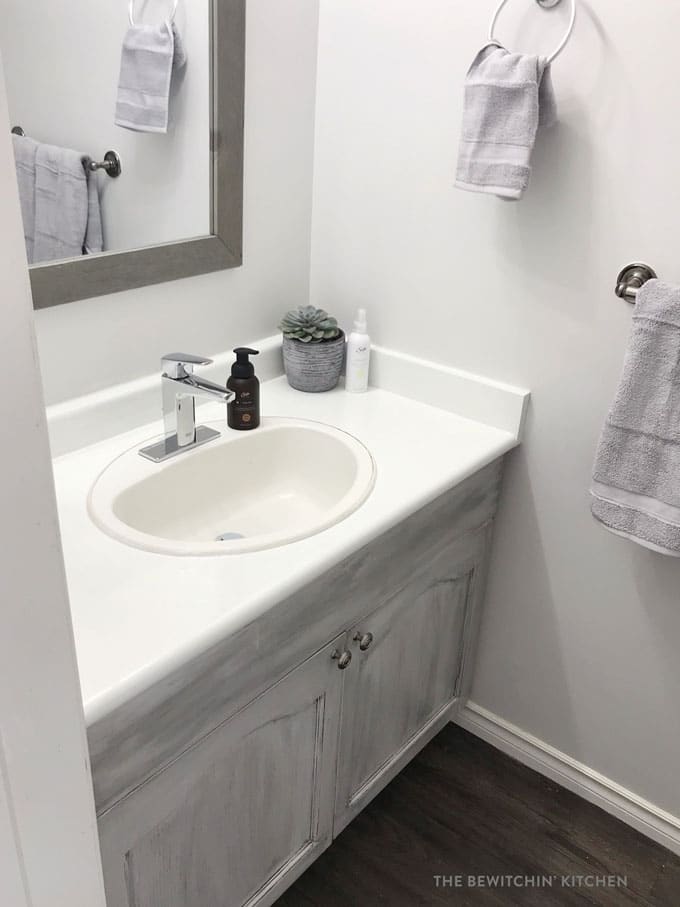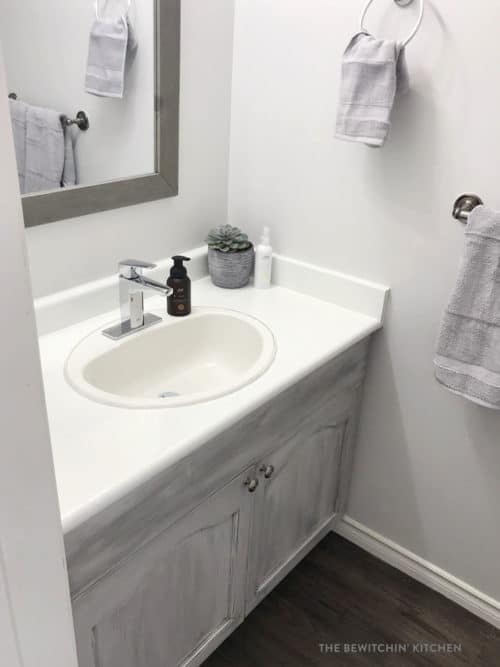 After – Hello 2018!
The end result is a clean look, but it's not as smooth as I would hope because of the rollers provided. In all honesty, I prefer what I used for these painted countertops.
Vanity Faucet and Sink
To keep my DIY bathroom renovation on the affordable side, we decided to keep the sink. It's old, it's not as nice as the new ones but when it comes to remodeling on a budget, you have to make sacrifices.
I did update my faucet and it made a massive difference. 
I chose the GROHE Tallin Faucet Bathroom Faucet.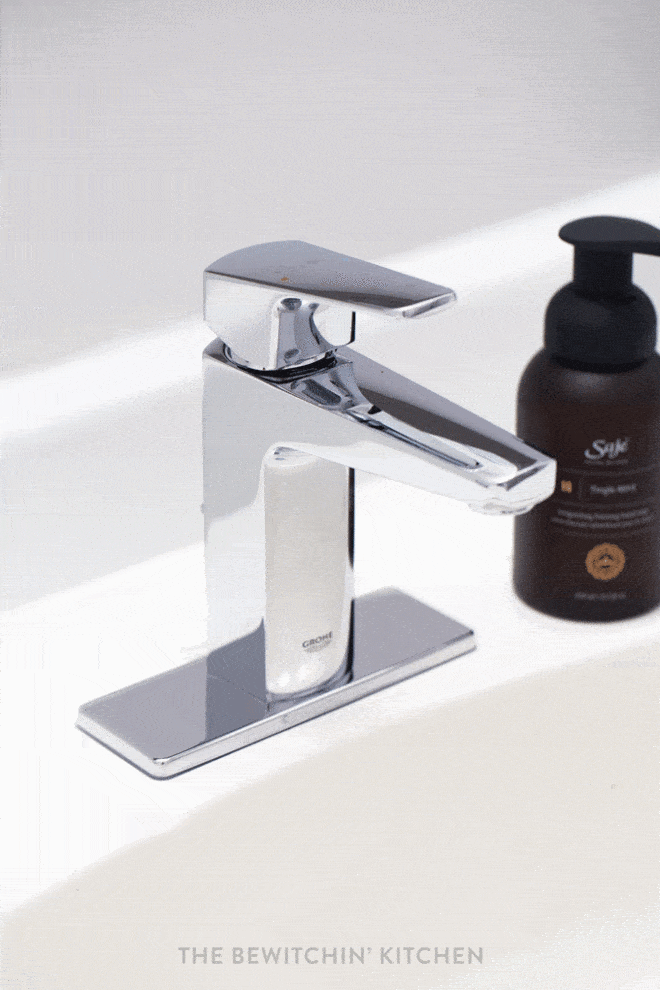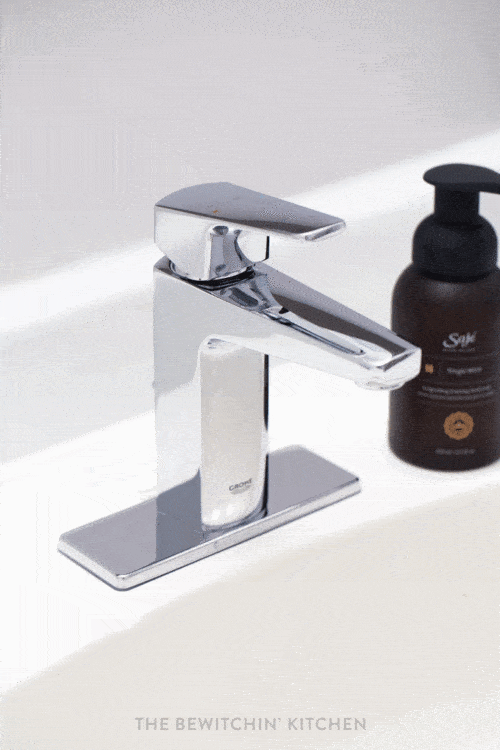 It gave my whole remodel a modern and upscale look. I love it.
Along with the bold looking that the Grohe faucet brings, it also has some great features such as:
Grohe StarLight. This provides a radiant long-life shine that resists dirt and tarnishing. It's also 10x more resistant to scratches (perfect for a family with littles).
Grohe SilkMove Cartridge. This cartridge provides smooth handling and precise control.
Grohe EcoJoy. The EcoJoy has a flow rate conserves water without sacrificing performance.
I had my husband install the faucet and it took him no time at all.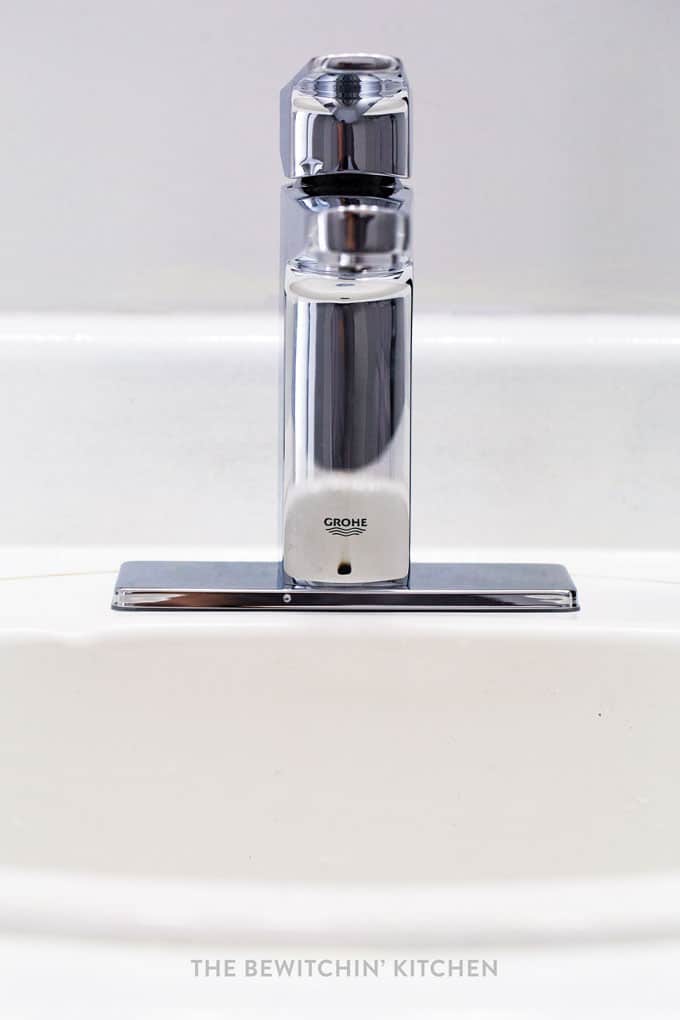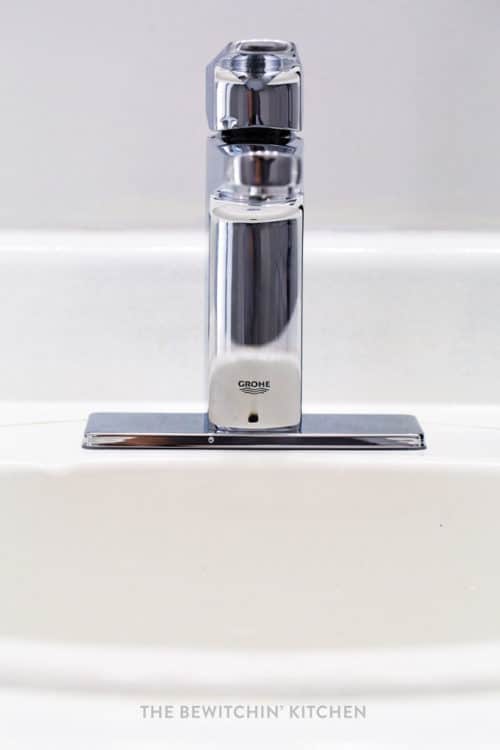 It looks fantastic.
Next on the reno list? The upstairs bathroom and ensuite.
The upstairs bathroom and ensuite have the same colors, I'll be doing the same as we did to the powder room.
The results of this DIY bathroom reno have been amazing. I'm so impressed with the results.