Easy Bathroom Remodel
This easy bathroom remodel doesn't require any sanding, cutting, or plumbing! Create a simple, no-fuss update to your outdated bathroom vanity. These tips for a budget small bathroom remodel are a quick way to bring your space into the 21st century without spending a fortune.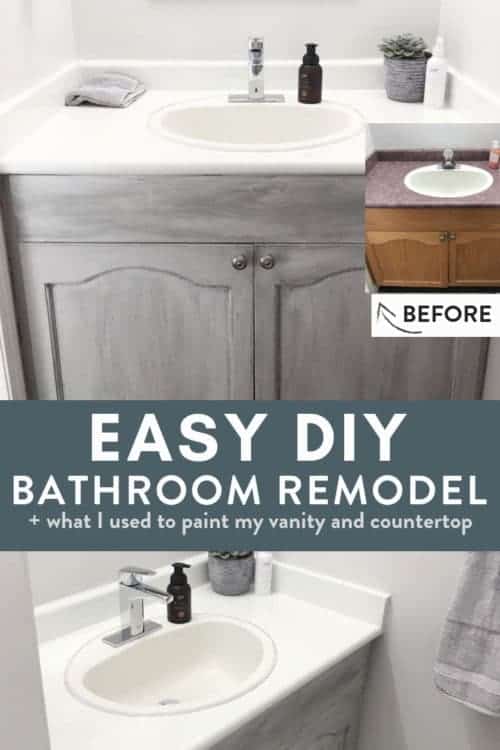 Easy Bathroom Remodel
These bathroom DIY renovations are so simple! It's amazing what a coat of paint can do for your cabinets and countertop. Add a fresh, modern faucet, and the room looks brand new.
You can lump this DIY bathroom remodel with our other home updates, which include our DIY wainscoting and staining the deck. You can barely recognize it as the same house we bought 3 years ago!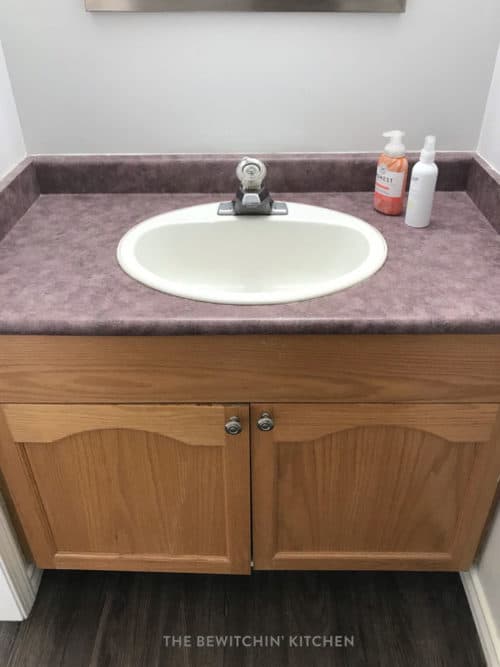 Before – yikes!
Why You'll Love These Bathroom DIY Renovations
Convenient – A couple of pre-made kits make transforming your cabinets and your countertop into a brand new vanity easier than ever.
Affordable – This budget small bathroom remodel was done for pennies, without replacing any of the existing features (except the faucet).
Easy – Anyone can do these bathroom DIY renovations, even if you're not experienced in the home improvement realm!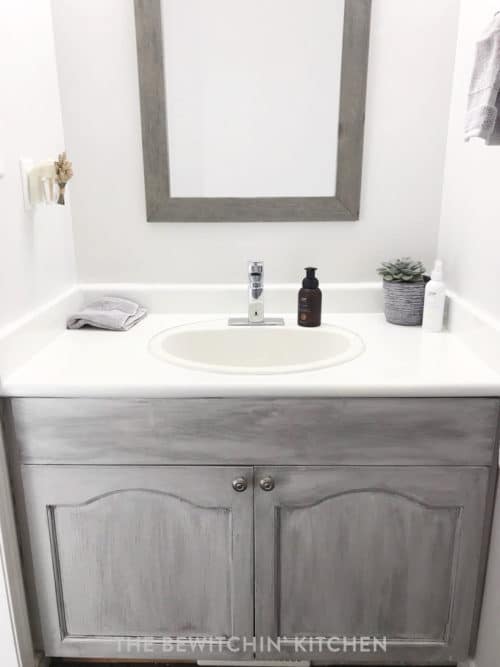 After – much better!
How to Pull Off This DIY Bathroom Renovation
Get the Right Tools
The original plan was to replace the bathroom vanity entirely. However, it's an odd size and would have to be a custom order.
Let's not forget to mention all the vanities I loved were over my budget.
So I decided to paint my bathroom cupboards and countertop. By buying just 3 items – a chalk paint kit, a countertop kit, and a fresh faucet – I minimized the number of supplies I needed to buy and saved a ton of money.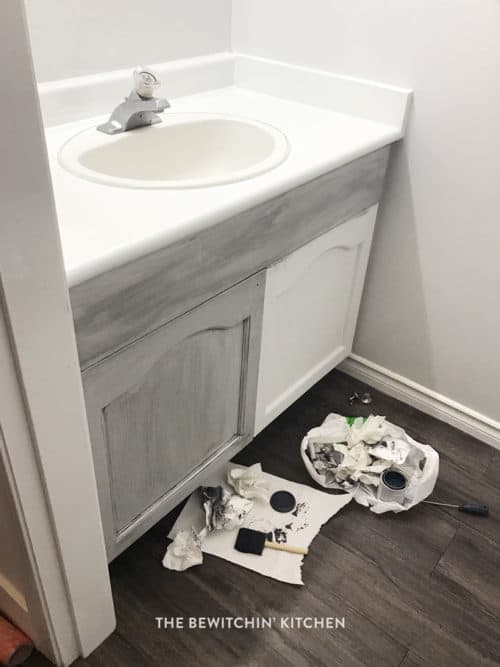 Choose Chalk Paint
I came across a Chalked Decorative Glaze Project Kit, saw that it had everything I needed for the cabinets, and was sold. I didn't even need to buy extra brushes for this part of my DIY bathroom renovation.
Chalk based paint is a no-fuss option for your easy bathroom remodel because it doesn't require any sanding.
I won't get into how I did it as I'm sure there are a million tutorials out there. I did want to show you what I used and share with you how much I love it.
The best part?
I still have enough for another vanity (possibly my double vanity).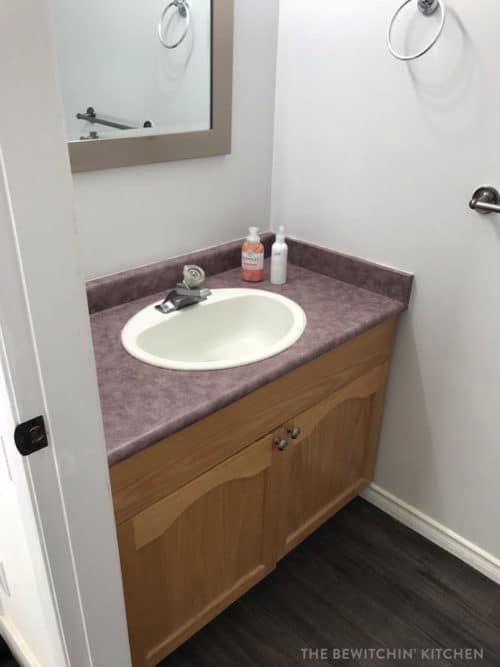 Before – adios 1996!
Transform the Countertop
I bought the Countertop Transformations Kit in White Mica from Home Depot. After looking at reviews online for week, this was the one I wanted to try.
It cost a little more than I wanted to spend, but I figured I could use it on my other countertops as well to make it efficient.
The bathroom countertops were a little more involved, but it was easy to do following the kit's instructions.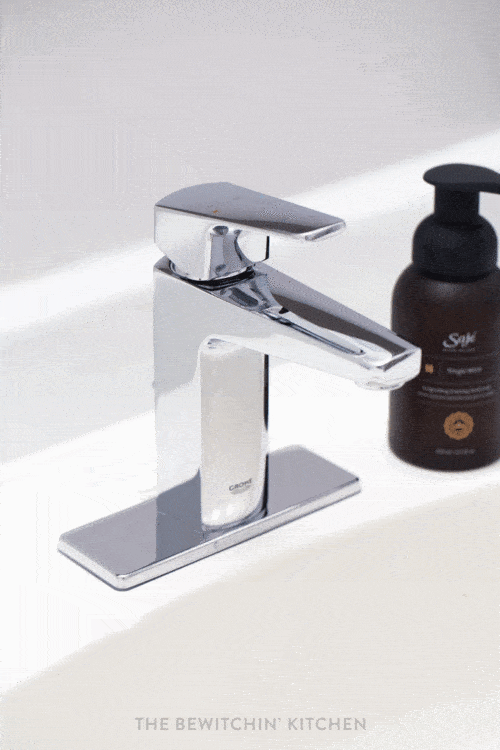 Finish the Look With A Modern Faucet
To keep my DIY bathroom renovation on the affordable side, we decided to keep the sink. It's old, and it's not as nice as the new ones, but when it comes to remodeling on a budget, it was a sacrifice we were willing to make.
Updating my faucet made a massive difference in making the whole vanity look more upscale.
It gave my whole remodel a modern and on-trend look. I love it.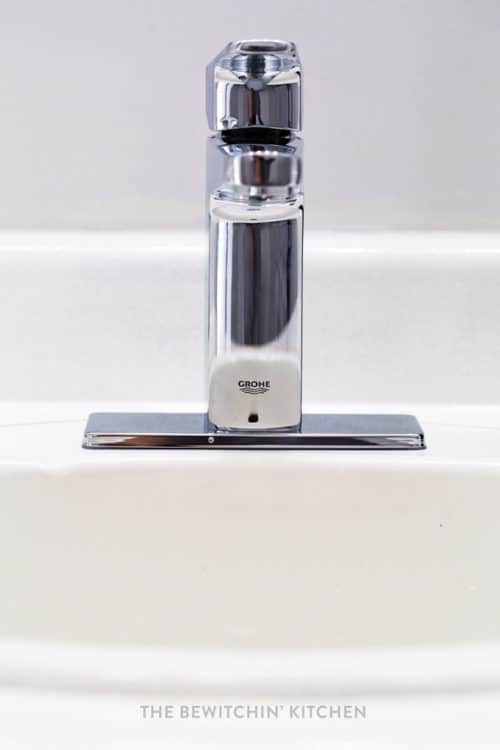 Bathroom Remodel Before And After
My bathroom remodel before and after photos speak for themselves. These easy, budget-friendly tips can turn any small bathroom into a modern, on-trend space in your home. Purchasing the right tools (like these kits!) saves time, money, and has a huge visual impact.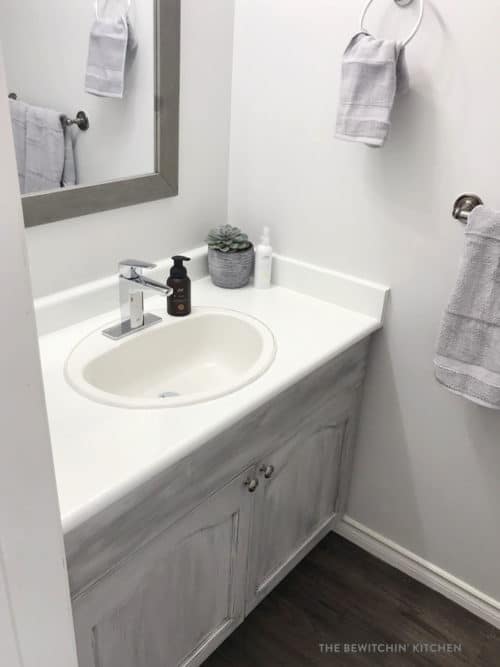 After – Hello 2018!
Frequently Asked Questions About A Budget Small Bathroom Remodel
Are the Supplies Included In Home Improvement Kits Quality?
Kits of all kinds get a bad rap! It's to be expected that the brushes and rollers in these kits aren't going to be of the same quality you could buy on your own. However, the tools in these kits also aren't meant to be put in the garage to use over and over.
My bathroom remodel before and after photos show that the tools included in the home improvement kits perform their job well, keeping your investment low.
How Much Do I Have to Spend for A DIY Bathroom Remodel?
That's entirely up to you! I recommend starting with a budget, then narrowing down your project based on that. I wanted to spend less than $500 on an easy bathroom remodel, so I got the painting kits rather than replacing the entire vanity, and forewent replacing the sink. The kits also come in a range of prices, ensuring you're able to update your space in a budget that you're comfortable with.
More Home Improvement Posts