I Survived My DIY Kitchen Renovation + Before & Afters
If you've been following me on IG stories you've been with me on my DIY kitchen renovation journey. From the demolition to near completion – you've seen it all. Now I'm going to share more and tell you about my experience with the Eurostyle Oxford Cabinets from The Home Depot.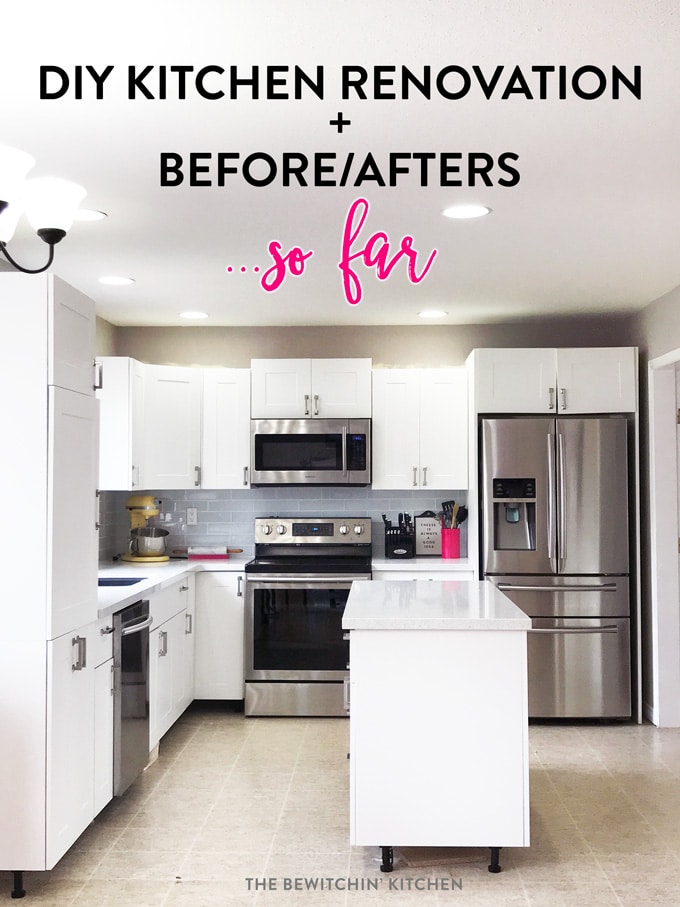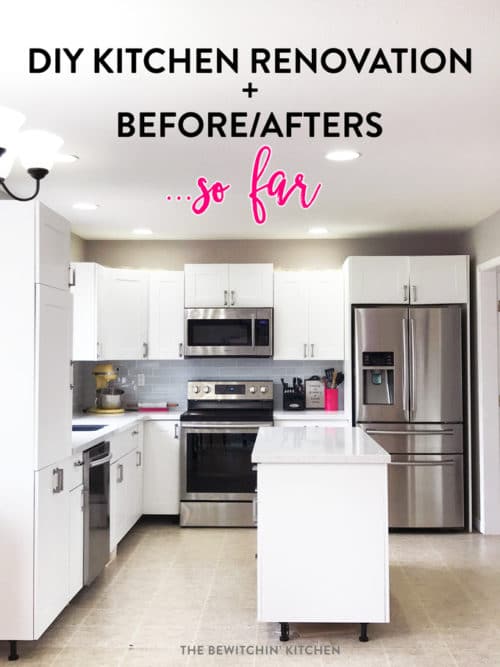 Disclosure: this post contains affiliate links.
I have always wanted a white kitchen. As odd as it sounds, the idea of a bright, clean, kitchen makes me feel at peace. At our last house, I decided that painting our 1970s cabinets were the way to go since I didn't have a budget for a kitchen overhaul (and the nearest Home Depot was 6-7 hours away).
This time I wanted new cabinets, not just doors, I wanted the whole shebang.
Note: All supplies used in this kitchen reno is listed at the bottom of this post.
Our kitchen isn't done yet, but we're so close! Once the new floor goes in, it will all come together and I'll update you with a final image then!
Planning a Kitchen Renovation
On Christmas Eve, my husband opened one of the cheap drawers that came with our house and it fell apart in his hands. He had enough, we decided that in the new year we were going to look at Home Depot and get some quotes.
The kitchen that came with our house was limited. I didn't have a pantry and had very little storage, not helpful as a blogger who cooks for a living! We went to a few different renovation stores but we chose The Home Depot in the end. I'm going to be honest, towards the end I was going back and forth between The Home Depot and IKEA. However, IKEA was a 9-hour drive away and they're not known for their service. Our local Home Depot is a 2-minute drive from my house and we both knew that there would be multiple trips and that it was the best route. I was expecting our renovation to cost more with The Home Depot, but then I met Chrissy.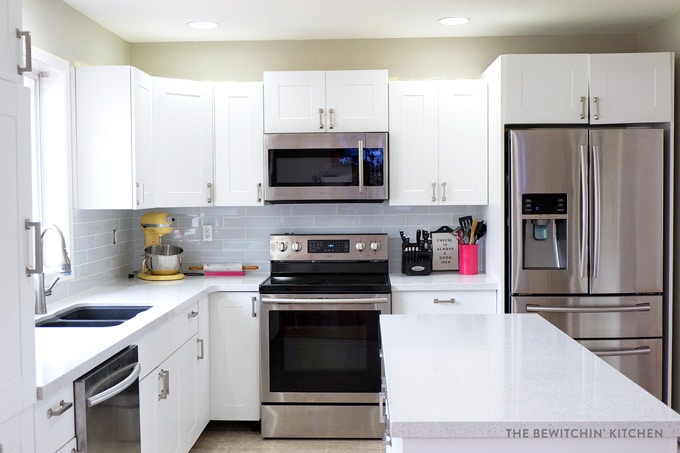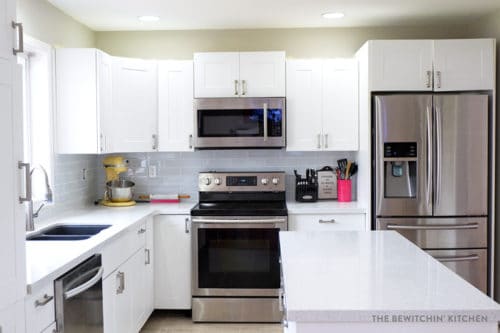 Chrissy was our kitchen designer and helped me out throughout this whole process. She was really smart with ideas to cut costs and make this renovation affordable for us. Originally, I was going to keep the design of the previous kitchen but she was able to reconfigure the design to include a pantry and an island. This maximized our space and made my husband very happy – all under budget. Chrissy even talked about out of the tiles I thought I would love by showing me what it would look like. I ended up buying glass subway tile that I would never have picked without her.
I know I'll be asked, our kitchen cabinets total was $3963.08 – this was a whole new kitchen and included an upgrade to my pantry. There was a sale on in-stock cabinets and we took advantage, the only custom product I ordered was the pantry. I ordered in a 24″ wide pantry because I knew that the 15″ stock was not enough. This upped my cost by about $500 but it was worth it.
DIY Kitchen Renovation
One of the reasons why the cabinets were so affordable was because you had to build them yourself. I wouldn't do that again, and I hired my brother to build them for me.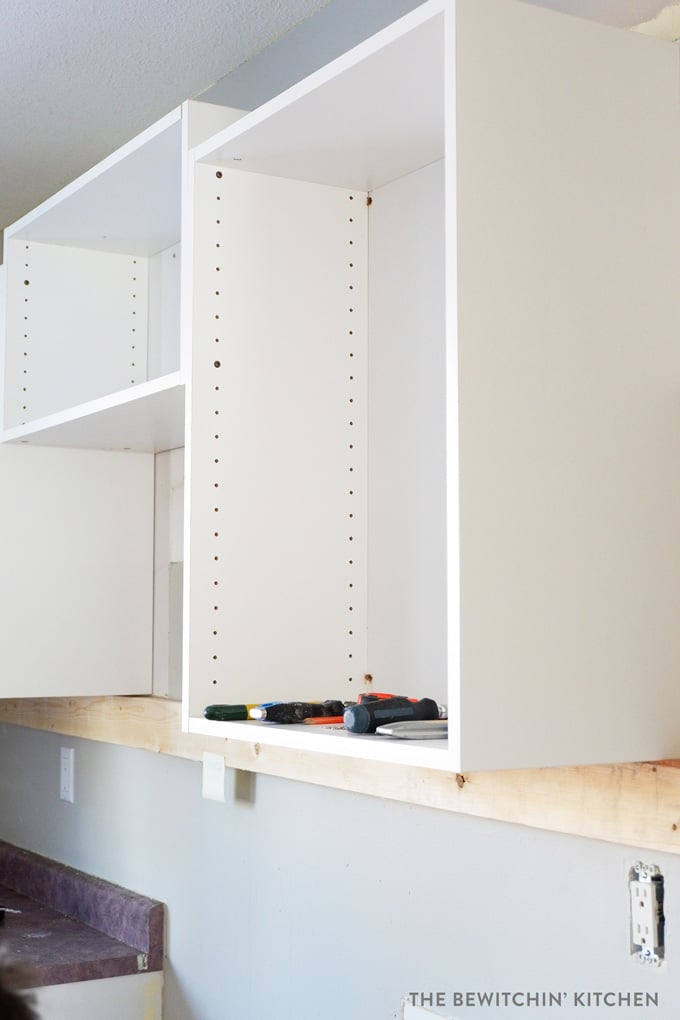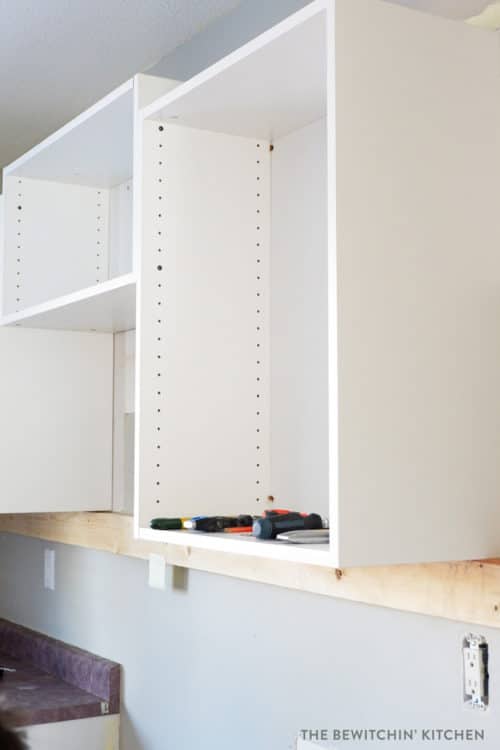 Once the boxes were built and the originals were out of the way, it was time to hang them.
TBK's Pro Tip: Hang a 2×4 level and install your cabinet boxes on top. That way, you'll ensure they're level.
I had no idea how we were going to do it, thankfully my husband did. He screwed a 2×4 level into the wall and used that as a guide to set the cabinet boxes on top.
Essentially, that's it. Installing the cabinets were not difficult, they were simply time-consuming.
However, you need to prepare yourself for the mess. Here's what my house looked like during the weeks of this renovation.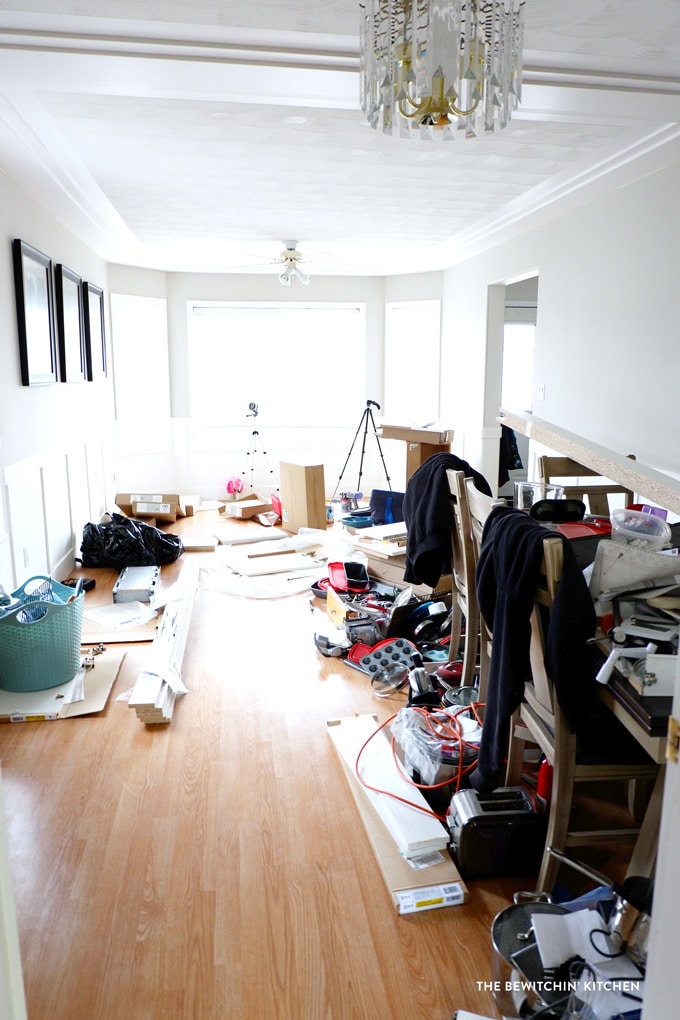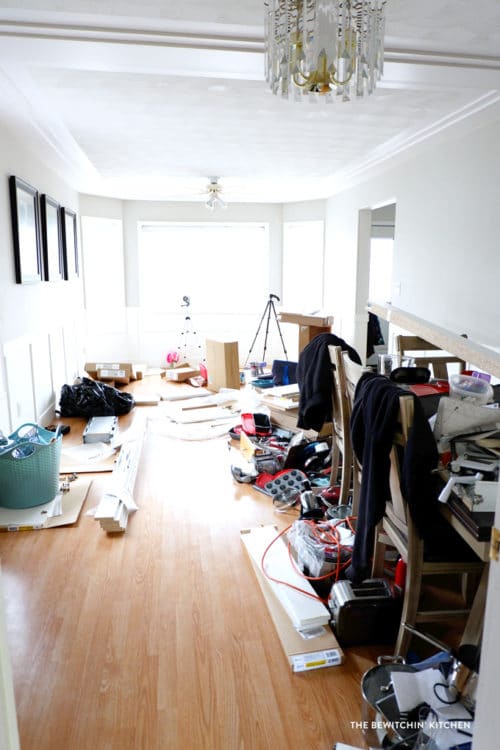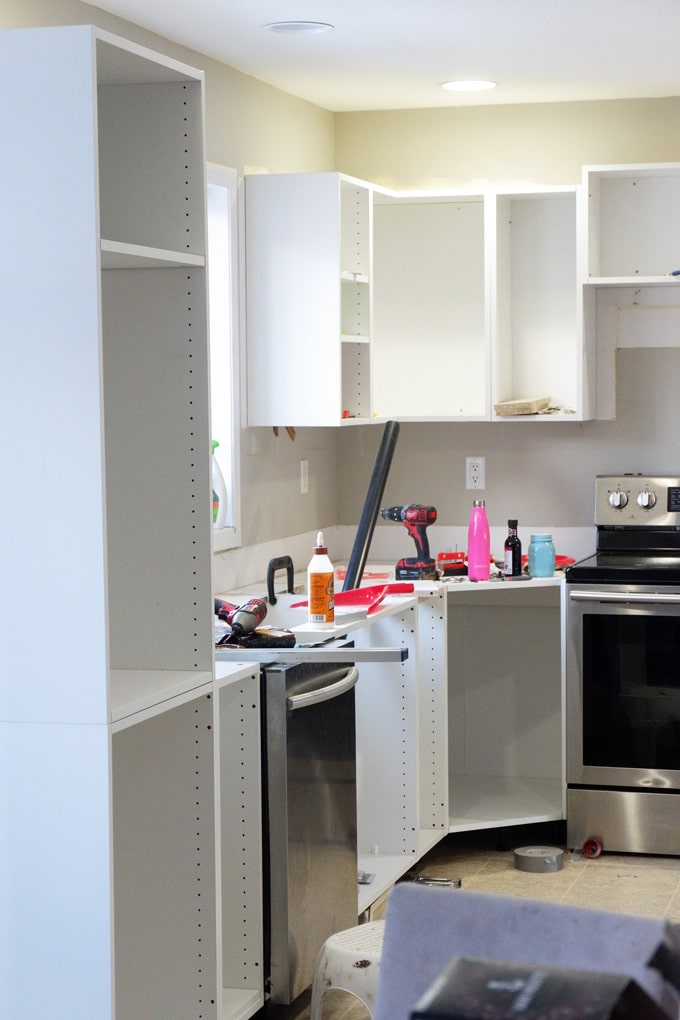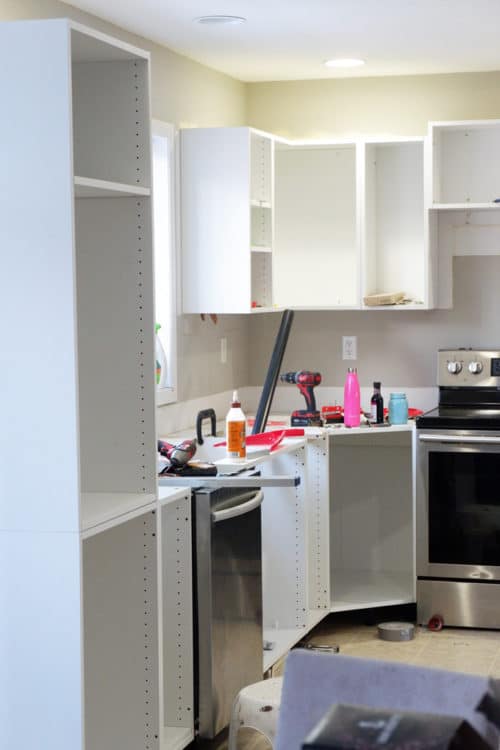 Wait…there's more. Are you ready for it?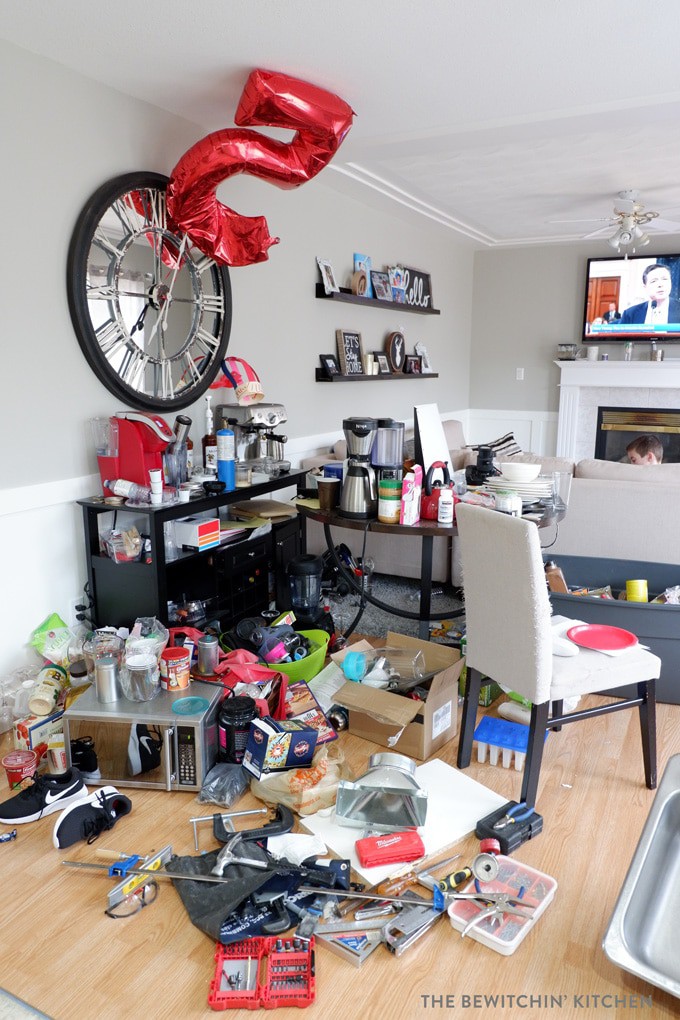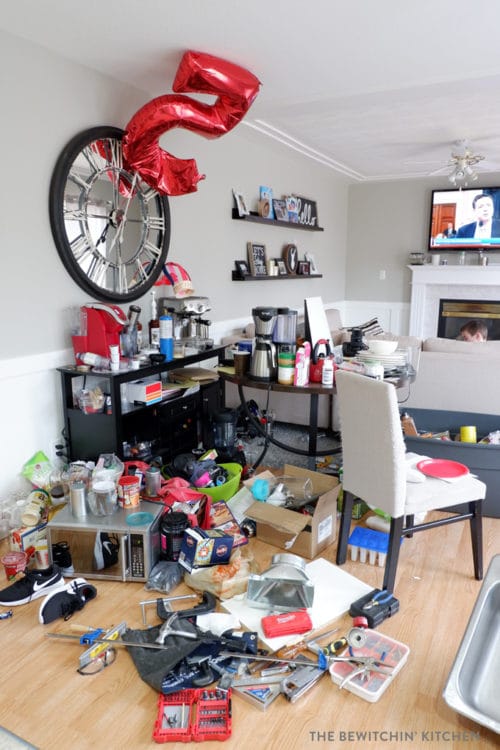 I did really well considering, but I have to be honest. I was pretty quick to snap towards the end of the reno. I don't do the best in messy situations!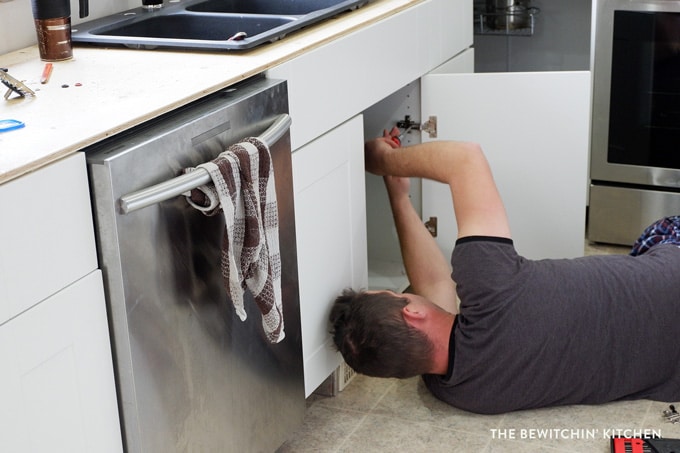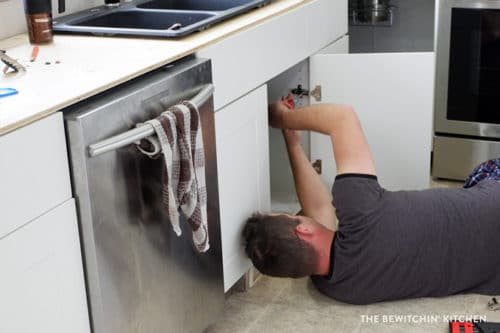 This point of the renovation felt so good! I knew we could see the finish line as we installed the doors. Be gentle with the hardware for installation, they break very easily.
Silestone Stellar Snow Quartz Countertops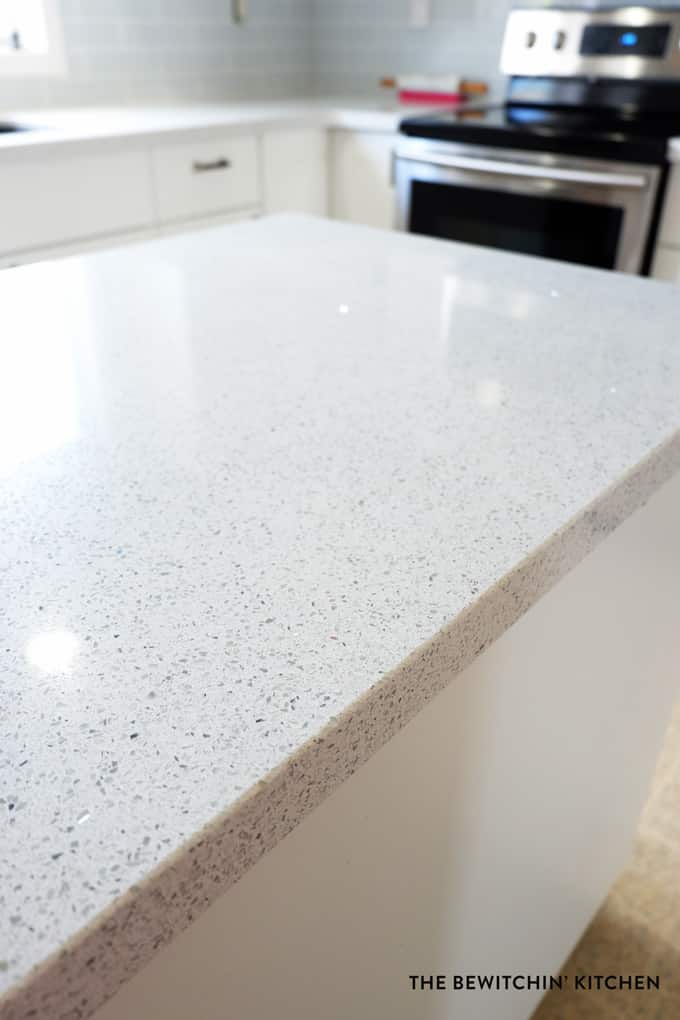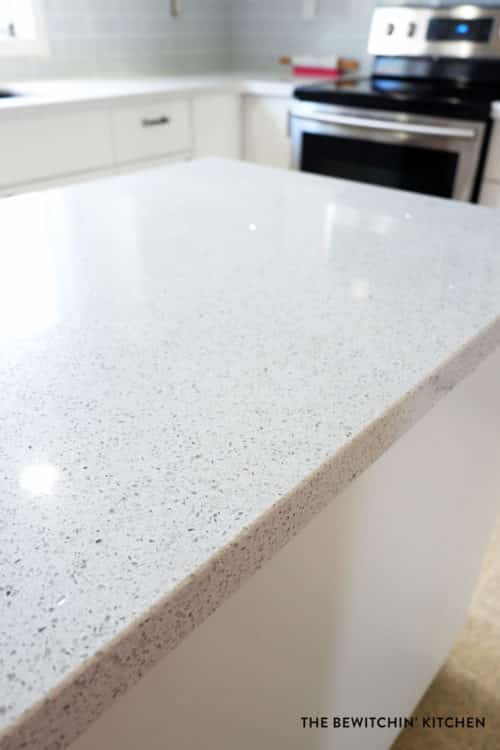 I am absolutely in love with my countertops. Originally, we were going to save money and do laminate but after realizing that the edges on the island wouldn't be consistent, we upgraded to quartz. I wanted a marble looking quartz, but they were not in our budget. We opted for Stellar Snow by Silestone. We price matched at a few stores in our city and Home Depot beat one company by $4000! What? Seriously? Yeah.
I'm up in Northern BC, and the quartz countertops come from Valley Countertops in Abbotsford. They sent a guy up to measure and then sent a two-person crew for install. I have to admit, it was nice to not have to DIY the quartz. I was also surprised to hear that Valley Countertops does all of BC, a lot of Alberta and even Saskatchewan and Manitoba.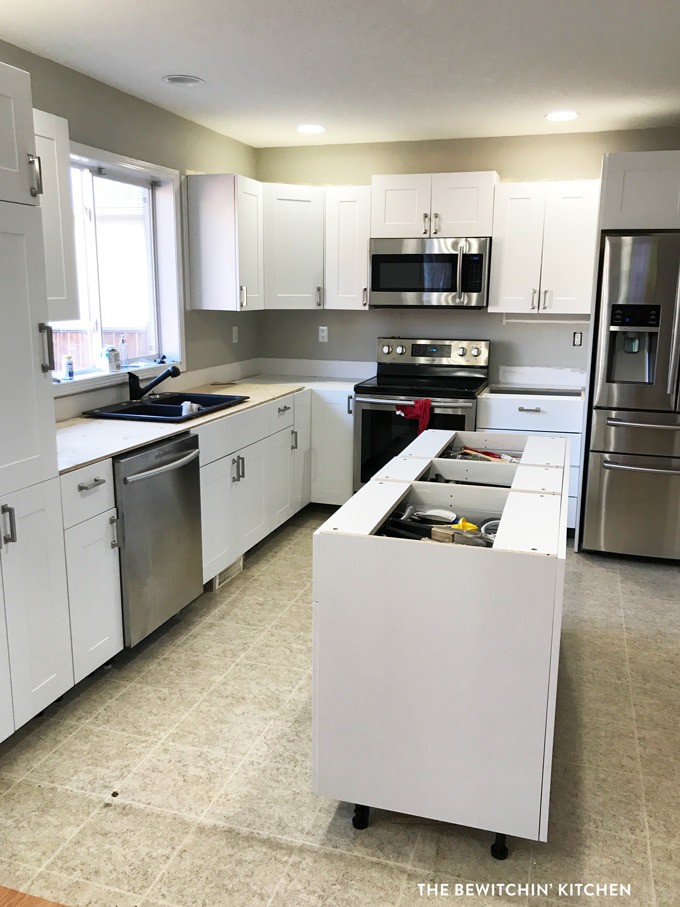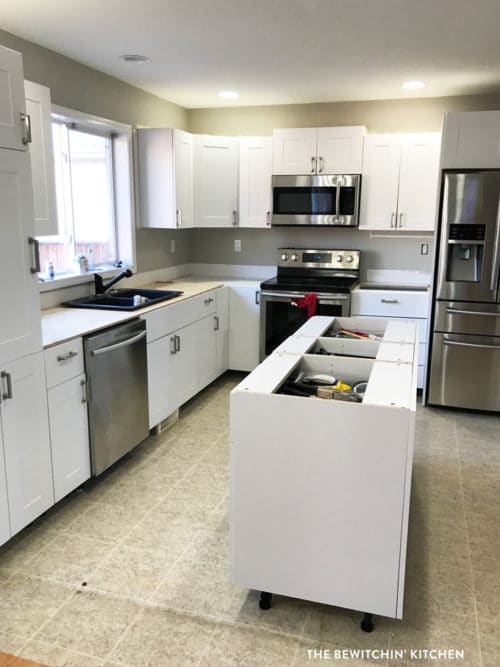 Something to consider, you will be waiting for the quartz to be cut and transported. I waited for 4 weeks (which wasn't bad). Get used to a plywood countertop!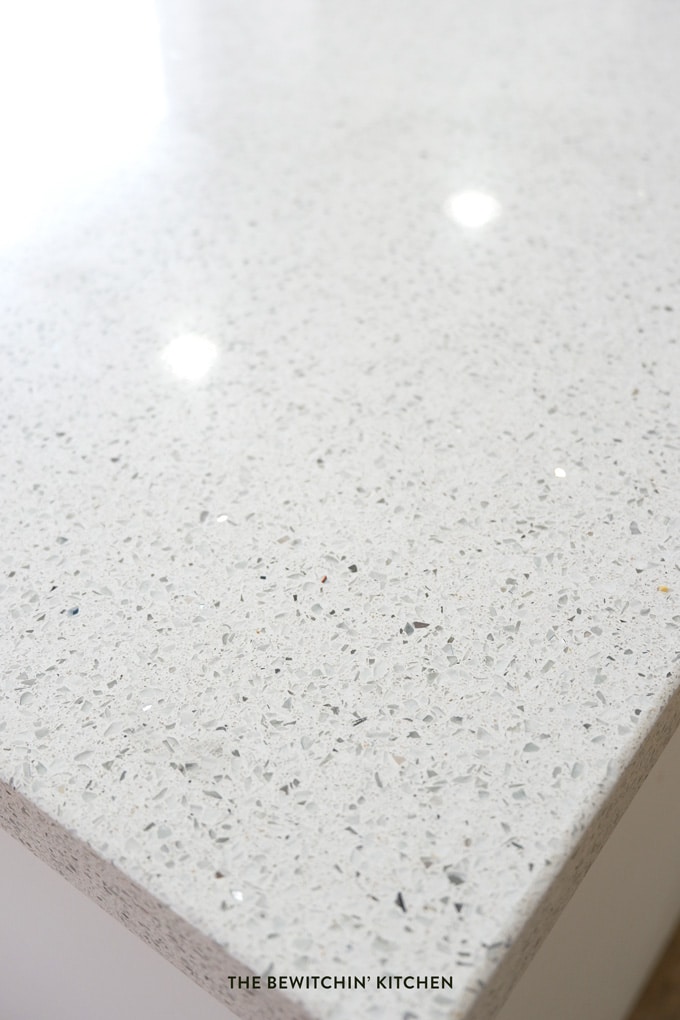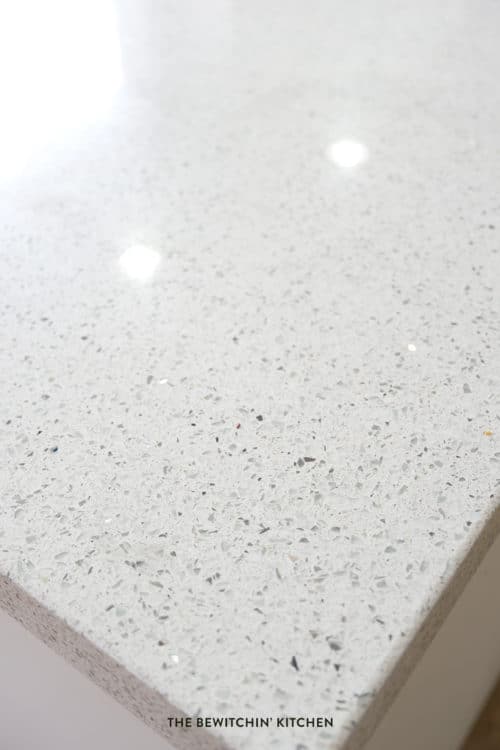 The verdict? I love my quartz! I am so happy my husband talked me into them. They are a breeze to clean. I have an under mount sink and the crumbs fall in. They're always shiny and you guys – the countertops have glitter in them. The glitter is hard to capture in the photos but it's there.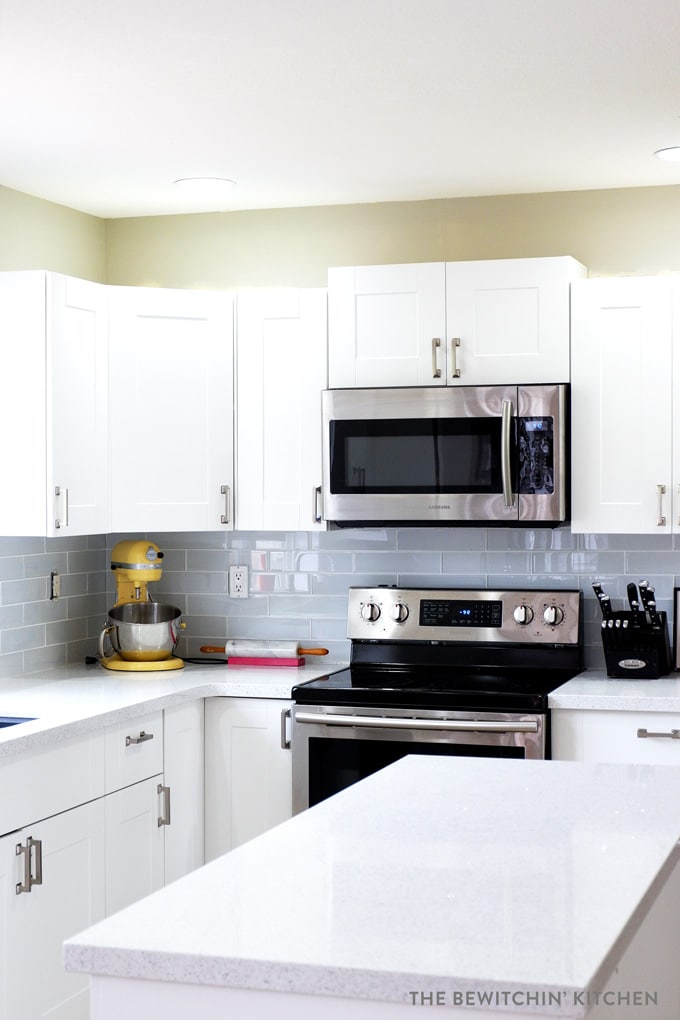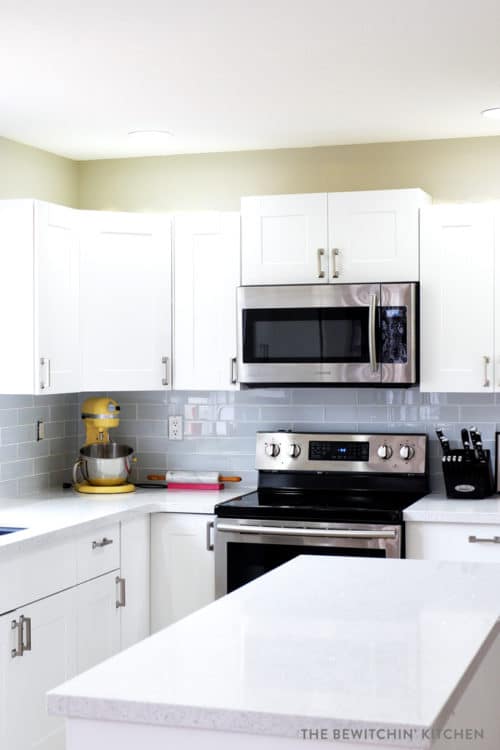 In addition to my countertops, I also chose a granite under mount sink. I also have an amazing faucet that has 5 different settings AND it has a built in scrub brush (this is such an adult thing to get excited about). You can read about that and see what my tips for choosing a kitchen faucet.
Kitchen Renovation Before and After
From dated oak and purple countertops from a 1990s kitchen to a beautiful, clean white kitchen renovation!
Before – 1990s dated kitchen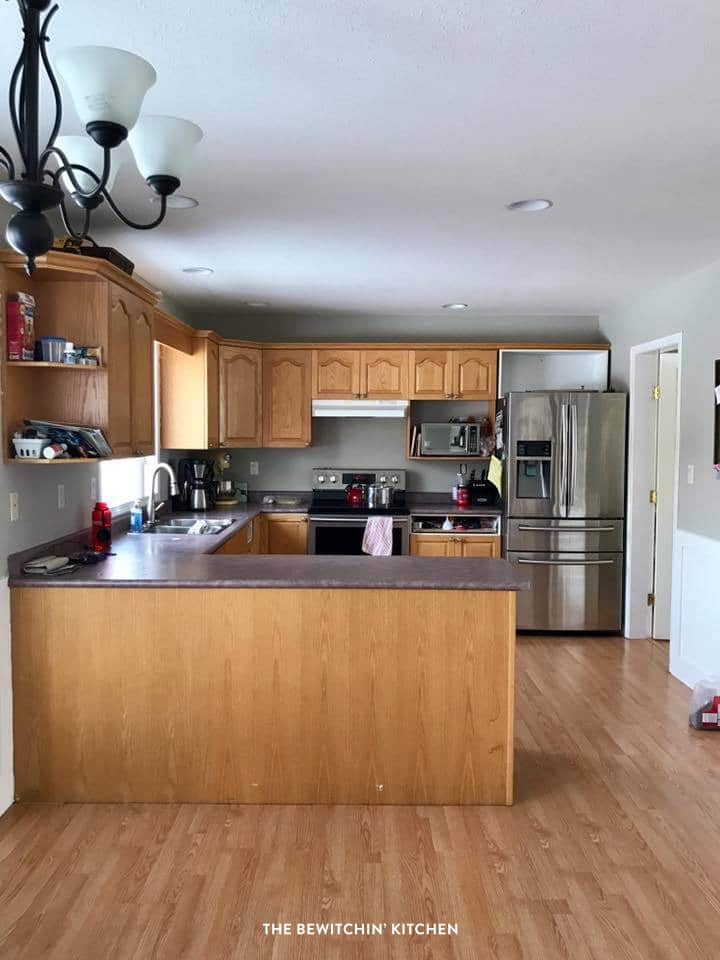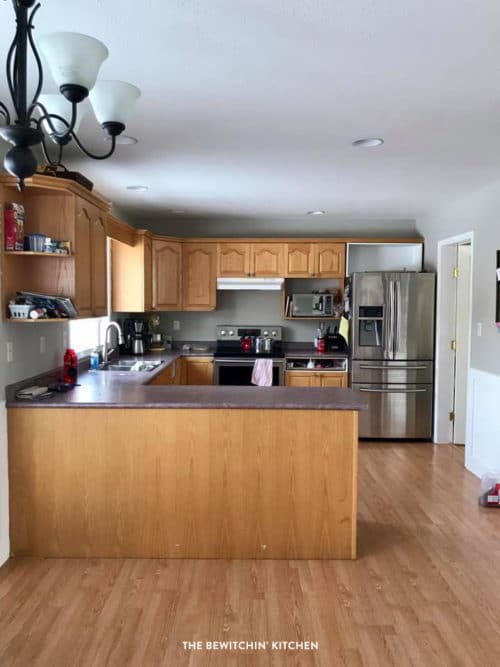 After – on my way to a clean white modern kitchen with a classic twist. 
Picture it with crown moldings, dark wood floors, and all the toe kicks on (we still have a bit to go).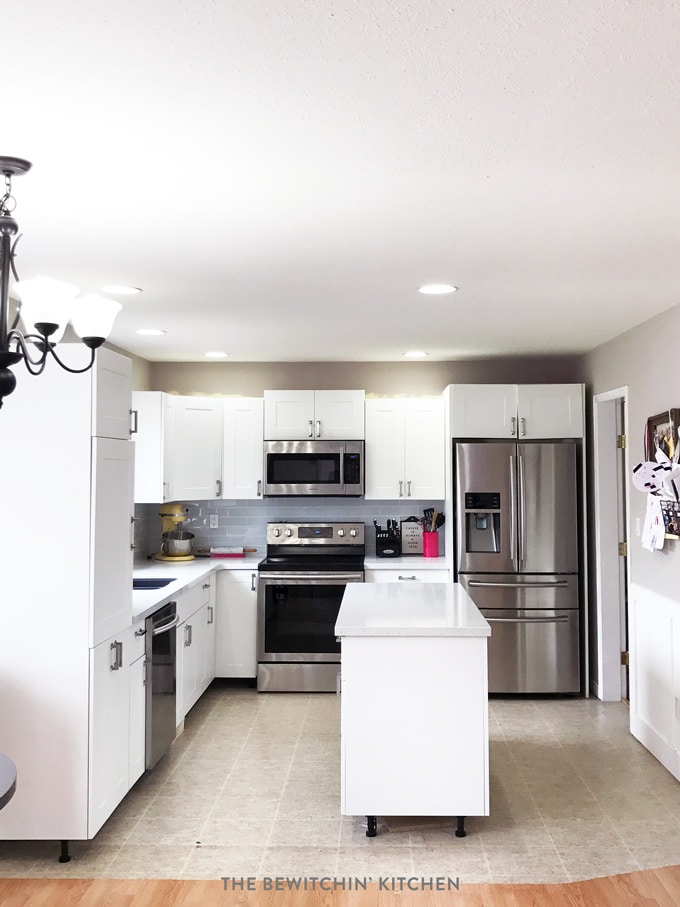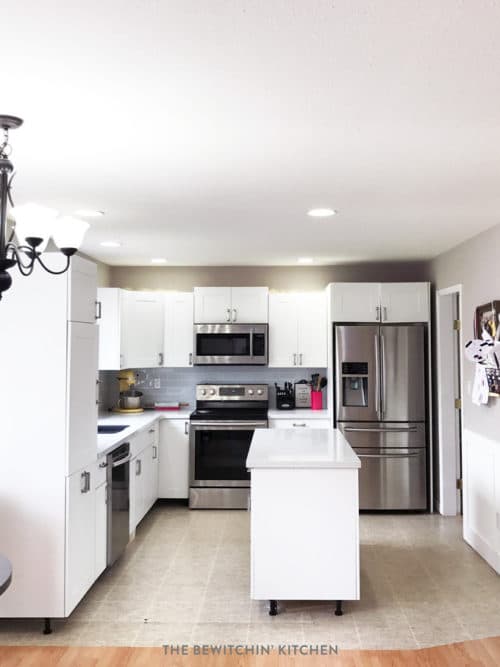 What's left to do in this kitchen reno?
We have to rip out and install new flooring, we're hoping to do that in June/July. We're planning on a dark laminate.
Install the toe kicks
Install the crown molding
Paint touch ups where the old cabinets were
Filler beside the fridge
Make door adjustments
PS – the backsplash is the Sassi glass subway tile in nordic ice. The grout I used was bright white.
Would I do it again?
No. A DIY kitchen renovation is not for the faint of heart. If I am in the position where I want to renovate a kitchen in the future, I'm hiring it out. Yes, I saved a lot of money and that was awesome but this was a very slow and frustrating experience.
I would, however, go back to Home Depot and have Chrissy draw me up another design for another home. However, I would 100% hire it out.
What I would change.
I LOVE my quartz countertops, I wouldn't change those at all. However, I would upgrade my cabinets. The Eurostyle look nice, but they're a cheaper style. The thermofile is not heat resistant so I did need to put heat shields on either said of the oven.
I originally wanted some beautiful antique glazed Thomasville brand cabinets but didn't want to wait until they went on sale. Although I did save thousands by going with the Eurostyle, along with building and installing them myself. However, I wish I waited the few months to go with a maple door.
So I survived my DIY kitchen renovation, I feel like I need to have a t-shirt made or something now.
White Kitchen Renovation Supplies
The paint is Benjamin Moore's Revere Pewter, the lighting in the image looks a little green but it's a greige.
Want more DIY home projects? Check out my Easy DIY wainscoting project and don't forget to learn how to stain a deck this summer!
Disclosure: Although this renovation wasn't compensated or sponsored (I paid for this myself). I did pitch the story to Home Depot after the fact and they sent me a gift card as compensation for the time I took to write this. This post contains affiliate links.