How to Meal Plan Using Pinterest
Do you want to know one of my secrets? The secret that keeps me on par with my eating goals and helps keep my sanity? It's not much of a secret, it's meal planning. I'm going to show you how to meal plan using Pinterest.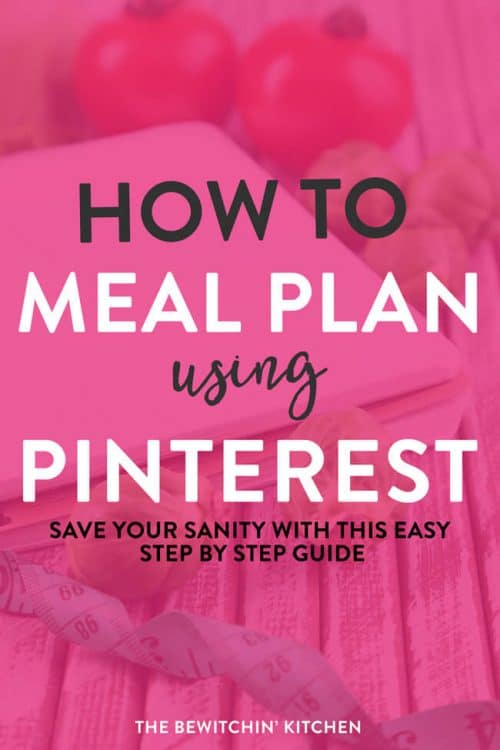 I love meal planning. It takes me roughly 30-60 minutes a week (depending on how lost I get down the rabbit hole of Pinterest with distractions) and it saves me hours.
By scheduling out an hour of my week to meal plan, not only do I have my family's dinners mapped out for the week but I also have the grocery list ready to go. Did you see that? Grocery list – one trip to the grocery store. Can you imagine the time you'll save by doing this?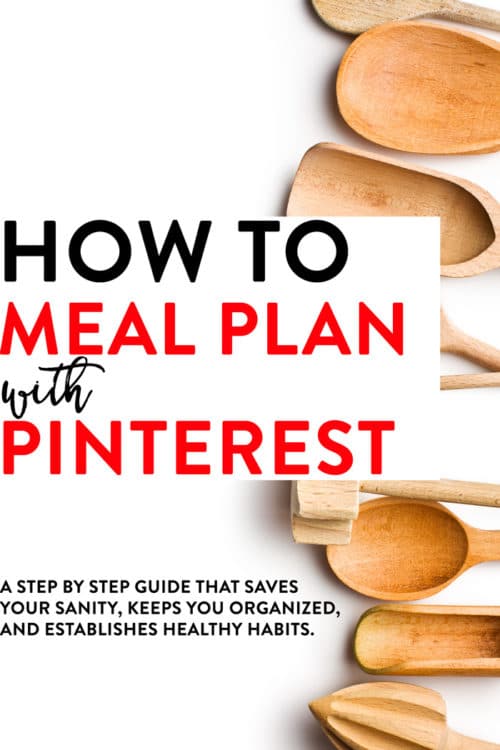 How to Meal Plan Using Pinterest
I've been meaning to write this blog post for years now, I'm finally getting down to it! Can we all just take a minute and appreciate the fact that I stopped procrastinating?
The secret for dinner time sanity: MEAL PLANNING. Here is how to meal plan using Pinterest.
Click To Tweet
Meal Planning with Pinterest Step 1:
Check your boards!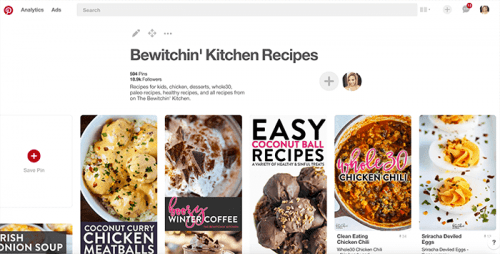 Step 1 is pretty simple. Go to your main recipe board or if you have multiple, decide what food theme you're going for on certain nights (ie: chicken, beef, healthy recipes, etc). You already pinned these, so now it's time to try them! This is a fun way to try new recipes too.
May I suggest The Bewitchin' Kitchen's main recipe board?
Meal Planning with Pinterest Step 2:
Choose your recipe and write it down!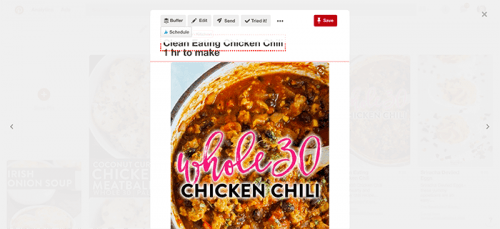 This part is easy – simply click the recipe you're interested in making. Write this down using your meal plan printable on the day you want to make it. Keep in mind what you have that day. Don't plan to make an hour long recipe, when you have an hour-long window in between your schedule! Think about prep, cooking, and the time it takes to eat it!
Recipe: Clean Eating Chicken Chili.
Meal Planning with Pinterest Step 3:
Check the ingredients and write them down!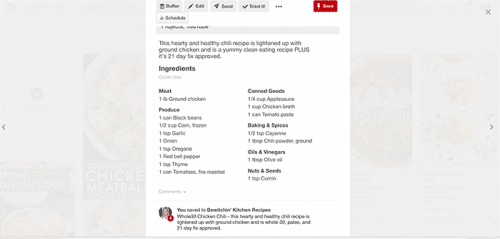 Scroll to the bottom of the Pin, there should be an ingredient list there. If not, click through to the post and scroll to the blogger's recipe card.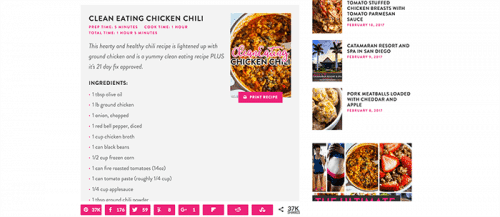 Write down what you don't have at home on your grocery list worksheet (or if you use an app on your phone, add it there). What I like to do is write all the ingredients down for the week, then I categorize my list by order in the grocery store. That way all the veggies are together and I can customize it to the layout of the grocery store to save time.
That's it! I hope my system not only saves you time but spices up your recipe routine too. This is a fun way to try out new recipes.
The next step? Meal Prep Tips for Busy Families.
How to Meal Plan Video

Make Meal Planning Easy
My last tip is to grab my FREE recipe binder download. Check it out below:
FREE Recipe Binder
Are you constantly wondering what's for dinner?
When I don't meal plan I feel behind, and we usually end up ordering take out. This recipe binder will keep you organized and make life a little bit easier.