CocoKey Water Resort Orlando Review
During our stay in Orlando, we hoped around over the two weeks to various hotels and resorts. I wanted to share my experience with CocoKey Water Resort and why this may be a good choice for your family.

Cocokey Water Resort
Disclosure: I received a two-night complimentary stay at Cocokey Water Resort in exchange for an honest review. The opinions are my own.
Upon arrival, the resort doesn't look like much. The motel style reminded my husband and I of a spring break hotel to part at so we were a little apprehensive at first. Although, I am happy to report that during our stay it was quiet and we had no issues with noise complaints.
CocoKey Orlando is known for the stay and play mentality. They have a variety of activities you can do at the resort: large arcade, waterslides, pools, restaurants but they're also close to a lot of the theme parks and attractions that you plan to visit during your trip to Orlando (Universal Orlando Resort, Premium Outlets, etc).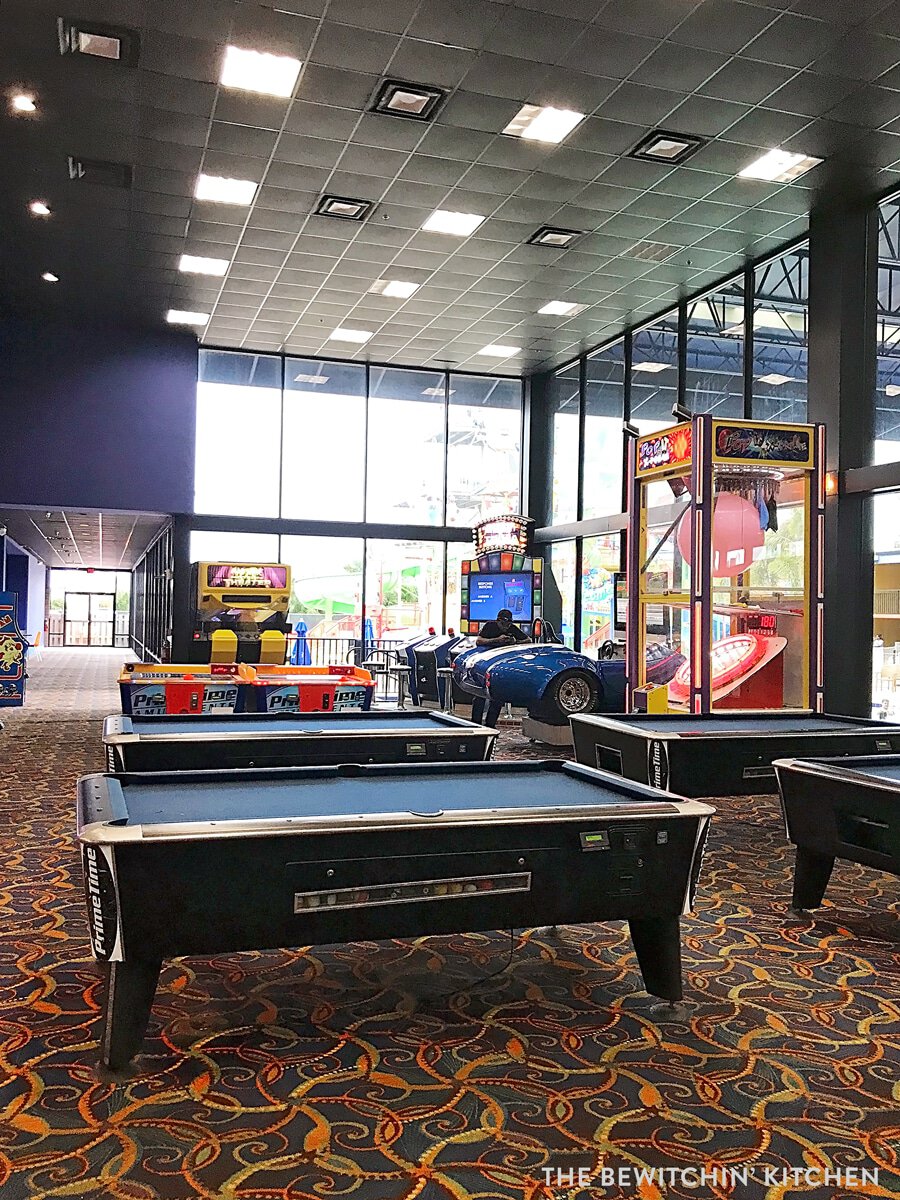 In addition to the waterpark and hot tubs, CocoKey also provides the following amenities to their guests:
Vacation planning center
Shuttle service to local theme parks
Restaurant, food court, and Tiki bar
Gym
Business center
Convenience store
Laundry
Rental car services
The staff at CocoKey were all so friendly. Everyone said hi, seemed genuinely happy to see you at check out, and ensured your stay was a good one. Having helpful and friendly staff around at hotels is a big deal to me, it makes all the difference in your experience!
The Water Park at CocoKey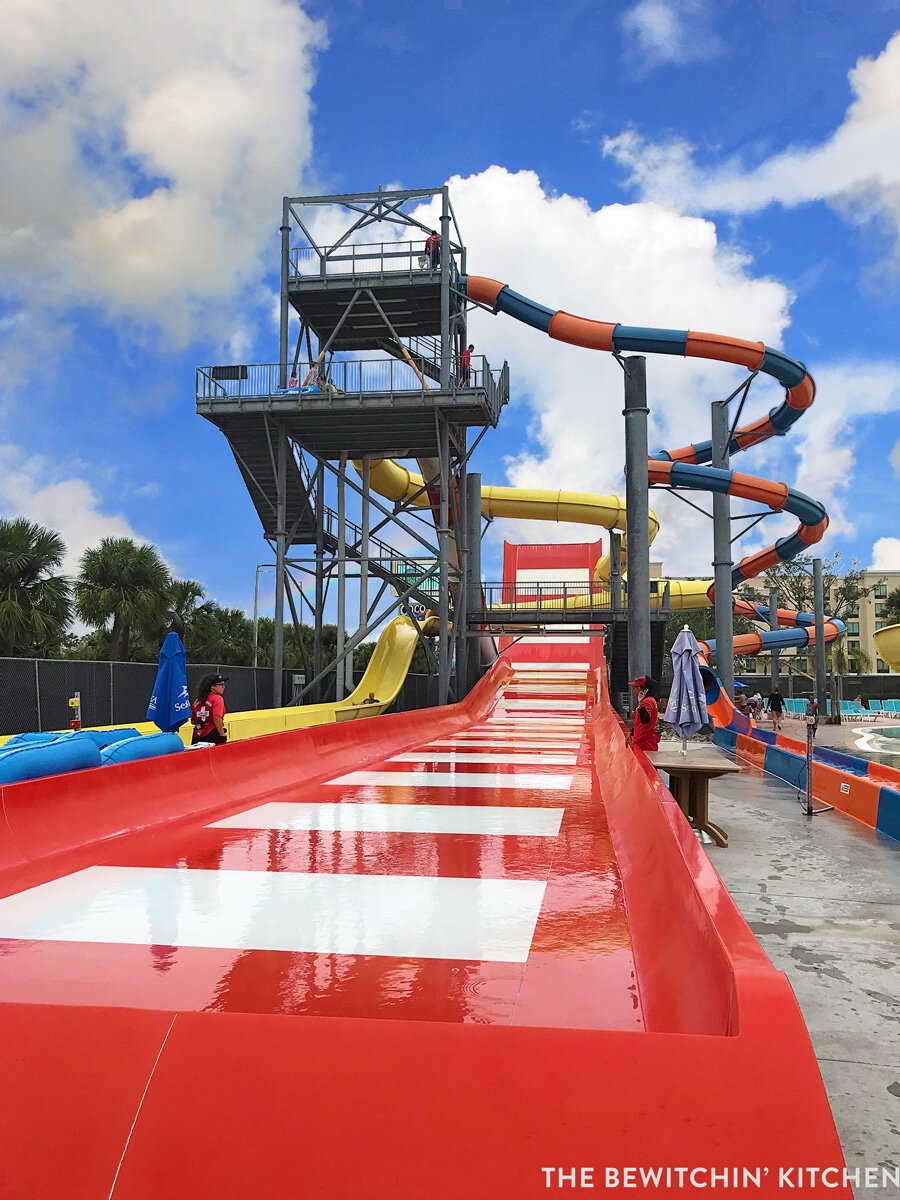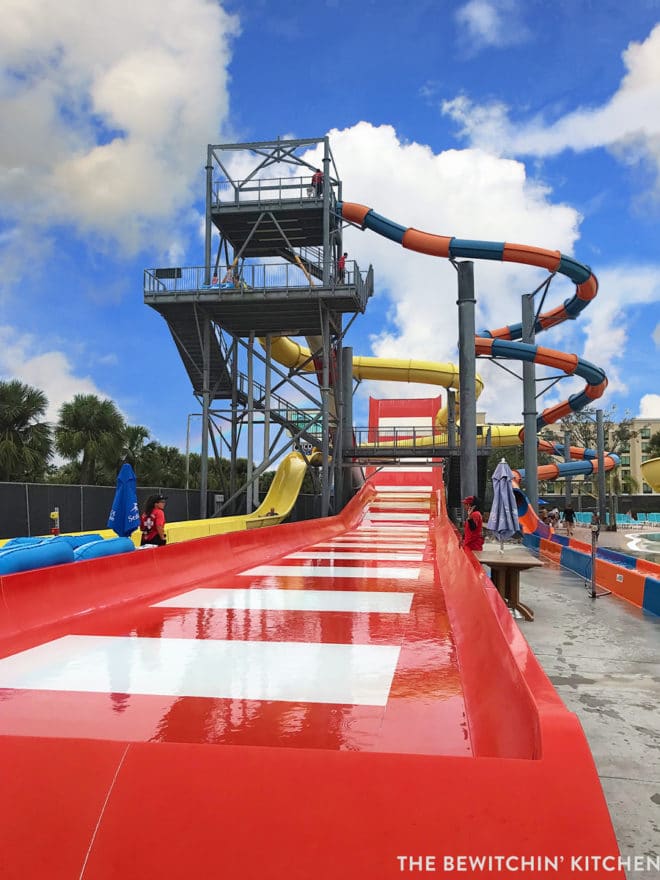 Our first day there, the bigger waterslides were closed due to weather. It wasn't a huge deal as they had an additional pool with kiddie waterslides and activities under cover, but we opted to head to Premium Outlets and get some shopping done in the meantime (and oh did I ever shop – thank you US Outlets for saving me almost $1000 on Kate Spade products.). We came back just after lunch and my husband and son went swimming while I rested in our room.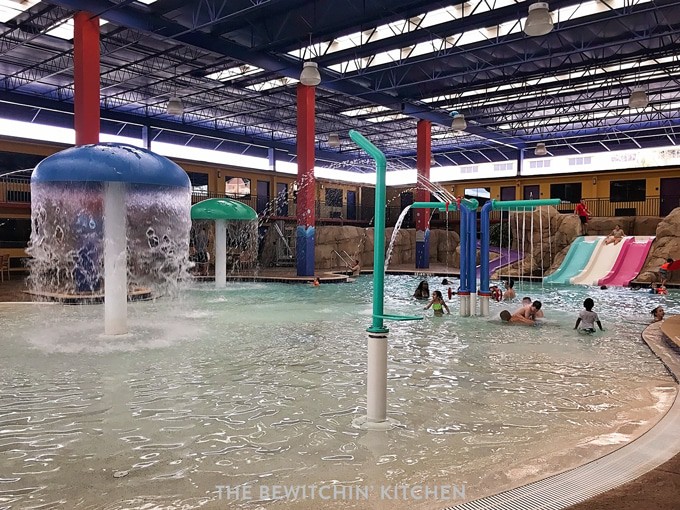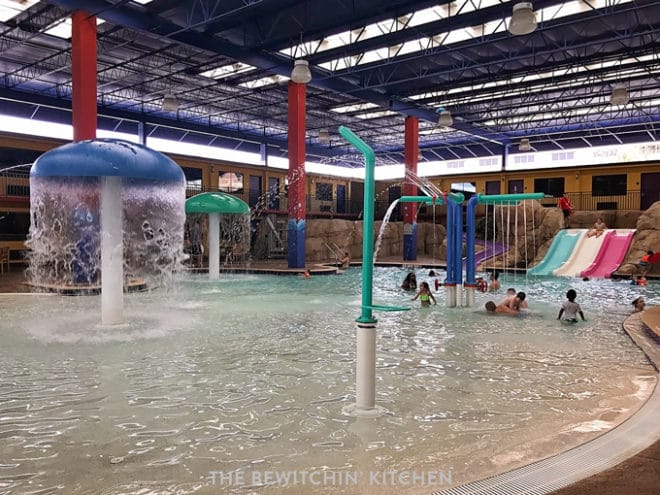 My five year old had an awesome time. He was really excited to go back to the waterpark later and finish the day. My husband, on the other hand, was looking forward to quiet time in the hot tub on the quieter side of the resort.
I really liked how there were options at the water park for all ages. From the small kiddie and splash pool, to the intermediate pool (shown at the top of this post) with waterslides, to the big waterslides that you can double with tubes! There was also a lot of lounging space too for nice, warm days.
The Food at CocoKey
Our first night I wasn't feeling the deep fried pub style food at the Callaloo Grille, so we opted to head to the nearby Mall of Millenia.
We were told that the breakfast at Tradewinds was phenomenal but didn't have a chance to sample it. We did order some food from Callaloo Grille for lunch but I honestly couldn't eat it. I was really greasy, there was a confusion on a few modifications due to food intolerances so I was limited. That being said, my son loved their pizza and quesadillas. Check out the Callaloo Grille menu before you go to help plan your trip.
With a few restaurants a short walk (or drive) away, I probably wouldn't eat there again.
The Room at CocoKey
We had the King Studio room. We were located in the tower (if memory serves me correctly, 6?) that was close to both pools, but further away from the noise. It was a great location, the convenience store, and the gym was also right downstairs. I would request this tower if possible.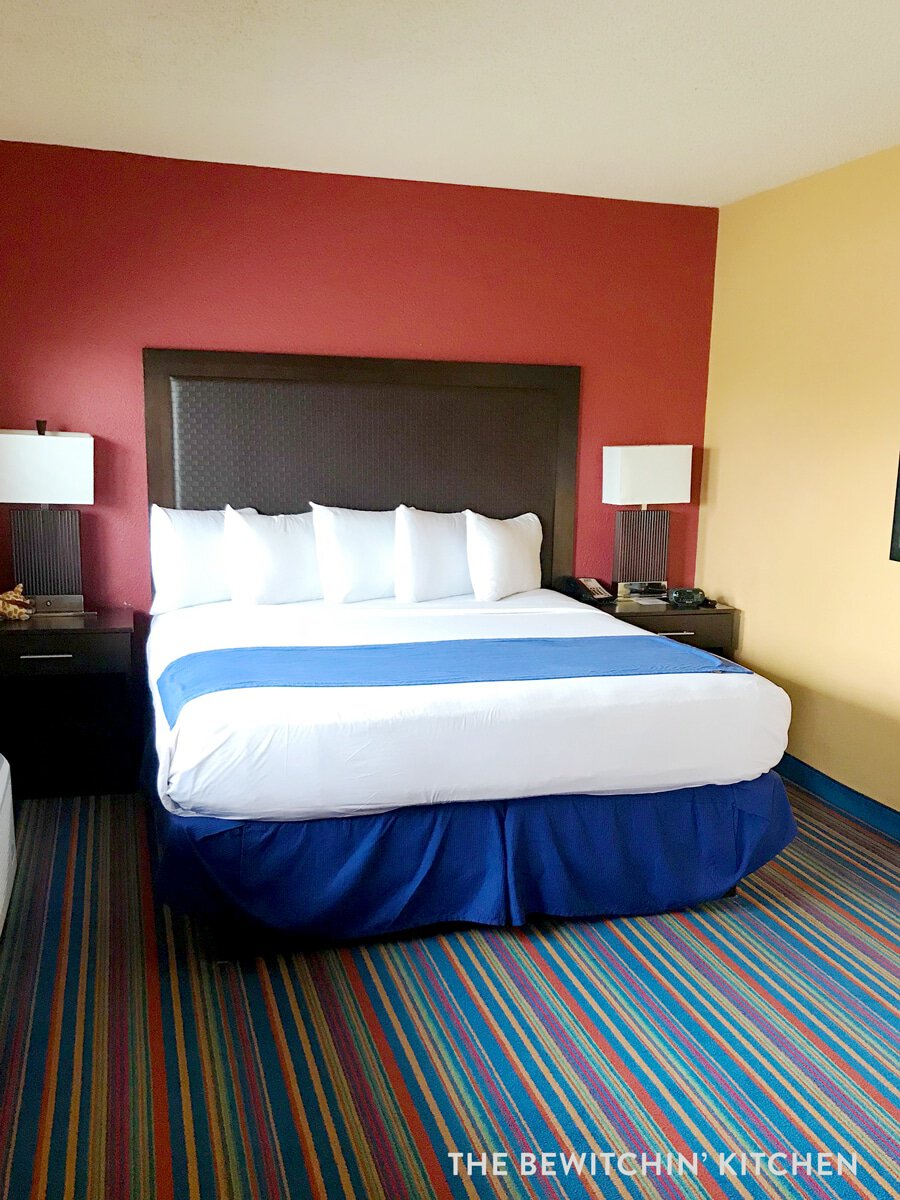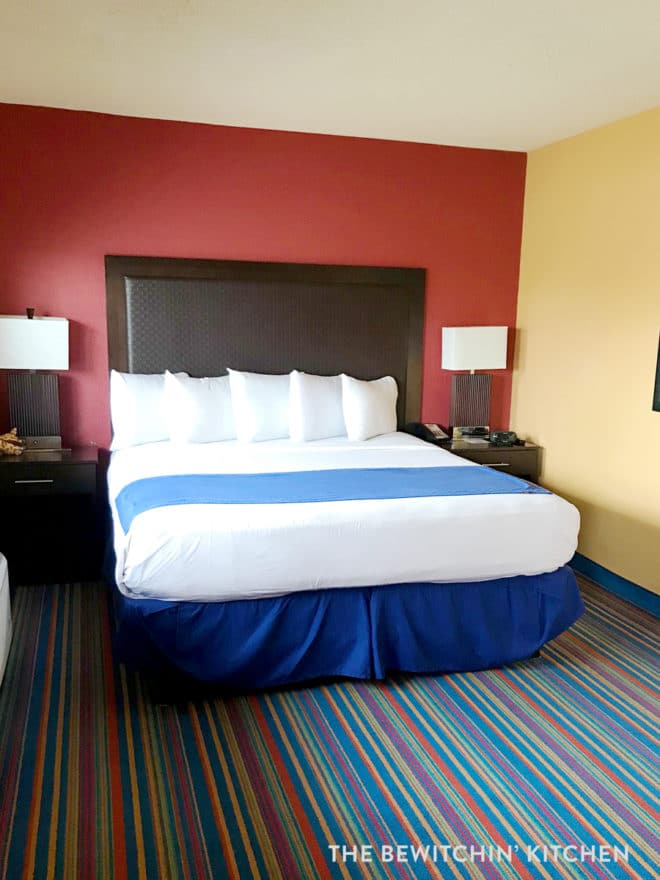 The room itself was large. Our king size bed was separated from the rest of the room by a dresser and two TVs (back to back), there was a pullout sleeper sofa for my son, a dining room table, and a few storage areas for your stuff.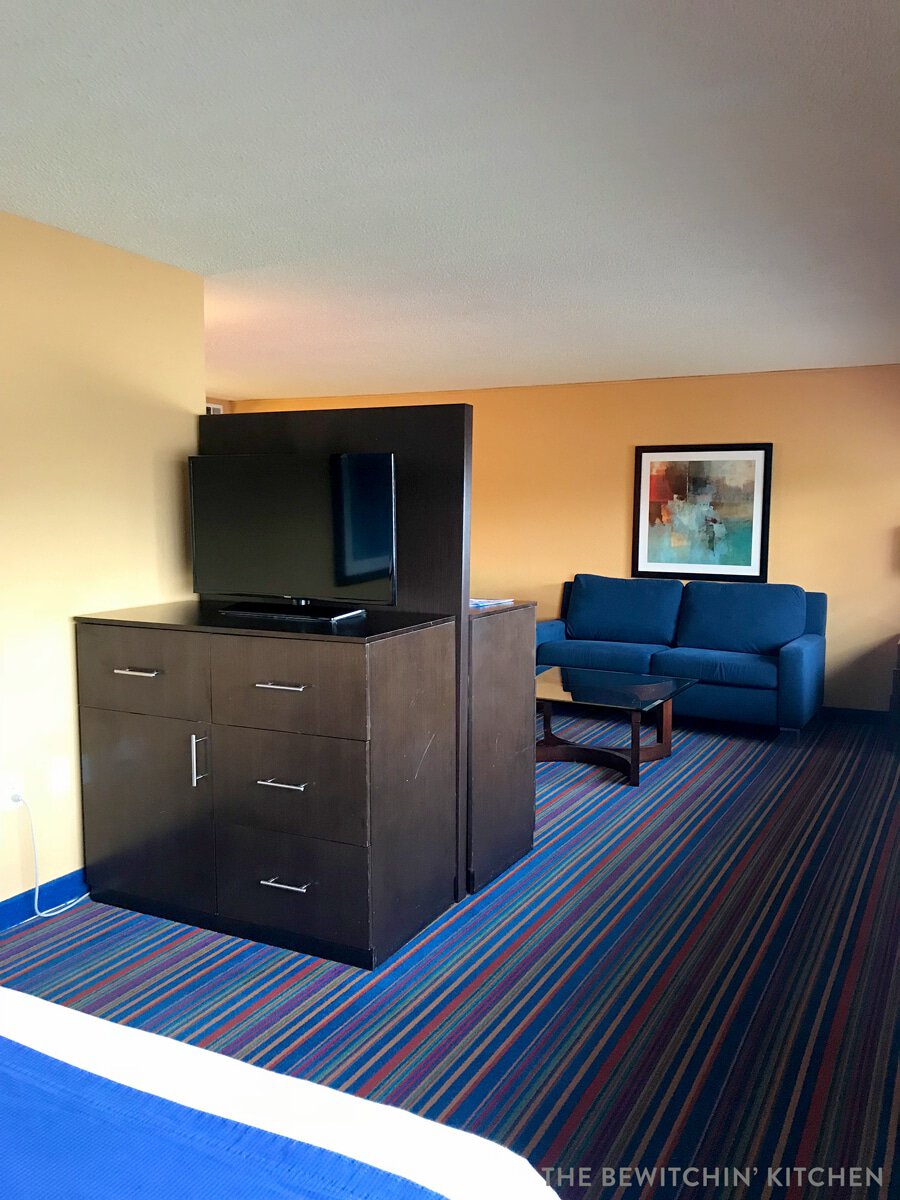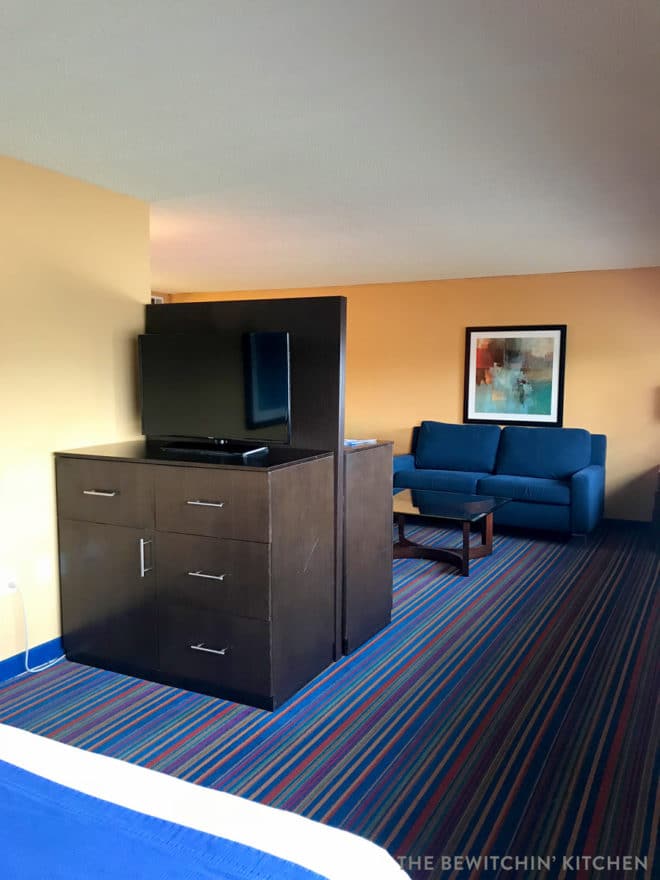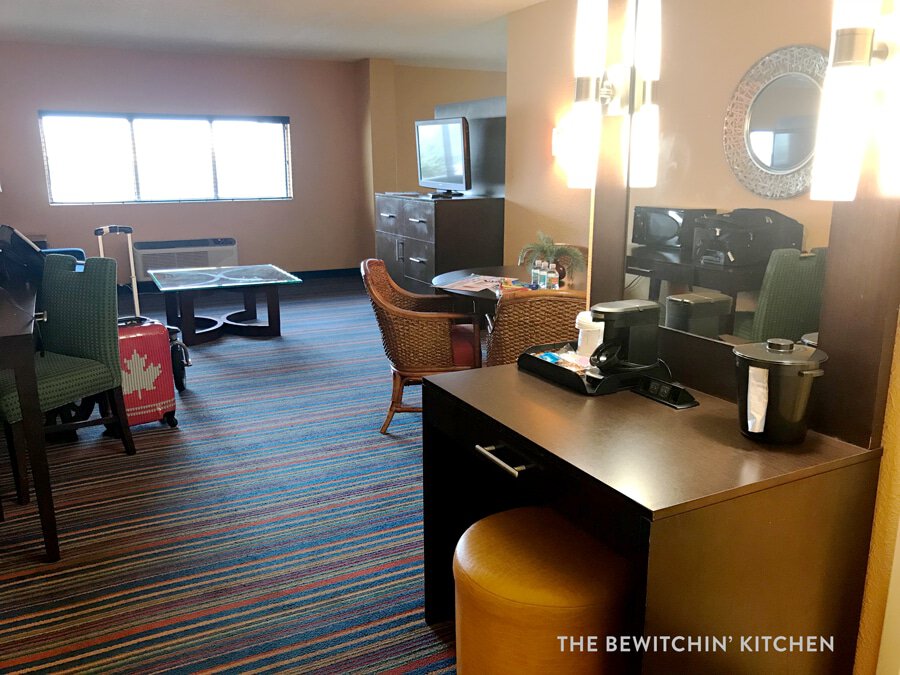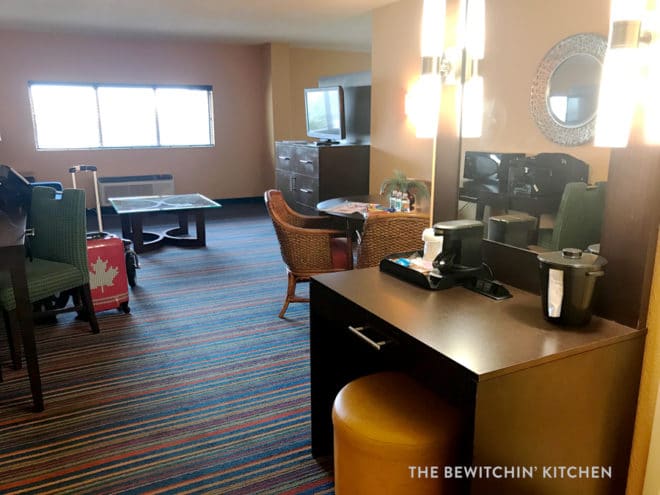 My only complaints are that the room was quite dark, due to the windows being a little small, windows, and the tub had some mildew around the rings of the handles.
Overview:
Who is this resort for? I'd recommend Cocokey Water Resort to someone who was looking to spend time doing the attractions on International Drive: Universal Resort Orlando, Orlando Eye, Titanic Exhibit (it's right beside it), shopping. It's roughly a 10-15 minute drive to Disney, so if you're planning a Disney vacation but don't want to stay on site this could be a good option too.
The pros to CocoKey is that there is a lot to do at the resort for kids: the waterpark and arcade would be a really fun way to unwind at the end a day of attractions or touring around (or if you wanted a day off – there is still stuff for the kids to do without hearing the "I'm bored" line.
Did you know? You don't have to be a guest to use the waterpark? You will have to purchase a waterpark pass but if you have time to kill one afternoon, this may be a good option for you.
I found the rates to be affordable and it was incredibly easy to find the resort. It's great for families who want activities for their children, without paying a high price. When I looked online for other reviews to see what people had to say, it seemed that large families really enjoyed CocoKey for the value and activities.
However, if you're looking for a more upscale experience – this isn't the hotel for you.
Learn more about CocoKey by visiting https://www.cocokeyorlando.com/.