Coconut Crusted Chicken with Thai Chili Sauce
I am a lover of all things coconut. I like it in my baking, my drinks, and my dinner. This recipe for Coconut Crusted Chicken is a keeper and when it's paired with thai chili sauce, it's perfect.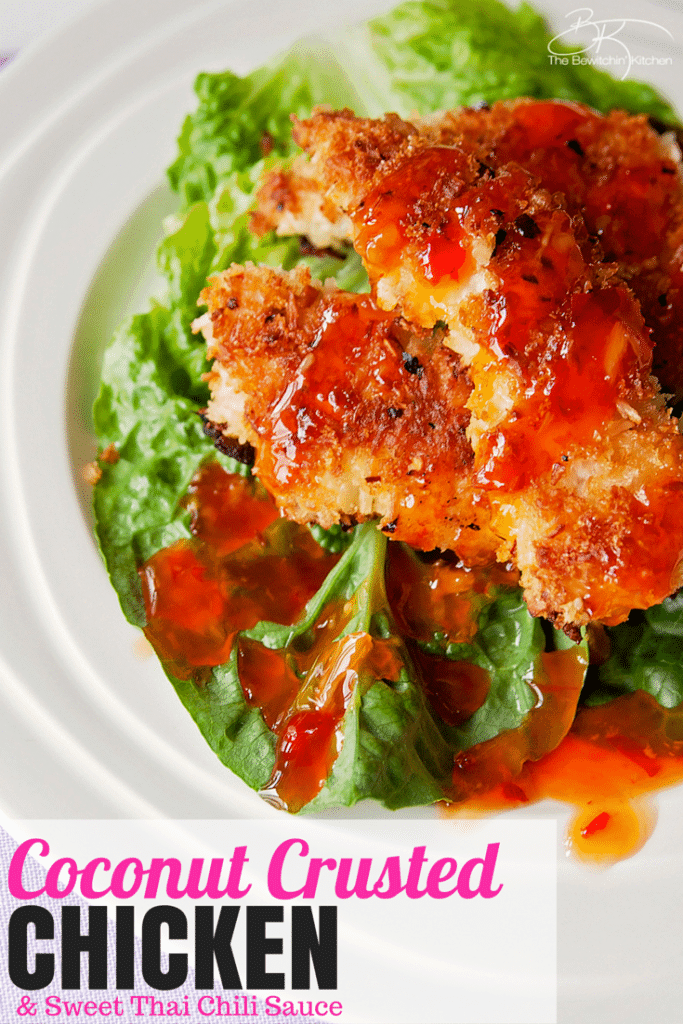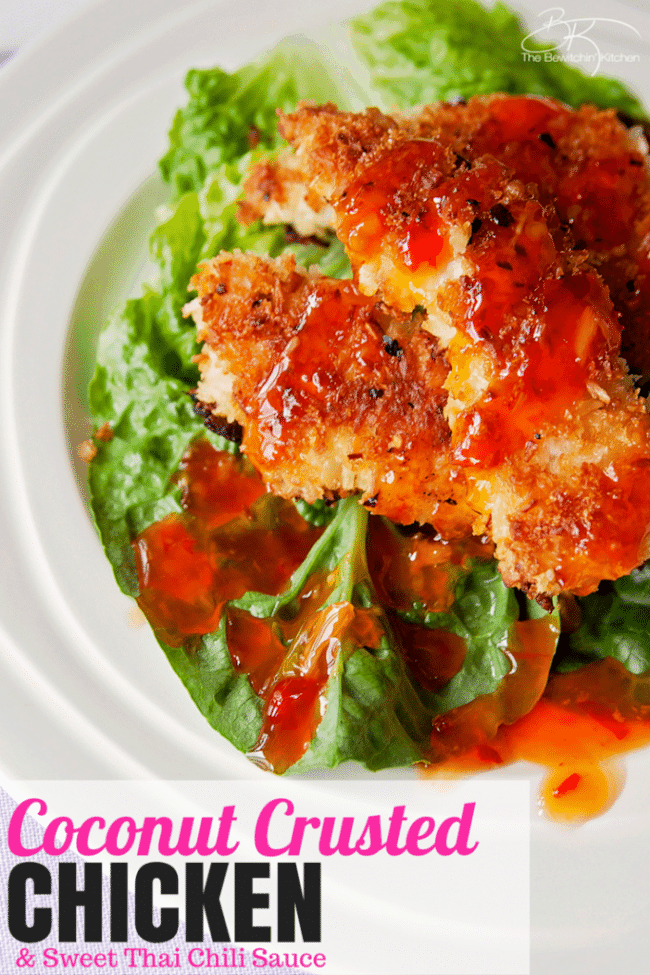 Coconut Crusted Chicken with Thai Chili Sauce:
I use a 1:1 ratio of Panko crumbs to unsweetened shredded coconut because, as I told you, I love coconut. If you want it a little crispier, just add more panko. I added the red pepper flakes for a little extra heat.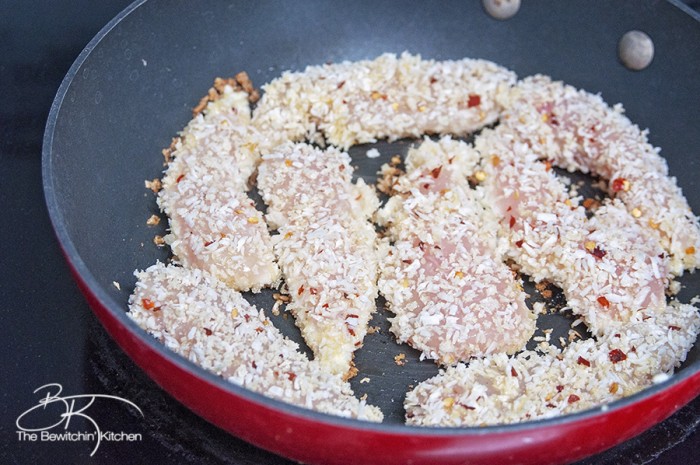 I didn't really watch the time, so I'm guessing I cooked it for five minutes on each side. I just cooked it until it was a beautiful golden brown on each side and when I cut into it – there was no pink. If some of the chicken isn't getting golden brown, just add a little more coconut oil.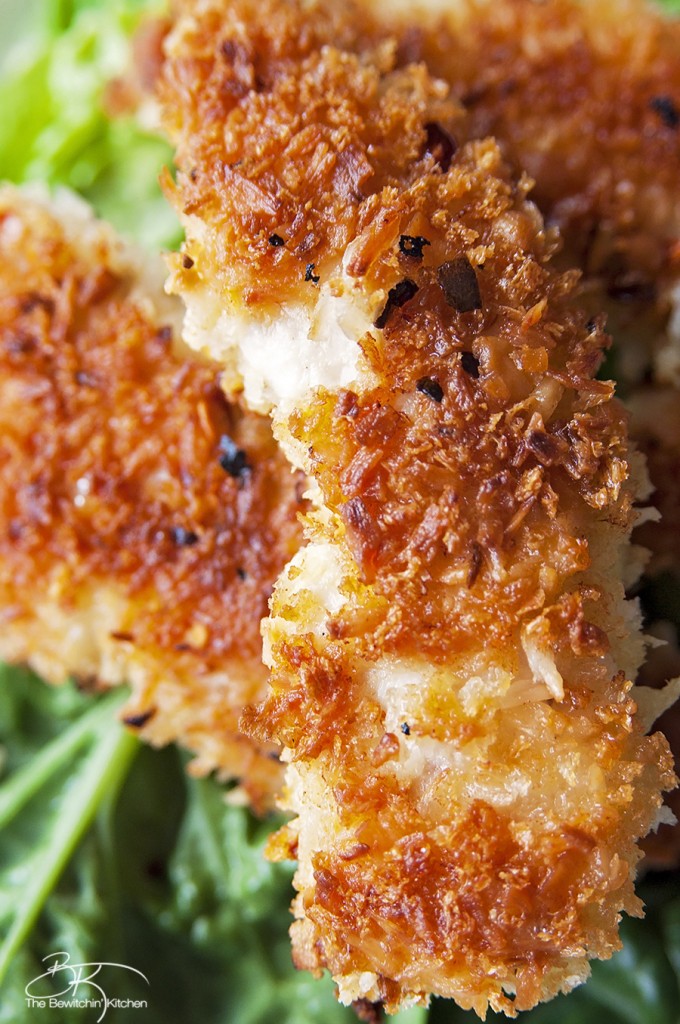 In the end you end up with some beautiful coconut crusted chicken. This is a great base for many different recipes: coconut crusted chicken with honey dijon sauce, tropical chicken parmesan and (my favorite) thai chili sauce.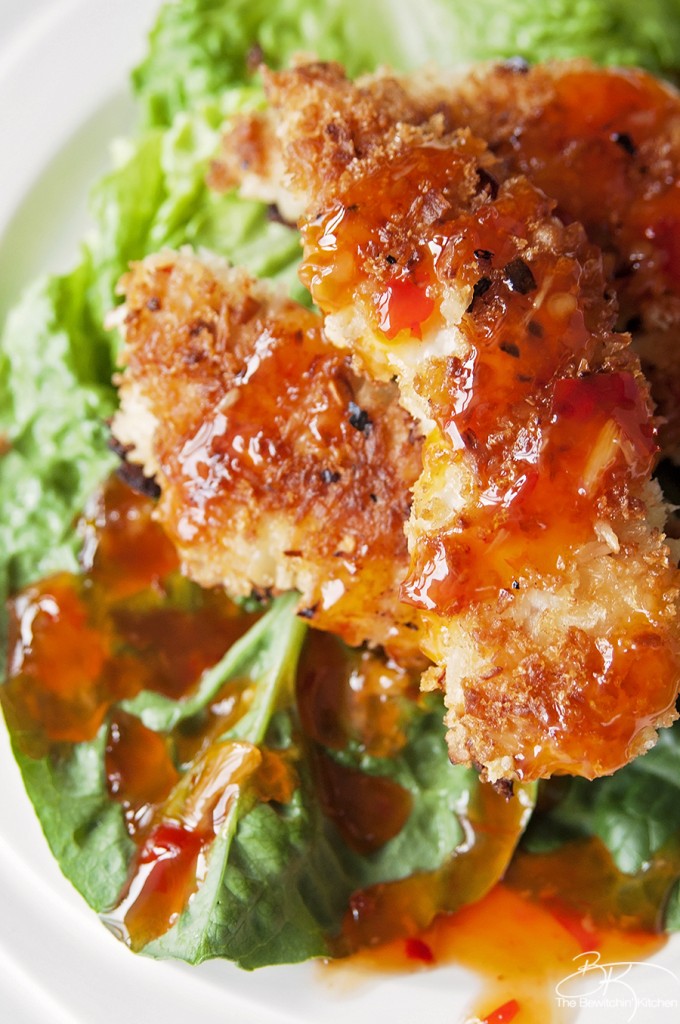 Isn't she lovely?
Coconut Crusted Chicken w/ Thai Chili Sauce #recipe. This tastes amazing! http://t.co/xI9ZcBOSYG #ohmyyum pic.twitter.com/NiYxVjjhEt

— Randa Derkson (@bewitchinkitch) July 2, 2015
Enough of me gabbing, here's the recipe for Coconut Crusted Chicken:

Coconut Crusted Chicken with Thai Chili Sauce
Coconut Crusted Chicken with Thai Chili Sauce. This coconut chicken recipe is an easy and fast meal. It's a family favorite.
Servings 2
Calories 483kcal
Ingredients
1 tbsp coconut oil
1/2 lb chicken fillets or cut up some chicken breasts
1 egg
Sprinkle of pepper
1 tsp red pepper flakes
1/3 cup unsweetened shredded coconut
1/3 cup Panko Crumbs
Thai chili sauce of choice
Instructions
Heat up a pan over medium high heat, add coconut oil and let melt.

In a small bowl beat an egg with pepper.

In a larger bowl add the red pepper flakes, coconut and panko crumbs

Dip a chicken fillet into the egg mixture and then coat with the crumb mixture.

Add to the pan, repeat until all the chicken fillets are being cooked.

Cook for 4-5 minutes on each side, or until the chicken is fully cooked and golden brown on the outside.

Top with your favorite Thai Chili Sauce (I use the Sweet Red Chili from Thai Kitchen - I buy it at

Vitacost

[if you click the link you get a $10 coupon for your first order]).
Nutrition
Serving: 1g | Calories: 483kcal | Carbohydrates: 11g | Protein: 23g | Fat: 38g | Saturated Fat: 20g | Cholesterol: 192mg | Sodium: 213mg | Potassium: 386mg | Fiber: 3g | Sugar: 1g | Vitamin A: 505IU | Calcium: 40mg | Iron: 2.3mg
Follow On Pinterest
Follow @bewitchinkitchen On Pinterest for more delicious recipes!
More Thai Chili Recipes: 
Spicy Thai Chicken Wings
Looking for more great ideas? Click here to follow me on Pinterest!
Visit Randa | The Bewitchin' Kitchen's profile on Pinterest.
If you like this recipe, then please Pin it and share it with your friends.