Dining In Osoyoos: Farm To Vine Signature Experience at The Watermark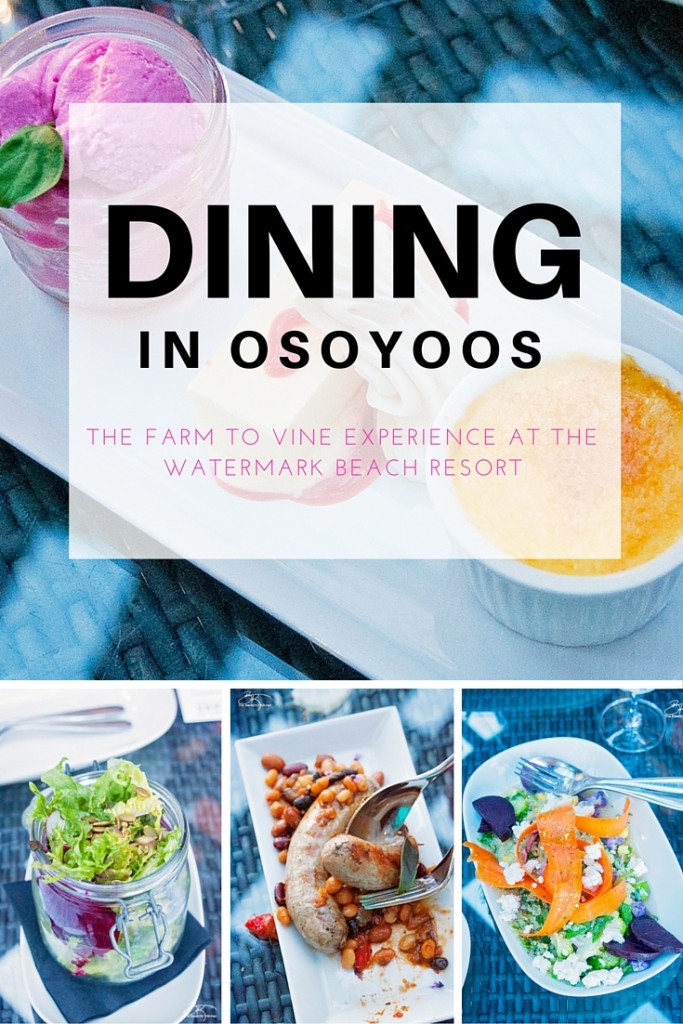 When I travel, I like to experience the local cuisine and try out destination favorites when it comes to restaurants. For a truly local experience when you're dining in Osoyoos, British Columbia I recommend The Farm to Vine Signature Experience at The Restaurant at Watermark.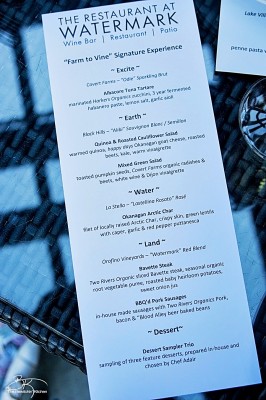 Excite
The feast starting off with a celebratory toast with a sparkling brute from Covert Farms. While we sipped and took in the scenery of Osoyoos Lake on the patio of the Watermark our first course arrived.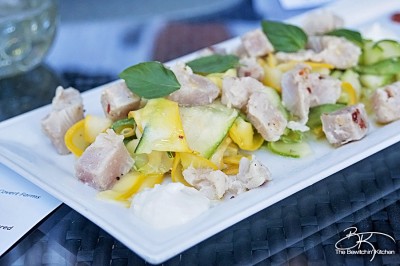 I was a little nervous about trying the Albacore Tuna Tartare. I have never tried raw fish before but since this was about experiencing new things I went for it and I was pleasantly surprised. The tuna tartare was delicious, along with the marinated zucchini and I really liked the habanero paste.
Earth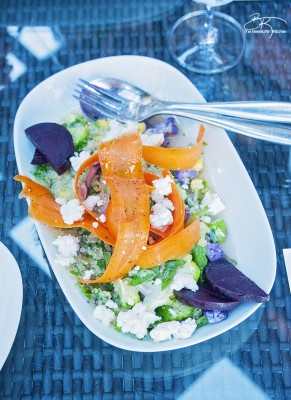 The "earth" portion of the feast was my favorite. We were first served the Quinoa and Roasted Cauliflower Salad, and it's moments like this where I am happy I took a photo of the menu so I can look at the ingredients and attempt to recreate it myself. Served with Black Hill's Alibi (Sauvignon Blanc/Semillon) this salad is warmed quinoa, Okanagan goat cheese, roasted beets, and drizzled with a warm vinaigrette.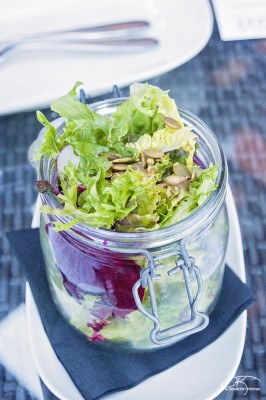 The second part of the Earth course was this mixed green salad. The white wine and dijon vinaigrette was spectacular and I liked the touch of the glass jar that it was served in.
All of the courses were served family style, meaning it was in the middle and everyone served themselves and dug in. This way everyone got to taste everything. It was a lot of fun.
Water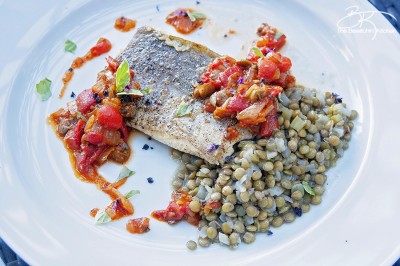 The water portion of the meal took me out of my comfort zone yet again. I don't like fish, at all (which is a shame since I live where it's plentiful) but served with the lentils and caper, garlic, and red pepper puttanesca I will admit that the char tasted good. My husband really enjoyed it. The water course is served with a Rose from La Stella (a local Osoyoos winery that makes the best moscato).
Land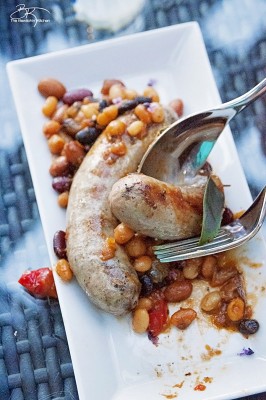 I'm a big meat eater, so the land course was highly anticipated. First we had the Bavette Steak (not shown) which was served with a seasonal root vegetable puree, roasted heirloom potatoes and sweet onion jus. The steak was so tender that it fell apart, it was delicious and perfectly paired with the Orofino Vineyards "Watermark" red blend.
The BBQ'd Pork Sausages (seen above) was something I am happy that they serve with this experience so you could try it. I wouldn't have ordered it on my own, and I would have missed out big time! The sausages are made in house and so are the beer baked beans.
Dessert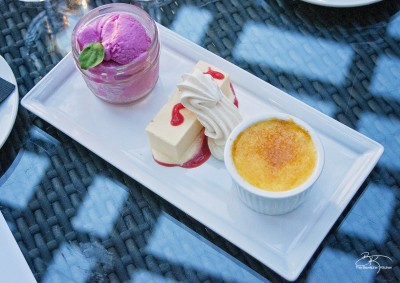 I love dessert trios because I get to try more than one. There is nothing worse than dessert remorse! We were served roasted beet ice cream, a mousse and creme brulee. I loved it all. It's so hard to pick a favorite.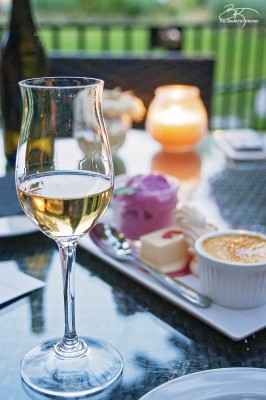 I decided to try their dessert wine, and that was a treat in itself.
The Farm to vine wasn't just a dining experience, it was educational as well. I learned about the family ran Covert Farms that's located right up the road in Oliver, and their partnership with The Watermark. I also learned that The Watermark supports the Southern Okanagan community by using local ingredients, wine and services. I like to know where my food comes from, and I was impressed that the staff was so knowledgeable.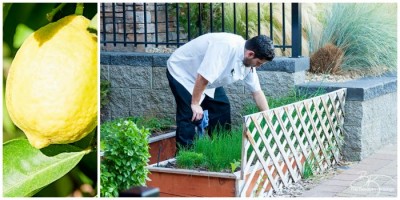 The Watermark has their own lemon trees and grows their own herbs, with hopes to have their own vegetable garden some day. Chris, one of the chefs, was even weeding and tending to the herb garden. It's great to see everyone pull their own weight and strive for perfection.
So if you're dining in Osoyoos, there is no doubt about it you have to try The Restaurant st Watermark. The Farm to Vine Signature Experience is incredible but be sure to check outThe Restaurant at Watermark's menu for other options.
Read about my experience as a guest at the Watermark Beach Resort as well, the room tour is incredible.
I was provided the Farm to Vine Signature Experience at The Watermark. All opinions are my own.