12 Enchanting DIY Christmas Decor Ideas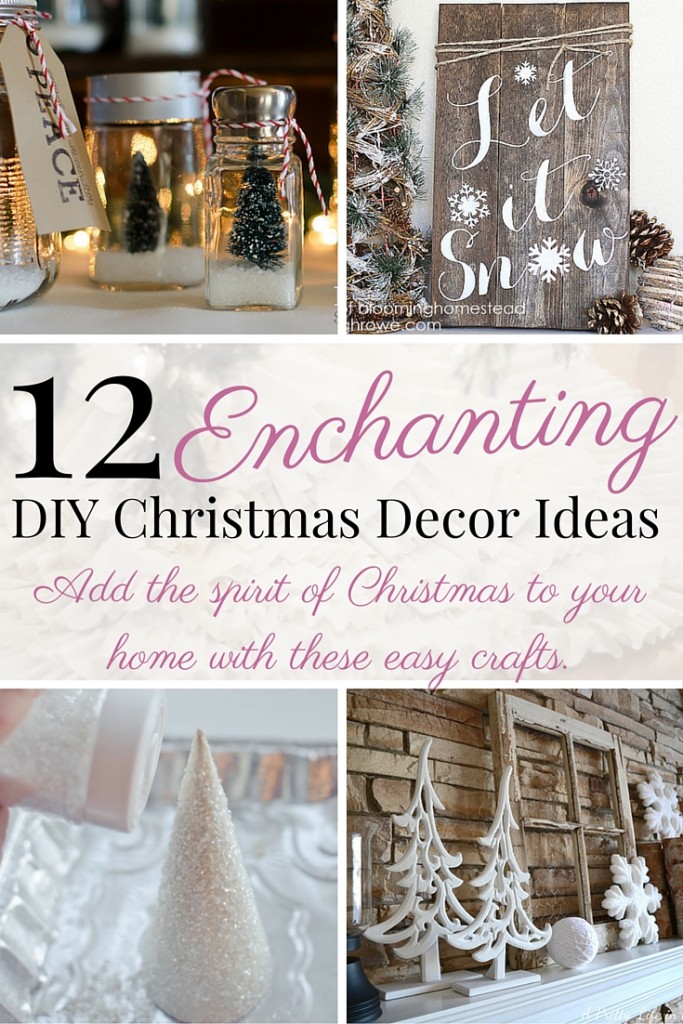 I have to start this post out with giving a huge thanks to Pinterest. Pinterest, without you I would have never discovered these blogs to be inspired to get out my hot glue gun and get my craft on. These DIY Christmas decor ideas are perfect for all levels from beginner (me) to Mrs.Claus, there is something for everyone.
12 Enchanting DIY Christmas Decor Ideas
[ctt title="12 Enchanting DIY Christmas Decor Ideas" tweet=" 12 Enchanting DIY Christmas Decor Ideas http://ctt.ec/Qfo30+ #ChristmasDecor #DIYChristmas" coverup="Qfo30″]
Country Cozy: Warm & Earthy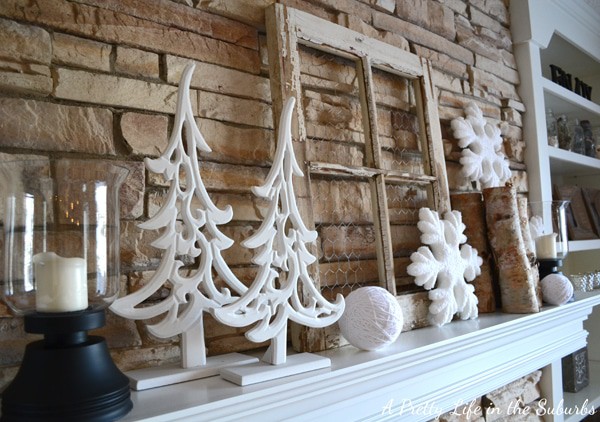 Beautiful Winter Mantel: This winter mantel featured on A Pretty Life in the Suburbs is the perfect example of elegance, using simple and clean elements. Some of the anchor pieces used for this mantle décor can be used year round. Switch out some of the supporting décor and colors to create the perfect look for different seasons.
Anthropologie Inspired Stockings: Speaking of mantels, let's take a look at these earthy Anthropologie inspired stockings. The DIY Mommy truly captures that organic feel using linen burlap.  Straying from the traditional bright red, these stockings create a soft wintry look that will blend perfectly with silver or gold ornaments.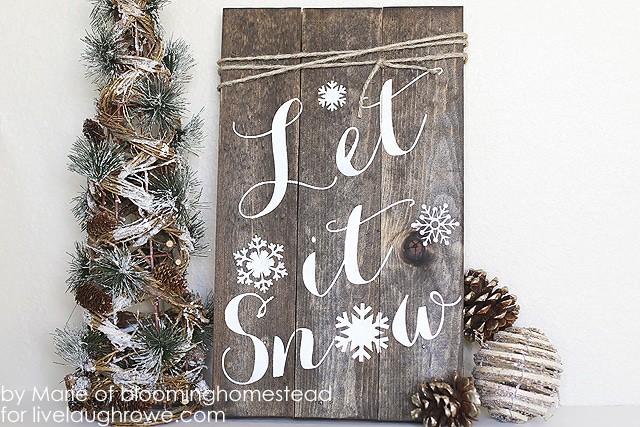 DIY Woodland Sign: Bring nature indoors with this DIY Woodland Sign from Live Laugh Rowe. Customize the phrase to reflect your own family's winter spirit.
Christmas Holiday Card Display: Lolly Jane's Christmas Holiday Card Display Tutorial tops off our country cozy theme. This stressed frame completes the look and provides a beautiful display for all those holiday cards.
Indoor Shimmer: Glowing & Shiny
DIY Winter Tree Cones: DIY Winter tree cones by A Grande Life provides the perfect touch for that white Winter wonderland. The entire look is balanced with the use of different textures. I love how it creates a soft shimmer without screaming GLITTER!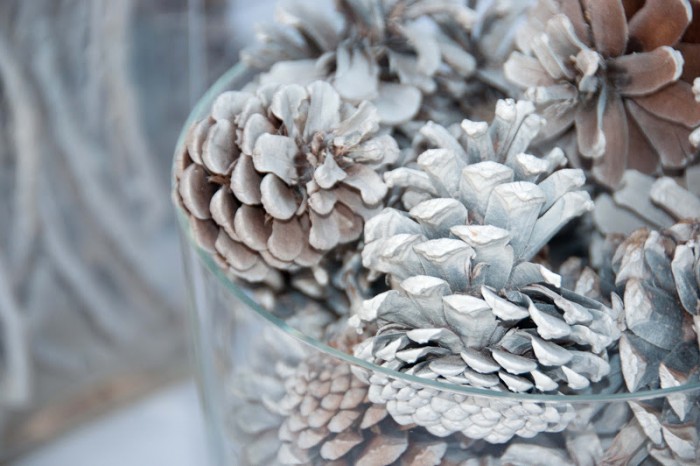 Bleached Tablescape: This decor idea from Aesthetic Nest looks so clean. I guess I shouldn't have been surprised that it's called a bleached tablescape. The gold leafed plating finishes the look with an air of sophistication.
Paper Lanterns: I'm not going to lie, I may have squealed a little when I saw these paper lanterns by Lia Griffith. The candlelight brings just a touch of warm colors into the mix.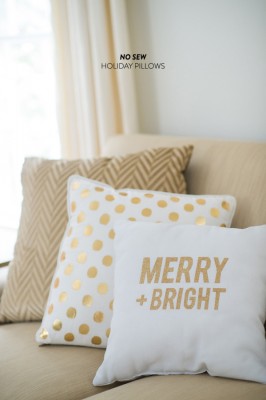 Holiday Throw Pillows: I think the magic words in this tutorial is "no sew"! These beautiful DIY holiday throw pillows from Style Me Pretty will absolutely finish off that indoor shimmer theme.
Classic: Red, Greens & White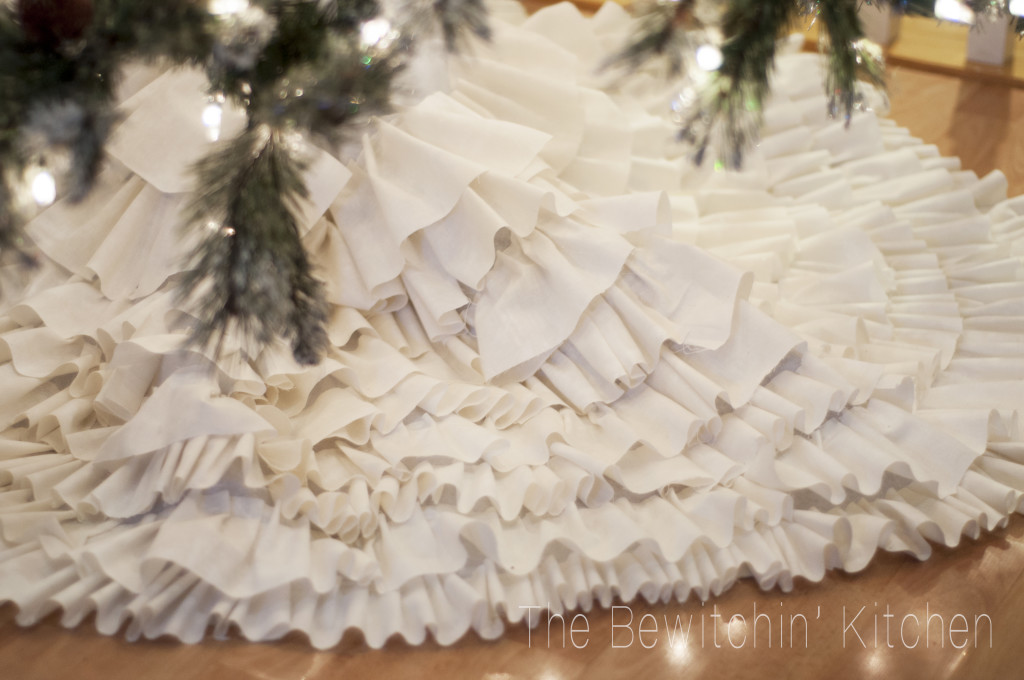 DIY Tree Skirt: Upgrade that tree skirt, with my DIY Ruffled Tree Skirt tutorial. It is truly handmade with love and complements most décor themes.
Advent Calendar: The Christmas countdown wouldn't be complete without an Advent calendar. Echoes of Laughter provides an awesome tutorial for a stenciled muslin bag Advent Calendar. This crafty, yet classic look will survive any shift in trends throughout the years.
DIY Christmas Garland: I remember making popcorn garlands as a child, but times have definitely changed. This simple yet classic DIY Christmas garland by Vicky Barone would be perfect for a family craft project.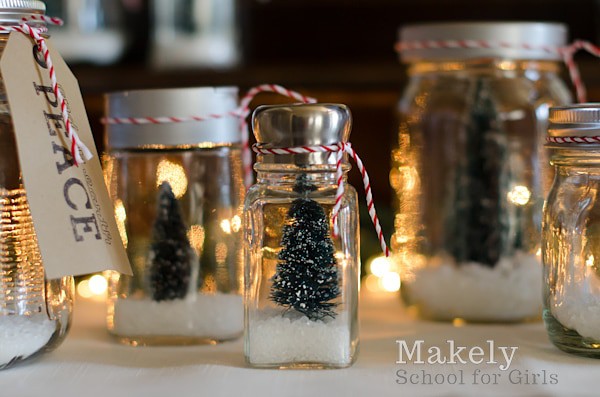 DIY Christmas Snow Globes: Some collectors break out their train sets, Nativity scenes or even their snow globes. How about creating your own tradition with these cute Christmas tree repurposed jar snow globes. Makely School for Girls walks us through an easy tutorial, which you can definitely personalize.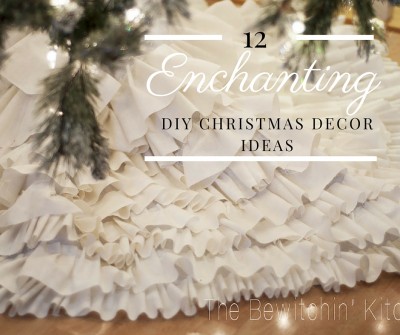 Want more DIY Christmas Decor Ideas? Check out these 14 EASY DIY CHRISTMAS DECOR AND CRAFTS.