DIY Ruffled Tree Skirt
This no sew DIY Ruffled Tree Skirt is an easy Christmas craft to bring a classy decor to your Christmas Tree. A DIY Tree skirt doesn't have to be complicated! Trust me, I'm not a crafty person and I created this with no problems!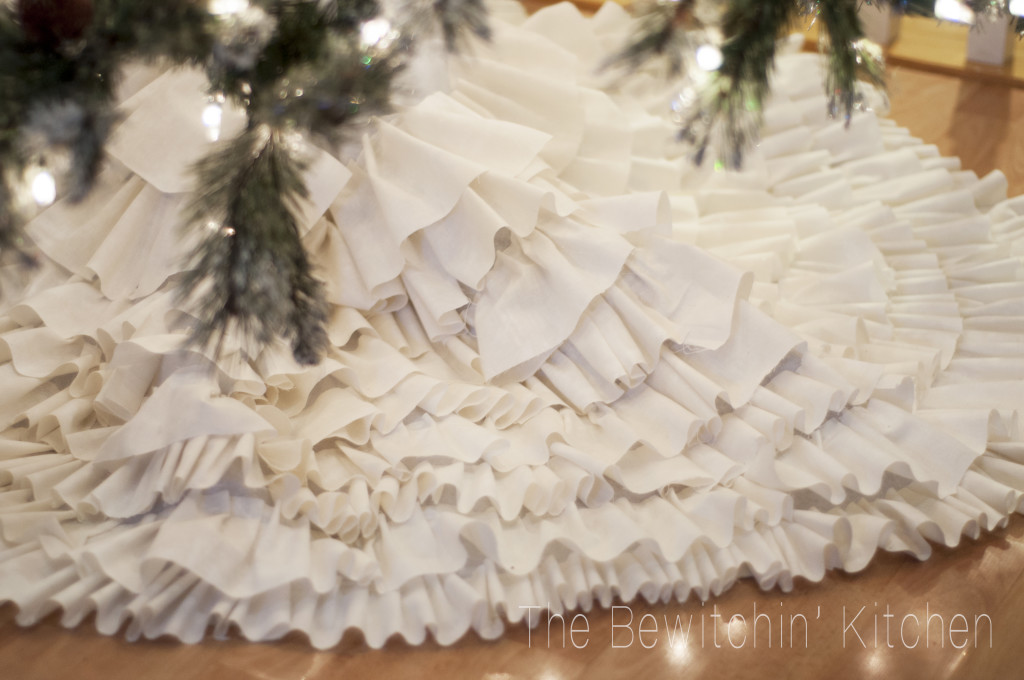 I'm not a do it yourself kind of a person.
I don't have the patience and I'm not all that crafty. Seriously, my stuff could be on Pinterest fails.
This year I wanted to change that. After falling in love with a ruffled tree skirt on Etsy (but not with the $180 price tag) I decided that this was going to be the project to tackle.
So I ran to the craft store to start my DIY ruffled tree skirt!
DIY Ruffled Tree Skirt
Disclosure: This post contains affiliate links for your convenience. As an Amazon Associate, I earn from qualifying purchases.
I was really excited to start this project.
I love the idea of a handmade Christmas decor item, especially an item like a DIY ruffled tree skirt. I wanted to do something in neutral colors so when I decide to change up my tree decor, I could always use my handmade skirt.
I originally got the idea from HGTV. I wrote down the supplies they used, simplified it a bit and swapped a few of the materials out for more affordable options. I did keep their technique of making ruffles and hot-gluing them to the base.
This was an easy project, but very time-consuming. It took about 5-6 hours and a lot of labor went into it (my knees and back were killing me at the end), but I'm so happy it's done.
I'm incredibly proud of this homemade tree skirt.
[ctt title="DIY Ruffled Tree Skirt – easy craft and it\'s no sew!" tweet="DIY Ruffled Tree Skirt – easy craft and it's no sew! http://ctt.ec/LXNjx+ #DIY #nosew #Christmascrafts" coverup="LXNjx"]
DIY Tree Skirt
Materials Used:
How to Make a Tree Skirt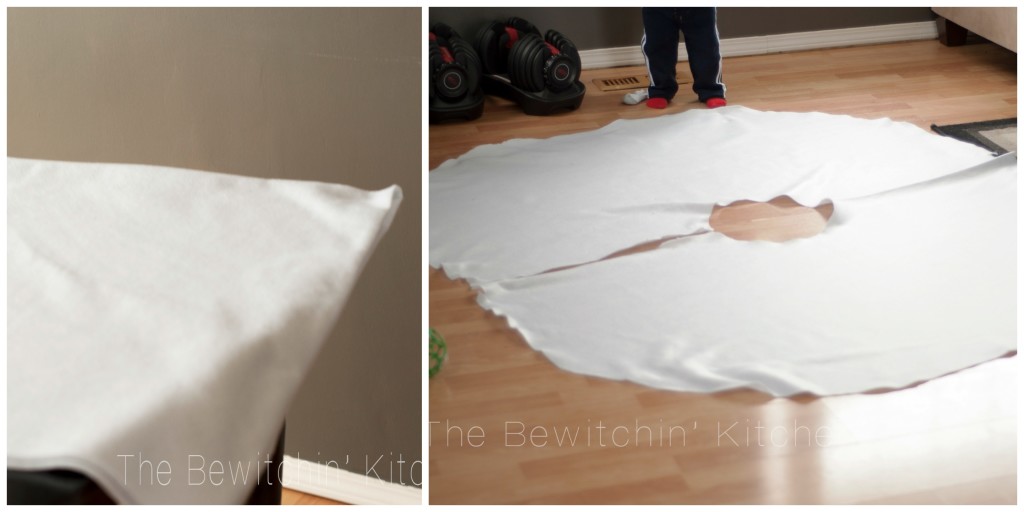 First I made a few cuts. One in the middle and around the edges (to make it round).
To do this I folded up the felt to make sure my cuts were even.
I then made a slit down the middle (this is so you can get it around the tree). Heat up your glue gun.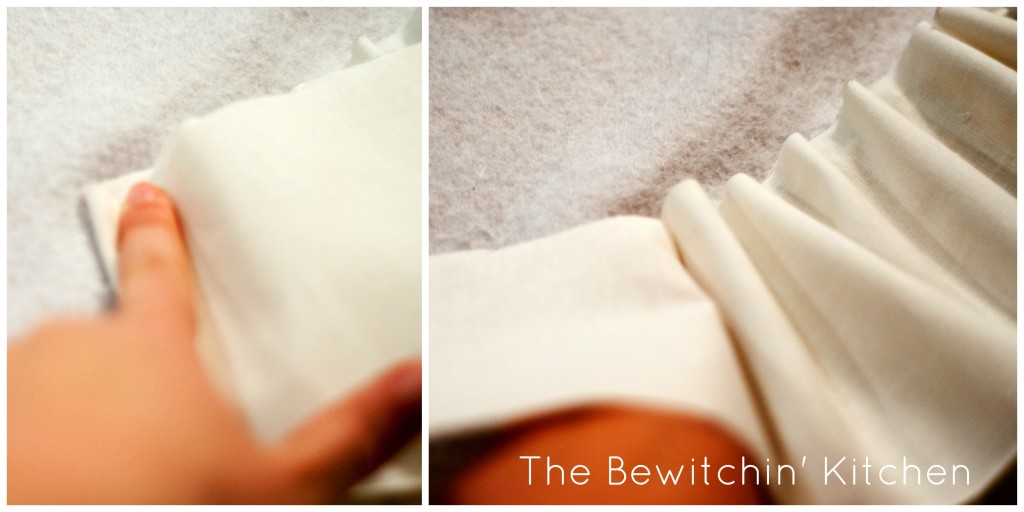 Take your fabric and cut 2″ strips; don't worry about it too much if they're not even.
Mine definitely wasn't and I think it added to the charm of the skirt.
Predetermine where the fabric will be glued on, you want the edges of your cotton to overhang a bit, about 1-2″.
Take your glue gun and (in little sections at a time) glue your fabric on. How you decide to make your ruffles will probably be what's easier for you, but the above photo shows how I did it.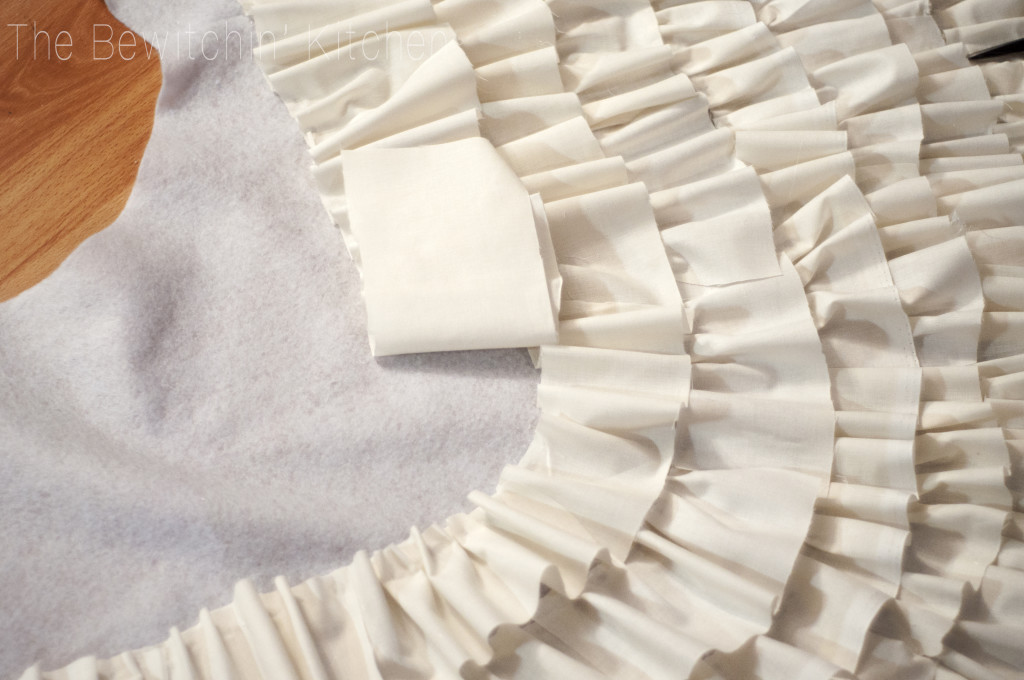 I ran out of fabric (for the second time) right at the end.
I called it good enough for this tutorial but I will have to go back to the craft store later today and finish up. I made the skirt really big.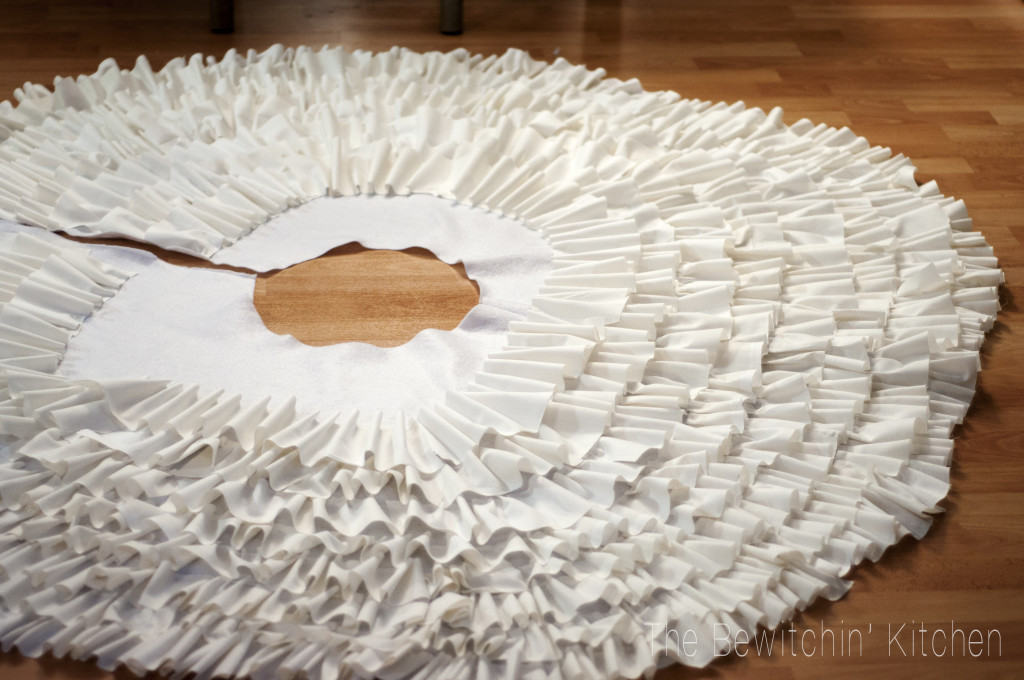 Finishing this project felt amazing.
A huge sense of accomplishment and now I'll have a special, sentimental Christmas tree skirt as a decoration to enjoy with my family for years to come.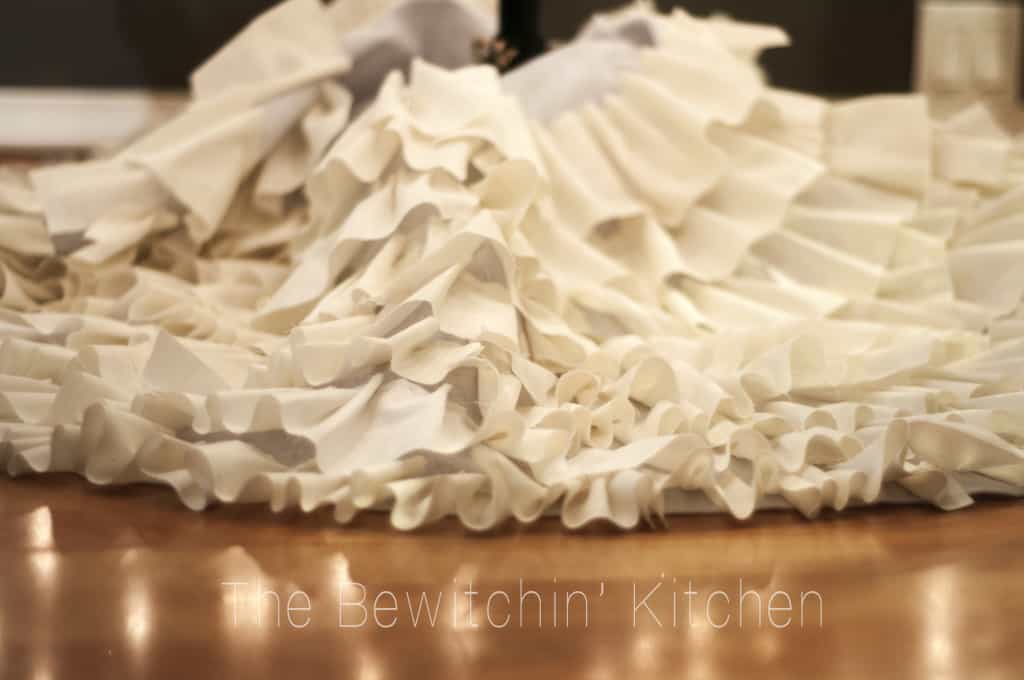 Update: It's two years later and my DIY Ruffled tree skirt still looks amazing. Each year I have to fluff it up a bit after being in storage, but that's it!
Update: After my fifth Christmas with this homemade tree skirt, I finally decided to toss this tree skirt as being stored and flattened for 11 months of the year has made it seen better days. Not bad though, I'm glad to have got 5 years out of it!
Answer this question in the comments below: Do you craft special items for the holidays?
This Christmas I'll be adding as many handmade touches on the holidays as I can.
This project is done, but I'm also wanting to make my own gift wrap and a few other decorations.
If you like this DIY Ruffled Tree Skirt Christmas craft, check out these posts: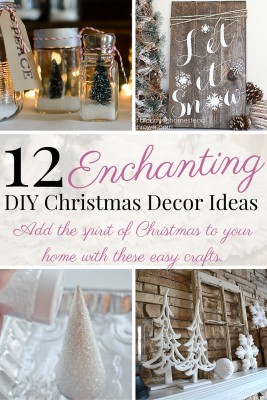 12 Enchanting DIY Christmas Decor Ideas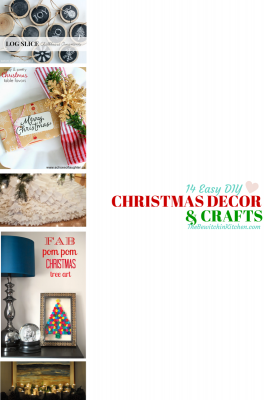 14 Easy DIY Christmas Decor and Crafts