Easy Cherry Cheesecake with Sugar Cookie Crust
I love to cook, but I don't always have time to cook. Like many of you: I'm a mom, own my own business and try to still manage to have a bit of a life. Cooking up an elaborate meal or dessert doesn't always happen. I like easy recipes. That's why I know you're going to love this easy cherry cheesecake (plus the super yummy sugar cookie crust).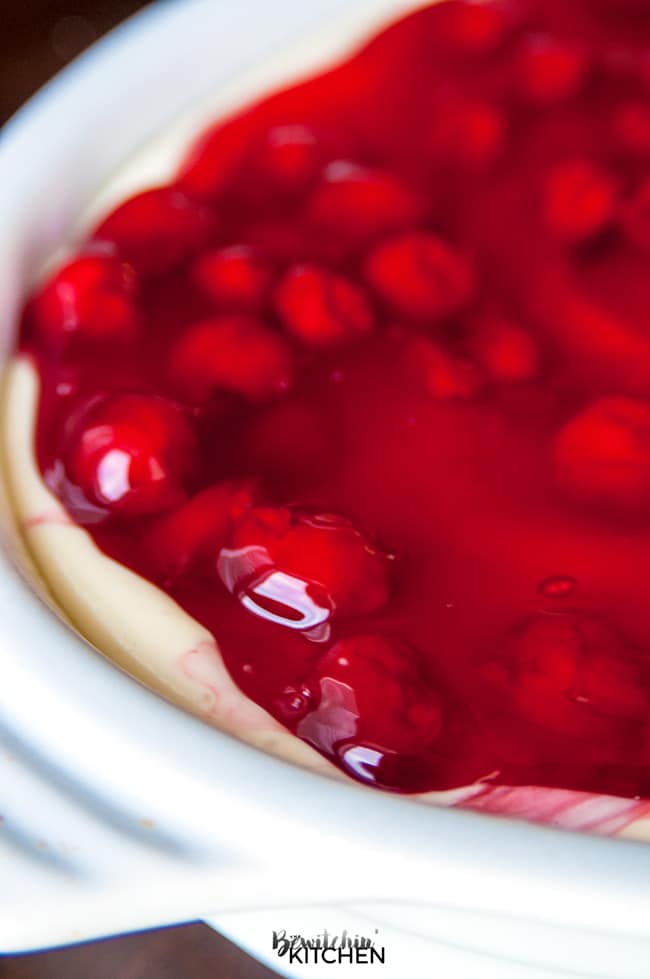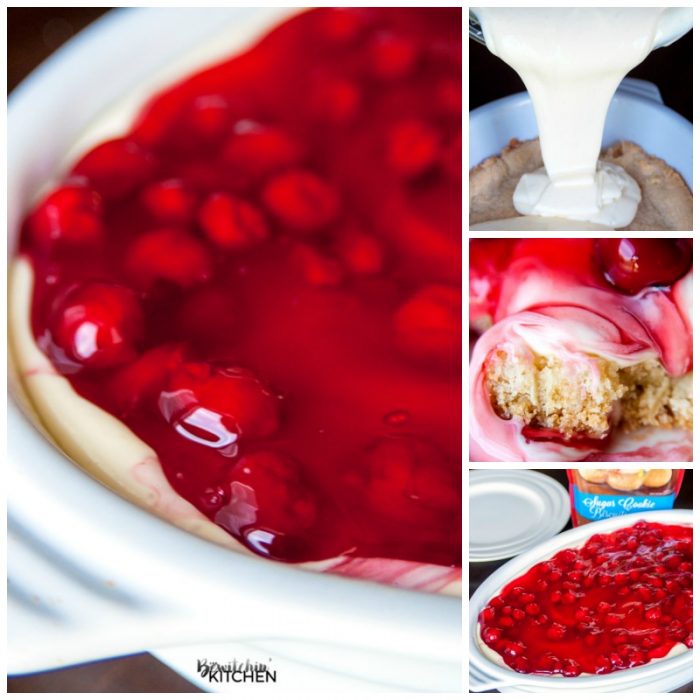 For the next twelve months, I'll be teaming up with Life Made Delicious. Life Made Delicious brings you household favorites such as: Old El Paso, Betty Crocker, and Pillsbury. I'll be using the everyday products we see (and often buy) from the grocery store and turn it into something incredible. My goal is to keep it easy with weekday meal type ideas.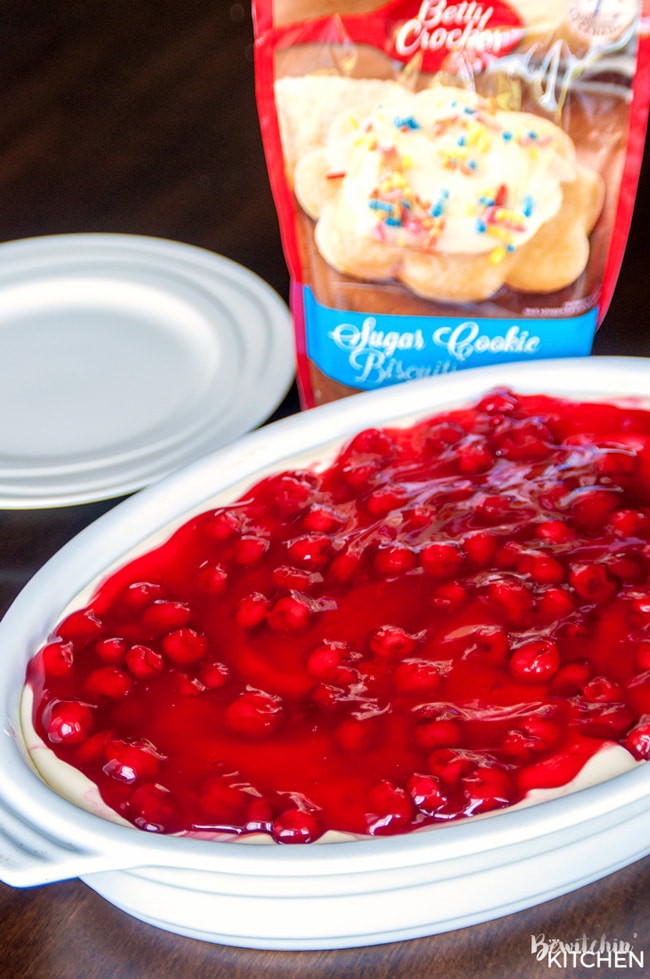 So with that being said, today I'm sharing a summer dessert idea in the form of easy cherry cheesecake. Nothing says summer than a no-bake cheesecake filling topped with seasonal cherries.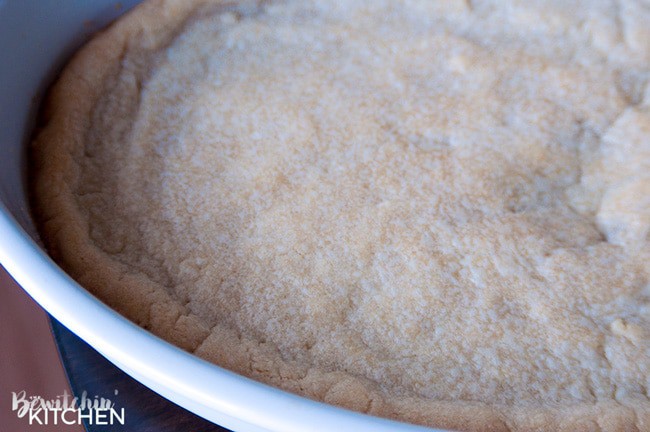 The base of this easy cherry cheesecake is a little outside of the box, I used Betty Crocker's Sugar Cookie Mix. The sugar cookie mix produces super soft sugar cookies, so I overcooked it a bit to give the crust a bit of a crunch.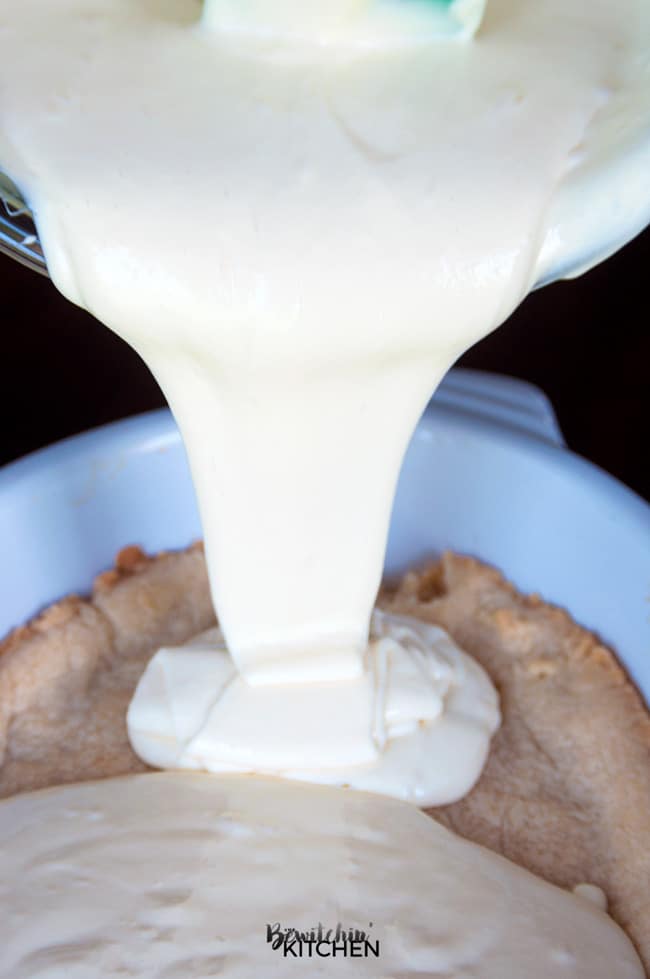 I made a super simple cheesecake mixture with cream cheese, sweetened condensed milk, vanilla and a little bit of powdered sugar. Originally I wasn't going to add the sugar, but I used a little bit to thicken it up a bit.
When it comes to adding the cherry pie filling, let the cheesecake set in the fridge for a few hours first (or until firm). I didn't do that at first and the pie filling sunk, and that required me to go to the store and get another can – which made me grumpy. So listen to my advice.
Easy Cherry Cheesecake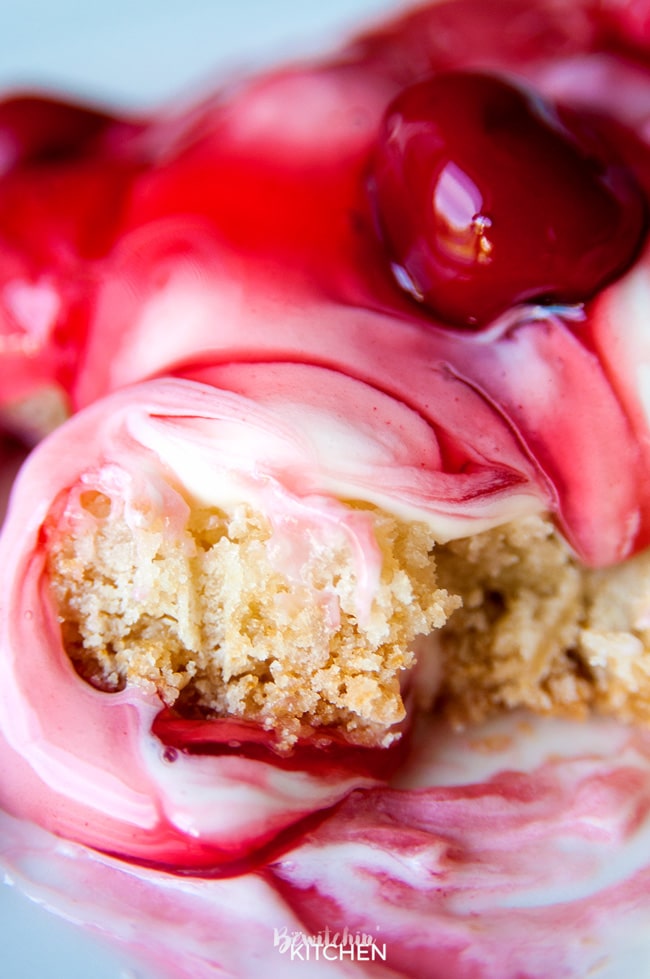 I'm sure this will be added to your family's favourite summer dessert recipes. It's been added to mine. The best part is that you can do this with most pie fillings, I'll be doing a few more (like strawberry rhubarb) and posting it soon.
Easy Cherry Cheesecake with Sugar Cookie Crust
Easy cherry cheesecake recipe is the perfect summer dessert. Using a sugar cookie crust, a no bake cheesecake recipe and cherry pie filling it's a delicious dessert for summer.
Servings 9
Calories 495kcal
Ingredients
For the sugar cookie crust
For the cheesecake
2 cups cream cheese
1 can sweetened condensed milk
2 tbsps powdered sugar
1 tsp vanilla extract
1 can cherry pie filling
Instructions
For the sugar cookie crust
Preheat oven to 375.

In a medium bowl mix together the sugar cookie mix, butter, and egg.

Spray a 9x13 baking pan with nonstick spray and press the cooking into the pan.

Bake for 20 minutes. Let cool completely.
For the cheesecake
In a medium mixing bowl add everything but the cherry pie filling.

Pour over the cooled sugar cookie crust. Let set in the fridge for 1-2 hours (otherwise the cherries will sink).

When the cheesecake is set, top with the cherry pie filling.
Nutrition
Serving: 1g | Calories: 495kcal | Carbohydrates: 46g | Protein: 7g | Fat: 31g | Saturated Fat: 18g | Cholesterol: 115mg | Sodium: 326mg | Potassium: 308mg | Sugar: 27g | Vitamin A: 1270IU | Vitamin C: 3.5mg | Calcium: 187mg | Iron: 0.5mg
Follow On Pinterest
Follow @bewitchinkitchen On Pinterest for more delicious recipes!
If you like this recipe for Easy Cherry Cheesecake, please share it with your friends. 
This recipe has been sponsored by Life Made Delicious.