Pesto Pasta Salad
This Pesto Pasta Salad is a tangy twist on a macaroni salad and is my new favorite summer salad recipe. Sundried tomatoes, smart veggie pasta, spinach, feta cheese, red pepper, and olives tossed in a homemade honey pesto vinaigrette. This cold pasta salad recipe also makes a delicious and nutritious addition to a school lunch.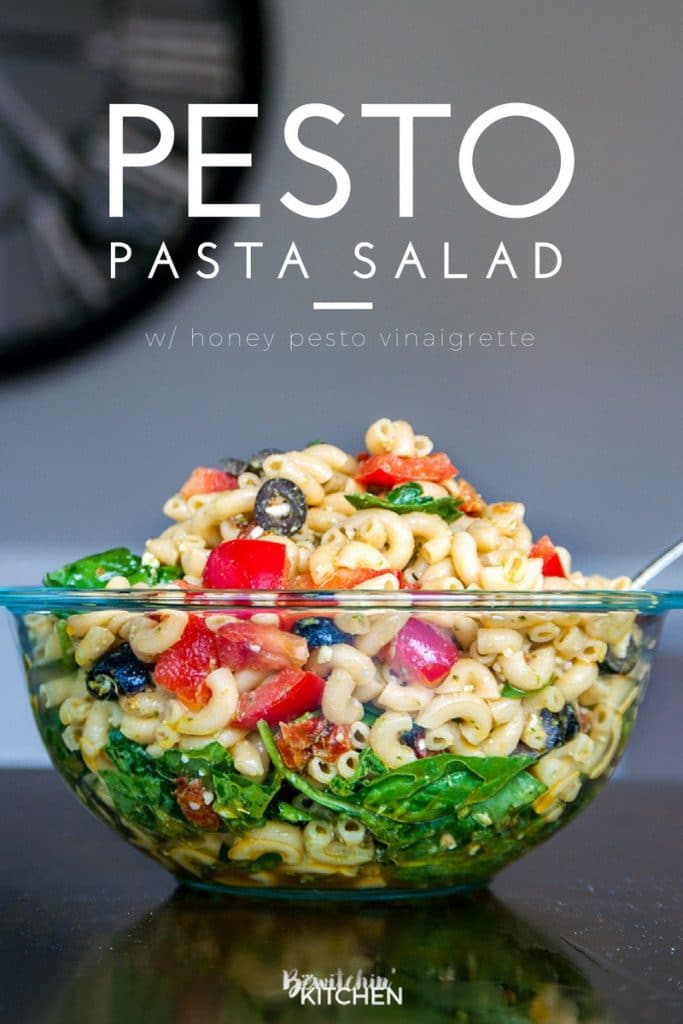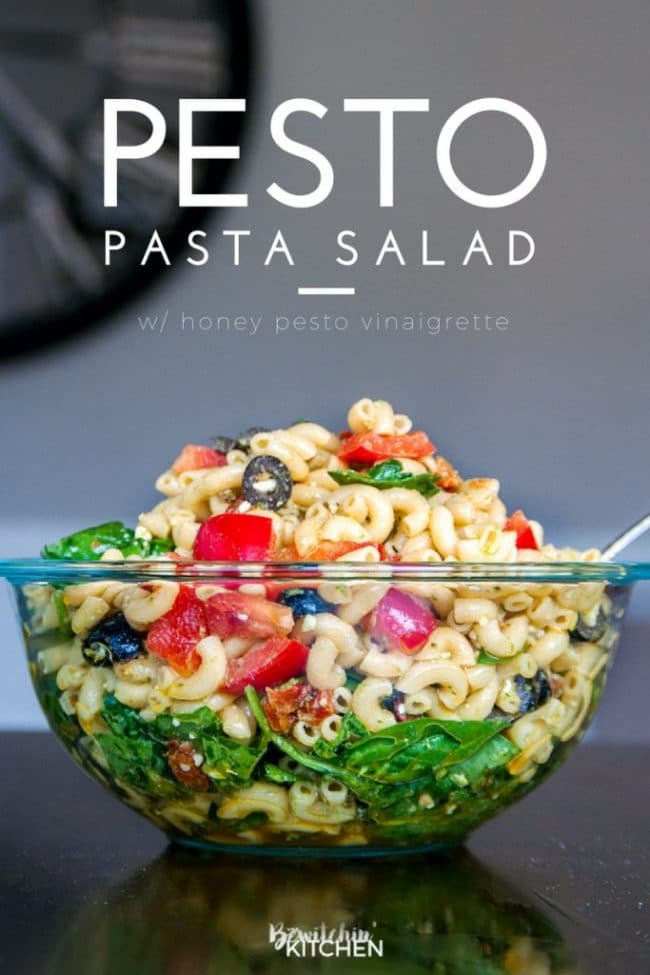 Pesto Pasta Salad
Disclosure: This delicious pasta salad recipe contains affiliate links for your convenience. 
It's that time again, back to school. How can that be when it's still summer? I'm not ready to give up the barbecue yet, so I'm determined to have the best of both worlds. Here's how you can kill two birds with one stone with this recipe for Pesto Pasta Salad.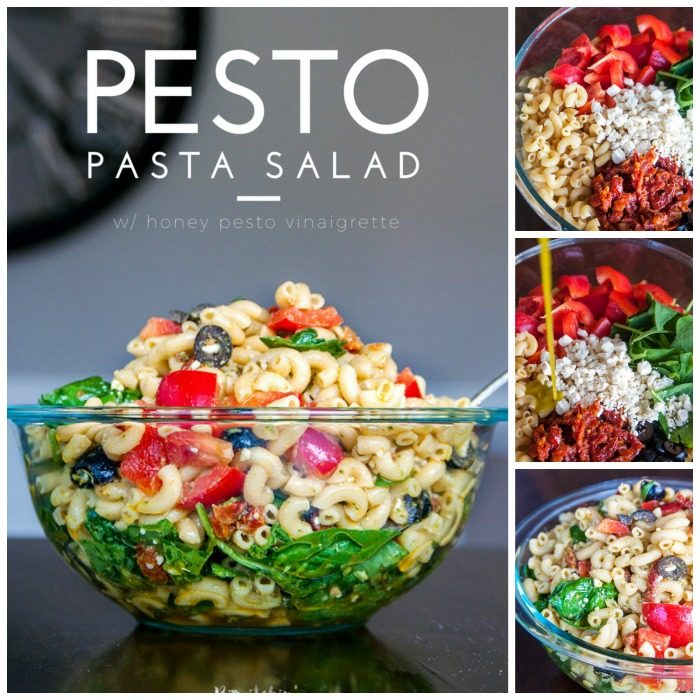 I love a zesty salad, and that is just what this salad is pesto vinaigrette recipe. The tangy vinaigrette satisfies my taste buds and I feel that this pasta salad can be enjoyed year round but the zest (to me) screams summer.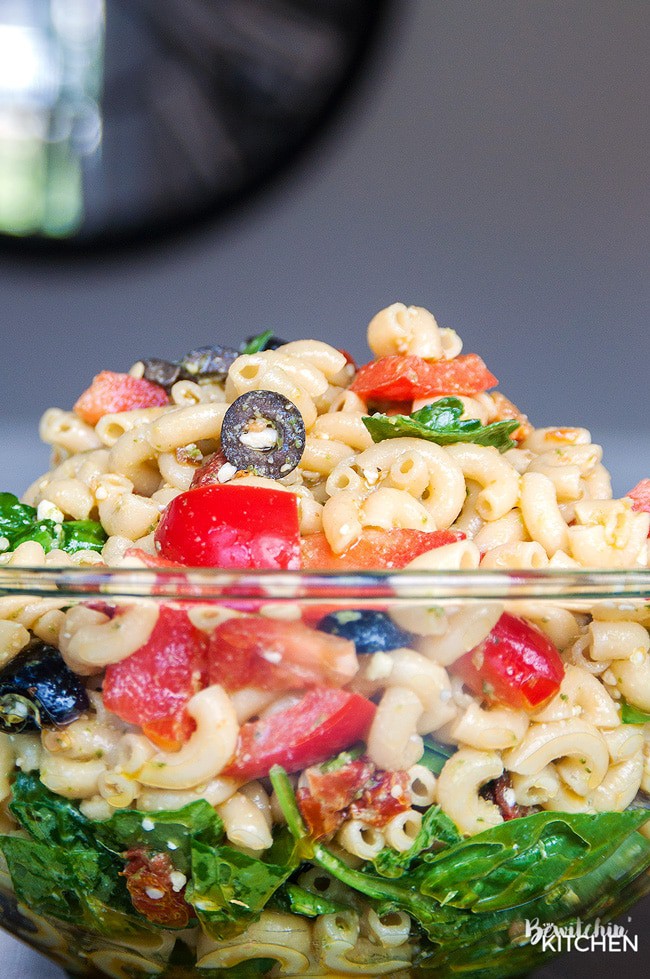 You know what's the best part of this recipe for Pesto Pasta Salad (aside from tasting freaking awesome)? It's full of vegetables and I'm not just talking about the spinach, olives, sundried tomatoes and red peppers that you see. I'm talking about the hidden veggies.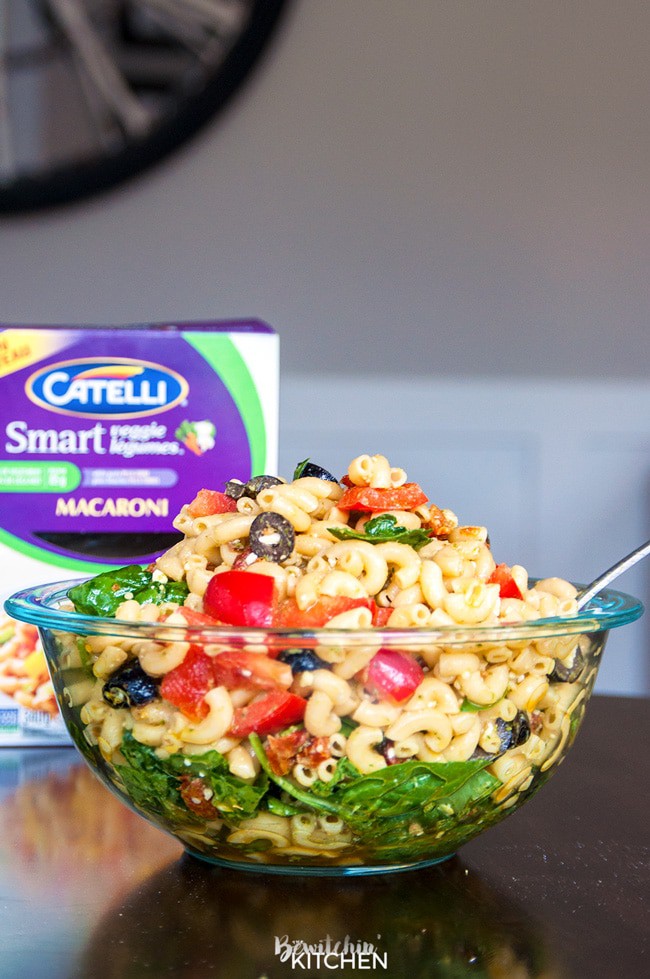 For this recipe for cold pasta salad, I used Catelli Smart Veggie Macaroni. The pasta is made with carrots and cauliflower and provides you and your family half a serving of vegetables with each 85g serving of pasta.
So maybe this recipe kills three birds with one stone: dinner, school lunch, and providing vegetables.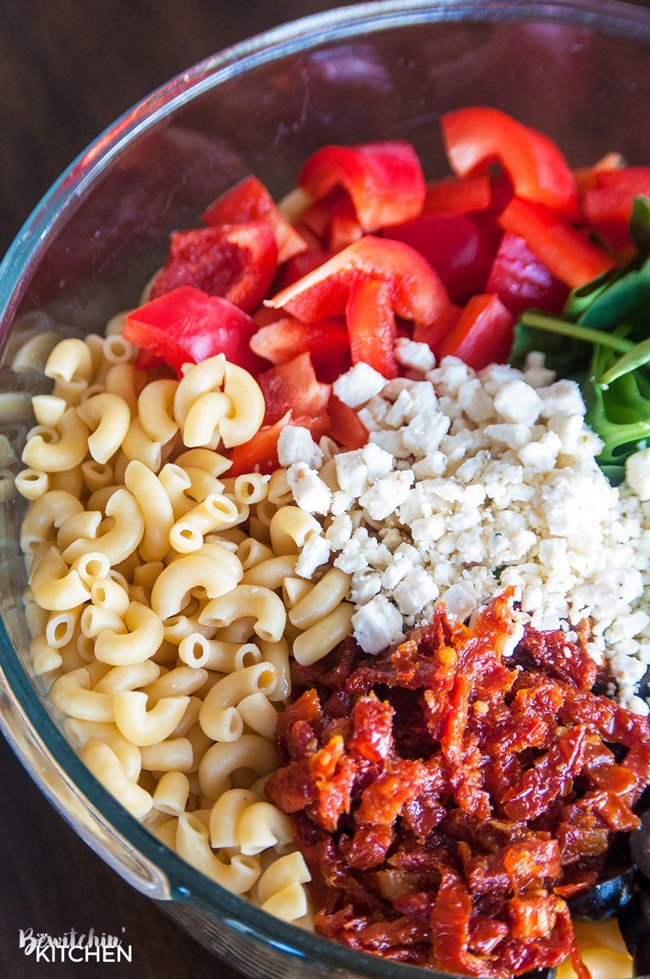 You guys, this pasta is saving me some precious sanity. My son's situation with vegetables right now is not good. Like most young children, he refuses to eat them. His vegetable intake comes in the form of ketchup (this is me being sarcastic, I'm aware ketchup is not a vegetable).
What works for our family is when we served our picky eater this salad, we took out all the vegetables. He was iffy with the green of the pesto vinaigrette but he dug in. He felt like he was winning and I knew I was because Catelli Smart Veggie has the 1/2 serving of vegetables.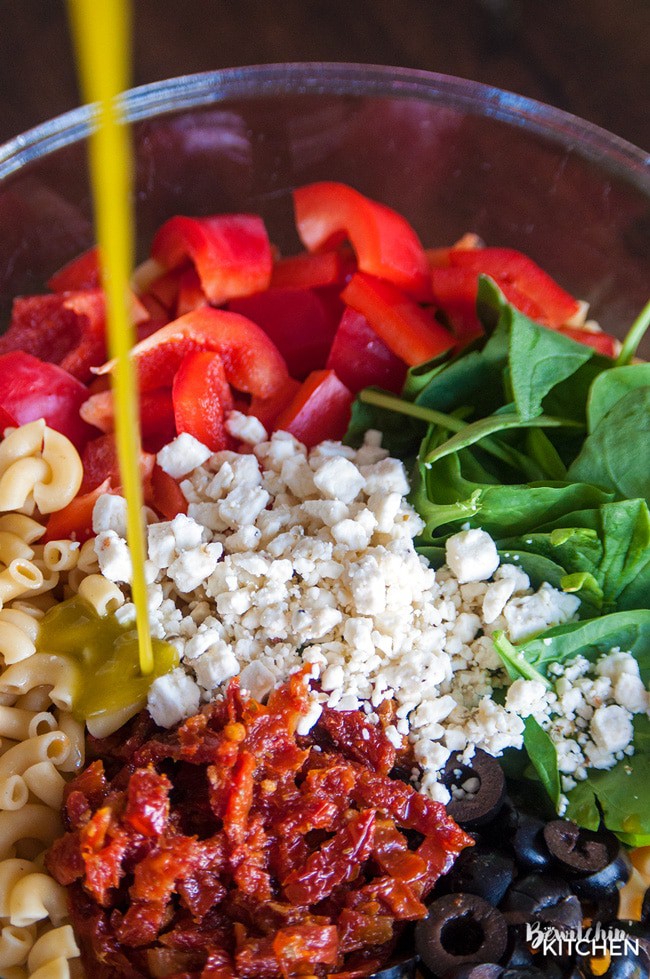 Sometimes as parents, we have to give in and let them have their way so our brain doesn't explode.
Pesto Pasta Salad Ingredients
What to Serve with Pasta Salad
Pesto Pasta Salad Recipe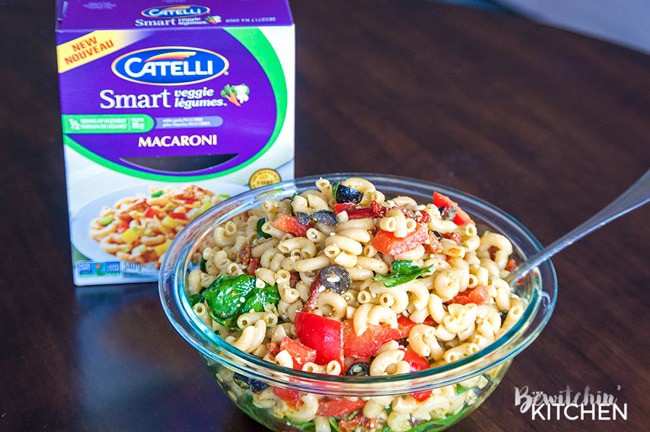 There are still a few weeks of summer left, and let's not forget the September BBQs (it looks like we're having a long summer here in Northern BC). This Pesto Pasta Salad is such an easy salad to make and makes a great addition to a potluck. I promise it's going to go fast.
PS: If you like this Pesto Pasta Salad, then you're going to LOVE this recipe for Fajita Pasta Salad.
Pesto Pasta Salad
A delicious and easy cold pasta salad recipe, this Pesto Pasta Salad is a delicious side dish to bring to summer cook outs.
Servings 8
Calories 464kcal
Ingredients
1 box Catelli Smart Veggie macaroni
1 cup baby spinach
1 red pepper cubed
1 small can sliced olives
1/2 cup marinated sun-dried tomatoes
1/2 cup feta cheese crumbled
1 batch pesto vinaigrette
Instructions
Cook the Catelli Smart Veggie macaroni according to package directions, set aside to cool.

Once the macaroni is cooled, add the baby spinach, red pepper, olives, sundried tomatoes, and cheese.

Toss with Pesto Vinaigrette.
Nutrition
Serving: 1g | Calories: 464kcal | Carbohydrates: 50.9g | Protein: 10.3g | Fat: 25.2g | Saturated Fat: 4.9g | Cholesterol: 8.3mg | Sodium: 308.6mg | Fiber: 6.6g | Sugar: 7.7g
Follow On Pinterest
Follow @bewitchinkitchen On Pinterest for more delicious recipes!
What's your favorite cold pasta salad recipe?