Health Warrior Chia Bars

By now I'm sure you have heard about the super-food, Chia. It's an ancient seed that fueled the Aztec Warriors and gave them the energy to build their empire. Chia is known is massively nutrient dense, and gives a person a substantial amount of energy. It has been dubbed the name "runner's food" because of that reason. I have read stories about the ancients chewing on a handful of chia on going on leg shredding runs.
Health Warrior has created Chia Bars and I'm dumbfounded by the nutrients that it contains. Did you know that one bag of Chia is equivalent to the following?:
10 lbs of salmon. Omega 3's help with brain function, cell and tissue growth.
3 lbs of tofu. Protein helps repair and rebuild muscles. It's easy to digest too.
4 lbs of 1% milk. Milk gives you stronger bones.
4 lbs of oatmeal. Fiber keeps you feeling fuller, longer.
15 lbs of broccoli. Magnesium and calcium, another way to keep your bones strong and prevent osteoporosis.
Um, wow. That's pretty amazing if you ask me. Something that healthy cannot taste good right? Wrong, dead wrong. Health Warrior's Chia Bars are fan-freaking-tastic. Nutrition wise each bar has 100-110 calories, 1000 mg of Omega 3's, 4g of Fiber, 5g of sugar and 3g of protein. Taste wise, you cannot tell that you are eating something healthy at all.
At first when I received the bars, I was annoyed with how small they were. If I was to guess I would say the bars are about 2 – 2 1/4 inches long and I did not believe that it would be a snack that would tie me over until my next meal. Well by the time I finished the bar, I was satisfied. I was astonished how something so little could make such a difference with my appetite. Don't let the size deter you.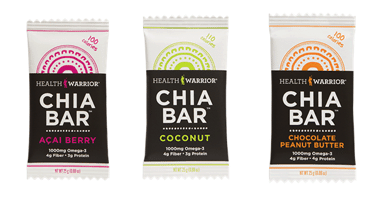 Acai Berry chia bar is my favorite flavor. It's tart, but not sour. It reminded me of fruit leathers that my mom used to put in my lunches as a kid – but the difference is I actually like these.
The Coconut chia bar came in second. I love the tropical twist on the bar and it's a fabulous substitution when those pina colada cravings hit.
The Chocolate Peanut Butter chia bars did not appeal to me at all. I didn't care for the flavor, in fact I couldn't even eat them. I did taste a hint of peanut butter in it but it wasn't a smooth combination of the flavors. If I want a chocolate/peanut butter fix in bar form I'll stick to my P90X bars.
All in all I think Health Warrior Chia Bars are the perfect pick me ups for the mid morning or afternoon snack attacks. I highly recommend carrying them around in your purse or your car so you're not tempted to nosh on fast food when you're on the go.