Healthy Crockpot Lasagne
I have a very picky eater, so when our family gets together at the end of the day I do what I can to load as much nutrition as possible in our dish. This Healthy Crockpot Lasagne is not only tasty, but loaded with vegetables and gluten free too!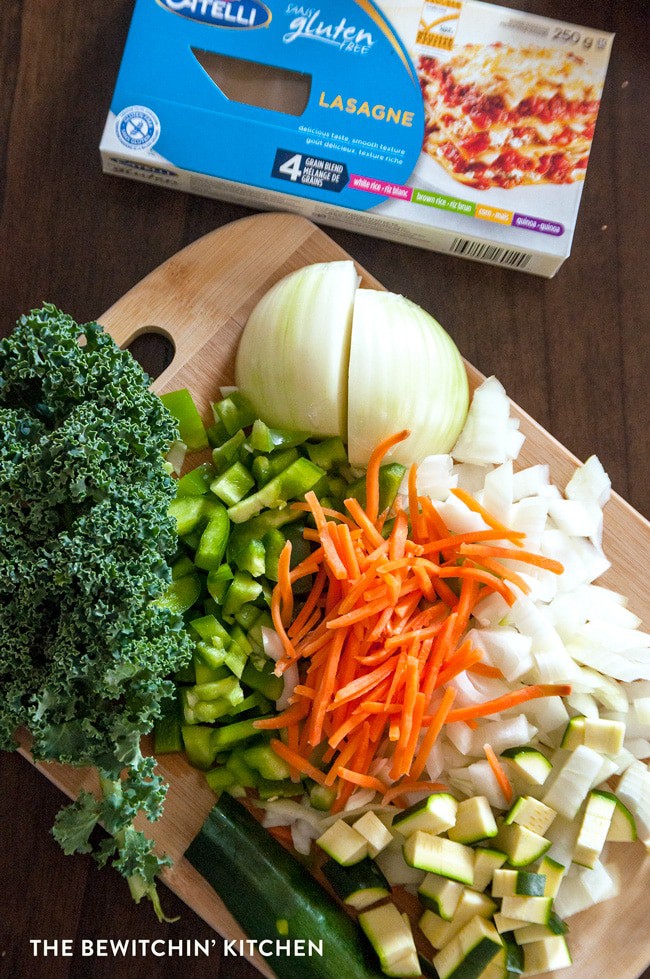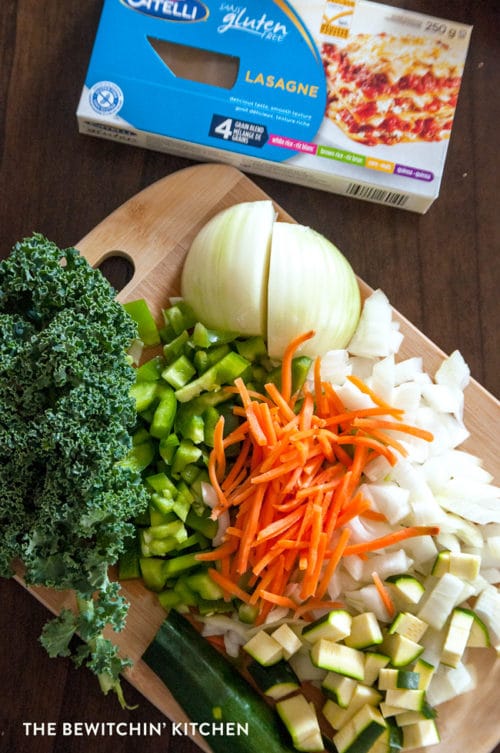 If you're wondering the difference between lasagne and lasagna, I mentioned that before in my Gluten Free Lasagne Soup, check it out.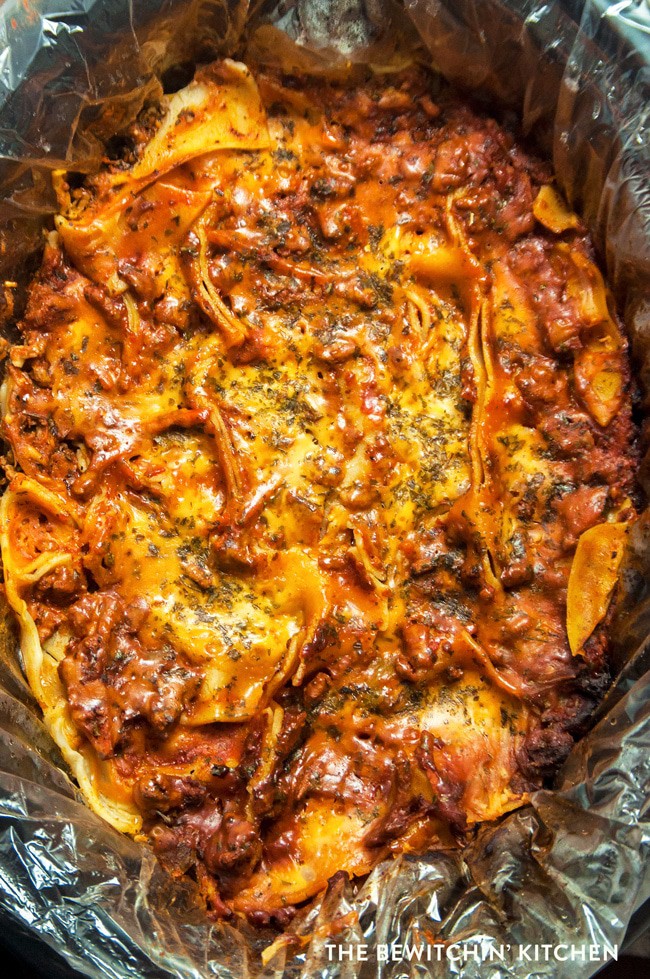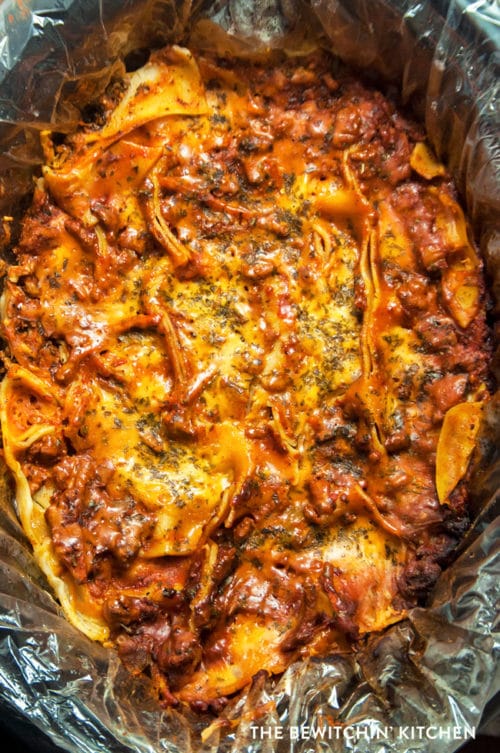 [clickToTweet tweet="Healthy crockpot lasagne recipe that's gluten free + loaded w/ veggies. #Catelli150″ quote="Healthy crockpot lasagne recipe that's gluten free + loaded w/ veggies. #Catelli150″]
I have been asked to come back as a Brand Ambassador for Catelli for 2017, and I'm thrilled. Catelli is our family's go-to pasta. One of my favorites in their pasta line-up is Catelli Gluten Free. This pasta is made with a blend of white rice, brown rice, corn, and quinoa. It tastes just like white pasta, so no one will know the difference, and it's perfect to welcome everyone to the dinner table to reunite after a long day for a comforting meal.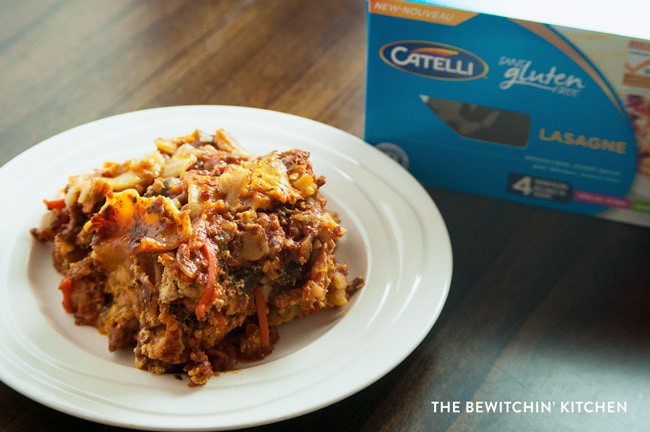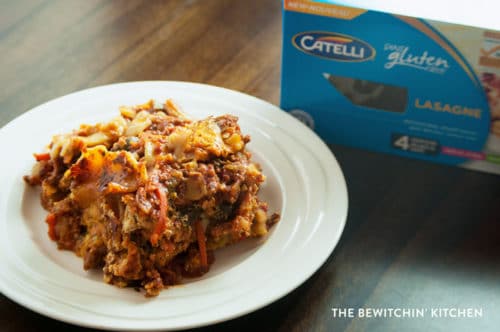 I chose to make the Crockpot Lasagne when I knew our schedule was full. I love my crockpot because it does most of the work for me, and I can simply add my ingredients and walk away.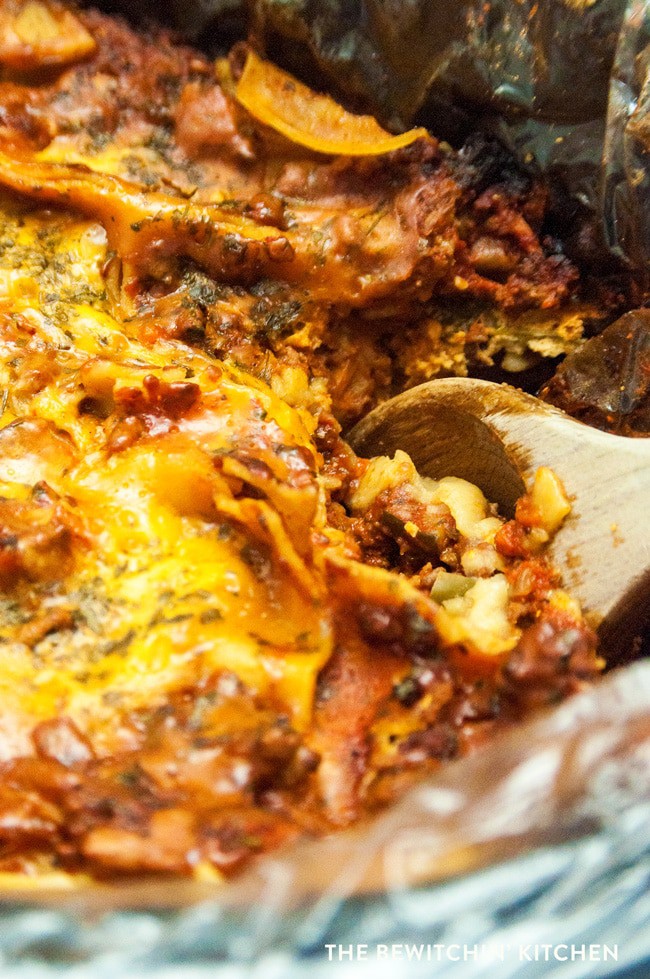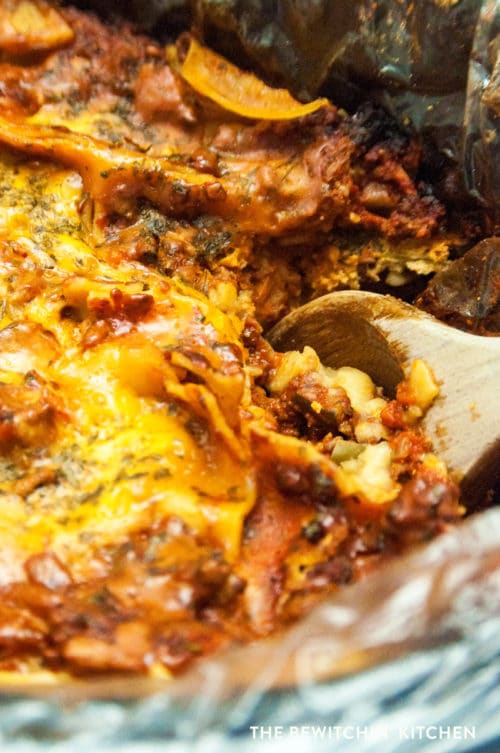 As my son gets older, our lives are becoming busier and busier. He now has school, play dates, hockey, and (soon) T-Ball. I run a business, so I'm usually working on recipes, eBooks, the Click Start Club eCourse, or shooting photos. Weekends are no longer our time to hang out and do nothing (well, not every weekend) and I'm finding our family is dividing and going into different directions more often than what I would like.
Before my son was born, I knew I wanted dinner time to be our family's time to reunite. Our dining room may be our staging room for our kitchen renovation, but we keep half the table clear (this is real life friends!) so we can sit down to talk about the highlights of our day. My tagline for The Bewitchin' Kitchen is lives are brought together at the kitchen table after all.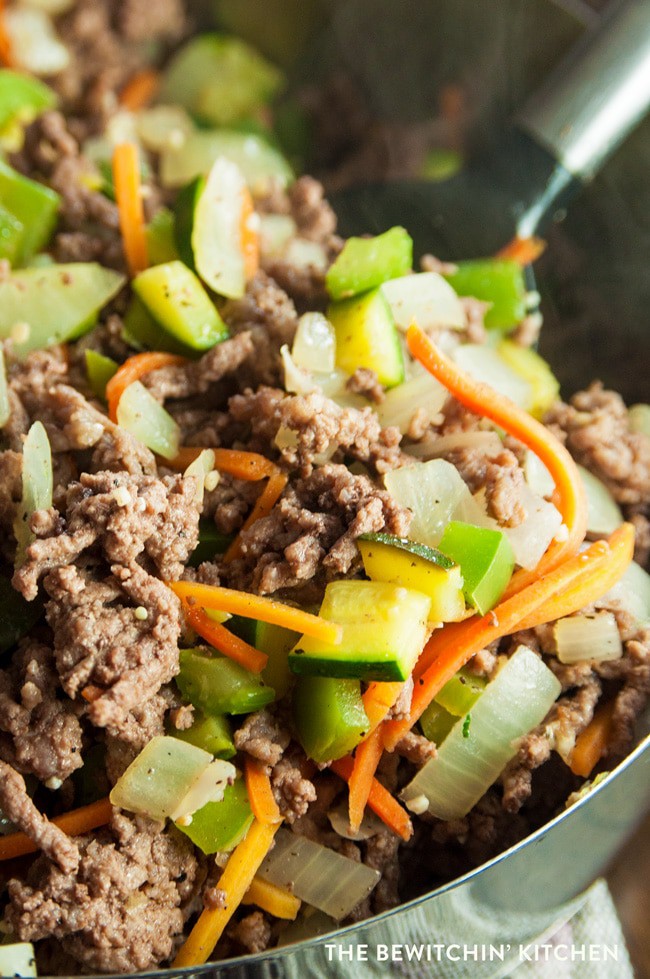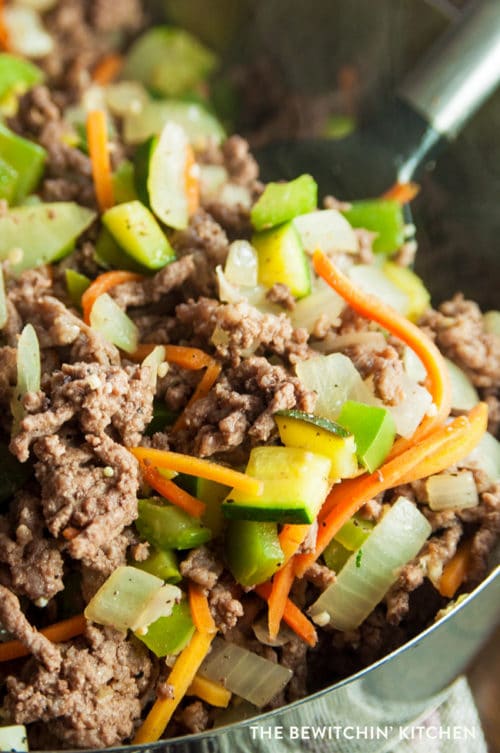 On this particular day, I prepped the vegetable loaded meat sauce in the morning. I had two ulterior motives with this sauce:
Clean out my fridge with vegetables that didn't have more than a few days left.
Trick my son into eating a ton of vegetables that he wouldn't have touched otherwise.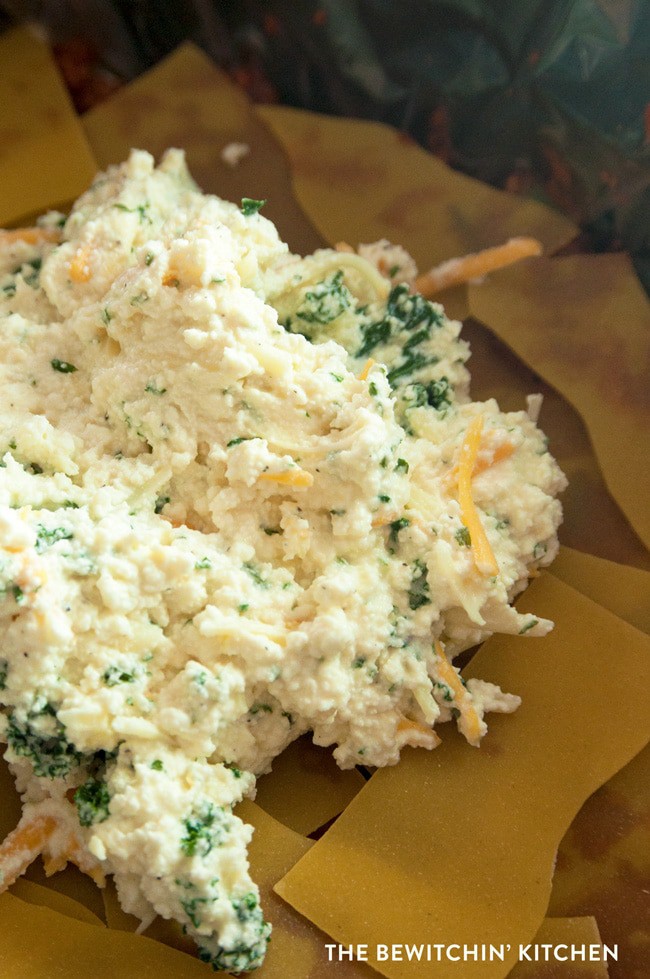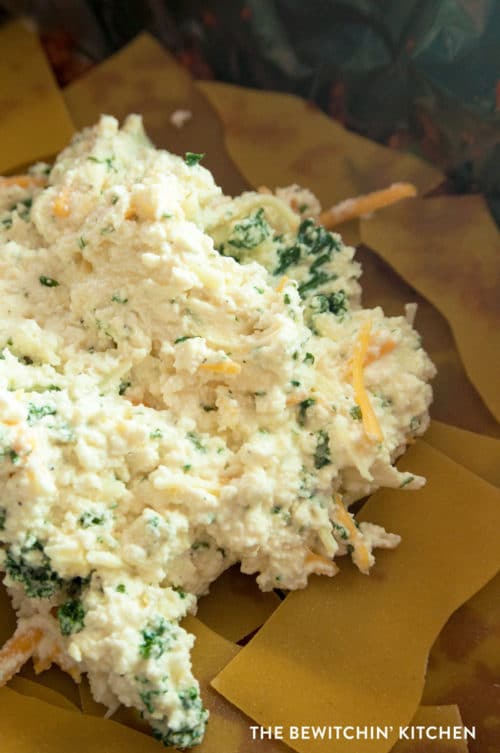 Then I layered the lasagne ingredients in my Crockpot (super helpful tip: use a crockpot liner, these bad boys make cleanup a breeze).
Then it cooked!
During the day, I was shooting recipes for my vinaigrette eBook, my husband and my son took off to hockey and a day of swimming, and we reunited at dinnertime to share our favourite moments.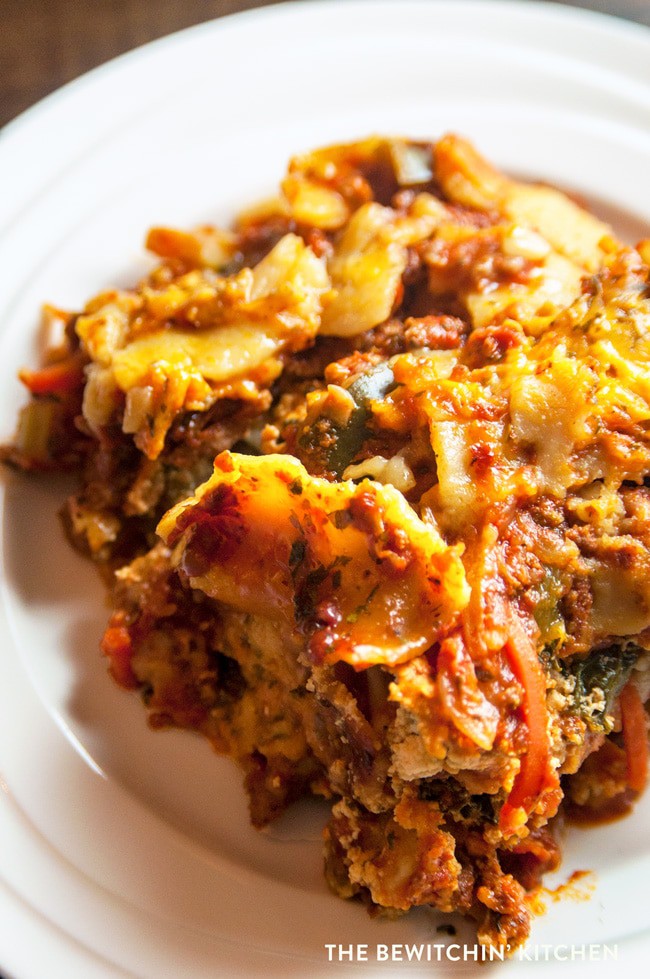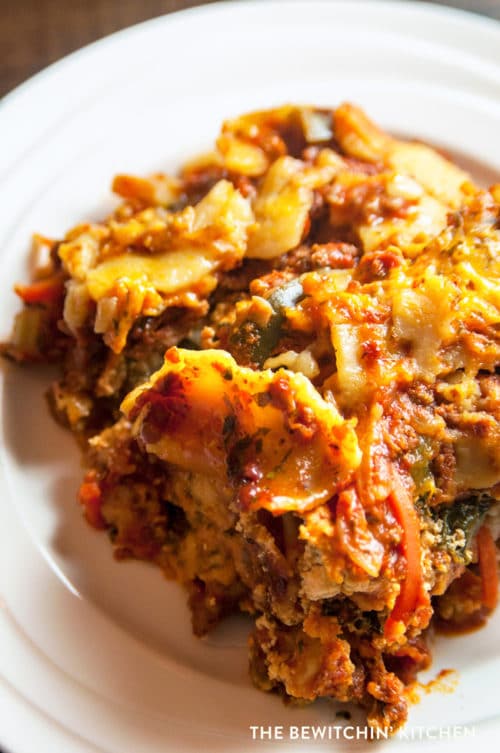 Let's keep it real here, Crockpot meals are not always the prettiest. They usually fall apart on the plate. Since this dish cooked all afternoon, the Catelli Gluten Free noodles soaked up the majority of the sauce and it kept its shape fairly well.
Healthy Crockpot Lasagne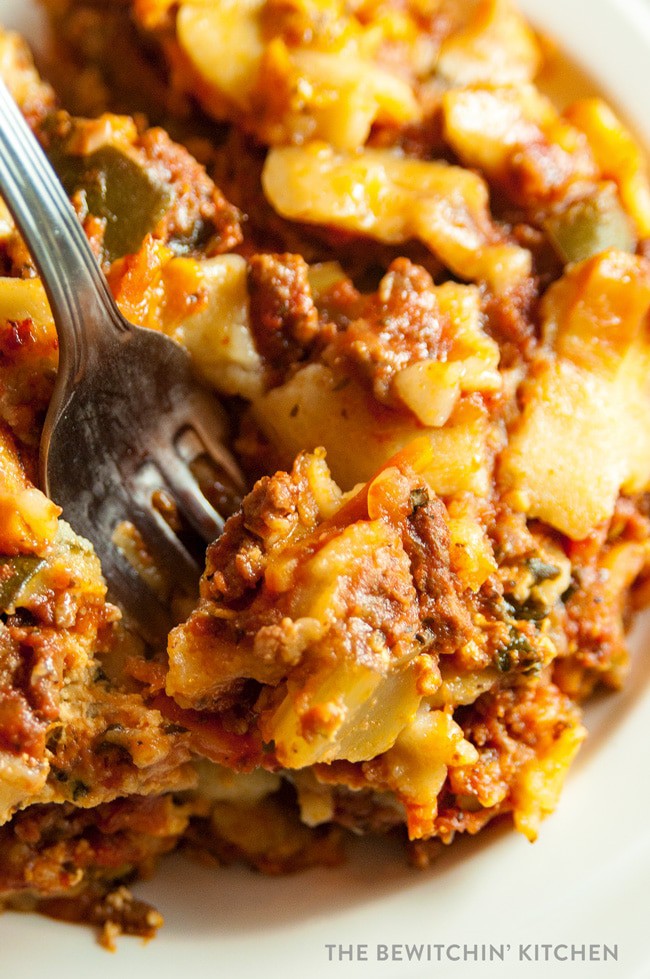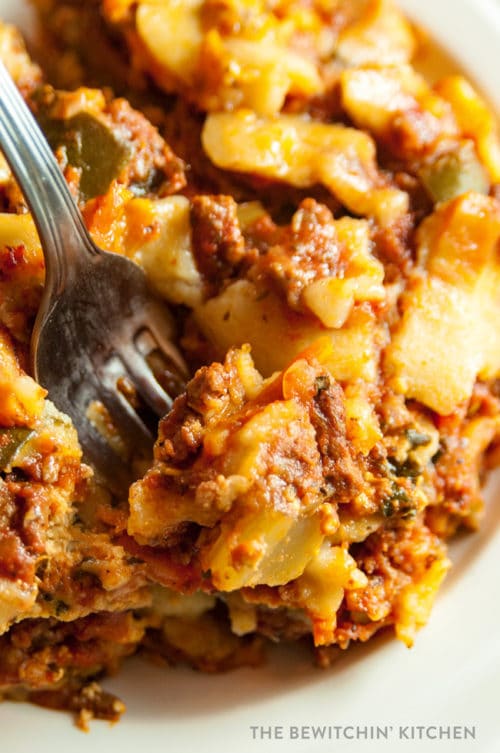 This healthy crockpot lasagne recipe is not only gluten-free but it's also loaded with vegetables. It's the perfect picky eater lasagna recipe.
Healthy Crockpot Recipes
Healthy Crockpot Lasagne
This healthy crockpot lasagne recipe is not only gluten free but it's also loaded with vegetables so you can rest assured your picky eater is getting nutrition in their diet.
Servings 8 servings
Calories 582kcal
Ingredients
Meat sauce
2 tbsps olive oil
1 pound extra lean ground beef
1/2 pound hot Italian sausage
1 onion diced
1 stalk celery chopped
1 green pepper diced
1 zucchini diced
1/4 matchstick carrots
2 cloves garlic minced
1 28 oz can crushed tomatoes
1 6 oz can tomato paste
1 tbsp dried oregano
1  tbsp dried basil
2 tsps parsley
Ricotta layer
2 cups ricotta cheese
2 stalks kale stems removed and wilted
1/2 cup mozzarella cheese
1/4 cup parmesan cheese
2 tsps garlic powder
Salt and pepper
1 egg
1 pkg Catelli Gluten Free Lasgane
2 cups  mozzarella/cheddar mix
2 tbsps parmesan cheese
Instructions
Meat sauce
Add the olive oil to a large pot and heat over medium-high heat.

Add the ground beef and sausage, sauté until cooked, strain the fat and set aside.

In the same pot, add the onion, celery, pepper, zucchini, and carrots. Sauté for roughly five minutes or until onions are translucent.

Add the rest of the ingredients and let simmer on medium-low for 15 minutes.
Ricotta layer
In a small bowl add all the ingredients for the ricotta layer and mix.
Assemble
Add 1/4 cup of the sauce to the bottom of your Crockpot or slow cooker and layer the noodles, ricotta mixture, cheese, meat sauce and continue until you run out of ingredients. Top with remaining cheese. Cook on low for 3-4 hours or high on 5-6 hours.
Nutrition
Serving: 1g | Calories: 582kcal | Carbohydrates: 20g | Protein: 44g | Fat: 36g | Saturated Fat: 17g | Cholesterol: 154mg | Sodium: 935mg | Potassium: 919mg | Fiber: 3g | Sugar: 7g | Vitamin A: 2770IU | Vitamin C: 45mg | Calcium: 774mg | Iron: 4.4mg
Follow On Pinterest
Follow @bewitchinkitchen On Pinterest for more delicious recipes!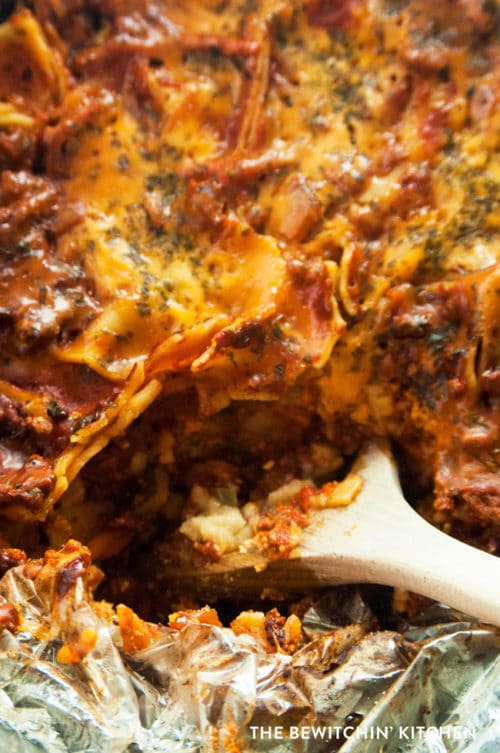 Disclosure: This recipe for Healthy Crockpot Lasagne has been sponsored by my friends over at Catelli. All opinions are my own.