How to Stain a Deck in 4 Easy Steps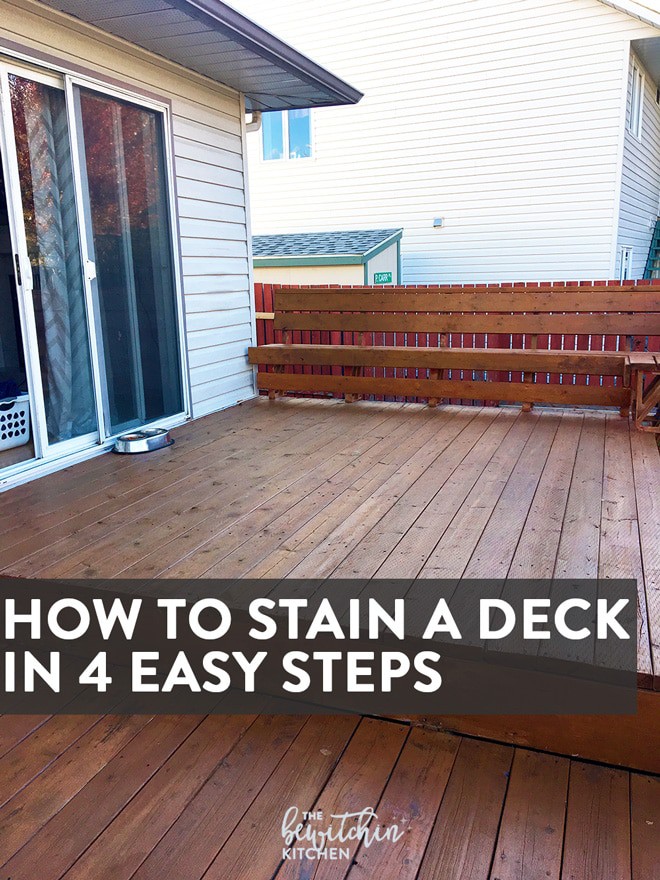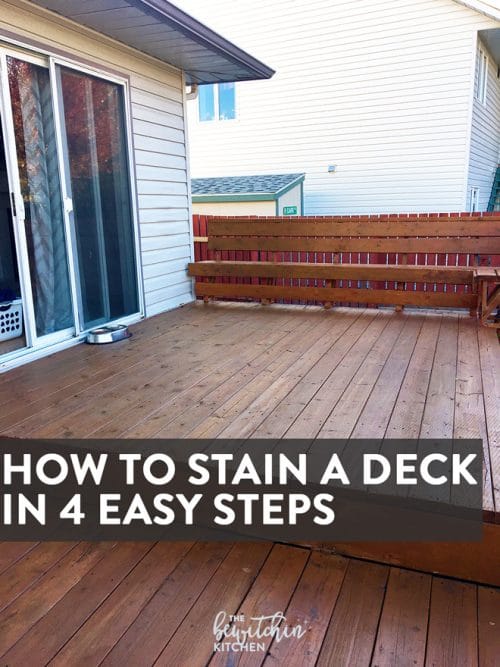 All summer I have been looking at my deck, knowing that a change was needed. I've been planning a deck refresh for months and after a very rainy July I've finally completed my project. Here's how to stain a deck (and the lazy but effective way to strip and prep it too).
How To Stain a Deck Step 1: Prep Work
Before we bought our home, it was used as a rental property. It's safe to say that nothing was maintained before we moved in and the deck was no different. The deck needed a good cleaning before we did anything, so we decided to use our pressure washer to get rid of years of grime (we have this Ryobi 2700 psi Pressure Washer).
A note about pressure washing: be careful. You need to get pretty close to make a difference in the wood, but don't get too close or your will take some of the wood clean off. I did that in a few spots, so start far and move to where you're at a safe distance. Our deck was chipped and a lot of the wood was showing already, so I knew I was at a good distance when I saw the wood changing color. This step also helped with stripped as a lot of the loose paint came clean off.
How To Stain a Deck Step 2: Strip It.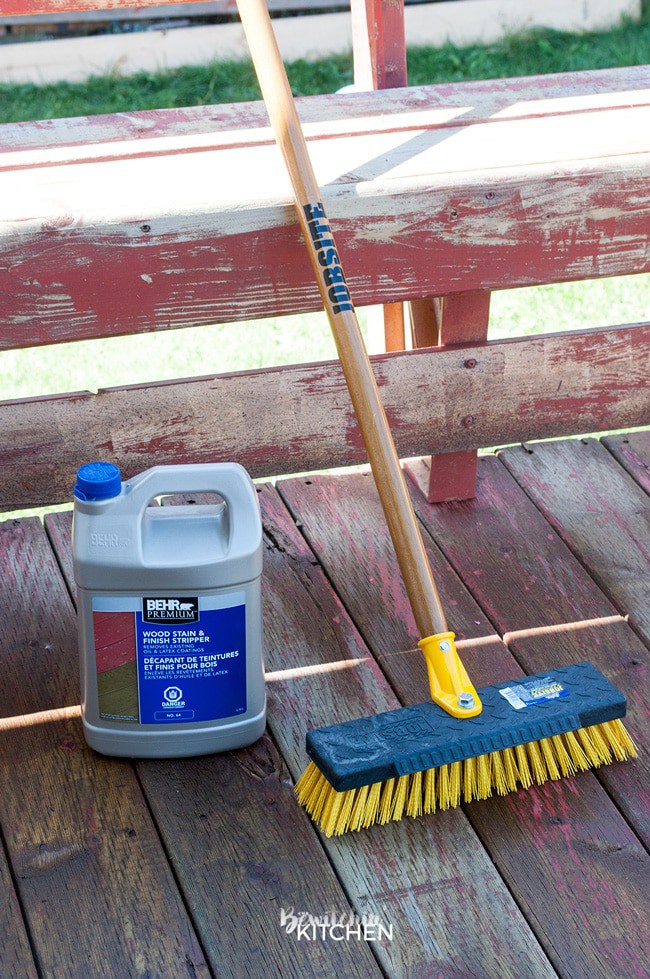 I really didn't want to sand the deck. I knew it was going to be a lot of work, and time was of the essence. I was reading a lot of reviews online about the Behr Premium Wood Stain & Finish Stripper and they were mixed. I decided to go to the Home Depot and speak to someone myself about it.
The lady I spoke with, used the product herself and said it worked great. She said to follow the instructions exclusively as the complaints she has had came from people who didn't read the bottle and did their own thing.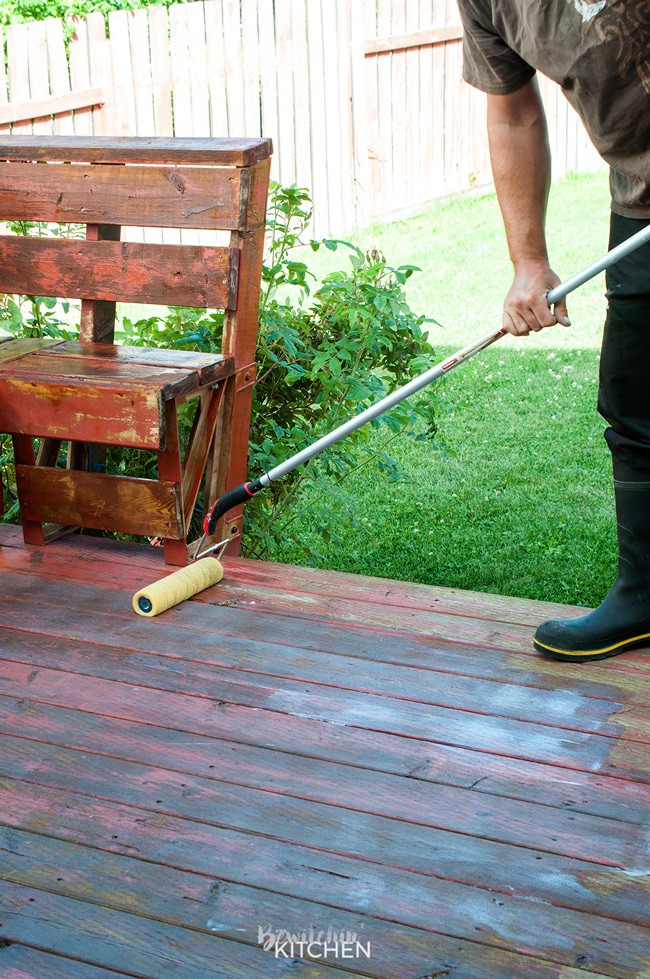 I used a foam paint roller to spread the Behr Premium Wood Stain & Finish Stripper on, the process was pretty quick. There is no diluting the product and make sure to shake the container. We didn't at first and it came out in a thin liquid, when it should be a thick and goopy consistency.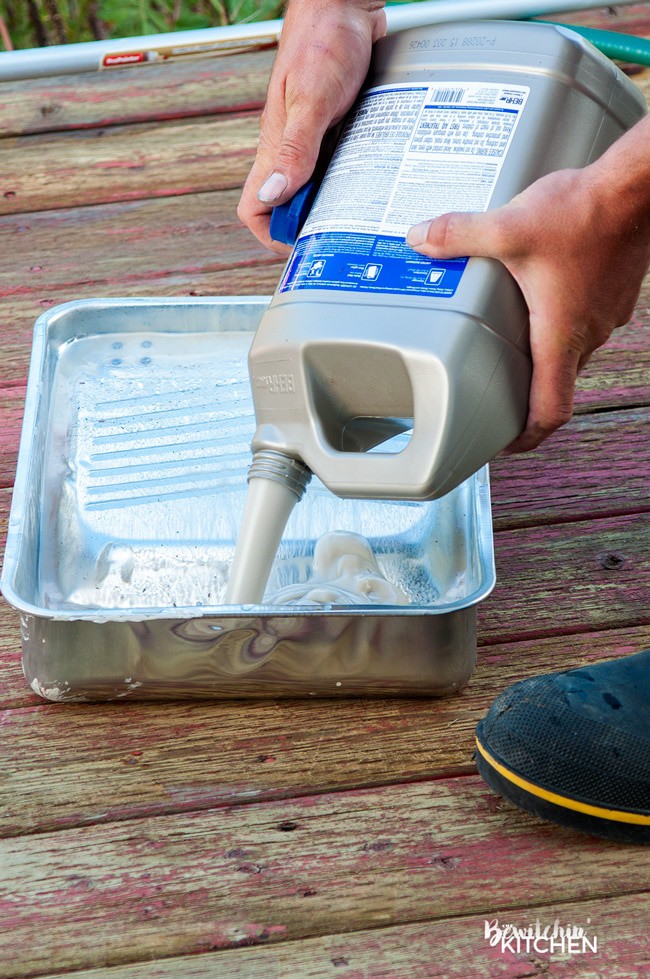 It's important to follow the instructions for application, it tells you the optimal time for application. We did ours in the morning when the heat was low and there was less direct sunlight.
We let the wood stripper sit for 45 minutes on the bottom deck and about 30 minutes on the top deck, any area that started to dry (due to direct sunlight) we used the garden hose on the mist setting. When it was ready, we took a deck brush and scrubbed hard. Who am I kidding with "we", my husband did that part.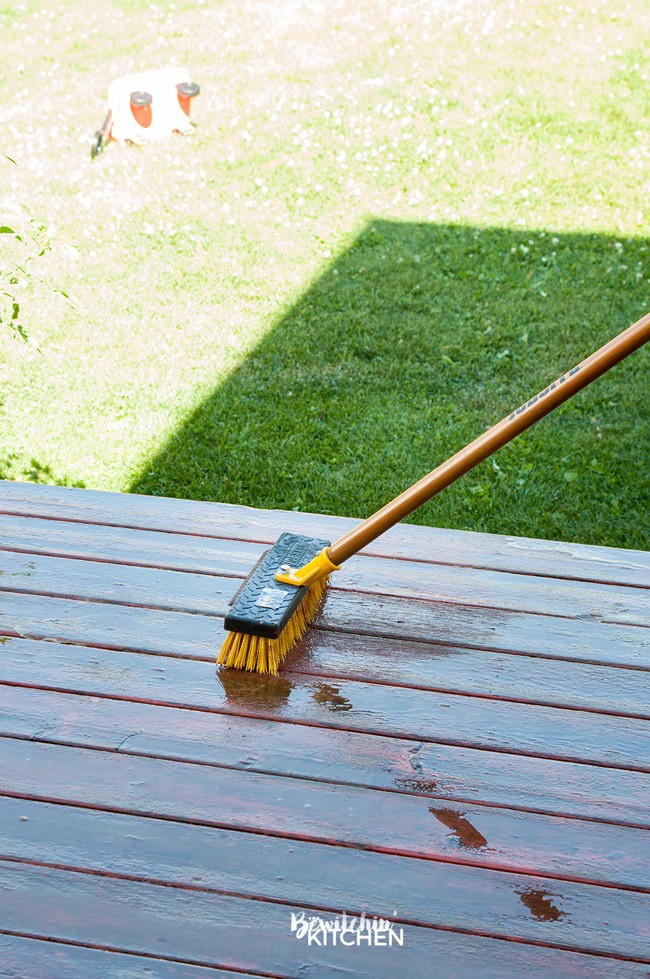 Remember this is basically an acid so don't use your brand new running shoes, my husband wore rubber boots and clothes he didn't care about. If you're wearing rubber boots – the deck is slippery, so watch your footing.
Spray off the stripper and you'll see the paint start to come off! We first did it with a garden hose but switched over to the pressure washer after. It made it so much easier.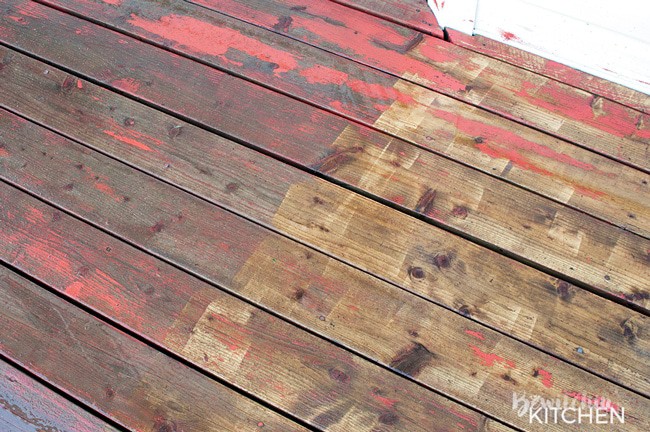 The wood stripper got almost all of the previous paint off. There were a few spots where I still had some paint left over, and I should have sanded it off but I didn't. I don't recommend doing that as if you're staining – this will not cover it up. I would say I got 95% of all the previous red paint off the deck. Keep that in mind.
How To Stain a Deck Step 3: Clean It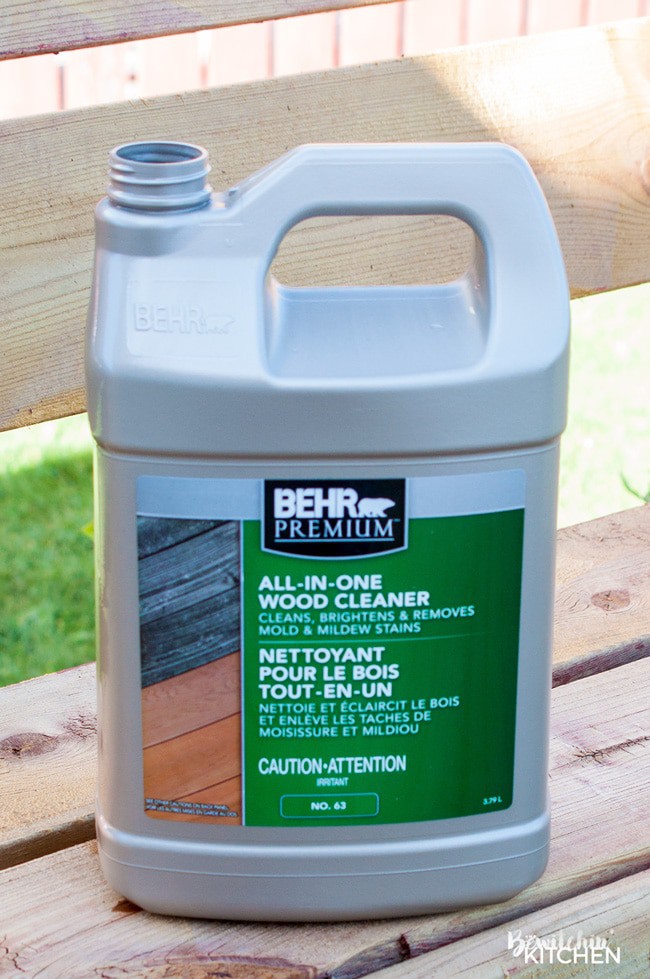 The lady at Home Depot couldn't stress this step enough. You need to use the Behr Premium All In One Wood Cleaner after the deck stripper. It takes all the remaining stripper off the deck, so the stain or paint will adhere better.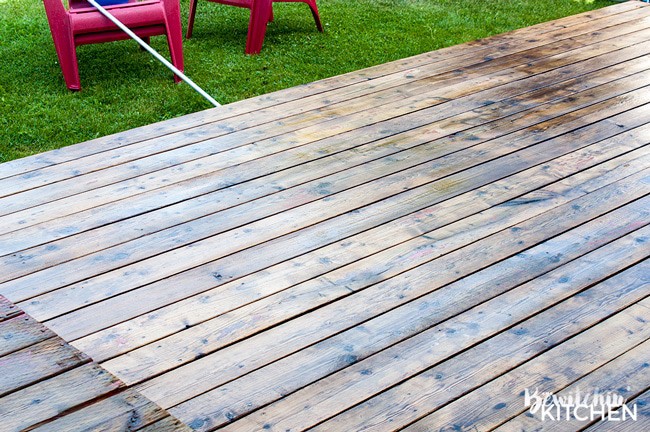 I'm the kind of person who starts a project and just wants it done. I hate it when it takes multiple days, but I also knew that I would be choked if the stain didn't work due to me rushing and skipping steps. I used the wood cleaner a few hours after the stripper was used. I diluted the wood cleaner in a 1:1 ratio of water and went to work. I used the pressure washer to rinse it off, then let it dry and rinsed it off again. Rinse it until all the foam is gone. Let the wood dry for 24 hours.
How To Stain a Deck Step 4: Stain It
FINALLY! We're at the step where your hard work shows. This step went surprisingly fast and the immediate results made my Millennial brain happy.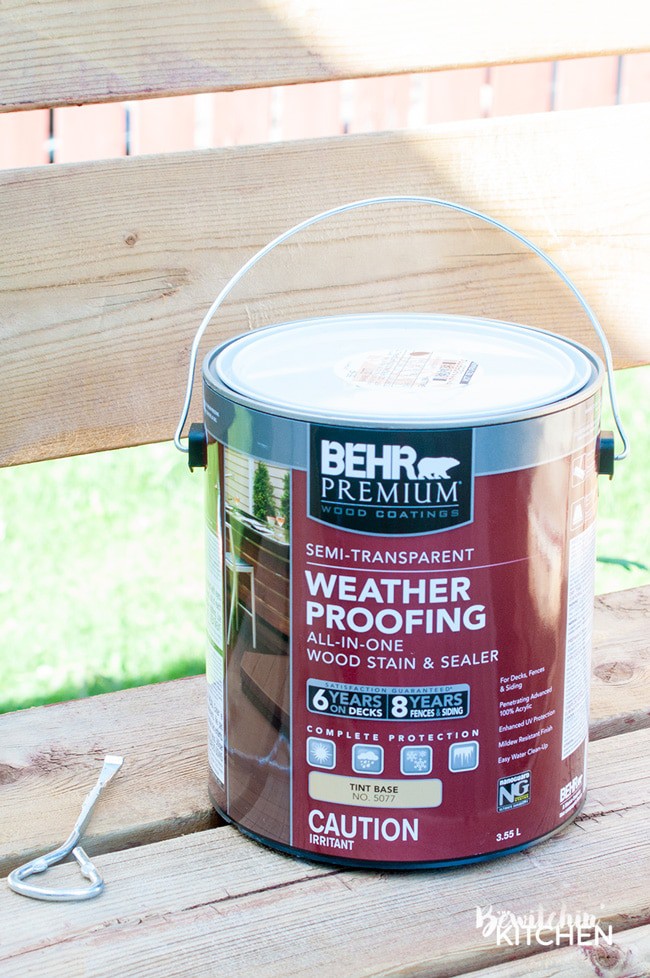 I decided on the BEHR PREMIUM® Semi-Transparent Weatherproofing All-In-One Wood Stain & Sealer, tinted in Redwood Naturaltone ST-122. I chose semi-transparent because I wanted to show the natural grain of the wood but still give it a nice color. It's made out of a 100% acrylic formula, which seals out the elements and sun's harmful UV rays for up to 6 years on high traffic areas like decks, and up to 8 yrs. on fences & siding. I like how it saves me a step on sealing, it has a sealer built in.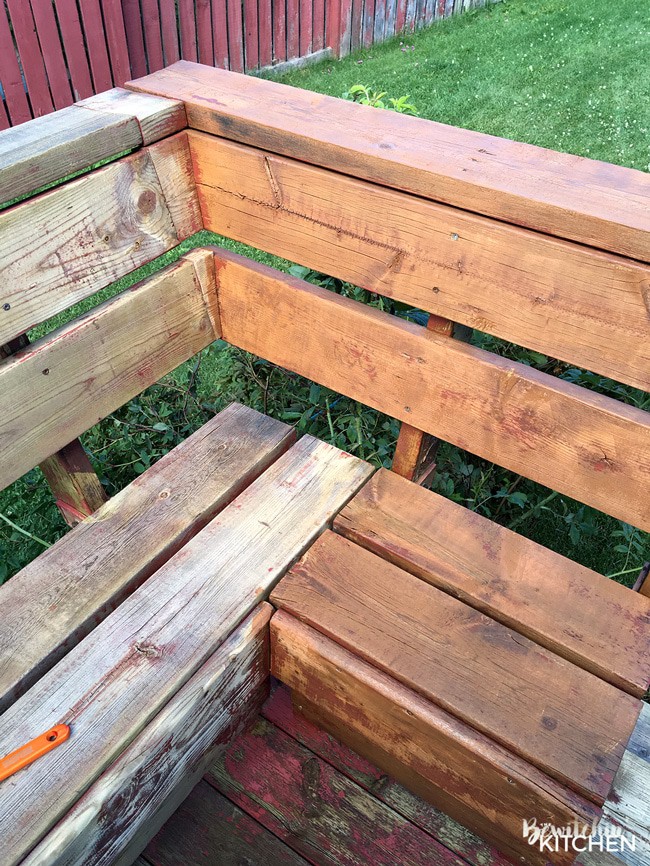 The application was really easy. I used a deck pad and brushed it on, it took me 20 minutes to do my whole deck and 10-15 minutes for the trickier areas like the seating bench and stairs. For those trickier areas, I used this deck staining detail kit. It says to use two thin coats, but in some areas, I used a thicker application by accident. You can't tell I did that, it evened out nicely. I used a whole can on my first application.
I was planning on putting on my second coat the next day but noticed the deck still felt a little tack so I waited. Then it rained a few days later. So I had to put off the second coat for a few weeks.
The second coat was easy and brought a beautiful finish to the deck. It looks so much better now and I love the results.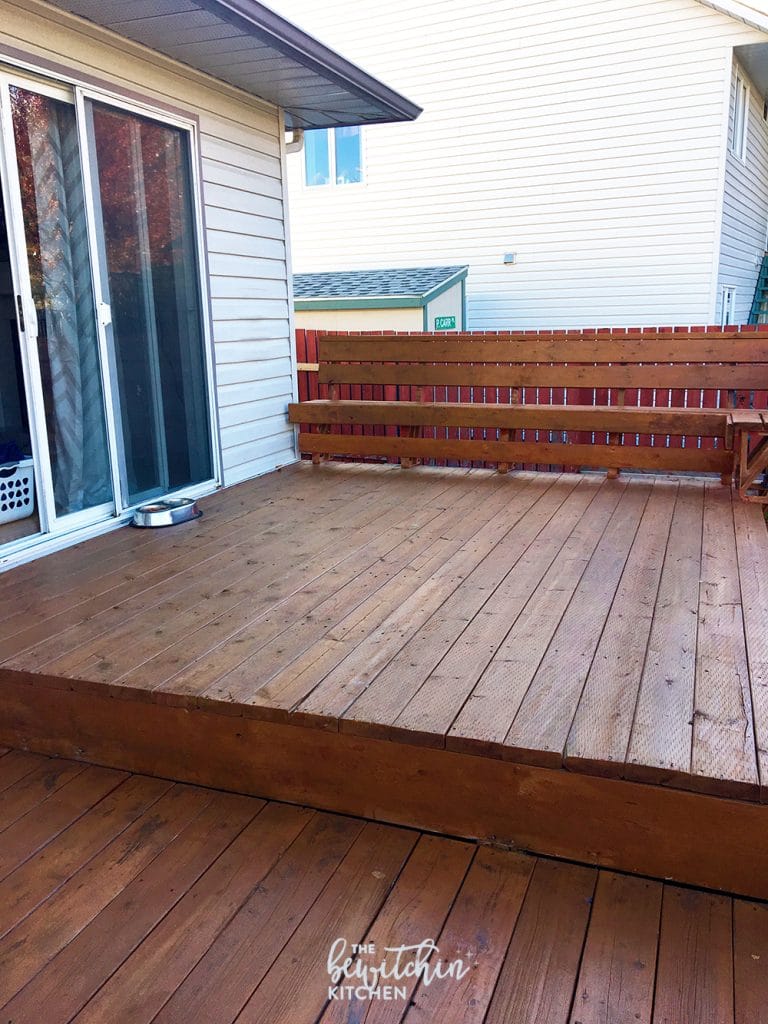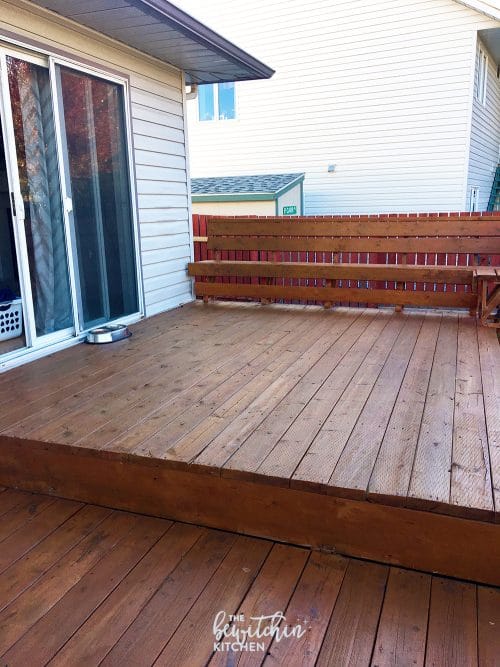 Deck Stain Before and After.
What a difference it made! The wood is old, but the Behr Premium® products brought the life back to it. I love the way it looks.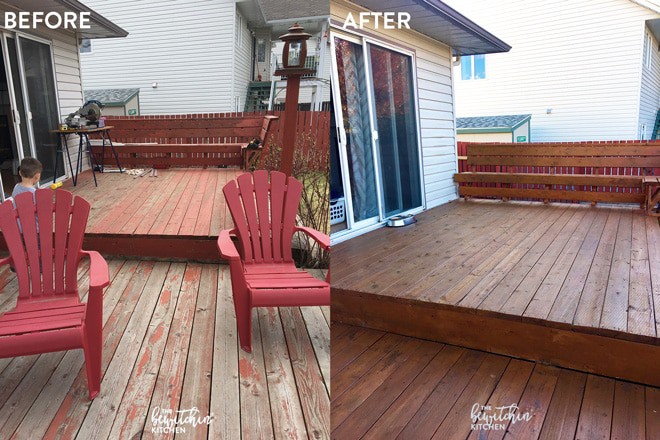 I was intimated with this project at first, but my best advice is to dive in and just do it. 
For more information on the products used, visit The Home Depot.
This post contains affiliate links. I was provided with the products listed above from The Home Depot Canada, all opinions are my own.