Lemon Almond Protein Pancakes: Cooking With Essential Oils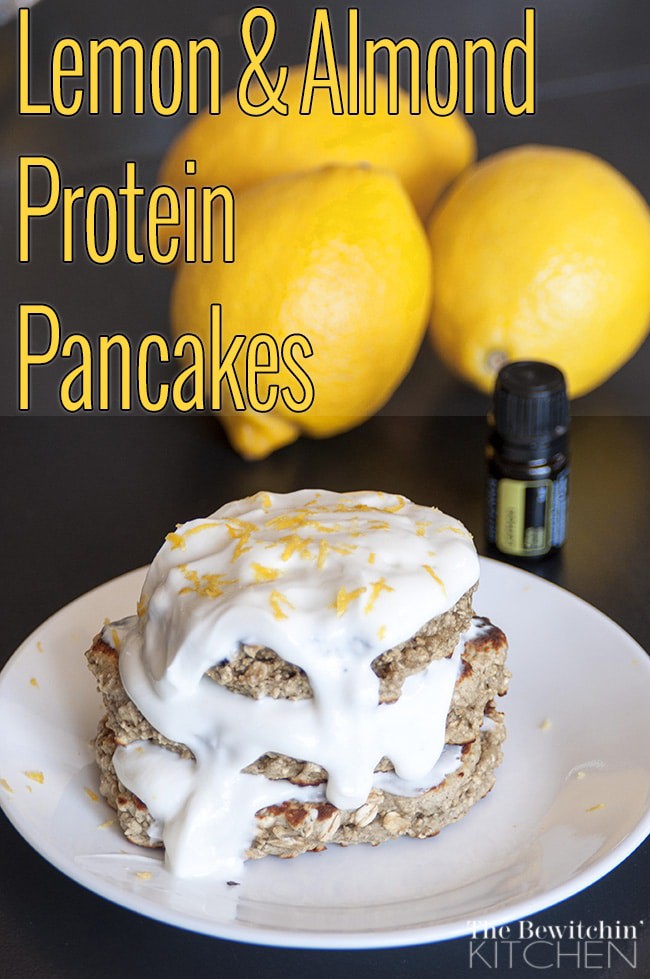 I'm a big fan of protein pancakes. Regular pancakes don't fill me up (I'm an empty pit) so I usually need a little more. This recipe uses oats, Shakeology (or protein powder) and lemon essential oil and it keeps me fuelled for hours.

I recently received my Family Physician Kit from doTERRA, and I wanted to try some of the contents out in different ways. Yes, I'm using Deep Blue on my muscles, finding solutions for my hives and making cleaning supplies but I really wanted to try cooking with an oil. Obviously some are safe to ingest and some are not (there is a guide on the kit), and lemon happens to be one of the oils that is (it's concentrated oil from the rind). Please note that not all brands of essential oils are safe to ingest – so don't run off and buy any oil to make a batch of protein pancakes with. Please take caution and ensure that whatever brand the oil is – it says it is safe to take internally.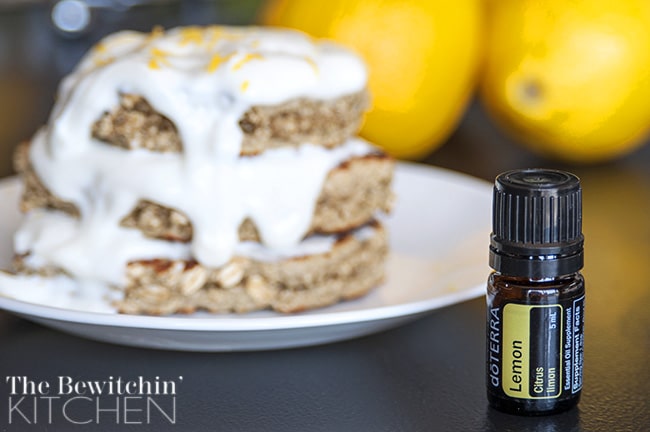 Not only does it taste yummy, but it has some health benefits as well such as: digestive support, mood booster, anti bacterial, anti viral, anti-inflammatory and that's just listing a few.
I was using it for flavour only, but if the health benefits survive the heat – then that's a bonus. Most products are not stable enough to survive the heat and provide the health benefits, I'm not sure if essential oils fall into that category or not – I'm new to the oil scene. However I do know that Shakeology does this. Shake-o is a superfood "healthiest meal of the day" supplement, but when heated it loses a lot of it's nutritional value, but I still use it. I figure it's better then nothing. You can learn more about Shakeology here, but if you don't have Shakeology or don't want to use it – just give it a try with the vanilla protein powder you do have, I'm not here to sell anyone anything – just sharing what I use.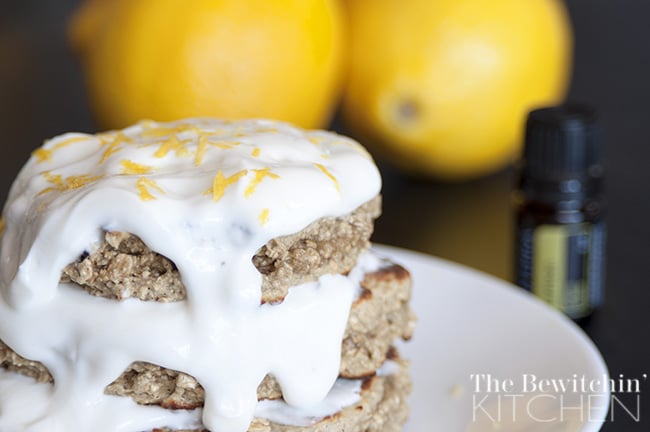 I prefer to use oats instead of flour because I find it really fills my stomach. I'm such a carb-o-holic that I find that I can eat a whole stack of regular pancakes and then some, I personally don't feel full off flour (it's weird).
Lemon Almond Protein Pancakes
Delicious and filling gluten free pancake recipe using oats as the flour base.
Servings 1
Calories 409kcal
Ingredients
1/4 cup egg whites
1/2 cup rolled oats
1 drop doTERRA lemon essential oil
1 scoop vanilla shakeology vanilla protein powder is fine
1 tsp baking powder
1/2 tsp almond extract
1 individual container - coconut greek yogurt I use Oikos 0%
Instructions
Combine all ingredients (except the greek yogurt) into a blender and pulse a few times to make smooth.

Heat a skillet sprayed with non stick spray over medium heat. Spoon the batter on the pan (you won't be able to pour it - it will be really thick) and flip after roughly 3 minutes, cooking evenly on the other side as well (2-3 minutes).

Top with greek yogurt.
Nutrition
Serving: 1g | Calories: 409kcal | Carbohydrates: 41g | Protein: 49g | Fat: 5g | Saturated Fat: 1g | Polyunsaturated Fat: 1g | Monounsaturated Fat: 1g | Trans Fat: 1g | Cholesterol: 70mg | Sodium: 666mg | Potassium: 612mg | Fiber: 4g | Sugar: 8g | Vitamin A: 7IU | Calcium: 601mg | Iron: 2mg
Follow On Pinterest
Follow @bewitchinkitchen On Pinterest for more delicious recipes!
There are many versions of protein pancakes out there: with or without whey protein, with cottage cheese or a whole lot of peanut butter (I wouldn't necessarily call that protein pancakes though).
Have you ever made protein pancakes?