Lulalu Helps Me Stay Organized

Who has a secret love affair with organizing? I do! Like most people, I absolutely loathe clutter. It stresses me out and I'm not the nicest person in the world when I'm stressed. So I usually try to keep life simplified here in my corner of the world. It's a task that's not always easy. I have a lot of papers that just float around my kitchen, but I can't put them away because I use them daily. Thankfully Lulalu has come in to save me from myself, and keep my sanity in tact.
I have reviewed Lulalu before, but this was back when they were Mayfair Lane. I used their products up until we moved back in March, they hold up well. Since my review back in 2009, I have noticed that Lulalu doesn't just have a new name but a whole new look. They're bolder, more modern, and fresh. Practically Pinnable in every way (yes, I just paraphrased Mary Poppins).
All the products I received to review look like magnets, but they're not. They're sticky and make it possible to display your child's artwork or important dates to remember on non-magnetic surfaces such as: stainless steel, computer monitors, vehicle dashboards, etc. Warning: do not use them on your walls. I made this mistake with my last review and it took a chunk out of my dry wall.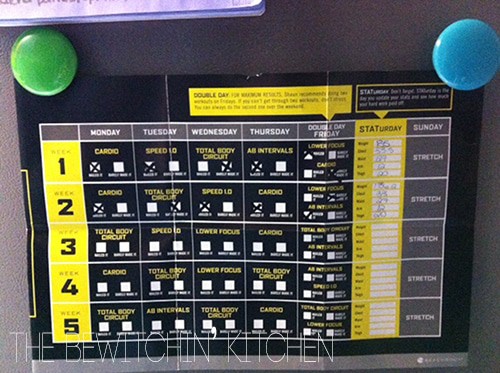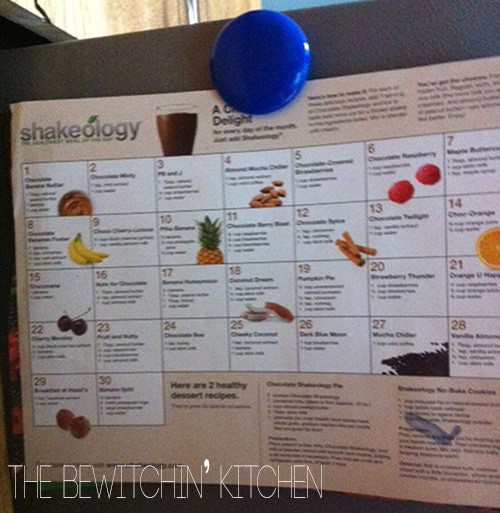 Click Clips I'm going to be 100% honest here, I was not overly thrilled when I first saw these. I didn't understand how they were functional and I was unsure of the bold colors being displayed in my kitchen (I'm a fairly neutral person). Fast forward two months and I love them. I haven't placed them on the stainless steel part of my fridge (I did test them there and it works) but I have them on the side. The one side I have them holding all my Shakeology recipes (conveniently located beside the cupboard where my blender is located) and the other side I have them holding up my Focus T25 Calendar.
They're easy to use and stick to many surfaces: mirrors, glass, and other non porous surfaces. After I stuck it the Click Clip to the side of the fridge it was easy to use. Simply push the clip in, and slide your object in. Let go and it's held in place. Simple as that.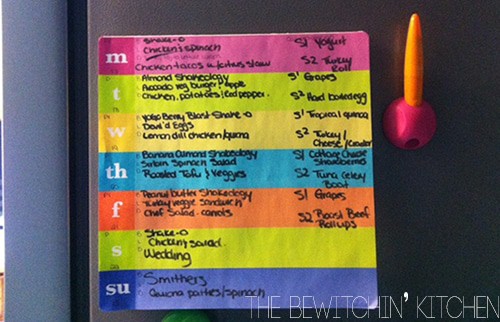 LulaLu Calendar Pad This is my favorite product and I was excited to use it from the moment I took it out of my box. I was so excited to use it, I was immediately conflicted. Do I use it for planning my blogging posts, or do I use it for meal planning? I started to use it for a blog planner, but found it a pain to keep checking the calendar on the fridge so I upgraded it to my family's menu planner. Again, it's simple to stick it to the fridge. How easy? Just peel and stick. That's it. As you can tell in the photo, there is a lot of space to write. It's a great tool to utilize for your family's command center. The dimensions are 10×10 and it comes with 50 sheets. Beside it is Lulalu's marker and vase set. The marker is meant for a whiteboard (review below) but it works fine enough on paper and I use it all the time.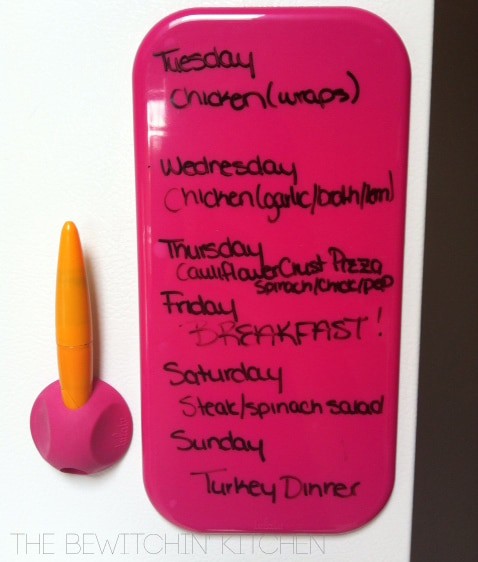 Lulalu Dry Erase Board I wasn't overly thrilled with the dry erase board. It wasn't big enough for my specific needs (see above), but it worked well enough. I do think these boards would be perfect for back to school (love it or hate it, it's coming up).
In the end, I really do like the Lulalu products I mentioned above. They help me stay organized and focus, which as a mom, blogger and Beachbody coach – I need. Another bonus of Lulalu? The sticky substance is non toxic and doesn't leave any residue. That's a huge relief for me, since I have really started looking closer at products and their toxicity levels.
FREE Recipe Binder
Are you constantly wondering what's for dinner?
When I don't meal plan I feel behind, and we usually end up ordering take out. This recipe binder will keep you organized and make life a little bit easier.