Chocolate Carrot Cake Homemade Protein Bars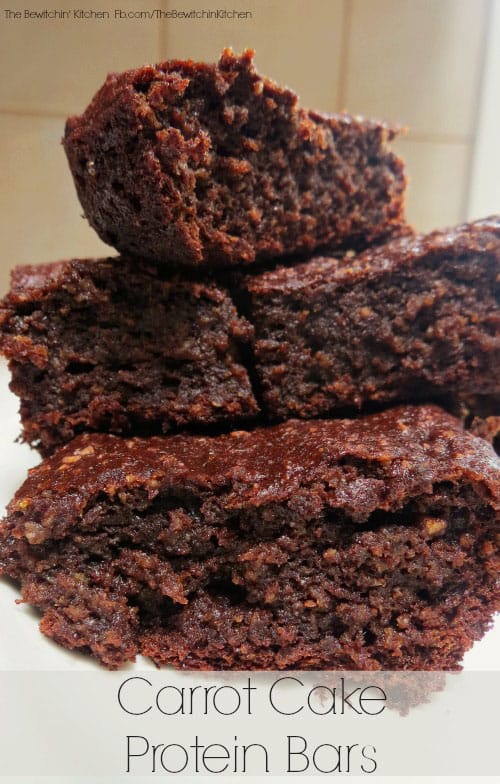 Have I mentioned yet just how much I love Shakeology? It's the Healthiest Meal Of The Day and I drink it almost daily. We all know it makes delicious and highly nutrient dense shakes, but did you know you can cook with it? I've made crepes, no bake cookies, have added it to oatmeal and most recently made Chocolate Pumpkin Protein Bars. Now those protein bars were good, but these Carrot Cake homemade protein bars are better.
I originally found the recipe from Carrot Cake Protein Bars from Jaime Eason's Live Fit. She has some delicious recipes, I highly suggest giving her a look. As clean and healthy as the original recipe is, I wanted to added a little something extra. So I added Shakeology! For those of you who don't know, Shakeology is from Team Beachbody and provides your body with optimal nutrients. They say it's Nutrition Simplified because it has over your daily intake in what you need (including many super foods such as chia and matcha). Actually – here's a chart of ingredients for you, it just makes it easier. Shakeology comes in the following flavors: chocolate, vegan chocolate, vegan tropical strawberry, greenberry and (the new) vanilla. My doctor loves it, my customers love it and I love it – but I'm not here to sell you on a product. I want to share a recipe. If you don't have Shakeology and can't order it right now just use some protein powder. Vanilla, unflavored – whatever works best for you. I can't guarantee the flavor of these bars as I tested it out with Chocolate Shakeology, but I'm sure it will be fine.
Shakeology Chocolate Carrot Cake Homemade Protein Bars
Chocolate carrot cake protein bars made with Shakeology.
Servings 12
Calories 108kcal
Ingredients
1 cup oat flour
2 scoops Chocolate Shakeology
2 tsp cinnamon
1/2 tsp baking soda
1/4 tsp salt
1/8 tsp all spice
1/4 tsp nutmeg
4 egg whites
3/4 cup Stevia I use Truvia
2 jars baby carrots or puree 8oz of baby carrots
Water
Instructions
Preheat oven to 350 degrees.

Whisk dry ingredients into a large bowl.

In a separate bowl, add wet ingredients. For the water, just fill one jar (4oz) and add.

Make a well in the center of the dry ingredients and slowly add the wet, stirring until well combined.

Grease a 9x9 glass baking dish with non stick butter spray and add mixture.

Bake 30-35 minutes.
Nutrition
Serving: 1g | Calories: 108kcal | Carbohydrates: 17g | Protein: 4g | Fat: 2g | Saturated Fat: 1g | Polyunsaturated Fat: 1g | Monounsaturated Fat: 1g | Cholesterol: 5mg | Sodium: 196mg | Potassium: 303mg | Fiber: 3g | Sugar: 8g | Vitamin A: 10384IU | Vitamin C: 2mg | Calcium: 80mg | Iron: 1mg
Follow On Pinterest
Follow @bewitchinkitchen On Pinterest for more delicious recipes!
This recipe calls for oat flour, it's so easy to make! Learn how to make your own oat flour here.
These bars are incredibly moist and absolutely delicious. If you make these using Vegan Chocolate or Vanilla Shakeology, let me know how they turn out? I'm curious to hear!
If you would like to learn more about Shakeology, visit my shakeology site.